TheLotter is an online lottery provider established in 2002. It has a great track record in offering a wide range of lotteries players can try. The platform welcomes users worldwide and provides a simple registration process and a user-friendly interface.
Check out our TheLotter review to discover the advantages and drawbacks of this website and whether you can trust it!
Why Do We Like TheLotter?
English, Russian, German, French, Spanish, Portuguese, Finnish, Romanian, Hungarian, Italian, Polish, Chinese, Japanese, Thai
A positive track record of delivering quality lottery games
More than $98 million paid to players from the founding date
A user-friendly interface suitable for beginners
Quick and effective customer service
Unrestricted access to top international lotteries
Safe and secure lottery platform
Supports eight different currencies
Features popular payment options
Available in a wide range of countries
Offers plenty of bonuses and promotions for new and existing customers
Supports 13 languages.
Syndicate play available for different lottery games
Licensed by the Malta Gaming Authority
An email response could take up to 24 hours
A small service fee on tickets costs
Limited payment options for withdrawal
The mobile application lags
Requires KYC verification for withdrawals
| | |
| --- | --- |
| ⭐ Rating: | 4.9/5 |
| 🥇 Overall rank: | #1 out of 8 |
| 🌎 Country: | Malta |
| 📖 Ticket Scan: | Yes |
| 💵 Ticket Price: | $5+ |
| 🖥️ Lotteries: | 65+ |
| 🍿 License: | Yes |
| 🔥 Current deal: | Get 25% off! |
| 💳 Deposit options | Visa, Mastercard, Skrill, Neteller, Paysafecard, Sofort, EPS, Bancontact, Rapid Transfer, PSE, Efecty |
| 🎁 Bonus options | Discounts, Multi-draw Packages, Scratchcard Special Offer, Raffles |
| 📲 Social Media Accounts | Facebook, Instagram, Twitter |
| 💁 Customer support | Live Chat |
How to Play TheLotter Online Lottery
Would you like to purchase tickets for your favorite lotteries via TheLotter?
If the answer is yes, you will need to sign up for an account first. The good news is that the registration is free and doesn't take more than a few minutes.
Here is a step-by-step guide on how to go through the process:
Everything starts by clicking the Sign-Up link icon at the top of the homepage. That will open a pop-up window that looks like this:

Now, fill in the basic personal information. Make sure to enter a valid e-mail to receive the latest news and special offers from the provider. The password should contain a mixture of upper and lowercase letters, numbers, and characters. Finally, pick the country you are from and click Sign Up.


The screen will display the information that you completed the registration successfully. It will automatically log you in and take you to the homepage.
How to Sign Up and Use TheLotter
Using TheLotter is really easy, like a piece of cake. You can purchase tickets for the desired lottery by following these instructions.
Visit the official TheLotter website.
Create an account using the steps in the section above.
Top your account using your preferred payment method.

Go to the lottery section.

Choose your numbers and click the PLAY button when you are done.

The provider will purchase the ticket on your behalf.
You will receive a ticket scan that is kept safely in your account.
The app will notify you if you win the lottery you played.
TheLotter doesn't take any commission on prizes. However, there is a small handling fee when purchasing the tickets.
What Online Lotteries Are Available at TheLotter?
You can find a huge number of lotteries available at TheLotter. The company is updating the list of available games constantly. At the time of our review, they were offering tickets for more than 60 lotteries.
Here is a detailed list of the available games:
| Lottery | TheLotter Ticket Price | Draws |
| --- | --- | --- |
| US Powerball | $5 | Monday, Wednesday, Saturday |
| US Mega Millions | $5 | Tuesday, Friday |
| EuroMillions | $6.65 | Tuesday, Friday |
| Saturday Lotto Australia | $1.40 | Saturday |
| Australia Superdraw Saturday Lotto | $1.38 | Saturday, several times a year |
| France Lotto | $5.85 | Monday, Wednesday, Saturday |
| EuroJackpot | $6.12 | Friday |
| Chile Clasico Loto | $3.11 | Tuesday, Thursday, Sunday |
| Portugal TotoLoto | $2.66 | Wednesday, Saturday |
| MillionDay – Italy | $3.19 | Daily |
| Texas Two-Step | $2.50 | Monday, Thursday |
| Superstar Italy | $3.99 | Tuesday, Thursday, Saturday |
| Lotto Italy | $6.38 | Tuesday, Thursday, Saturday |
| Monday Lotto Australia | $1.13 | Monday |
| SuperEnaLotto Italy | $3.06 | Tuesday, Thursday, Saturday |
| Baloto Colombia | $3.98 | Wednesday, Saturday |
| Wednesday Lotto Australia | $1.04 | Wednesday |
| Texas Cash Five | $2.50 | Daily, except Sunday |
| Lotto Texas | $2.50 | Wednesday, Saturday |
| Canada Lotto 6/49 | $5.53 | Wednesday, Saturday |
| New York Lotto | $1 | Wednesday, Saturday |
| Powerball Lotto Australia | $2.06 | Thursday |
| Poland Mini Lotto | $0.84 | Daily |
| New York Cash4Life | $5 | Daily |
| Austria Lotto | $3.19 | Wednesday, Sunday |
| Poland Lotto | $1.68 | Daily, except Sunday |
| Ontario 49 | $1.84 | Wednesday, Saturday |
| Germany Lotto | $3.46 | Wednesday, Saturday |
| Oz Lotto Australia | $2.48 | Tuesday |
| Spain EuroMillions Superdraw | $6.65 | N/A |
| Japan Loto 7 | $5.57 | Friday |
| Spain La Primitiva | $3.06 | Monday, Thursday, Saturday |
| Spain El Gordo | $4.89 | Sunday |
| Mexico Melate | $2.03 | Wednesday, Friday, Sunday |
| România Loto 6/49 | $3.78 | Thursday, Sunday |
| Peru Tinka | $3.27 | Wednesday, Saturday |
| Philippines Mega Lotto | $0.90 | Monday, Wednesday, Friday |
| Philippines Grand Lotto | $0.90 | Monday, Wednesday, Saturday |
Is Lottery Syndicate Available in TheLotter?
TheLotter also offers syndicate play for a wide range of lottery games. Syndicate play allows you to collaborate with other players to increase your chances of winning the jackpot. The table below contains a list of games with the syndicate play option on TheLotter website.

How Does TheLotter Work?
Unlike other lottery websites where players stake on the outcome of lottery draws, TheLotter actually buys the tickets on your behalf. After selecting the game you want to play and choosing your lottery numbers, TheLotter will fulfill the order on your behalf through a licensed lottery retailer for the particular game. Afterward, they will develop a scanned copy of your ticket and send it to your mail. This way, lottery players can verify their lottery results and prove that they are the owner of their tickets when they win.
If you win the lottery with TheLotter, they will also assist you in claiming your prize. With TheLotter, it is almost as if you are buying the ticket directly from the lottery organizers, with TheLotter just a courier for your tickets.
Does TheLotter Feature a User-Friendly Interface?
Whether you are a beginner or an experienced lottery player, you want an easy-to-use website. TheLotter will honor that request with a simple and clean interface.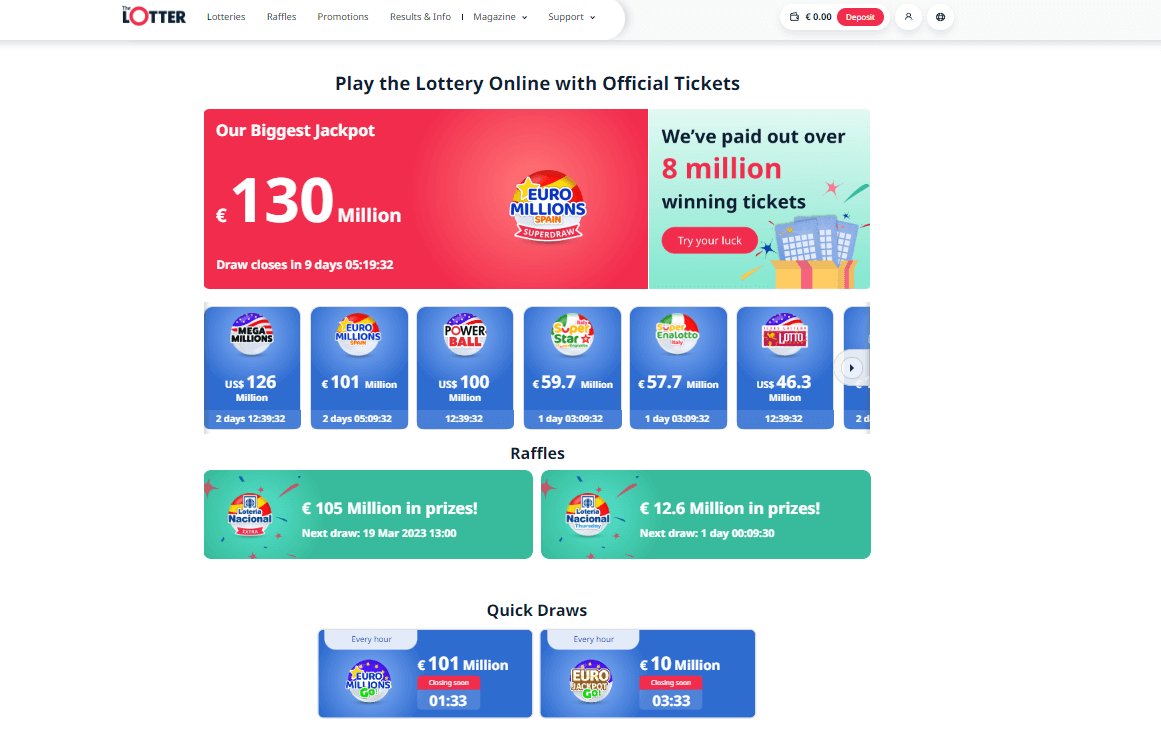 Navigating around the site is simple. You can find everything you need at the top menus. The most popular games are available for access from the homepage.
Depositing and withdrawing are possible via several clicks. There is no learning curve, and even newbies will feel comfortable using the site right away.
Major Features of TheLotter
TheLotter offers a wide range of lottery features to help players get a safe and secure gaming experience. For instance, it has highly advanced security and encryption functionality – the Geotrust 128 SSL bit Security –  to safeguard player's accounts. The security protects the traffic between your mobile device and TheLotter to ensure that your information is completely secure.
Also, it also has a dedicated mobile app available on iOS and Android devices so players can play the lottery anywhere they are.
Benefits of Using the TheLotter Mobile App
You can play TheLotter on the go by using mobile devices.
The provider understands players prefer smartphones and other portable devices when purchasing the tickets. That is why TheLotter's website is mobile-friendly with excellent cross-platform optimization.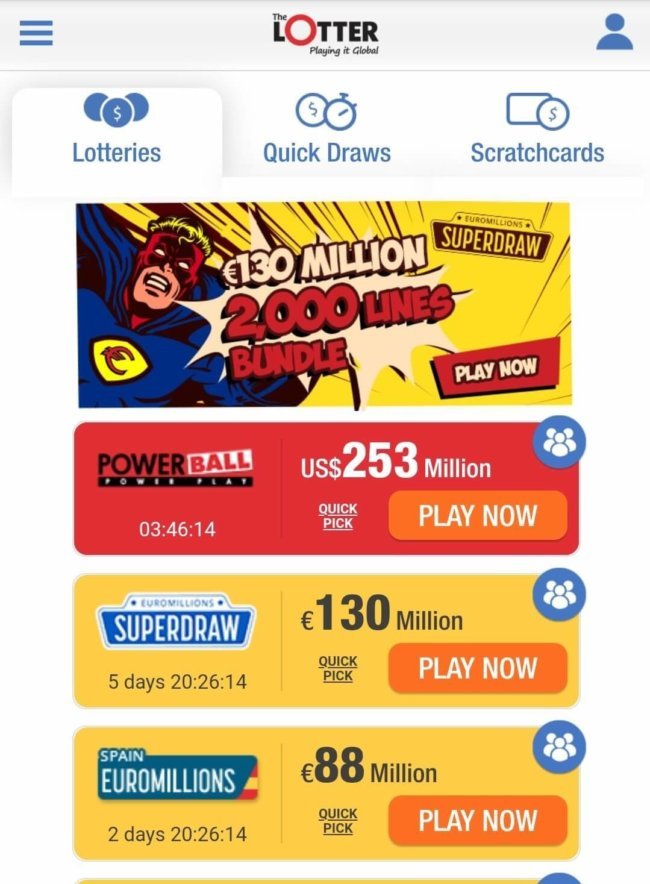 The operator also offers free apps for Android and iOS. You can download them from the official provider's website. They work like a charm, and you can use the same credentials to log into your account.
Easy sign-in process – By downloading the application, you can log in anytime without requiring a browser. Even more impressive, you could save your passwords or use a biometric feature so that you can log in seamlessly
Integrated payment method – The app comes with a payment functionality that allows you to connect with your preferred payment method seamlessly for deposits and withdrawals.
Play on the go – With the app, you can more easily choose your numbers for your favorite lottery at any time and place.
TheLotter Coupons, Promotions, and Discount Codes
TheLotter has a separate page on the website to publish their upcoming promotions. The main special offer is their VIP Lottery Club, and the different levels have different discounts and perks depending on the club membership. For example, the Bronze members get a 2.5% discount on their ticket purchases, and the Diamond level members get a 20% discount.
The other promotions are occasional and include:
Discounts – these happen on occasion and can include from 1-99% discount on the standard cost of the ticket.
Cashback – this offer allows you to buy in a game and get a percentage of the paid amount back as a refund in your account that you can use as a bonus to buy additional tickets.
Subscriptions – the subscription promotion at TheLotter requires you to subscribe to a specific lottery for a set period, and receive every x ticket (per the specified terms) for free. For example, by subscribing for three months to a specific lottery, you can get every 10th ticket for free.
Multi-Draws – the multi-draw promotion involves you entering into 5, 10, 15, 25, or 52 consecutive draws where you get your tickets at a discounted price, usually up to 25% of the total cost.
Multiplier – this is an add-on feature where you can increase your potential non-jackpot wins by 2, 3, 4, or 5 times, depending on the selected multiplier and draw. When active, the Multiplier promo allows you to add the multiplier feature at a discounted price of up to 50%.
TheLotter VIP Club
TheLotter's VIP Club is a loyalty program that offers red carpet services to its members. Every theLotter user gets VIP points when funding their account, and the points are calculated as $1=1 VIP point.
The VIP Club starts at the Bronze level with 51 points which grants you a 2.5% discount on your ticket purchases and subscriptions. There are five levels total: Bronze, Silver, Gold, Platinum, and Diamond, each with a different discount rate and varying special offers, promotions, and more. All VIP members get emails, messages, calls, and texts on current offers and access personal account management.
Payment Methods at TheLotter
TheLotter offers various payment methods that players can use to fund their lottery accounts to enter lottery games. However, some of these options are not accessible in every country but you will always be able to find one that is popular in your country. For instance, Visa and Mastercard are available everywhere.
How to Deposit Money on TheLotter?
TheLotter offers 18 deposit methods, and most of them are instant. The available options vary from one country to another. That is also true for the supported currency and maximum deposits via a particular method.
| Payment Method | Location | Currency |
| --- | --- | --- |
| Visa | Worldwide | USD/EUR/GBP/AUD/RUB/CAD/CHF/ZAR/INR |
| MasterCard | Worldwide | USD/EUR/GBP/AUD/RUB/CAD/CHF/ZAR |
| Skrill | Worldwide | USD/EUR/GBP/CAD/CHF/ZAR |
| Neteller | Worldwide | USD/EUR/GBP/RUB/CAD/CHF/ZAR |
| PaySafeCard | International | USD/EUR/GBP/CAD/CHF/ZAR |
| Trustly | Europe | EUR/GBP |
| Sofort | Austria, Belgium, Italy, Poland, Spain, Switzerland | EUR |
| GiroPay | Germany | USD/EUR/GBP/CAD/CHF/ZAR |
| EPS | Austria | USD/EUR/GBP/CAD/CHF/ZAR |
| BanContact | Belgium | EUR |
| Rapid | Austria, France Hungary, Italy, Poland, Spain, UK | USD/EUR/GBP/CAD/CHF/ZAR |
| PSE | Colombia | USD/EUR/GBP/CAD/CHF/ZAR |
| Efecty | Colombia | USD/EUR/GBP/CAD/CHF/ZAR |
| NetBanking | India | INR |
| RuPay Debit | India | INR |
How to Withdraw Money from TheLotter?
The website offers five options for withdrawing money from your account. The withdrawals cover all the popular alternatives, including credit cards, bank transfers, and e-wallets like Neteller and Skrill. Except for the bank transfer, there are no fees for any other withdrawal methods. Processing a request to cash out your funds could take from one to three days.
| Payment Method | Min | Max | Processing Time |
| --- | --- | --- | --- |
| Visa | $1 | $1,000 | 1-5 business days |
| MasterCard | $1 | $1,000 | 1-5 business days |
| Skrill | $1 | $2,000 | 1-5 business days |
| Neteller | $1 | $2,000 | 1-5 business days |
| Bank Transfer | Varies | $50,000 | Varies |
TheLotter Special Features
Scanned Tickets 
A representative from TheLotter will buy the ticket on your behalf; then scan and send them to you, so you will see them in your account. This helps you to prove ownership of your ticket when you eventually win.
Team Play
If you prefer to play as a team, you can join a syndicate or buy a bundle to improve your odds and your chances of winning a prize. With syndicate play, you buy shares that contain preset lottery combinations while bundle allows you to play with your personal numbers.
Lucky Numbers
TheLotter has a special feature that allows players to save their lucky numbers in their lottery accounts so they can play them anytime. 
TheLotter Terms and Conditions
Usual gaming rules also apply to TheLotter. That means you need to be at least 18 years old to open an account. If the operator notices an account registered to a minor, all winnings will be lost.
TheLotter cares about transparency and reputation. That is why no one related to the company cannot play lotteries via this website.
It is worth noting that the platform complies with the rules of particular lotteries. That might include taxes and other specifics. The website published rules for every game, and it is a wise move to read them before playing.
TheLotter Jackpot Winners
The biggest jackpot winner in the history of TheLotter took a whopping sum of $30 million. It was won in 2017 at Florida Lotto. Players have won $1 million or more at US Mega Millions and Powerball on multiple occasions.
It is interesting to note that the first-ever jackpot won on TheLotter was $6.4 million. An Iraqi national won the prize on Oregon Megabucks, which caused some controversy. Regardless, TheLotter continued paying hefty prizes to its players. According to the website, more than $98 million was paid to lottery winners until today. Referring to the tips on how to win the lottery can help you figure out the right ways of winning the jackpot.
Customer Service
If you have any questions related to TheLotter, you can always turn to helpful customer support. You can contact them via live chat assistance. Although there is no explicit mention, it seems that agents are online 24/7. The system will connect you to an agent in less than 30 seconds, and you can resolve your concerns regarding the website.
Alternatively, you can send an email to customer service. Contact Us form requires picking a topic and subject and limiting your message to 1,000 characters. The operator promises someone will answer within 24 hours.
Is TheLotter Legit or Scam Site?
The Lotter is one of the best online lottery sites, and there is no reason why you shouldn't trust it. The operator has been in the business for over 15 years. Malta Gaming Authority issued a license that confirms the company complies with all the latest laws and regulations.
A large player database is another indicator that TheLotter is legit, popular, and trustworthy. That is why you shouldn't hesitate to test this website to see if it fits your preference. You can rest assured it's completely legit.
TheLotter Alternatives
TheLotter gets high scores when we compare it with other lotteries. It has established itself as a great choice for lottery players who want an enjoyable lottery experience. We compared TheLotter against other lottery sites in the table below.

| Criteria | TheLotter | Lottoland | LottoAgent | WinTrillions |
| --- | --- | --- | --- | --- |
| Lotteries to Play | 60 | 35 | 34 | 23 |
| Ticket Price | High | Low | High | High |
| Discount | Yes | Yes | Yes | Yes |
| Syndicate Play | Yes | Yes | Yes | Yes |
| Subscription | Yes | Yes | Yes | Yes |
| Payment | Visa, Mastercard, Skrill, Neteller, Paysafecard, Trustly, EPS, Rapid Transfer | Visa, Mastercard, Bank Transfer, Neteller, Skrill, Paysafecard, UPI | Visa, Mastercard, Bank Transfer, Sticpay, Neteller, Skrill | Visa, Mastercard, Bank Transfer, Astropay, EPS, ToditoCash, Skrill, Efecty |
| Welcome Bonus | Free $10 after first play | Free Euromillion, US Powerball, SuperEnalotto, and MegaMillions bets | Buy 1 and Get 1 free | 90% bonus on first Powerball monthly subscription |
| Mobile App | Android, iOS | Android, IOS | Android, iOS | No |
| License | Malta Gaming Authority | Government of Gibraltar | Central Government of Curacao | Central Government of Curacao |
| Trustworthiness | High | High | High | High |
|   |   | Lottoland Review | LottoAgent Review  | WinTrillions Review |
|   | | | | |
Ticket Price Comparison
Below is a table that compares TheLotter's ticket prices to those of other lottery websites.
If I Win at TheLotter, Where Does the Prize Money Come From?
TheLotter is the #1 choice of most lottery players, and that's partly because of its fast and guaranteed payouts. If you win the prize, you'll receive a notification in your inbox, and you can even sign up for SMS alerts. The staff will go and claim your ticket if you win a small prize. As soon as they receive the money, they transfer it to your account.
What happens if you are a jackpot winner? If the prize is large and requires that player to claim it, TheLotter will notify you. In case of huge jackpots, they could even pay for your ticket to go to the lotto office and claim the reward.
How and Where Do I Find the TheLotter Lottery Result?
TheLotter regularly updates the results from the most recent lottery draws on the website for players to check if they match the winning numbers. For instance, if you want to check the results for the last US Powerball draw, follow these steps.
You can also get notified of the US Powerball via the dedicated mobile application for Android and iOS devices. If you have the app downloaded on your phone and play through the app, it will notify you if you win the lottery
Alternatively, you can also access the most recent lottery results here on Lottery 'n Go. We regularly update the lottery results after the draw to inform players about the outcome of the lottery.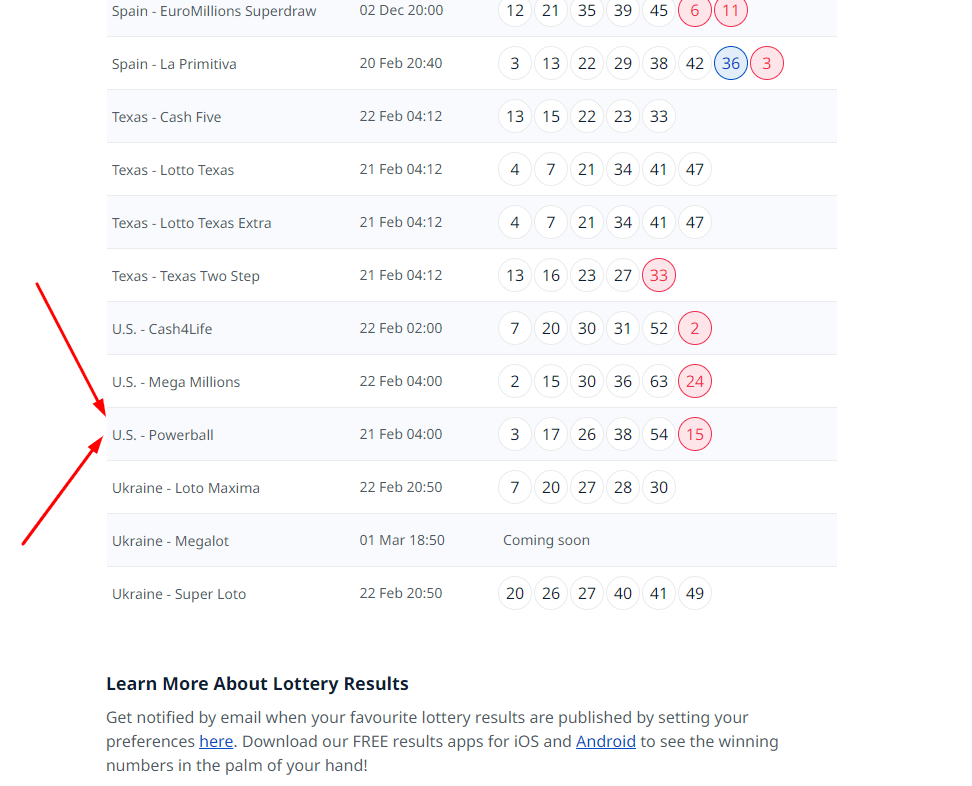 TheLotter FAQ
Is TheLotter Legal?
Yes, TheLotter is legal and legit. As long as your country is among the supported ones during the registration process, you can purchase tickets and win prizes legally.
Does TheLotter Support Syndicates and Bundles?
Yes, bundle deals are available for some of the lotteries supported by TheLotter. You can also utilize syndicate play if you want to purchase tickets in groups.
What If You Win a Jackpot at TheLotter?
You will receive secondary prizes to the account registered on the website. Winning the jackpot or another form of the grand prize might require picking up the prize in person. That involves heading to the operator's headquarters. The exact conditions depend on theLotter. You will receive information on how to collect your winnings on time. You may also check how long after winning the lottery you get the money.
Why Should You Play at TheLotter?
The top priority for those who want to try an online lottery is the safety of their personal information and funds. The next consideration is the list of available games and the ease of purchasing tickets.
TheLotter has been in business for a long time, and they know how to accommodate players' needs. From the first time you open the website, you will realize this is a serious online lotto operator. The entire platform focuses on fulfilling the needs of users.
Playing lotteries from around the world increases your chances of winning and opportunities to have fun. TheLotter guarantees to be legit, safe, and entertaining, which is why you should give it a shot!