Best Free Online Lottery Sites 2023
Our experts searched the web and picked the best free online lottery sites. These platforms offer an opportunity to participate in lotto drawings offering tempting prizes without paying a single cent.
If you would like to know more, check out our detailed guide below. We will tell you everything about how to join free lottery games and which sites to select to stay safe and enjoy guaranteed winnings.
The 12 Best Free Online Lottery Sites – Highlights:
PickMyPostcode 🥇 – Best for those looking for a unique concept and multiple chances to win daily.
EuroMillions Free Lottery 🥈- The daily draws allow you to win £500, and the weekly draw has a £10K jackpot.
Free Lottery 🥉 –  It has two draws: daily and weekly sessions.
Win Loot – A sweepstakes website with over 30 chances to win, and the biggest prize being $16.5K/month per life.
Rewardit – A US-based sweepstakes operator with a daily draw that includes a $10 million non-guaranteed jackpot.
Free Lotto Fest – Seven different lotteries with various concepts, and the most tempting prize set at $5 million.
Raffall's Free Lottery – An occasional lottery draw that requires you to watch an ad to receive a free ticket.
Free Birthdate Lottery – Instead of drawing numbers, the game draws birthdates.
Freemoji Lottery – A unique formula of drawing emojis instead of winning numbers can get you up to $20 per day.
PCH Lotto – Three different game options with two lotteries and some instant games.
BoxLotto – A single weekly draw with up to 30 tickets available per player.
Free National Lotto – You can pick between three different lotteries, and the prizes vary from £5 to £2,000.
Editor's Note The chances of winning a free lottery are almost not exist. For increasing your chances, our recommendation is to play with one of our recommended lottery sites:
| | | |
| --- | --- | --- |
| | | |
| GET 25% OFF for any ticket! | GET 20% OFF your first order, promo code: LOTTERYNGO | Buy 2 Powerball entries and get 1 free! |
| | | |
How we test & review free lottery sites: The following are the 12 best authentic free lottery sites that we found after testing and reviewing customer feedback.  We evaluated the sites based on a mixture of reliability, security, lottery offerings, user experience, mobile application availability, payment methods, and customer support.
PickMyPostcode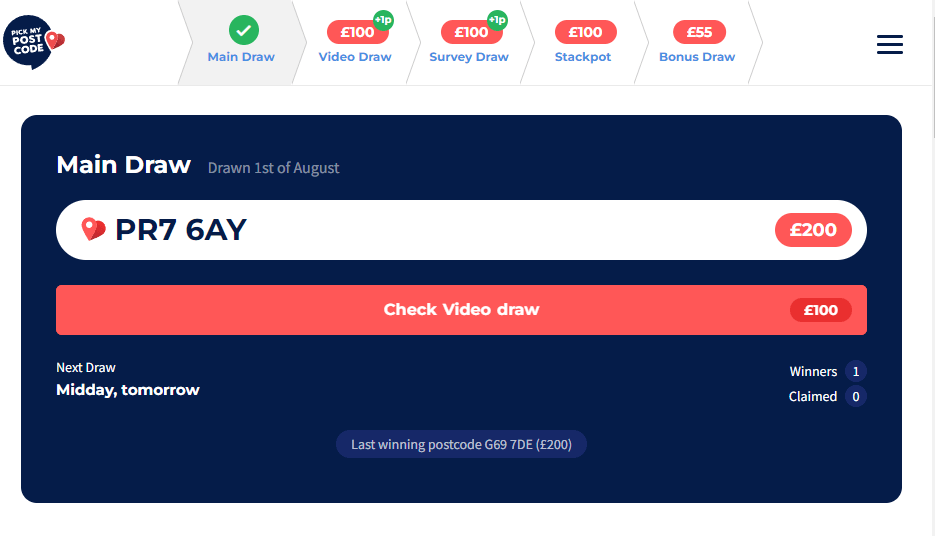 Founded by Chris Holbrook, PickMyPostcode is a free postcode lottery site that offers multiple draws daily. The main draw offers a £200-£500 prize, and you qualify for it if your postcode is the winning one. All you have to do is show up for the draw and if your postcode is drawn, you can claim the main prize. You can also participate in additional draws, including:
Stackpot – you need to be the fastest and claim a £10 prize first.
Survey and video draw – depending on the session, you should watch a short video or complete a survey to reveal the winning postcode.
Flash and mini draws – these come with smaller rewards, but they are an additional chance to win.
The table below shows the free lottery draws and prizes available at PickMyPostcode
| Draws | Prize |
| --- | --- |
| Main Draw | Starts at £200 |
| Stackpot | £10 |
| Survey Draw | Starts at £50 |
| Video Draws | Starts at £50 |
| Bonus Draws | £5 – £50 |
| Flash Draws | £5 |
| Mini Draw | £100 |
The odds depend on how many people registered to play on that day. That implies you should visit PickMyPostcode regularly, or the system will remove your code from the pool. The website features a simple and unique concept while giving you many chances to win prizes.
EuroMillions Free Lottery
EuroMillions is among the lotteries with the biggest prize fund in the world. A portion of those funds goes into free online draws organized daily. Each daily draw offers a £500 jackpot, and the special weekly session comes with a £10K grand prize. The weekly draw is every Monday afternoon at 2 PM GMT. As for the daily draws, they take place each day at 7:30 PM GMT.
You need to have a registered account on the lottery website to play. The free lottery utilizes a single-drum formula with the 6/75 concept. You choose six numbers or use the Quick Pick option that allows the computer to select the numbers for you.
The terms specify that you can only purchase one ticket per draw. The jackpot is only awarded if someone has the winning combination on their ticket. According to the rules, the odds of winning the main prize are 1:201,359,550.
| Draws | Draw Time | Prize |
| --- | --- | --- |
| Daily Draw | 2 PM GMT | £500 |
| Weekly Draw | 7:30 PM GMT | £10,000 |
Free Lottery
Free-lottery.net is another website where you can purchase tickets for the same draw, like the one available on EuroMillions free lottery.
That means you can use this website to purchase tickets for daily and weekly draws, with the latter being held on Monday. The site offers statistics on how many times each number was drawn in the game's history, which you can use when designing a lottery strategy.
As for the requirements to play, complying with the legal age requirement and registering for an account is everything you need. Please note that you need to get in touch with the administrators to start the prize claiming process.
| Draws | Ticket Deadline | Prize |
| --- | --- | --- |
| Daily Draw | 17:30 UTC | £500 |
| Weekly Draw | 14:00 UTC | £10,000 |
Win Loot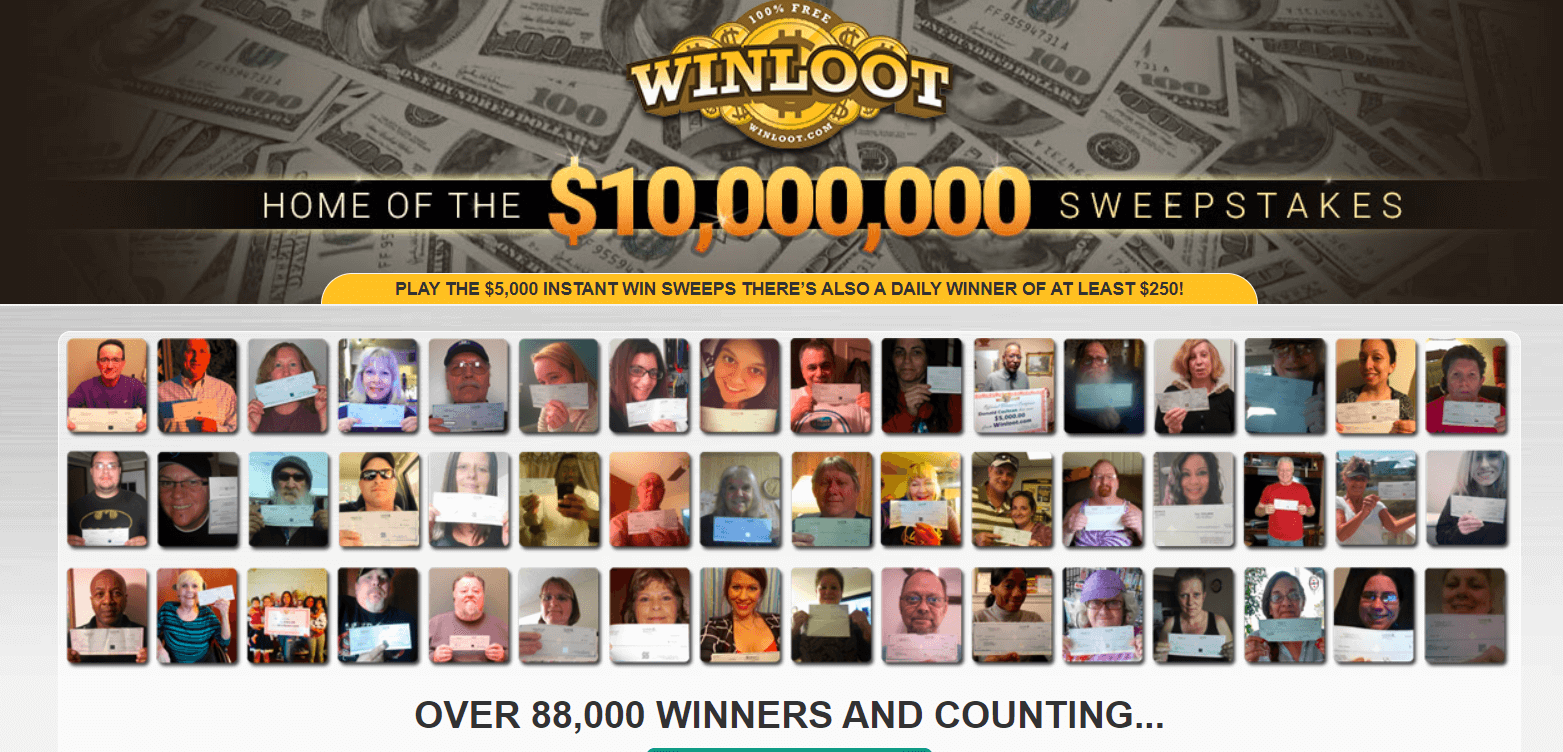 Win Loot is not a classic lottery website, but rather a sweepstakes platform. It offers more than 30 different giveaway competitions where you can win generous prizes.
Here is a quick overview of the most tempting games and the rewards:
| Prize | Odds of Winning |
| --- | --- |
| $16.5K month/life | 1:5,047,381,560 |
| $1 million | 1:386,206,920 |
| $50K | 1;50,063,860 |
| $25K | 1:25,827,165 |
| $5K | 1:9:366,819 |
If you take a look at the odds, you will see that they are not exactly favorable. It may be better to invest in the top international lotteries. Furthermore, US Powerball offers better winning odds than these sweepstakes.
However, Win Loot is attractive because it is free, and you don't have to purchase anything to participate in games. You can try your luck in instant sweepstakes that could grant you $25 or bigger prizes. Some games offer a scratch-off system, which means you will know if you won immediately.
Others use the system of winning numbers. You pick the entry numbers, and the organizers randomly select a winning combination. If you match all numbers, you qualify for a win. The sweepstake rules vary from one game to another, so make sure to get to know the Win Loot website well before you start playing.
Rewardit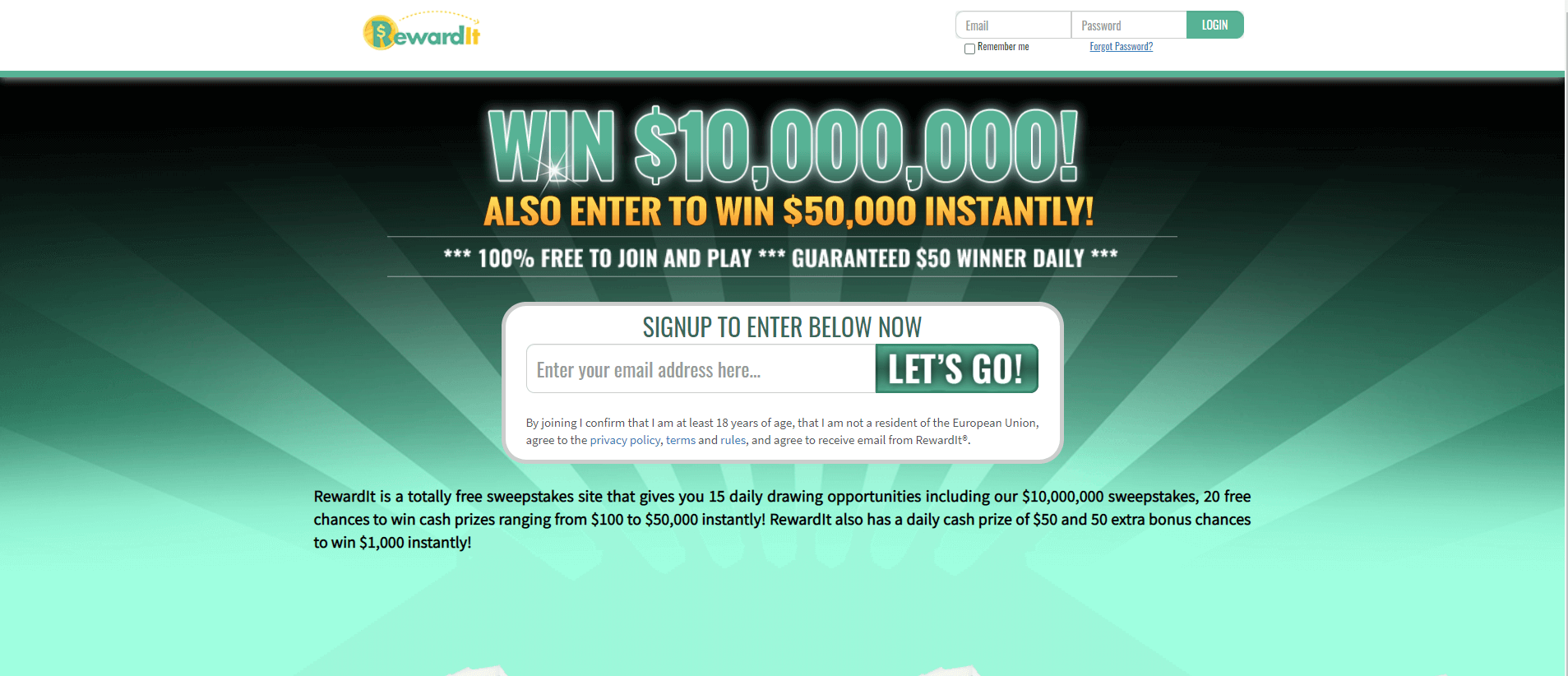 Rewardit is another free sweepstakes website located in the United States. You only need an e-mail to start the registration process, and the fun begins right away.
From the moment you enter, you are eligible to win a daily cash prize of $50. You also get 50 entries in a Pick Ten sweepstake to win $1,000. Then there are fifteen other drawings where players can win between $100 to $10 million. There is no rollover. The good news is that a daily draw has a guaranteed fund, which is more modest than the promised jackpot.
Also, Rewardit offers 20 free chances to win cash prizes ranging from $100 to $50,000. Apart from the US, these sweepstakes are open to players from South Africa, New Zealand, Australia, and Canada.
| Prize Tiers | Prize |
| --- | --- |
| Daily Prize | $50 |
| Pick Ten Sweepstake | $1,000 |
| 20 Chances | $100 – $50,000 |
| Fifteen Daily Drawings | $100 – $10 million |
Free Lotto Fest
Free Lotto Fest is an exciting website for all lottery fans out there. You can play the game from around the world, as long as the lottery is legal in your country.
The platform offers seven games, offering different prizes ranging from $1,000 to $5 million. The table below shows the different prize tiers game formats and prizes. Winners receive your prizes seven working days from the drawing date.
Prize Tier
Game Format
Prize
1
6/40

Jackpot: $1,000

Second Prize: $100

2
6/40

Jackpot: $2,000

Second Prize: $100

3
6/42
$4,000
4
6/42
$6,000
5
6/50

Jackpot: $8,000

Second Prize: $200

6
6/60
$10,000
7
6/90
$5 million
Raffall's Free Lottery
Raffall is a place that organizes raffles, and you even have an option to host a raffle over the website. Depending on the specifics, you can participate in premium and free raffles.
Apart from that, there is a guaranteed Raffall's free lottery. If you want to get a free ticket, you need to watch a 30-second video. Seeing an advertisement will grant you a free ticket for a draw that's usually organized every couple of months. The main prize is £1,000, but there are other small prizes, too.
Raffall has a dedicated Android and iOS app. That makes it easier to watch ads and receive the tickets, especially if you are on the go.
Free Birthdate Lottery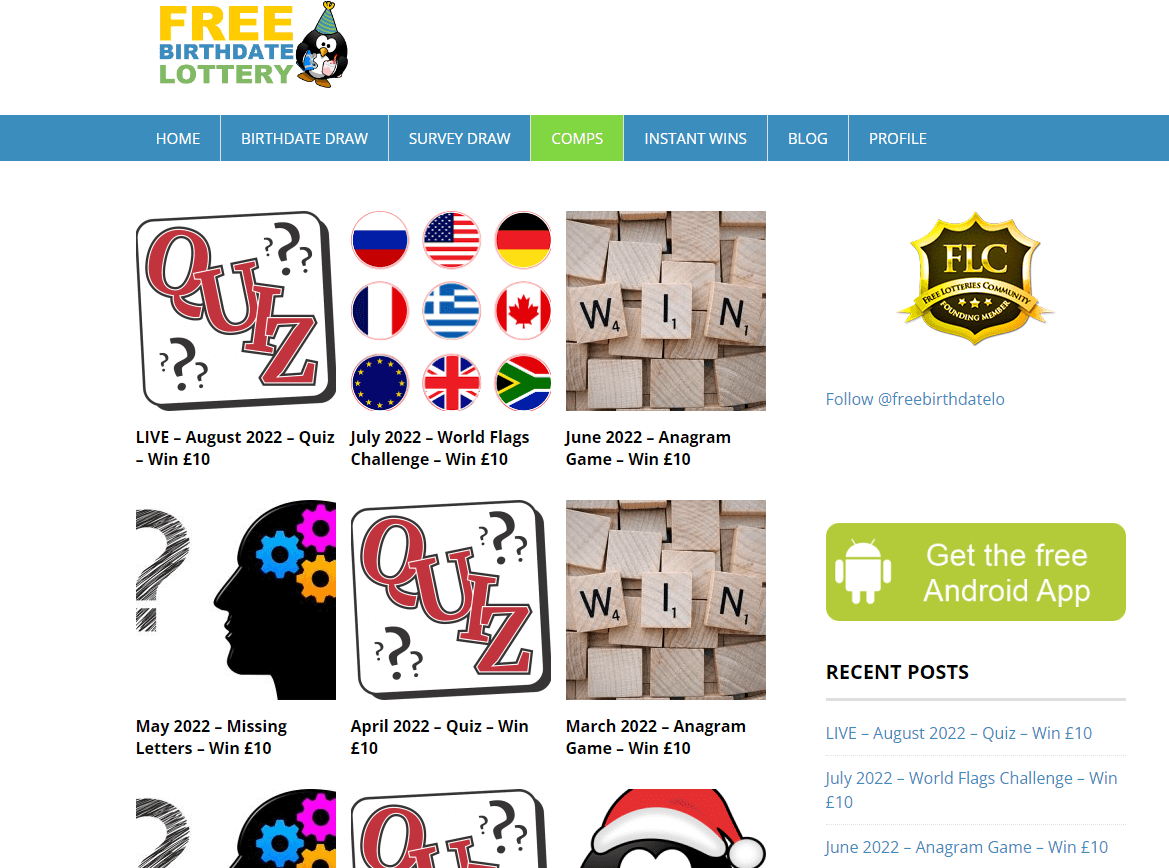 Free Birthdate Lottery offers an interesting approach to lotto. They don't draw numbers but rather a birthdate in the format XX/XX/XX (for example, 12/12/49). The pot for the draw is £10, and sessions are held every day. Unfortunately, the jackpot doesn't have a rollover function.
Apart from the main Birthdate draw, you can also participate in other lottery games such as survey draws, competitions, and instant wins. Survey Draws demands players to complete surveys before they can enter the draw. The competition involves games like quizzes, anagrams, world flags, and missing letters. Instant wins are quick games that deliver instant payment.
| Games | Prize |
| --- | --- |
| Survey Draw | £10 |
| Competitions | £10 |
| Instant Prize | £10 |
Free Birthdate Lottery has a free Android app for playing on the go. The website indicates they paid over £8,000 from the launch. You need to claim the prize, but the platform will ensure you get the money within minutes.
Freemoji Lottery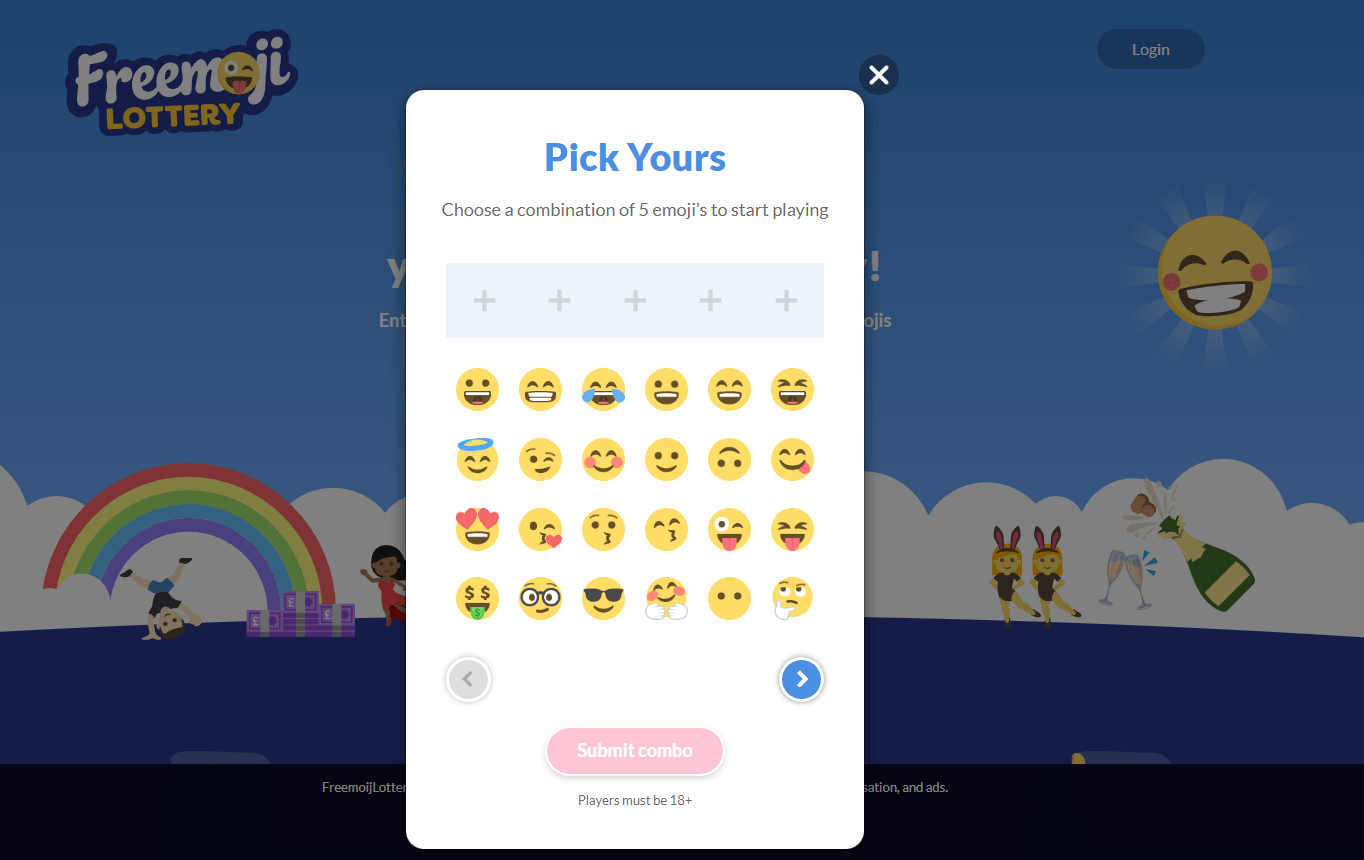 Freemoji Lottery uses a unique system. Instead of picking numbers, you choose emoticons when designing a winning combination. The game offers a daily draw, and the prize pot starts at $20. Thanks to the rollover function, the fund increases by $20 every day. That is why the main prize can reach $1,000 or more.
Apart from the main draw, there are also fivers draws where you can earn $5. Freemoji Lottery pays all winnings via PayPal. Although the prizes aren't that generous, the unique concept makes this lotto interesting.
PCH Lotto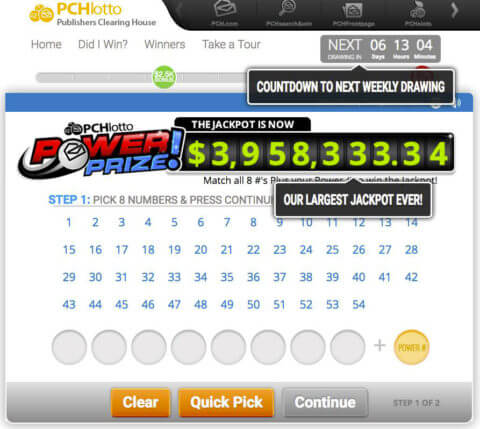 PCH stands short for Publishers Clearing House, and their PCH Lotto offers multiple options to win. The system for the main PCH Lotto is simple – you pick eight numbers plus a special Power number. The exact concept is 8+1/54, and you can use Quick Pick when selecting the desired combination.
As more players join the game and time passes, the jackpot increases and can reach a whopping sum. The table below shows the different categories of prizes in the PCH Lotto.
| Lottery | Prize |
| --- | --- |
| Daily Winners | $500 |
| Lotto Winners | $1 million |
| Instant Winners | $5 to $10,000 |
| Power Number Winners | $5 to $500 |
BoxLotto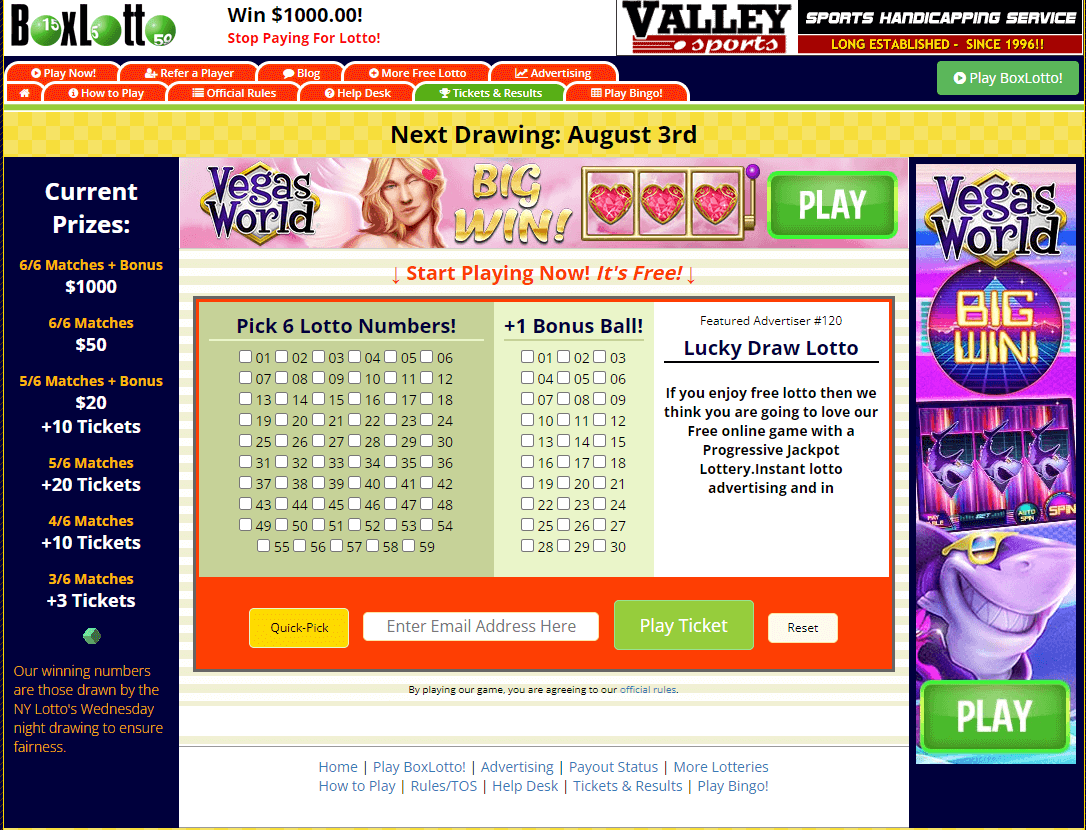 BoxLotto offers a two-drum lottery system, which is the most advanced lotto concept of all free games on our list. The formula is 6/59 + 1/30, which means you pick six basic numbers and one Bonus Ball.
Here is a quick overview of the prizes: You can purchase up to 30 tickets every week. BoxLotto draws every Wednesday evening, and you have until Tuesday at 12:59 PST to purchase tickets. Players have four weeks to claim their rewards.
| Prize Tier | Prize | Odds |
| --- | --- | --- |
| Six numbers and the bonus number | $1,000 | 1:1,351,724,220 |
| Six numbers without the bonus number | $50 | 1:4,250,705 |
| Five numbers and the bonus number | $20 and ten bonus tickets | 1:4,250,705 |
| Five numbers without the bonus number | Twenty bonus tickets | 1:146,576 |
| Four numbers without the bonus number | Ten bonus tickets | 1:2,180 |
| Three numbers without the bonus number | Three bonus tickets | 1:96 |
BoxLotto is only available in the
USA
,
UK
,
South Africa
,
New Zealand,
Ireland,
Canada,
and Australia. The rules indicate a single user can only register with one e-mail address.
Free National Lotto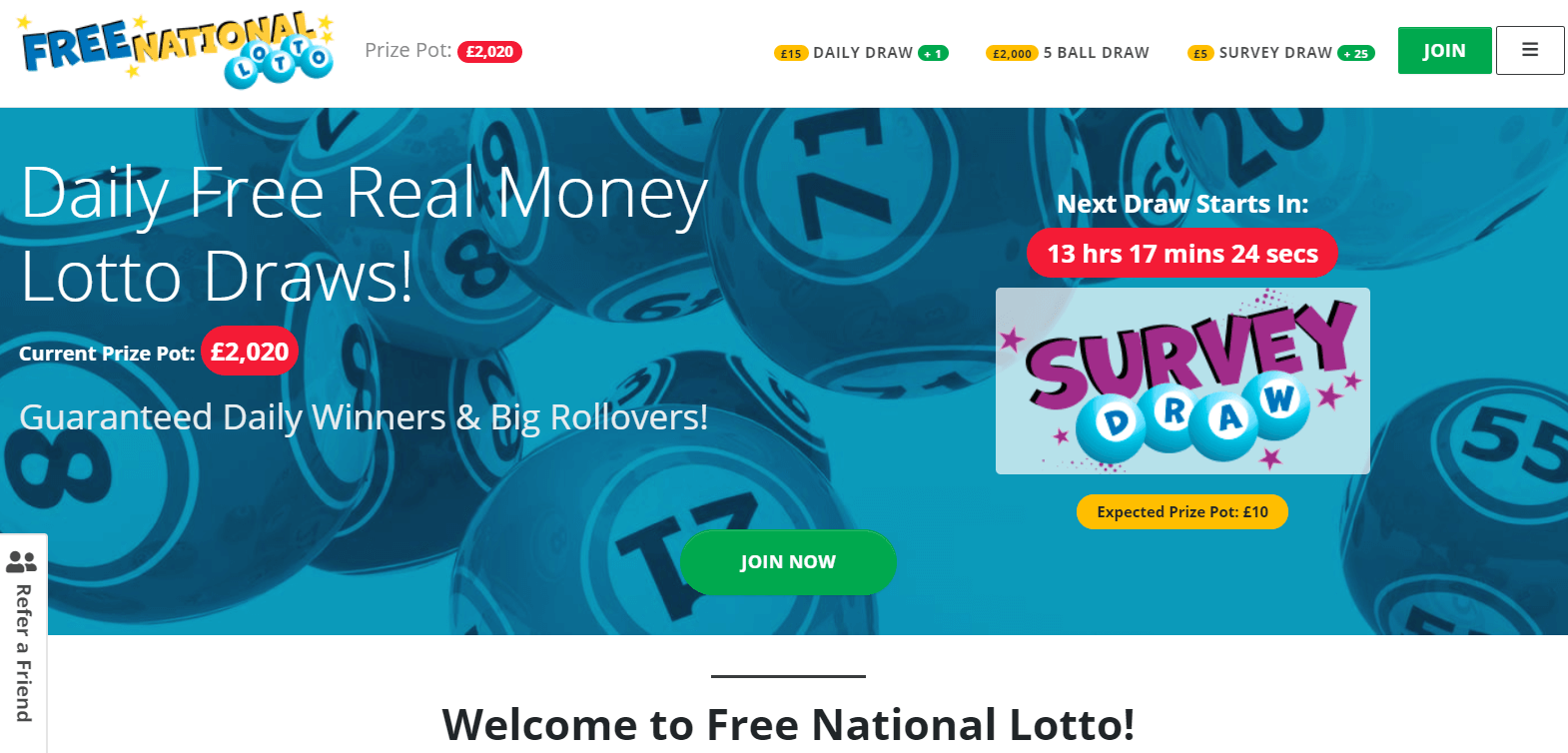 Although the name is Free National Lotto, you can play from anywhere in the world where the lottery is legal. All it takes is registering to an account and choosing the game to enter.
These are the available games:
Daily Draw – it uses a 5/40 concept with the prize fund being £5. If no one wins the reward, it gets transferred to the next round.
5 Ball Draw – unlike the daily sessions, these draws are every Thursday and Sunday. The concept is the same (5/40), and the main prize has the rollover function. However, it stops at £2,000 until someone claims the reward.
Survey Draw – it is a daily draw held every morning. The prize fund is £5, and you need to complete a survey to participate.
| Draws | Game Format | Prize |
| --- | --- | --- |
| Daily Draw | 5/40 | £10 |
| 5 Ball Draw | 5/40 | £2,010 |
| Survey Draw | Survey | £5 |
The winnings are paid via PayPal. Free National Lotto offers exciting concepts, and the prizes are guaranteed.
Is Free Lottery a Scam?
Free lotteries are a real deal, which means these websites are both legal and legit. These free lotto games might be sponsored by official lottery companies or organized by independent bodies who partnered with advertisers. 
While free lottery is legit, you should be careful when choosing lotto websites. You might encounter platforms that are a scam and will never pay your earned winnings. That is why you should only stick to reputable operators, and you can find them in the list below.
What Can You Win If You Play Free Lottery?
Are the prizes attractive enough to participate in free lotto? It depends on the platform, but you would be surprised how tempting rewards in these lottery games can be.
The three types of prizes to expect include:
Cash – the most common reward is actual money. The majority of lotteries include most prize funds for their free draws. However, jackpots and major sweepstake prizes can be very generous.
Vouchers – you might win a gift card or voucher to purchase at a specific website.
Free tickets – some websites will offer you free tickets for paid lotteries, which gives you a chance to win big. 
Other prizes – you might win a car, home appliances, and other products. 
The rewards in free lotteries are not as generous as in premium games, but if you choose right, they can be very tempting.
How Free Lottery Makes Its Money?
If you purchase a ticket at the best online lottery sites, you can expect to pay a small fee to the vendor. But how does a free lottery make money since you are not buying anything?
The secret lies in partnering with advertisers and sponsors. Many free lotto websites signed deals with partners who want to advertise on the site. The platform earns money by showing the ads, and the revenue earned goes back to players via lottery games. Survey revenues, as well as optional member subscriptions, can be another way to finance free lottery.
Another possible revenue source is if a premium lottery organization is behind the free lottery. That is the case with the EuroMillions free lotto. The game uses a portion of the actual prize fund and gives it back to players via daily and weekly draws.
How to Play Free Lottery Online?
The great thing about free online lottery sites is that they are easy to use. If you want to participate in free draws, these are the steps to follow:
Pick the desired website. You can choose from a long list of operators and games available on this page.
Register for an account. Most websites will require you to register for a free account so that you can participate in their games.
Sign up for the desired draw. Depending on the game's rules, you might need to select the lottery numbers for your combinations. Some platforms only require you to sign up for the draw and wait for the results.
The free lottery site would contact you if you won a prize. Alternatively, the reward might automatically be credited to your account. 
How to Spot Fake Free Lottery Sites?
Unfortunately, lottery scams happen, and they usually occur to those that aren't careful enough. That is why you should learn how to spot fake-free lotto sites.
These are some tips that you can use to identify a fraud:
They are asking for your credit card details – these lotteries are free, which means there is no reason for the platform to ask for your credit card specifics.
Asking for a payment – once again, it should be free to participate in these games. If the platform asks to pay to register an account, the odds are they are frauds. The same is true if you are promised a prize payment if you pay an upfront fee first.
Prizes sound too good to be true – although many free lotto games offer tempting prizes, some rewards might sound too good to be true. If you came across a rather obscure and unfamiliar free lottery that offers $1 million, the odds are it will be fake.
Security certificates – reputable websites will apply SSL and other security certificates to keep players protected.
No public results – the results should be accessible to anyone interested in seeing the numbers drawn. If the platform is hiding the results, that makes them suspicious.
How to Evaluate a Lottery Site – Ranking Factors
Here are the ranking factors we used when evaluating a free lottery website:
Reliability – does everything seem transparent? Are the terms and conditions clear, and should you feel safe on the website?
Availability – some games are available throughout the world, while others only accept players from certain countries.
Prizes – what rewards can you win by participating in a free lottery? It can range from modest sums to life-changing jackpots. Rewards can also come as vouchers and other benefits. 
Available games – how many games can you play on the site, and are they frequent? Daily games are far more exciting than single weekly drawings. 
Gaming concepts – some lotteries use serial numbers; others employ classic lotto concepts with one or two drums. You will even find some websites with unique gaming concepts that are different than anything else you might have seen when playing online.
Payment options – how much time it takes for the payment to be sent to your account? Will you receive it via PayPal, bank account, or a third option? Do you have to claim the prize yourself, or it will be credited automatically?
Are Free Online Lottery Sites Safe?
Yes, free online lottery sites are generally safe. However, you should pay attention to the word "generally". Not all platforms might be legit, which is why it is imperative to pick only reputable and reliable websites. 
That way, your personal information remains safe, and payouts are guaranteed. You want to read the terms and conditions of the platform before joining it. It ensures you are familiar with all specifics of playing on that website.
Final Thoughts
Free lottery sites are more than a fun way to pass the time. You can win attractive prizes if you are lucky enough. If you consider that you haven't invested a single cent, winning any reward will be welcome.
As with national and other premium lotteries, it is imperative to play regularly. By participating in the sessions every time, you increase the odds of winning prizes. The only remaining thing now is to pick a website that suits your preference and start playing!
But if you are looking for better odds and improved jackpots, consider spending on paid international lottery games such as US Powerball, US Mega Millions, Italy SuperEnalotto, and Europe Euromillions.
As mentioned at the beginning of the article, my recommendation is to play with one of our recommended lottery sites:
| | | |
| --- | --- | --- |
| | | |
| GET 25% OFF for any ticket! | GET 20% OFF your first order, promo code: LOTTERYNGO | Buy 2 Powerball entries and get 1 free! |
| | | |