Best Online Lottery Sites 2023
Finding a good online lottery site can be a little tricky, there are many scam sites out there. Other platforms may refuse payouts based on strange criteria in order to save money. Customers can be incredibly disadvantaged when it comes to such sites. With this in mind, it's best to perform your due diligence when choosing an online lottery site.
Best Online Lottery Sites — Highlights:
Jun 21, 2022 – Updated two offers from Lottofy
Jun 20, 2022 – Updated offer from TheLotter
Apr 10, 2022 – Fact checked done by Liam Wilson.
Dec 26, 2021 – Removed LottoSmile from the list, we notice payment method issues. We recommend to play with TheLotter the owner of LottoSmile.
Dec 3, 2021 – Added to the "Other Lottery Sites" section new brands: LotteryWorld, BuyLottoOnline, and 24Lottos.
Oct 25, 2021 – We removed MultiLotto from the list. We moved Jackpot.com from position #10 to #4. 
Sep 20, 2021 – Added PlayUSALotteries to the list. We found it legit.
Aug 23, 2021 – We got a few negative reviews about WinTrillions mobile version after they changed the design of their website and we decided to move them from #3 to #6. Congrats to Lotto247 who entered our exclusive top 3 Lottery Sites (!)
The Lotter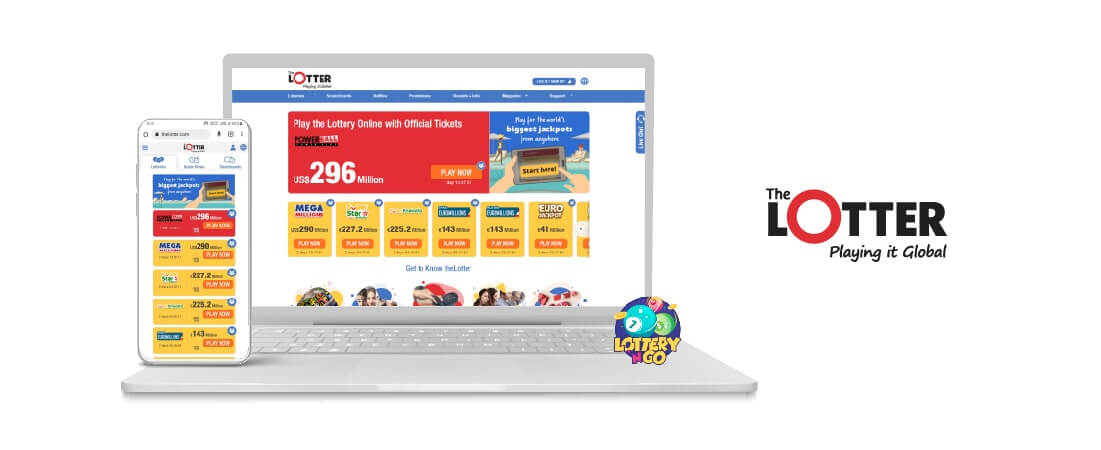 TheLotter is one of the oldest online lottery sites, established back in 2002. With more lotteries than any other site and higher prizes, this takes the obvious first place. It is consistently rated as number one by many online review sites for its reputation, integrity, game variety, and ease of use.
On top of this, it offers an excellent mobile application, a huge number of games, multiple payment methods, and fantastic customer support. The only issue with TheLotter is that fees are a little on the steep side, but they have to make money somehow.
Why We Recommend
The most popular, well known, and all-rounded lottery site that has something for everyone.
Best for
Anybody looking to play online lotteries. But people looking for the very cheapest platforms will need to look elsewhere.
Pros
Huge number of games
Customer-friendly platform
Trustworthy and reliable
Brilliant mobile application
Lotto Agent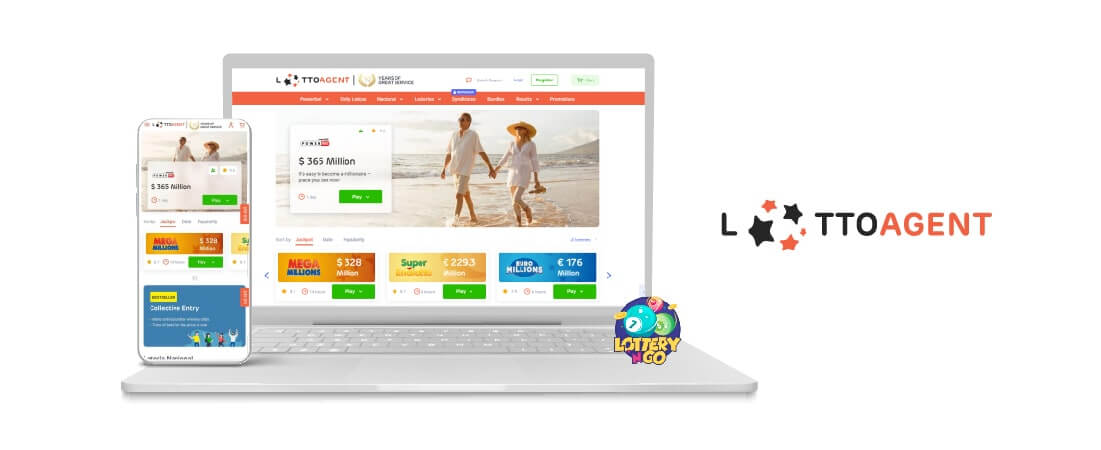 Lotto Agent is a little more recent than the above lottery, established in 2012. It operates out of Belize and is one of the most reliable lottery agents. It assigns agents to purchase official lotteries and scans a receipt back to customers. The company is regulated by the Curacao government, so it is fully secured.
Additionally, all financial transactions with this company are PCI compliant, the same standard that banking institutions are held to. LottoAgent is also quite cheap with minimal fees. The downside is that the number of games is not huge, and there are no scratchcards or raffles. However, it does offer a huge number of discounts and bonuses. It has also selected the most affordable lotteries, with the biggest prize to entry ratio.
Why We Recommend
One of the most reliable and trustworthy lottery agents that is PCI compliant and fully regulated.
Best for
People looking for high-value lotteries with low fees.
Pros
Reliable and trustworthy
Multiple discounts and promo codes
Excellent value for money
Cons
Not a large selection of games available
No scratch cards or syndicates
Lotto247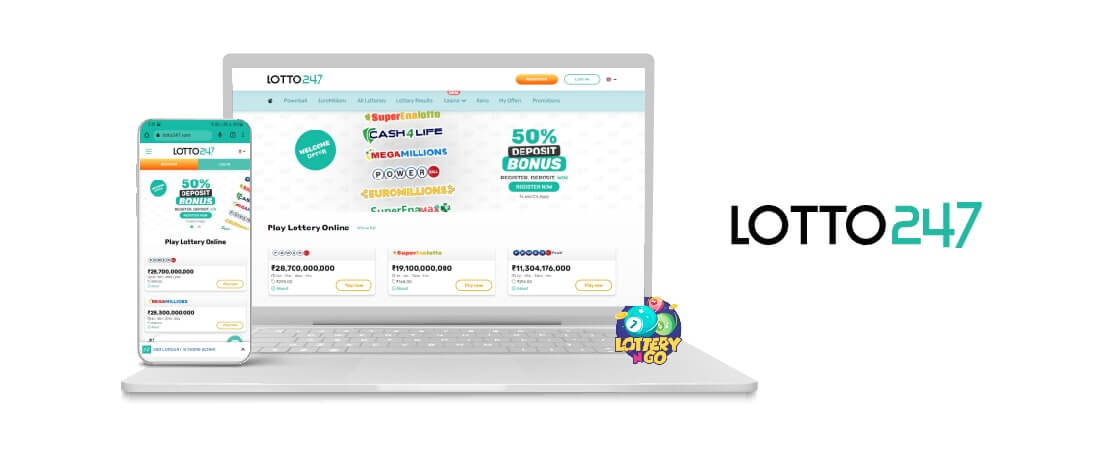 Lotto247's history goes back to 2004 when this platform was launched. Today, they have a license from the Curacao Gaming Authority and17 international lotteries available. You can play famous lotteries including US Mega Millions, US Powerball, SuperEnalotto, and Euro Millions. They also offer quick games such as slots, keno, live casino, and table games.
You can buy tickets for both regular and special draws, and the entire process shouldn't take more than a couple of minutes.
You won't find many websites with customer support as reliable as the one offered by Lotto247. Not only can you use multiple methods to reach them, but agents also speak multiple languages. It is worth commending the design as the website's interface follows all the latest industry trends. Overall, it might not be as popular as some other online lottery platforms, but Lotto247 is worth checking out.
Why We Recommend
Attractive website design secures a pleasant user experience, and customer support is fast and reliable.
Best for
Those who want to play premium multi-state and transnational lotteries. It is also great if you appreciate a modern website design with intuitive navigation.
Pros
Attractive website design and simple interface
Customer support is fast and reliable
A free Powerball voucher on your first deposit
More than 15 years of tradition
Cons
Not the most generous lottery selection
Live chat support only available to registered members
Jackpot.com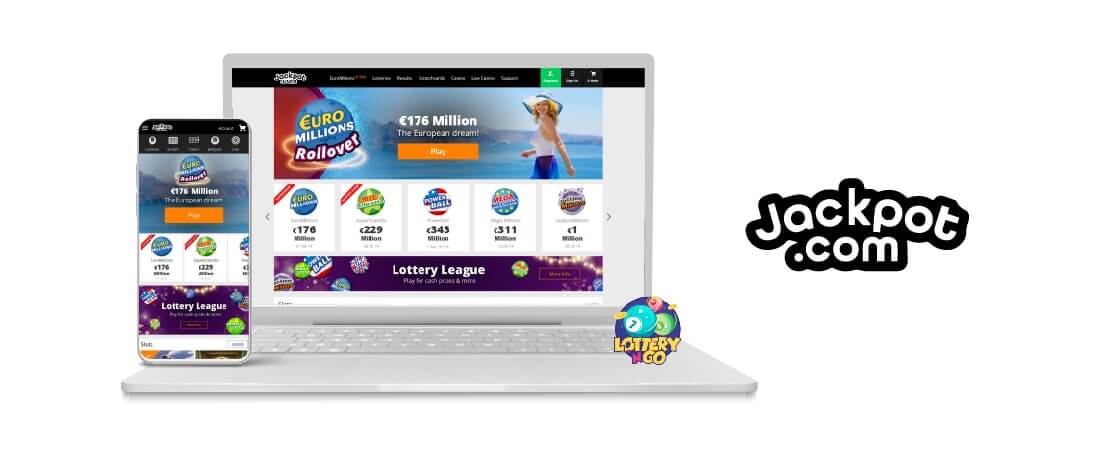 Jackpot.com is new to the market and is lesser known than the entries above. But don't write it off just yet, as it has a lot going for it. With this site, you will be paying for a bet on the outcome of physical lotteries, matched by Jackpot.com. An official ticket with the lottery is not purchased. Jackpot.com is very easy to use and opening an account is streamlined and hassle-free. It offers a wide range of lottery games, scratchcards, live casino games, table games, and slots.
The site was launched in 2016 and is regulated by the Malta Gaming Authority and the UK Gambling Commission. Unfortunately, there are many pitfalls with this company. It is hard to withdraw funds and customer support is not responsive in many instances. They also bill for next month's subscription in advance. Many users report that canceling subscriptions can be difficult.
Why We Recommend
Easy to set up an account. Customers can start playing immediately without an extensive verification process.
Best for
Players who want to get up and running quickly without delay.
Pros
Easy to deposit
Cheap lottery provider
Regulated by UK and Malta regulatory authorities
Very swift and easy registration process
Cons
Dubious subscription tactics
New site with less reliability
WinTrillions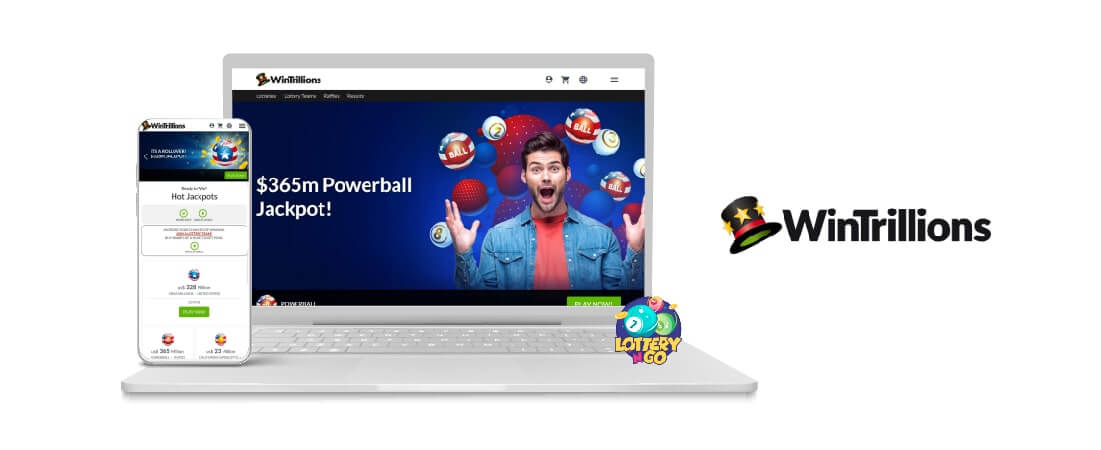 WinTrillions was founded in 2005 and is currently owned by Triangulum N.V. The site is well established, serving over 500,000 customers in 180 countries. The online lottery site has tons of promotions and accepts over 32 payment methods for deposits, including Bitcoin. WinTrillions stands out in terms of the variety of games that it offers, with over 20 lotteries and 12 syndicates.
It also provides the typical features associated with a standard lottery site, including SSL encryption, a mobile application, and a return path for spam filtering. The user experience is smooth and the interface is easy to navigate. Unfortunately, WinTrillions falls in several key areas. The subscriptions auto-renew, which can be annoying. The application is only available with IOS, and the platform is a little bit expensive, all things considered.
Why We Recommend
Lots of deposit and withdrawal options with a versatile and user-friendly website.
Best for
People who value entertainment and user experience above all else. The site is very professional looking and easy to navigate.
Pros
Good variety of games
Accepts large number of payment methods
Website available in multiple languages
Reliable and trustworthy platform
Amazing user experience
Cons
Subscription auto-renews
A little bit expensive in terms of fees
PlayHugeLottos
PlayHugeLottos started its journey in 1998, which implies they've been in business for over two decades. That makes them one of the longest-running platforms in the entire industry. They expanded their game selection over time and currently offer 19 lotteries from four continents. All the major lotto games are there, which means you can participate in the top games on this platform. It also offers quick games such as scratchcards, instant win, and keno.
The operator will welcome you with a bonus lottery ticket as soon as you fund your account. Additionally, the loyalty program allows you to convert earned LottoPoints to lottery tickets. That makes playing particularly interesting and compensates for minor drawbacks, such as missing a mobile app or around-the-clock customer support.
Why We Recommend
It supports all major lotteries from four continents, including Europe, South and North America, and Australia.
Best for
All those who appreciate a welcome bonus, loyalty program, and other promotions. The website offers a vast selection of deposit methods.
Pros
Lotteries from four different continents
Ten different languages supported
A platform with more than 20 years in business
A welcome offer and other bonuses
Cons
The mobile experience could be better
Customer support isn't always available
PlayUSALotteries
PlayUSALotteries is a part of the same gaming group as PlayHugeLottos. The platform offers around 19 games, including popular European and American lotteries. You can also pick from Super7, Big5, and other bundles to get better deals on multiple games.
The website welcomes players from throughout the world. It has multiple localized versions, and even the customer support speaks different languages. The entire website is user-friendly and easy to use. Thanks to the mobile-friendly version, you can play your favorite lottery games on your mobile devices.

Why We Recommend
It has an excellent choice of bonuses, ranging from a first deposit boost for new players to a loyalty program.
Best for
Those looking for lottery bundles and great deals on multiple lotto tickets.
Pros
All the major lotteries included
The 50% welcome bonus sounds tempting
You can pick from various lottery bundles
The pages load quickly
Cons
No support over the phone
It could have a better lottery selection
LottoGo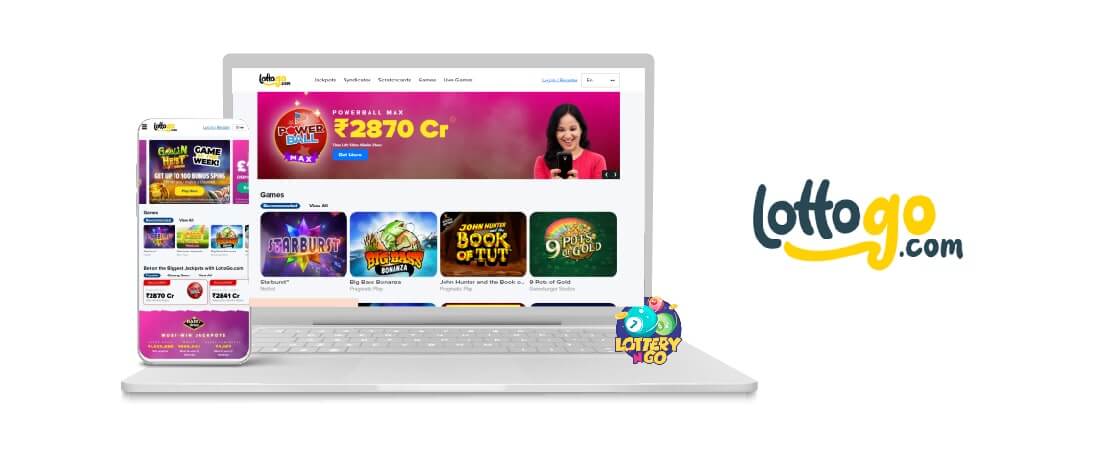 LottoGo is a platform that you can trust, although it doesn't come anywhere near perfection. For starters, it has a license from the UK Gambling Commission, and it does everything by the book. In the UK you can place your bets on the outcome of 20 different lottery draws at any moment, including popular games like Powerball and Mega Millions, and buy tickets for EuroMillions and UK Lotto. It is possible to engage in syndicate play with a variety of options available in that area.
The platform offers three payment methods, which cover Skrill, Visa, and MasterCard. Even though the number is low, these are the most popular transaction options on lottery sites. The customer support could be better, but they compensate that with a comprehensive FAQ section. Overall, the platform is not perfect, but there are great reasons why you should try it.
Why We Recommend
A dedicated mobile app with a fine selection of lotteries and syndicates, which is sweetened by the simplicity of the design.
Best for
Players who would like to try their luck at major lotteries or syndicate play. It is an excellent choice if you want to play on the go since it comes with a free mobile app.
Pros
Excellent selection of syndicates with major lotteries covered
An intuitive interface and attractive graphics design
Fantastic mobile support and a free mobile app included
Additional game selection, including scratch cards and casino games
Cons
Customer support is not that responsive, which requires patience
Only several payment methods available
LottoKings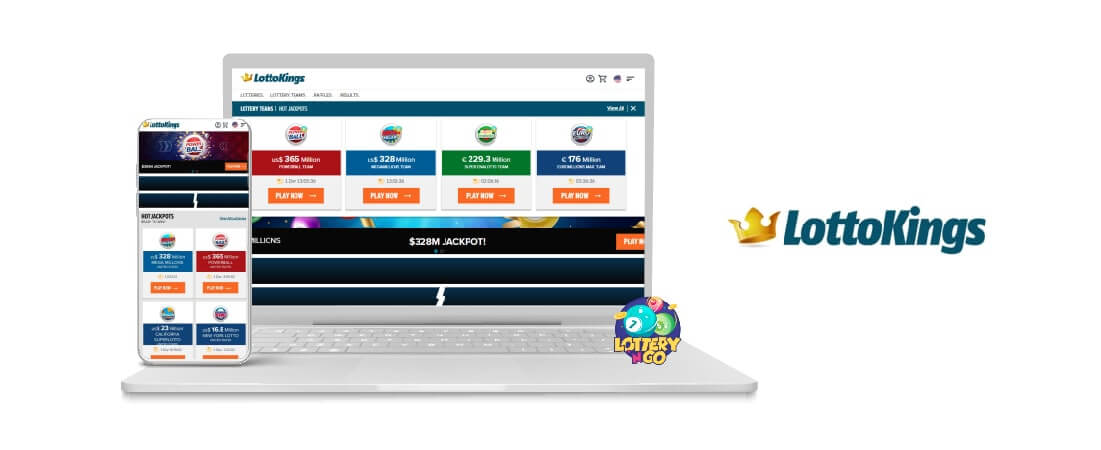 LottoKings is not a new platform but is a rebranded version of CongaLotto, a well-recognized brand. Since the rebrand, LottoKings has had 11,446 winners and paid out a total of $1,491,800 in prizes. Like LottoAgent, LottoKings has a Curacao gaming license for additional regulation and provides solid security. It is run by Legacy Eight, a company based in Willemstad, Curacao. Legacy Eight is an established gaming company, and it's also the original company behind WinTrillions.
The disadvantage of this platform is that there is no mobile application and only a small number of supported payment methods. LottoKings is a hybrid business model. It can act as a lottery agent, purchasing your tickets. Alternatively, it can act as an online lottery betting service, taking your purchase as a bet on the outcome. Unfortunately, it is at the discretion of LottoKings to take your purchase as a bet on the outcome or as a purchase of the official ticket. There is no mobile application with LottoKings and no physical scan of ticket receipt.
Why We Recommend
Excellent no-hassle payout structure and easy account sign-up. A very streamlined lottery provider.
Best for
Players looking for straightforward payouts without any taxes deducted. LottoKings does not take any percentage of your winnings from you.
Pros
Offers 22 lotteries from Europe, South America, and the USA
Highly secure and regulated online lottery service
Straightforward payout structure
Syndicates and raffles available
Cons
Invasive level of information required for signup
No mobile application
LottoLand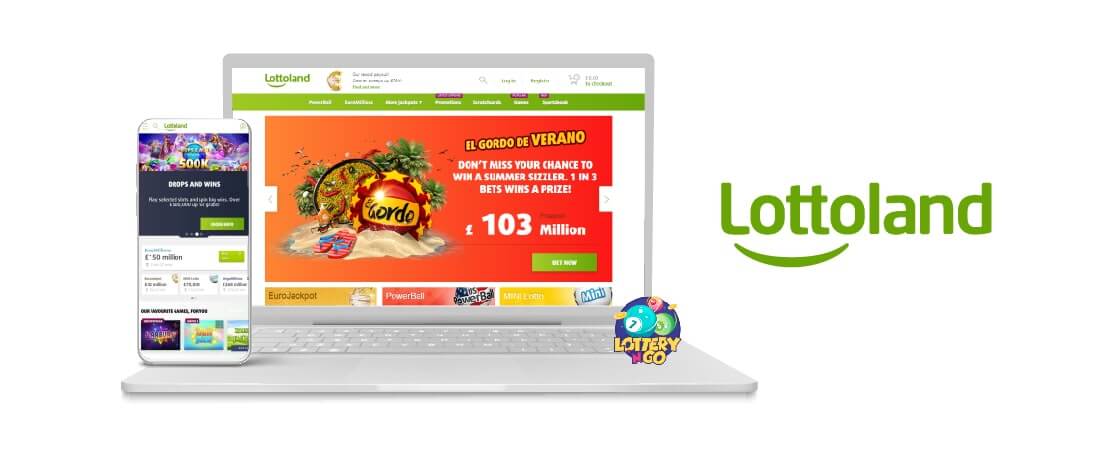 Lottoland was established in 2013, and it quickly established itself as one of the top lottery sites on the market. The biggest jackpot prize given to a player has reached €90 million in 2018. The total rewards given to players have already exceeded €110 million, and the platform guarantees a fast payout.
The unique thing about Lottoland is that it works on a different basis than similar lottery sites. Instead of playing the actual lottery, you bet on the outcome of a session. From the user's perspective, everything remains the same. That approach could even grant you bigger prizes since the provider offers Special Jackpot boosts and other promotions.
Lottoland offers 34 games, including the most popular lotteries like US Powerball and EuroJackpot. Apart from classic play, you can choose syndicates, bundles, and subscription deals.
Why We Recommend
It is a reliable platform that has been around for years. It acquired multiple gaming licenses to support its trustworthiness and reputability.
Best for
Everyone who is looking for a twist on standard lottery play and tempting bonuses to increase their profit should try their luck here.
Pros
The interface is user-friendly and suitable for newbies
Attractive bonus structure and tempting promotions
It supports mobile gaming on iOS and Android
A wide range of lotteries available
Cons
Live chat assistance is not open 24/7
A different concept than the standard lottery website
Lottofy

Lottofy is a new addition to the online lottery world. It only launched in 2020 but already has a huge player base. The platform offers over 15 lotteries, with the main focus on European games. All the major games are included, and you can play them on the go by using free mobile apps.
Superlotto is a unique option available at Lottofy. It allows joining a large syndicate and pursuing jackpots in different lotteries at a modest price. The platform is reputable, but it does have a tedious registration and identity confirmation process.
Why We Recommend
Lottofy is an excellent choice for those who prefer European lotteries, and it adds major US lotto games to improve the available selection.
Best for
Those who want to play in syndicates, especially in large groups pursuing different lottery jackpots.

Pros
Syndicate plays are available for many lotteries
A fine mobile app to enable playing on the go
A licensed and reputable platform
Fast page loading times
Cons
The registration form is more detailed than at some other sites
Customer service isn't available around the clock
Best Lottery Sites by Country
Other Lottery Sites
Free Lottery Sites – If you are a newbie to the lotto world, you might start by trying free lottery sites. These platforms offer free tickets for lotto sessions. They are convenient to try the game, but the chances of winning a prize are often slim. It's vital to stick to reliable providers to ensure the lottery is not a scam.
Lottery Betting Sites – Are you looking to bet on the lottery? Lottery betting sites are a great way for people to have the opportunity to bet on their favorite lottery numbers. These sites provide fun, exciting ways of playing your favorite game while also offering you the chance at winning big prizes.
Government Lottery in India – Wait, what? Yes, lottery is legal in 13 states (only!), but online lottery is the "answer" for people who still want to play legally from India.
Bitcoin Lottery Sites – The Crypto is not going to disappear soon, if you want to pay with Crypto/Bitcoin, this list is for you.
BOTB.com – People are asking me (on email) if I know lottery sites that are not ordinary, meaning, lottery sites you can win cars, gadgets, holiday trips, watches, motorcycles, and more.
24Lottos – This website offers more than 30 lotteries, but it's main advantage is that it accepts cryptocurrencies.
LottoSmile – By theLotter and focus on the Indian market.
BuyLottoOnline – The website has a modern layout and it's an excellent option for major lotteries and syndicates.
MultiLotto – The platform offers a generous selection of 60+ lotteries and reliable smartphone apps.
LotteryWorld – This is a lotto betting site that's been around for years. This platform allows you to wager on the outcome of lotteries.
How to Buy & Play Lottery Online?
Playing an online lottery is quite straightforward, at least in theory (not in theory, maybe you should read our how to play lottery online guide for beginners). You simply register with a well-known and reliable provider, such as the ones listed above. After this, you can deposit funds using a variety of methods. Depending on the site in question, it should be relatively easy to select the lotto that you want to take part in. Most sites will provide at least 15 lotteries from around the world. If you are ever tempted to try the lotto dominators, we recommend you check out if it's really worthwhile!
It's worth noting the distinction between lottery agents and lottery betting services. Lottery agents actually buy the tickets and will send you a receipt of purchase. A lottery betting service takes a bet on the outcome of the lotto and pays you the equivalent amount. Remember to read the fine print with every service and to find a provider with excellent support and easy withdrawal options. You should also take care to avoid fake sites.
If you are playing the lottery online, it is best to find a provider that suits what you are after, with excellent customer support and no fees. You might also want to investigate some free online tools to assist with planning, budgeting, and project management in general.
How to Evaluate a Lottery Site – Ranking Factors
Fake sites aside, there are a number of ways to evaluate a legitimate lottery site. These ranking factors are listed below (and the full list here), and these are the factors we used to figure out the best lottery sites on the market right now. The ranking criteria are:
Security and regulation
Variety of games on offer
Cost
Payment options
Customer service
Website usability
Mobile applications
The most important of all is the security protocols and regulation, which is of special relevance in the gambling industry. Next is the type of games on offer – if the game types that you prefer are not available (syndicates, raffles, specific lotteries, etc), then there is little point in using the service. Other important criteria include cost, payment options, customer service, usability, and whether or not the site has a mobile application.
How to Spot Fake Lottery Sites?
Spotting fake lottery sites is easier than you might think. You just need to be a little diligent. The first thing to do is look at the search bar on top. It should have an SSL certificate, which is a little green icon on the top left. This will ensure that the site is legitimate. On top of this, you need to look online for reviews to assess the trustworthiness of the site.
Even if the site is 'legitimate', lottery sites can use a number of tactics to avoid payouts. Only go with the very best providers that have been in the market for a long time. It's also a good idea to check who they are regulated by, how long they have been in operation, and what their track record is.
The Basic Rules for Playing Lottery Online
The same rules for playing the lottery online also apply to purchasing lottery tickets online. The people who are eligible for a payout will receive the prize once the numbers are correct. In case you grab the jackpot, you can check out how long after winning the lottery you can get the money. There is no point trying to 'hack' in if you don't meet the eligibility criteria. If you do win, then you may need to supply additional verification, and will be found out.
Remember to read the terms and conditions for each and every lotto that you enter. There will often be additional criteria depending on what kind of lotto it happens to be. Typically, you might pick 6 numbers and if these numbers show up, you get the jackpot. But there are many variants, such as the Powerball. The prize pool keeps increasing until the pot is won. The basic rules for playing the lottery online will typically include:
You must be 16/18/21 years of age or older to buy Lottery tickets and claim prizes.
A ticket is void if stolen, unissued, mutilated, illegible, tampered with, or altered in any way, defective or incomplete.
The Lottery is not responsible for lost or stolen tickets.
A lottery ticket may be cancelled only if presented before the drawing to the Retailer where it was originally purchased. Powerball tickets cannot be cancelled.
Multi-drawing bets on the same number(s) may be made in advance for all games.
You must fill in your name, address, and phone number on the back of your winning ticket before you file a prize claim.
All winning tickets are subject to validation by the Lottery.
All winning tickets are bearer instruments.
All prizes must be claimed within 6 months/one year from the date of purchase.
The Biggest Online Lottery Winners
There have been some massive online lottery winners, though the identities of such persons are rarely disclosed. It does not matter where you are from, as you can play in a lottery from a different country once you meet the eligibility requirements. 
Conclusion
You are certainly not short of options when it comes to online lottery sites, the 10 above are among the best in the sense of trustworthiness,  and reliability.
Always gamble responsibly and never risk more than you can afford to lose.
Aside from this, enjoy the experience.
FAQ About the Best Lottery Sites