Lottofy is a new player in the online lottery gaming scene. The internet vendor launched its services in 2020 but attracted players immediately by offering an all-around lotto experience. Apart from enabling individual tickets, the platform offers syndicates and Superformulas. There's a Superlotto where you can join a group that plays all available games in a week to maximize the excitement of playing the lottery. If that's intriguing, we suggest reading our Lottofy review to learn more. Here is what you should know about the platform's features, advantages, and drawbacks!
English, Spanish, Portuguese, French, Italian, German
| | |
| --- | --- |
| ⭐ Rating: | 4.4 ★★★★ |
| 🥇 Overall rank: | #11 out of 12 |
| 🌎 Country: | Malta |
| 📖 Ticket Scan: | Yes |
| 💵 Ticket Price: | $4+ |
| 🖥️ Lotteries: | 15+ |
| 🍿 License: | Yes |
| 🔥 Current deal: | Buy 1 Get 2 Tickets FREE! |
Which Lotteries Can You Play at Lottofy?
The provider's primary focus seems to be on European lotteries. You can enjoy several Spanish national games, including famous lotteries like La Primitiva.
Apart from games from Europe, you can also find a couple of options from North and South America. Major jackpot fans will appreciate they can participate in US Powerball and MegaMillions. These games are famous for their grand prizes, making them incredibly popular worldwide.
Here is an overview of all available games on Lottofy: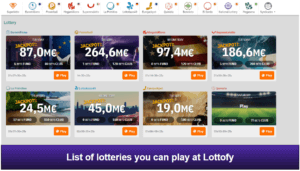 How to Register to Lottofy?
Lottofy is partially a betting site and partially a true online lottery vendor. That means they'll purchase tickets on your behalf for some games while acting as a bookmaker for other lotteries. From the perspective of a player, it's all the same. Here is how you can purchase lottery tickets.
Register and validate your account on Lottofy.
Deposit funds by using one of the specified payment methods.
Choose the game and the playing type. The platform will offer automatic renewal and other available options before you purchase the tickets.
Finalize the transaction and get confirmation. Wait for the draw to see if you are among the lucky winners.
Steps to Registering and Accessing Lottofy
If you want to play Lottofy, it's necessary to sign up for a profile. The process starts by choosing the "Create Your Account" button. You can find it in the top-right corner of any page. That opens up the form you need to complete. Unlike some other lottery sites, Lottofy has a detailed registration form. During the first step, you'll need to enter basic information plus your birthday and passport or ID number.
The second step involves entering a valid phone number, a physical address, and location. After inserting all details, you can finalize the registration process. The good news is there's no need to confirm anything. You won't have to pass the identity check (for now) or enter your access credentials again. Instead, the platform will automatically grant access to your profile.
The good news is there's no need to confirm anything. You won't have to pass the identity check (for now) or enter your access credentials again. Instead, the platform will automatically grant access to your profile.
From here, you can proceed to deposit funds and start purchasing lottery tickets. Please note you need to validate your email address before adding money to your account.
Is It Easy to Use the Lottofy Website?
Lottofy has a classic design for an online lottery site. That's a good thing since most players will feel at home immediately. The big banner advertises the most attractive jackpot sum at that moment, while the upper section lists all lotteries. If you pick a lotto game, you open a submenu with the available playing options. These include syndicates, tickets, and betting funds.
If you continue scrolling the page, you'll see a lottery overview with jackpots and deadlines to buy tickets. The page loading is fast, and everything works smoothly. It's easy to navigate the site and find the desired function.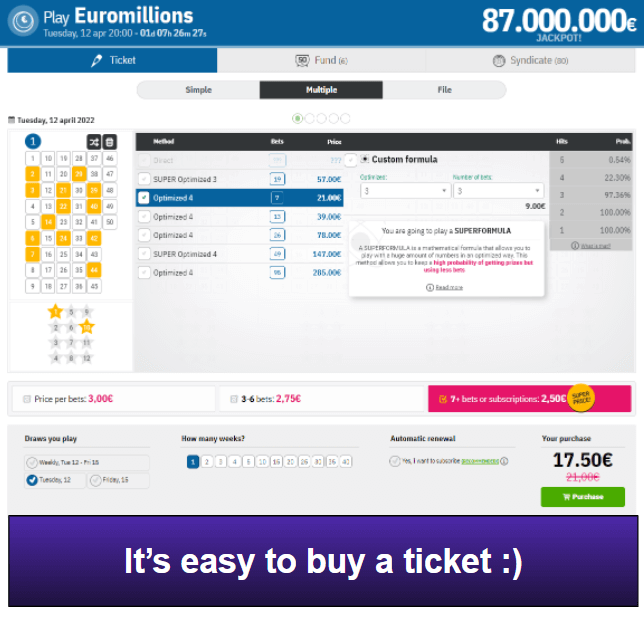 Lottofy Major Features
Can You Play Lottofy on Mobile Devices?
Yes, it's possible to enjoy Lottofy on the go. The website design is responsive, so it adjusts to the device screen size. But if you want to maximize the experience of playing on the go, download mobile apps.
Lottofy iOS mobile app is available on the Apple App Store but also on the platform's official site. If you want to download the Android APK, it's only possible via Lottofy's site. Mobile applications are free, and they don't take up much room on the device. Apart from streamlining the experience, you can use them to activate drawing notifications, so you don't miss any important lotto sessions.
Lottofy Vouchers, Coupons, and Discounts
The terms specify that Lottofy might offer occasional bonuses and promotions. Those could include deposit boosts with different percentages, discounts, and free bets. You should visit the website regularly and check your profile and email. That way, you'll learn about the offers as soon as they become active.
Which Payment Methods Are Available at Lottofy?
Lottofy tried to cover all major payment methods, and they did a good job. Credit and debit cards are the favorite choice of most players. The selection available at Lottofy is impressive, covering top brands like MasterCard and Visa.
If you prefer e-wallets, the options are above average in this category, too. E-wallets like Neteller and Skrill provide an additional security layer for your financial data protection. Lottofy allows the old-fashioned bank transfers, but they take more time. Other methods are all instant.
As for withdrawals, you need to have a verified account. It's impossible to cash out without verifying your identity, so make sure to give it several days to finalize that process.
An Overview of Lottofy Deposit Methods
| | | |
| --- | --- | --- |
| Visa | MasterCard | Diners |
| Discover | Skrill | Neteller |
| Sofort | Bank transfer | Paysafe Group |
| Trustly | UPI | Astropay |
Lottofy Rules and Regulations
If you have ever played the lottery online, no rules should surprise you. The terms protect fair play and equal chances for all users. Primary terms and conditions include:
It's not allowed to have more than a single account. You need to confirm your identity to validate the account.
You need to be of legal age to play at Lottofy. It depends on the location, but 18 years is the usual minimum limit to enjoy the lottery.
The website earns by ticket fees. They charge a bit more for making it possible to play worldwide lotteries online. It means the platform won't take a single cent from your winnings.
Lottofy Verified Winners
Lottofy doesn't have a public winner list. Instead, they prefer to keep the client's anonymity. Despite that, their services are legit. Positive customer reviews prove that most players revealed the platform exceeds their expectations.
Although there are no winners, you can find current jackpot prizes in each game. Check the grand prize amounts on the main page and pick the desired lottery accordingly. Lottofy will help by listing how much time you have until the deadline for purchasing the ticket.
Is Lottofy Customer Service Reliable?
Lottofy has polite and knowledgeable customer agents ready to answer any question related to the website. It's possible to send a message via live chat or email or contact the support over the phone. However, the staff doesn't work around the clock.
Here is how you can contact customer support:
Live chat – The workings hours are Monday to Friday from 9 AM to 3 PM and 4 PM to 8:30 PM. Agents also work on Saturdays from 10 AM to 7:30 PM. The times are CET.
Phone – The number to contact the support is (+356) 27782748. Phone agents have the same working time as live chat support.
Email – You can send a message to

[email protected]

or via the official website.
Is Lottofy Scam or Legit?
Lottofy is 100% legit, and there's no risk of scams. The platform acquired the license from the reputable Malta Gaming Authority. Furthermore, you can find the number of licenses issued by the MGA.
Clobet Limited is the company behind Lottofy. Its history goes back to 2019, also the year when this lottery site launched. The company applies deposit, self-exclusion, and other responsible gaming limits. It shows the platform's responsibility and dedication to players.
If I Win at Lottofy, Where Does the Prize Money Come From?
The terms specify the company operates as a bookmaker. That means you place wagers on outcomes in the available lotteries. Therefore, Lottofy has funds used to release the winnings to players who've been lucky enough to land a prize. Most rewards come from the platform's account, but if you win a large prize, they could include an insurance agency. That implies it could take a bit longer to receive the amount.
Lottofy emphasizes they don't always work as a bookmaker. They purchase tickets on your behalf for some lotteries. If you win, they claim the prize and issue your payment after that. The operator specifies you might not receive the advertised sum because there are taxes and other withholdings.
Lottofy FAQ
Does Lottofy offer subscription play?
Yes, you can play in advance by choosing subscription play. It's a great way to ensure you don't miss a single drawing.
What is the deadline for purchasing a ticket at Lottofy?
It depends on the lotto you choose. The general rule is that you have up to a couple of hours before the draw begins to purchase tickets.
What is the default currency at Lottofy?
The standard currency is Euro. If you receive payments to your account at Lottofy, they will be shown in this currency.
Lottofy – Do We Recommend the Site?
Yes, you can try Lottofy if you want to play the lottery online. The platform offers more than 15 games, with the main focus being on European lotteries. Apart from several Spanish lotto games, you can try major transnational lotteries popular worldwide. The payment method variety is impressive, and the transactions are fast and safe.
Lottofy offers dedicated mobile apps for iOS and Android. It streamlines the playing experience on the go and ensures you can buy tickets effortlessly. Overall, the platform does everything right and is attractive for beginners and experienced lottery players. Don't hesitate to try Lottofy and see why it has a huge fan base worldwide!
Why it's better than Lottofy: TheLotter is the most popular lottery site worldwide. It has a curated selection of the best national and international lotteries. 
Why it's better than Lottofy: Jackpot.com is the best platform for gaming fans. It offers a generous lottery selection but also slots and casino games for an all-around playing experience.
Why it's better than Lottofy: LottoAgent is among the best-looking lottery sites out there. It has a user-friendly interface, a reputable license, and all major lottery games.