Perfect for Syndicates and Mobile Gaming, but What About Payment Methods?
We can trace the history of LottoGo to 2011, which means they have been around for a while. Would you like to know if they are a reliable lottery provider? Our detailed LottoGo review will provide you detailed information on this platform, available games, bonuses, and other relevant details. Start reading to see if the website is worth trying!
18+. Gamble Responsibly.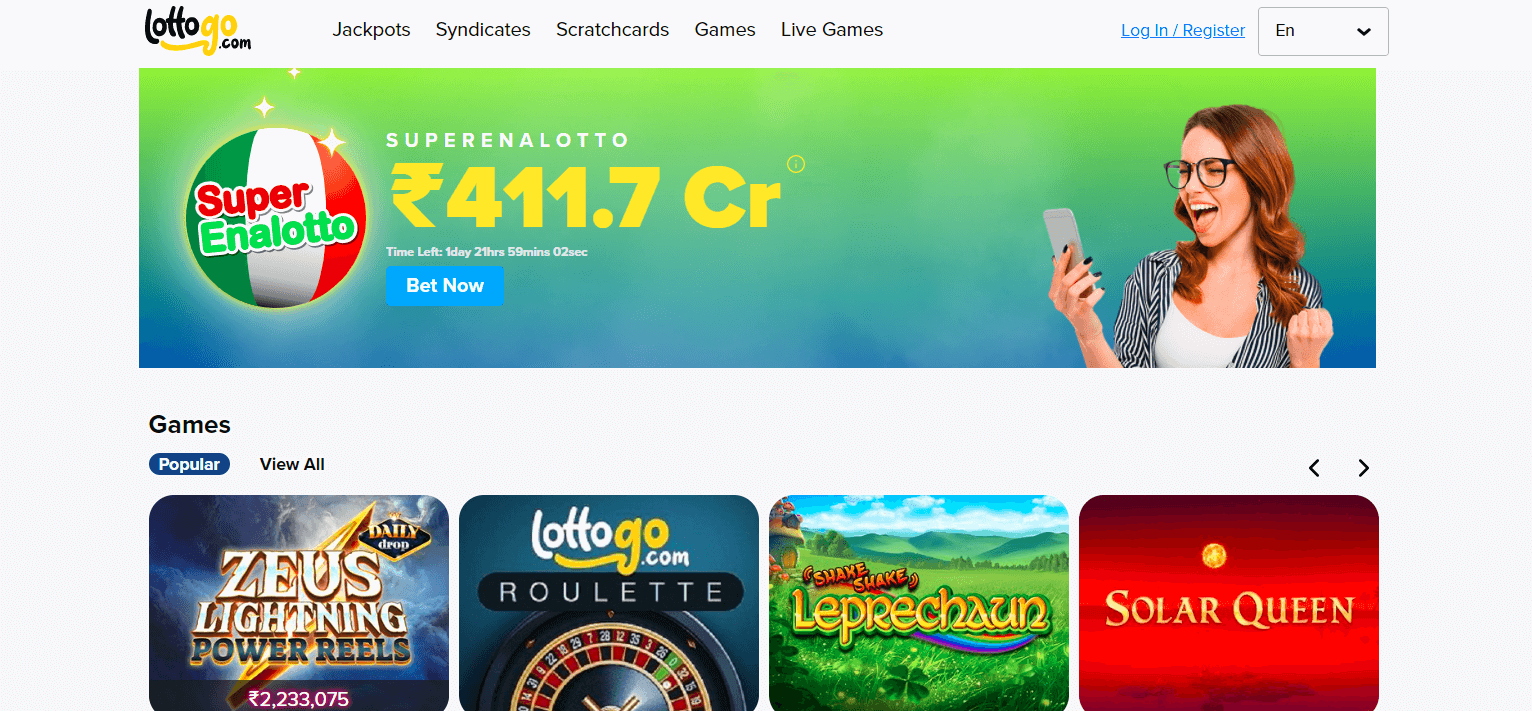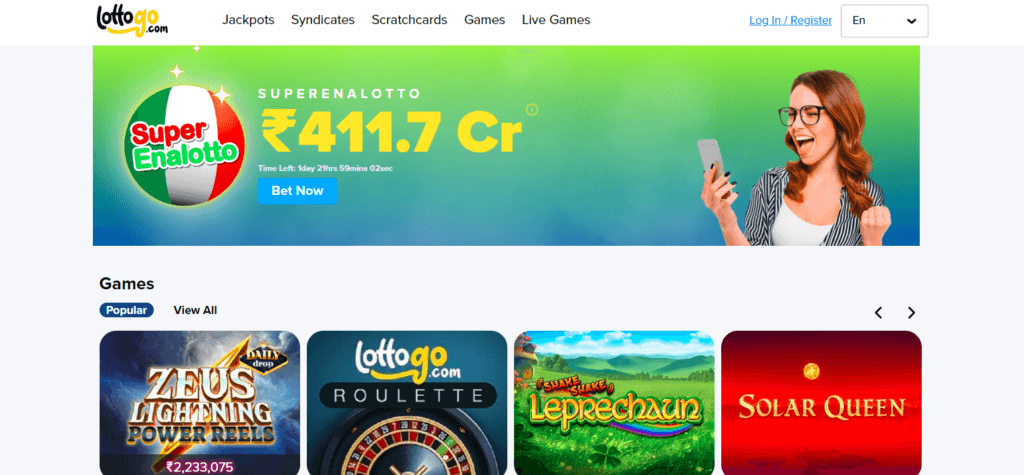 English, Russian, German, Finnish, Swedish, Chineses
Online Lottery Games in LottoGo
The most important thing for a player on a lottery website is the selection of games. That being said, it is worth noting that Lotto Go has more than 18 games available at each moment. Apart from the ordinary selection, you can also enjoy special drawings like Loteria de Navidad in Spain.
Here is an overview of the games you can play:
It is critical to mention that LottoGo also allows syndicate play. Furthermore, the website has one of the best offers for lottery syndicates. At any moment you visit, you will find at least ten options for playing them. It is up to you to find the most suitable option for your needs.
If you want to take a break from the lotto, how about trying scratch cards or spinning slot reels? Apart from that, you can play roulette, blackjack, and other table games. A live casino gaming section with human dealers rounds up the excellent game selection on this website.
How Does LottoGo Work?
Do you want to test LottoGo and play some of your favorite lotteries? Depending on your location, this website sells both lottery tickets and bets on the desired games.
From Australia, all lotteries are available, and you can purchase only tickets. If you play from the UK, you can buy UK Lotto and EuroMillions tickets. All other games are available via bets.
LottoGo also sells bets in India and the rest of the world. The selection of lotteries covered by these wagers is impressive.
If you feel like trying the site, here is what you should do:
Sign up for a new account and verify your e-mail address.
Log in to the website and head to the Jackpots section to see the available lottery.
Pick the desired game and bet or ticket.
The system will offer you to select the payment method. If you already have funds in your account (previously visited the cashier), you can use them to purchase the tickets or bets.
Complete the transaction and wait for the drawing session.
How to Sign Up and Login to LottoGo
LottoGo requires filling a registration form to sign up for an account. You will find the Login / Register button at the top of every page. If you click it, you can choose to register, which will open the following form.
You will need to enter all information required, including the mobile number, e-mail, and physical address. LottoGo has an address finder, but if you can't determine your location, don't hesitate to type it manually.
The system will get you into your account immediately, but confirming your e-mail is required to complete the transaction. From your profile, you can see the current balance on your account, as well as purchase tickets for upcoming lotteries.
LottoGo went with a clean and attractive layout that doesn't complicate things much. That is why you have the top menu with the main categories and slots, scratchcards, and other gaming options. The central part of the screen is reserved for the currently popular games. You will find useful links at the bottom, and the navigation overall is as simple as it gets.
That being said, there are a couple of minor flaws we noticed on LottoGo. For example, the lottery subcategory has the name "Jackpots." And while that is not wrong, some users might be confused about where to get the list of available lotteries. Also, the link to the Android app is not working at the moment, but we hope they will repair that soon.
LottoGo Features:
Play LottoGo on the Mobile
LottoGo mentions that they designed dedicated mobile apps for both Android and iOS. You can find the link on the official website to the iOS app, as well as find it on the Apple App Store. As for the Android app, it doesn't seem to be available in Google Play Store.
The application is free to download, and it provides an intuitive way of purchasing lottery tickets. You can also use the browser on your mobile device to access the website. The responsive design ensures optimal gaming experience regardless of the device you are using.
LottoGo Promo Codes, Vouchers, and Discount Codes
When it comes to lotteries, players can expect a free lottery ticket whenever they opt for a subscription. It is an interesting approach that guarantees benefits for those who stick around on the platform.
It is worth noting that LottoGo also has promotions and bonuses for other games. For example, the welcome package involves a free bet for a lottery draw plus 20 free scratchcards. Make sure to read the terms and conditions to understand all specifics of the deal.
LottoGo Modes of Payments
If you compare LottoGo to other providers like The Lotter, you will discover that its payment methods have room for improvement. The platform offers Skrill, MasterCard, and Visa. Those are the most popular transaction options, but there are only three of them.
It is interesting to note that the help section also mentions PayPal, Apple Pay, and Google Pay. However, once we tried to deposit funds, those weren't among the offered methods. We can only hope they will add more options soon.
When it comes to withdrawals, please note that you should use the same method used for depositing. For example, if you used Visa, you can withdraw funds to your bank account connected to it. The minimum withdrawal sum is £10, and the process can take up to five days. If the winnings are over £50K, you might need to wait for a claim with the insurance provider to go through.
Deposit Methods
Rules and Regulations in LottoGo
The rules and regulations in LottoGo depend on the country. Here are the main terms and conditions you should know:
In the United Kingdom, the legal requirement is to be at least 18 years old. Each ticket you purchase is a 1/50th share.
You also need to be 18 years old to play on the website from Australia. By purchasing a ticket, you buy a 1/50th share.
It is only possible to purchase bets from India and other countries in the world. The bet is worth 1/50th a share, and you need to be 18+ years old, depending on the required legal age in your location.
All winnings are subject to taxes at the source, as well as those in your home country.
LottoGo Recent Jackpot Winners
LottoGo isn't among those websites that list their jackpot winners publicly. We browsed through the platform but failed to find that they listed people who won any prizes.
That being said, you can pick between very tempting lotteries, such as US Mega Millions and German Lotto. Numerous games offer attractive jackpots, and the odds are many players won large prizes since the platform's establishment in 2011. The critical thing to note is that the operator will pay out all prizes, which means that your winnings are guaranteed.
Customer Support
Customer support at LottoGo is different from many other sites. If you visit the Contact page, the chatbot will ask you about what you want to discuss. Based on that, it will try to deliver an automatic answer from the FAQ section.
You can always choose to contact the team about the issue, which will initiate the live chat. After filling the basic details (if you are not logged in), you will be connected to an agent. Please note that you might have to wait for a few minutes based on the time of day. That is not the most intuitive system, and you are not always capable of resolving problems quickly.
You can also try sending the support an e-mail, but that requires patience, too. The good news is that the FAQ section is filled with useful information.
Is LottoGo a Scam?
LottoGo has been in the industry since 2011. Their headquarters are in the Isle of Man, but they have several branches around the world. The company acquired the UK Gambling Commission license, and the Isle of Man GSC is also supervising their business.
All that indicates that LottoGo is not a scam. It is among the reliable online lottery sites that you can use to purchase lotto tickets over the web.
FAQ
Q: What currencies are supported at LottoGo?
A: The default currency is British Pound Sterling (GBP), but you can also use other currencies like the US dollar and Euro.
Q: Can you play syndicates via LottoGo?
A: This is one of the best sites you can find for syndicate play. Whenever you visit LottoGo, you can pick from multiple syndicate deals for all popular games, including Powerball, EuroJackpot, etc.
Q: Is LottoGo a safe lottery provider?
A: You can feel safe while playing on LottoGo. The company has a license from the UKGC, and it follows the latest industry trends and regulations. It applies both safety and security measures to ensure players and their funds both remain protected.
LottoGo – Is It a Recommended Site?
LottoGo does many things right for a lottery provider. It offers a decent selection of games with all the major lotto games covered. You can even play syndicates to increase your winning odds while lowering the price per ticket.
There is room for improvement, and the website could use more payment methods and better customer support. However, that doesn't mean you shouldn't try it. Giving it a shot might be the best way to see if it fits your expectations.