Lottoland has been a popular destination for online lottery players for years.
The platform was established in 2013, and it offers dozens of lotto games from all over the world.
Take a look at our Lottoland review that describes both pros and cons of this provider!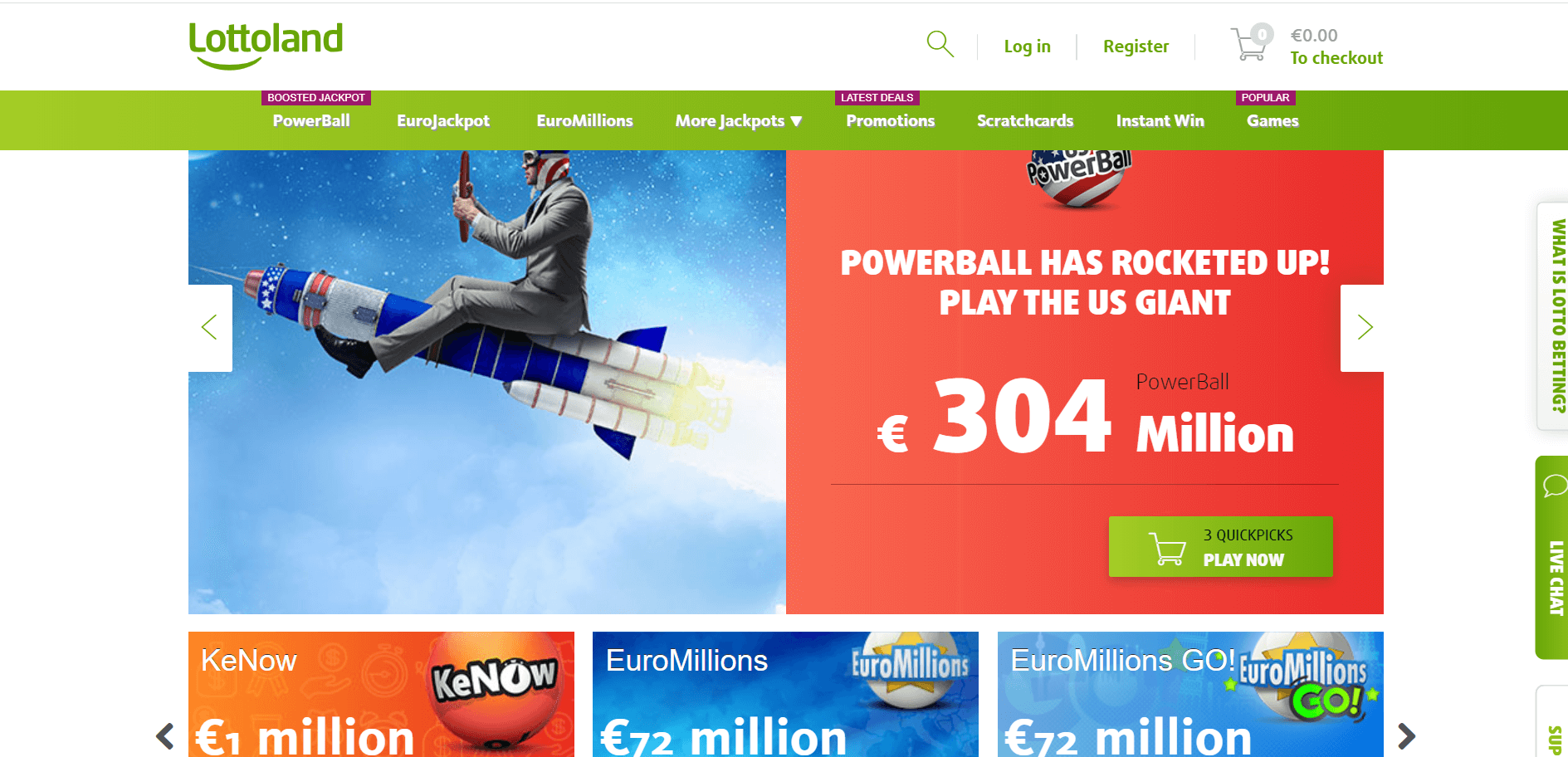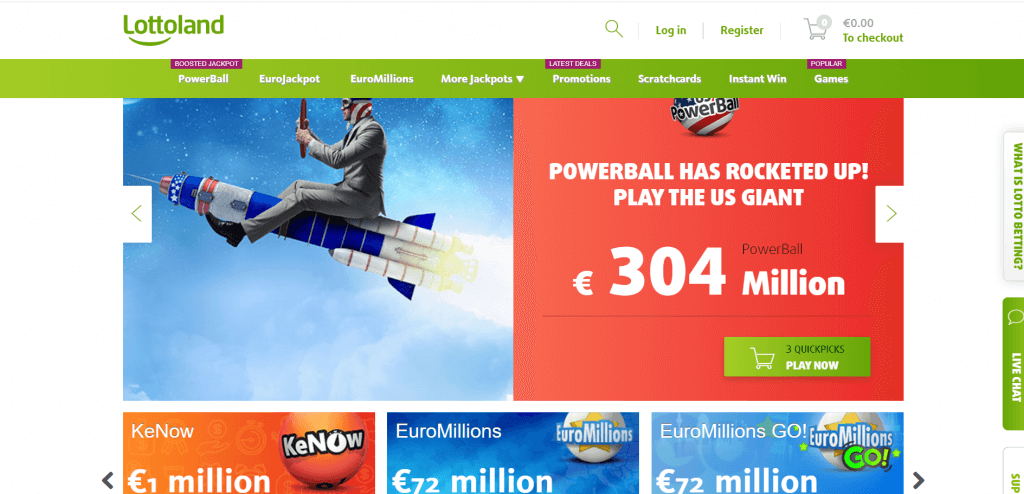 English, Deutsch, Slovakian, Polish, Portuguese (Brazil), Japanese, Hungarian, Swedish
What Online Lotteries Are Available at Lottoland?
Lottoland offers dozens of lotteries from Europe, Africa, Asia, Australia, North and South America. The most popular choices, such as Powerball and EuroMillions, are there, and you can also try small-scale games.
Here is a complete list of available lotteries at this point:
Please note that lotto offerings might vary from one country to another. The website has 11 different versions for specific regions of the world.
The lottery might be the focus of our Lottoland review, but the platform offers other games, too. You can enjoy scratch cards and casino games, and bet on sports on this website. A single account for all these endeavors allows the platform to fulfill all your gaming needs.
How to Use the Lottoland?
If you want to bet on Lottoland, you need to create a free account. As soon as you add funds to it, you can choose from a range of lotteries offered by the provider. Pick the desired numbers and bet on the lottery's outcome. You can choose subscriptions, bundles, and syndicate deals, too.
Once you are happy with the choice, finalize the transaction to purchase the tickets. The only thing left is to wait for the draw and see if you won.
A Quick Guide to Registering at Lottoland
The registration process for playing at Lottoland is simple. At the homepage, you will notice links to "Log in" and "Register." Choose the latter, and a pop-up will appear: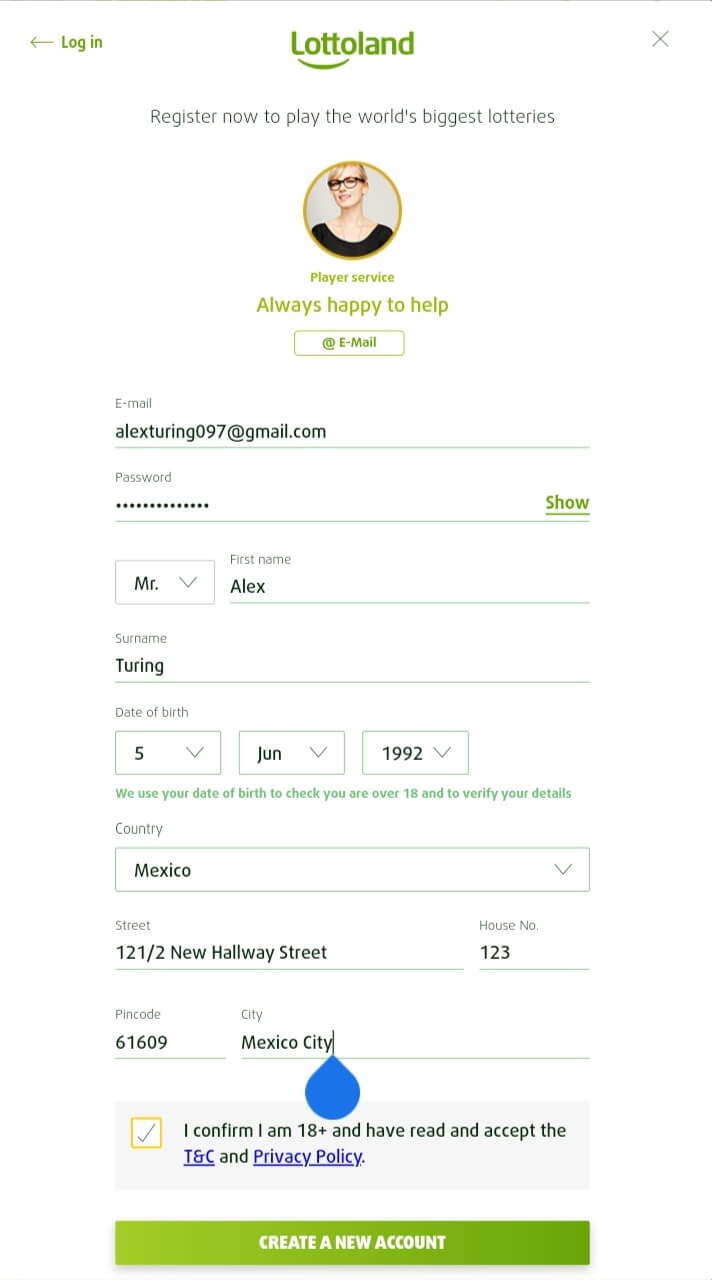 The pop-up contains a form where you need to enter your basic details. Make sure to enter a valid e-mail and fulfill all password requirements. The required fields also include your title, name, street address, postcode, and city. Finally, choose your country and click on Create a New Account.
Lottoland will only take a couple of seconds to prepare your account. It will log you in automatically the first time. You will notice that by the changed look of your homepage.
The top of the page will now offer information about your balance, a link to your account, and items included in your cart. You can now deposit funds to your account to purchase the desired tickets.
Does Lottoland Feature a User-Friendly Interface?
When it comes to website graphics, things cannot get any simpler than Lottoland's interface. The homepage will immediately show popular games and jackpots. The top menu lists several specified lotteries and links to other games you can play on the website.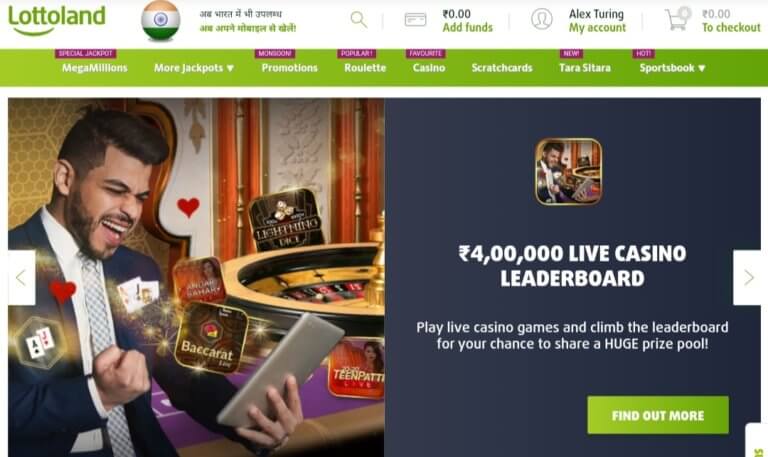 The entire process is straightforward, and even those without experience should feel comfortable. The platform is available in multiple languages. Don't hesitate to pick your native language to feel more at home when using the site.
Major Features of the Lottoland
Is Lottoland Mobile-Friendly?
If you are in a rush to buy lottery tickets, a mobile phone allows purchasing from anywhere. Whether you are on the bus or taking a break at work (we won't tell), you can use mobile devices to play the lotto.
Lottoland offers a mobile-friendly website. For the best experience, consider downloading the Android or iOS app for your phone, tablet, or another portable device. These apps are free, and you can use the same account for playing the lottery.
Lottoland Coupons, Promo, and Discount Codes
While you are depositing funds into your account, you can redeem promo codes. These codes can get you a bonus, which means more money to purchase the tickets.
The platform also offers Special Jackpot promotions. This could increase the jackpot compared to the lottery draws. It enables the players to win even bigger sums than expected and is best for those looking forward to how to win the lottery.
NumberShield is another intriguing promo feature offered by the website. If you shield a combination, that means you don't have to share the jackpot. The sum isn't important, and neither is the number of players with the same numbers. You will receive the entire jackpot sum that was specified before the drawing starts.
Payment Methods at Lottoland
Lottoland offers a total of eight payment methods. However, not all of them are available in every country. The odds are you can use the most popular payment options anywhere. That means Visa and MasterCard, including both credit and debit cards, as well as Skrill and Neteller.
If you make a bank transfer, you will have to wait up to two business days for the funds to appear. The good news is that Lottoland will add a 3% bonus to make it worth your while.
Deposit Methods
| | | | |
| --- | --- | --- | --- |
| Visa | Neteller | Paysafecard | MuchBetter |
| MasterCard | Skrill | Cash2Code | Bank Transfer |
Lottoland Terms and Conditions
Lottoland supports a huge number of countries. However, make sure that your country is on the list so that you can create an account on the website. Additionally, you need to meet the legal age requirement. That depends on your country and can go from 18 to 21 years.
It is critical to note you cannot create multiple accounts. A single person can only apply for one account. Anyone connected to Lottoland (i.e., family members) is not allowed to play on the website.
Lottoland Jackpot Winners 
Lottoland is proud of its biggest jackpot winner in the history of the website. The monumental prize was given in 2018. The winner was Christina from Berlin. She placed a bet via the Lottoland app and won €90 million. That was the jackpot prize in that drawing of EuroJackpot.
The numbers indicate Lottoland has paid more than €110 million to its winners. The majority of big prizes were given to German Lotto players who received €22.3 million, €14 million, and €3.2 million as the three biggest rewards in the site's history.
Customer Service
Before contacting customer agents, you can visit the FAQ section. Although it isn't particularly rich, it contains answers to basic questions about the website. If you don't find an answer there, it is time to reach Lottoland customer care.
The quickest way to contact customer support is to use live chat. However, agents only work during limited hours, and those are:
Monday to Friday: 12 AM – 11 PM CET
Saturday: 12 AM – 8 AM and 9:30 AM to 5:30 PM CET
Sunday: 1 AM – 9 AM and 9:30 AM to 5:30 PM CET
Alternatively, you can send the website a message with your question. Depending on the working hours, they might answer right away, or you will need to wait up to 24 hours.
Is LottoLand Legit or Scam?
Lottoland is a legit online gaming company founded in 2013. The company holds licenses from multiple gaming authorities. That includes the UK Gambling Commission, Malta Gaming Authority, the Republic of Ireland Commissioner's license, and the license from Australia's Northern Territory's Racing Commission.
The platform has paid huge jackpots to its players in the past. It is another indicator you can trust Lottoland that they will pay all your winnings. Additionally, the operator keeps all your private data safely stored, and all transactions are encrypted.
If I Win at LottoLand, Where Does the Prize Money Come From?
LottoLand works based on a betting model. You purchase a "ticket," but actually bet on a certain outcome. If that outcome is the winning one, you win the same prize as if you played the lottery. LottoLand uses the fund from ticket sales to pay smaller prizes. You receive them to your account soon after the draw.
If you win a substantial reward or jackpot, you might need to be a bit patient. The platform will use an insurance policy to cover the payment. The payment goes to the player's account at the country of residence. The account should be in your name and match the information on the site. LottoLand has gaming licenses from UK and Gibraltar Gambling Commissions, which proves they are trustworthy. You can rest assured you'll receive your winning as soon as possible.
Lottoland FAQ
How can I be sure I will receive my winnings?
Lottoland has multiple gaming licenses from relevant authorities. The company has been in business for years and complies with all regulations. That is a guarantee you will receive all winnings. You can also check how long it takes to get the money, after winning.
Will my ticket enter the official draw?
Instead of entering the lottery draw, Lottoland allows you to bet on the lottery's outcome. From the user's point of view, everything remains the same. You might even get additional benefits like jackpot boosts.
Do I need to pay taxes on winnings?
Lottoland won't tax any of your winnings. However, if you live outside the UK, withdrawing funds to your bank account might include paying taxes to the local government.
Why Should You Play at Lottoland?
Do you want to play US Powerball from Europe? Would you like to try EuroMillions even though you are from Australia? Lottoland offers a website where you can bet on lotteries from all over the world.
The sheer number of lotteries is attractive enough. Lottoland makes it even more tempting with special jackpots and other promotions. Give this platform a shot to discover why thousands throughout the world are delighted with it!
TheLotter has a longer tradition, more games, and additional payment methods, making it better in almost every area.
An all-around gaming experience and a customer support you can rely on make LottoAgent worth trying.