Why Do We Like LottoLand?
English, Deutsch, Slovakian, Polish, Portuguese (Brazil), Japanese, Hungarian, Swedish
33 Global Lotteries Available
Lottoland offers many lotteries – they have 33 lottery draws from Europe, Africa, Asia, Australia, and North and South America. The most popular choices, such as Powerball and EuroMillions, are there, and you can also try small-scale games which are no less attractive.
To spice things up, LottoLand also offers syndicate play. Playing as a part of a syndicate significantly increases the winning odds, and at this time, LottoLand provides syndicate play for 15 lotteries including Powerball, MegaMillions, LottoPlus, and more.
| Lottery | Number of Lines | Number of Shares |
| --- | --- | --- |
| Superdraw | 112 | 115 |
| Powerball 500 | 132 | 150 |
| Irish Lotto 630 | 630 | 150 |
| MegaMillions 1000 | 1008 | 158 |
| MegaMillions 500 | 504 | 100 |
| MegaMillions 250 | 252 | 100 |
| Powerball 1000 | 1008 | 145 |
| Powerball 750 | 756 | 156 |
| Powerball 250 | 252 | 100 |
| EuroJackpot 100 | 105 | 105 |
| Irish Lotto 210 | 210 | 150 |
| Irish Lotto 420 | 420 | 150 |
| Lotto Plus 210 | 210 | 210 |
| Lotto Plus 630 | 630 | 81 |
| Lotto x5 More | 14 | 10 |
| Lotto x5 Boost | 56 | 55 |
| Lotto x5 MAXI | 504 | 100 |
Apart from lottery syndicates and popular lottery draws, LottoLand also offers interactive games like bingo, slots, table games, scratchcards, and other jackpot games. There is also a sportsbook section at LottoLand, which rounds up the games offered.
Please note that lotto offerings might vary from one country to another. The website has 11 different versions for specific regions of the world.
The lottery might be the focus of our Lottoland review, but the platform offers other games, too. You can enjoy scratch cards and casino games, and bet on sports on this website. A single account for all these endeavors allows the platform to fulfill all your gaming needs.
How Does LottoLand Work?
LottoLand is not a lotto site in the classic sense of the word. You may expect that you can purchase tickets to the actual lottery draws through the site, but LottoLand does not work like that. In fact, LottoLand is a lottery betting site where you bet on the outcome of the draw instead of partaking in the actual lottery draw.
There are no geo-restrictions in place so that you can bet on the outcome of any of the offered lotteries. The interesting thing is that there is no purchasing of lottery tickets through the site. After creating your account for free, you can select the lottery draw you wish to bet on and place your bet. It allows more freedom for LottoLand to offer its members.  
If you win, your winnings will be paid out from LottoLand, not the official lottery operator. The company has an insurance policy that allows them to pay the massive jackpot amounts. They have a price matching where they provide the same payouts for each prize tier as the lottery operators. We need to note that there are payout rules to every bet, so you need to read these before placing your bet.
How to Play LottoLand?
If you want to bet on Lottoland, you need to create a free account. As soon as you add funds to it, you can choose from a range of lotteries offered by the provider. Pick the desired numbers and bet on the lottery's outcome. You can choose subscriptions, bundles, and syndicate deals, too.
Once you are happy with the choice, finalize the transaction to bet. The only thing left is to wait for the draw and see if you won.
How To Sign Up and Use LottoLand
Open the LottoLand website
Click the green Register button in the upper right corner
Enter the required information in the pop-up window: email, password, title, name, date of birth, address, postcode, and city
Add your country and click on the Create New Account button
You will be automatically logged-into LottoLand
Top up your account balance by depositing money using Neteller, Visa, Mastercard, UPI, Rupay, or Netbanking
Choose the lottery/game you wish to play, select the number of tickets/lines and pick your numbers
You will always get a confirmation email with your entry.
Every new LottoLand member is eligible to get one free bet upon signing up to the platform. To get your free bet you must:
Be at least 18 years old (21 in some countries)
Live in a country where lotto betting is allowed
Create a LottoLand account for the first time.
Once you sign up to LottoLand, your free bet will wait for you in the My Account menu, and you can use it to place a lotto bet on a lottery of your choice.
Does Lottoland Feature a User-Friendly Interface?
When it comes to website graphics, things cannot get any simpler than Lottoland's interface. The homepage will immediately show popular games and jackpots. The top menu lists several specified lotteries and links to other games you can play on the website.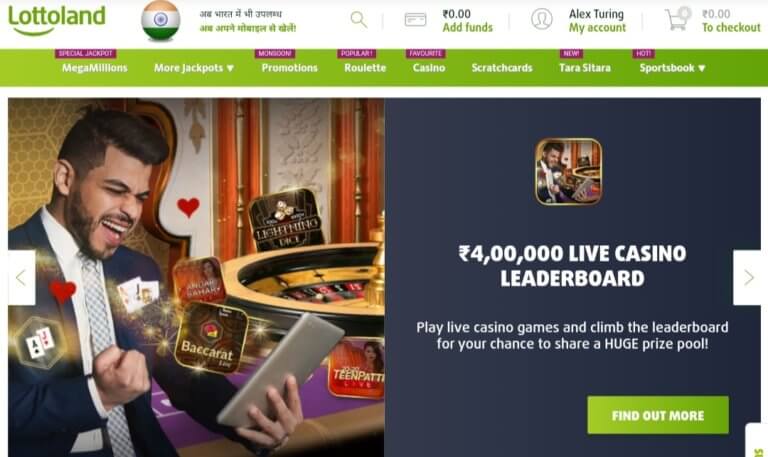 The entire process is straightforward, and even those without experience should feel comfortable. The platform is available in multiple languages. Don't hesitate to pick your native language to feel more at home when using the site.
Major Features of the Lottoland App
If you are in a rush to buy lottery tickets, a mobile phone allows bet from anywhere. Whether you are on the bus or taking a break at work (we won't tell), you can use mobile devices to play the lotto.
To help you with this, Lottoland has created a mobile-friendly website. Still, for the best user experience, consider downloading the Android or iOS apps. The apps are free and can be easily downloaded from the official LottoLand site, and you can use the same account for playing the lottery.
The LottoLand mobile app won the Best Lotto App award in 2015 at the Gaming App Awards. While no longer found on Google Play, the Android app can be downloaded from the official site. Here is what you need to do to install and use the LottoLand app:
Sign in to your LottoLand account

Click on the LottoLand app in the secondary menu at the bottom of the page

Let the app download and install on your device

Open the app and start placing bets on some of the most famous lotteries worldwide
Benefits of Using the LottoLand Mobile App
The LottoLand mobile app is designed to follow the same design as the desktop website, but has features that are worth having:
One-click sign-in process – you will not have to constantly sign into LottoLand, as you can sign in using a biometric method like a thumbprint

Fast deposits and withdrawals – the app allows you to make easy deposits and save your preferred deposit method in the app

Play your favorite lottery any time, any place – the beauty of mobile apps is that you can access your favorite lottery game any time, any place.
Lottoland offers a mobile-friendly website. For the best experience, consider downloading the Android or iOS app for your phone, tablet, or another portable device. These apps are free, and you can use the same account for playing the lottery.
Lottoland Coupons, Promo, and Discount Codes
While you are depositing funds into your account, you can redeem promo codes. These codes can get you a bonus, which means more money to bet on the lottery.
The platform also offers Special Jackpot promotions. This could increase the jackpot compared to the lottery draws. It enables the players to win even bigger sums than expected and is best for those looking forward to how to win the lottery.
NumberShield is another intriguing promo feature offered by the website. If you shield a combination, that means you don't have to share the jackpot. The sum isn't important, and neither is the number of players with the same numbers. You will receive the entire jackpot sum that was specified before the drawing starts.
LottoLand Loyalty Program
LottoLand runs a loyalty program for its members. It is a program where the platform awards its members for their activity, and it has three levels, Silver, Gold, and Diamond.
The levels come with different perks and these are determined by the user's activity on the platform, how many wagers they've placed, and the time since their last activity on LottoLand.
Some of the VIP loyalty program perks on LottoLand include:
VIP Prize draws
Special occasion gifs
Customized promotions and bonuses
Personal Account Manager
Payment Methods at Lottoland
Lottoland offers a total of eight payment methods. However, not all of them are available in every country. The odds are you can use the most popular payment options anywhere. That means Visa and MasterCard, including both credit and debit cards, as well as Skrill and Neteller.

If you make a bank transfer, you will have to wait up to two business days for the funds to appear. The good news is that Lottoland will add a 3% bonus to make it worth your while.
| Payment Method for Deposits | Average Processing Time |
| --- | --- |
| Debit/Credit Card | Instant (online) |
| SEPA Direct Debit | Instant (online) |
| Bank Transfer | Instant (online) |
| E-wallets | Instant (online) |
| | | | |
| --- | --- | --- | --- |
| Visa | Neteller | Paysafecard | MuchBetter |
| MasterCard | Skrill | Cash2Code | Bank Transfer |
How To Withdraw Money from LottoLand?
Any LottoLand winner can request a withdrawal of their winnings from the My Transactions section in the account menu. The two primary withdrawal methods are debit/credit card and bank transfer. Please note that players with verified accounts can request payouts, as LottoLand adheres to the KYC/AML policies.
You should follow these steps to withdraw your winnings from LottoLand:
Log into your LottoLand account
Under My Account, click on My Transactions
Select the available withdrawal method and the sum you wish to withdraw
Complete the on-screen instructions
Click Withdraw and the money should be in your account from 1 to 5 days
| Payment Method for Withdrawals | Average Processing Time |
| --- | --- |
| Debit/Credit Card | 3-5 days |
| Bank Transfer | 1-3 days |
LottoLand Payout Rules
LottoLand adheres to the KYC/AML policies, and they can only allow the withdrawal of funds to people with verified accounts. You can verify your LottoLand account using adequate proof of identity and proof of address:
National ID
Passport
Driver's License
Utility Bill
Tax Bill
Lottoland Terms and Conditions
Lottoland supports a huge number of countries. However, make sure that your country is on the list so that you can create an account on the website. Additionally, you need to meet the legal age requirement. That depends on your country and can go from 18 to 21 years.
It is critical to note you cannot create multiple accounts. A single person can only apply for one account. Anyone connected to Lottoland (i.e., family members) is not allowed to play on the website.
Lottoland Jackpot Winners
Lottoland is proud of its biggest jackpot winner in the website's history. The monumental prize was given in 2018 to a lady named Christina from Berlin, who placed a bet over LottoLand on the EuroMillions lottery and won a staggering £79 million or close to €90 million.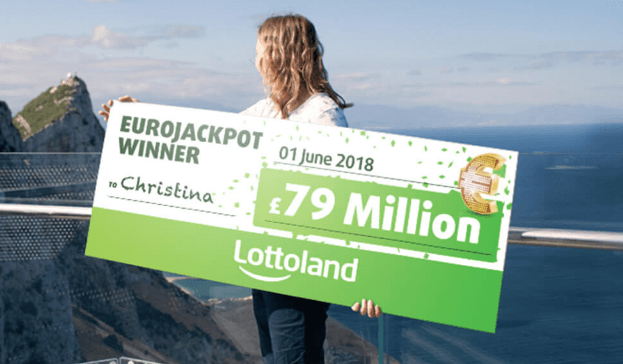 Credit: Lottoland
Another lucky Lottoland winner was a certain Matt, who won a €22 million LottoLand bet. LottoLand brought him to Gibraltar for a photoshoot on a yacht, where he also collected his winnings. The site proudly boasts that they've paid more than €110 million to its members. A certain Mr. S won £1 million on a Keno bet through LottoLand.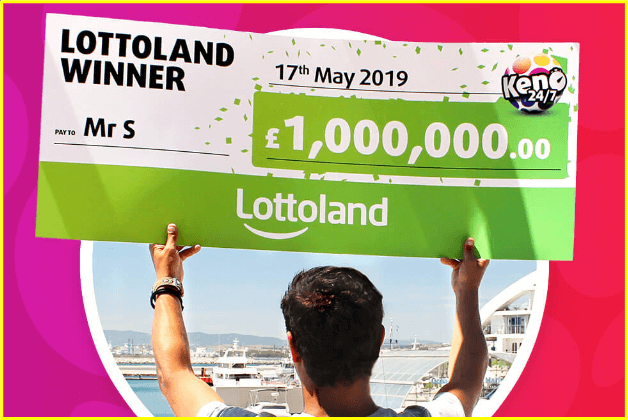 Credit: Lottoland
Customer Service
Before contacting customer agents, you can visit the FAQ section. Although it isn't particularly rich, it contains answers to basic questions about the website. If you don't find an answer there, it is time to reach Lottoland customer care.
The quickest way to contact customer support is to use live chat. However, agents only work during limited hours, and those are:
Monday to Friday: 12 AM – 11 PM CET
Saturday: 12 AM – 8 AM and 9:30 AM to 5:30 PM CET
Sunday: 1 AM – 9 AM and 9:30 AM to 5:30 PM CET
Alternatively, you can send the website a message with your question. Depending on the working hours, they might answer right away, or you will need to wait up to 24 hours.  The official LottoLand email address is [email protected], but there are additional ones for the various countries where LottoLand provides its services.
Is LottoLand A Scam or Legit Site?
When thinking of joining an online lottery site, a question that always arises is the website's legitimacy. Here we talk about LottoLand – a legitimate online website founded in 2013, with its owner company based in Gibraltar. It has active licenses from the UK Gambling Commission and the Gibraltar Betting and Gaming Association. The site is regulated by the UK Gambling Commission, one of the most reputable governing bodies in the industry, but also has licenses from other reputable authorities:
The UK Gambling Commission
The Republic of Ireland
The Government of Northern Territories
The Gibraltar Betting and Gaming Association
 Below are the snapshots of LottoLand's UK and Gibraltar licenses.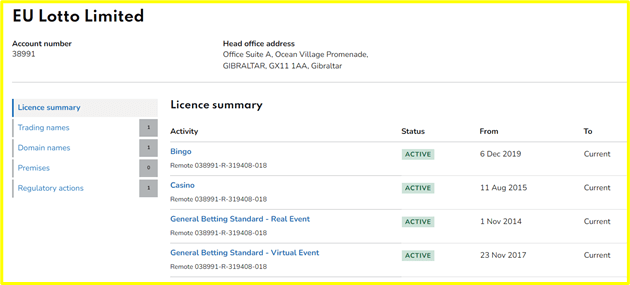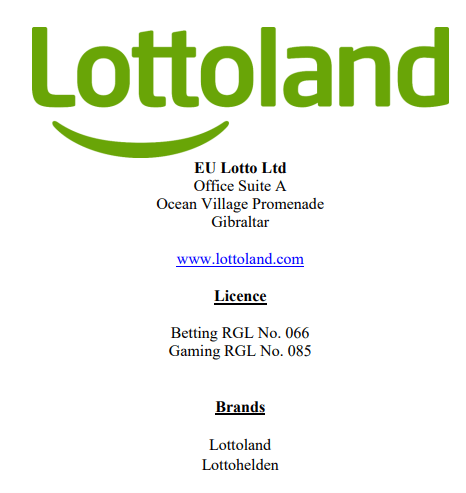 LottoLand is most proud of the fact they've paid up all the jackpots won by their members. It proves the site is trustworthy and reliable, and they stand by its word.
LottoLand also has an active SSL certificate on their site, ensuring all user data is kept safe, secure, and encrypted. Users can freely deposit money to the site, play the games, and if they win, they'll get their prizes, all the while, their private data will remain encrypted and secure.
After reading LottoLand's Privacy Policy, it is evident that they have all the bases covered, and while they collect a lot of user-generated data, they say that they don't share it with third parties. The site also advises its members to create secure passwords and not share their LottoLand accounts with anyone.
If I Win at LottoLand, Where Does the Prize Money Come From?
LottoLand works based on a betting model. You purchase a "ticket," but actually bet on a certain outcome. If that outcome is the winning one, you win the same prize as if you played the lottery. LottoLand uses an insurance model to cover large wins, and pays out of their own pockets for smaller wins. They currently hold the Guinness World Record for the largest gambling payout, at €90m.
Lottoland FAQ
How can I be sure I will receive my winnings?
Lottoland has multiple gaming licenses from relevant authorities. The company has been in business for years and complies with all regulations. That is a guarantee you will receive all winnings. You can also check how long it takes to get the money, after winning.
Will my ticket enter the official draw?
Instead of entering the lottery draw, Lottoland allows you to bet on the lottery's outcome. From the user's point of view, everything remains the same. You might even get additional benefits like jackpot boosts.
Do I need to pay taxes on winnings?
Lottoland won't tax any of your winnings. However, if you live outside the UK, withdrawing funds to your bank account might include paying taxes to the local government.
Also, you are responsible for paying the taxes due to your Government. It is advisable to ask for professional financial advice for such matters.
Is It Safe to Provide My ID to LottoLand?
LottoLand has all the usual safety precautions in place when it comes to the online safety of its players. They have a valid SSL certificate and proper encryption in place.
However, they are required by law to check the identity of their members, which is why they require proof of identity like an ID or passport. This is a part of the KYC policy and is necessitated by the regulatory bodies. It is also necessary for the payment of prized, protection against fraud, providing personalized support, and checking the age of the players, as LottoLand does not accept people younger than 18.
How to cancel a LottoLand account?
You can delete your LottoLand account once you close out all active bets and your account balance is at 0.00. To close your account, you need to:
Log into the LottoLand account
Click on your name in the upper right corner of the page
Open My Profile in the drop-down menu
Click on Account and Safer Gambling Status
Once there, click on Close Account and then Submit
You will receive an email confirming the closing of your account.
Why Should You Play at Lottoland?
Do you want to play US Powerball from Europe? Would you like to try EuroMillions even though you are from Australia? Lottoland offers a website where you can bet on lotteries from all over the world.
The sheer number of lotteries is attractive enough. Lottoland makes it even more tempting with special jackpots and other promotions. Give this platform a shot to discover why thousands throughout the world are delighted with it!
TheLotter has a longer tradition, more games, and additional payment methods, making it better in almost every area.
An all-around gaming experience and a customer support you can rely on make LottoAgent worth trying.