13 Best Lottery Apps for Android and iOS in 2023
Imagine this situation – you are on the bus from work and realize your lottery draw is starting soon. There's no time to go buy the ticket at your lottery vendor. And that's where mobile lotto apps can be helpful!
In this guide, we'll present the best lottery apps for Android and iOS. They allow you to purchase tickets quickly and from any location. By simply using these apps, you can buy tickets for lotteries based in other states and countries. Check out our selection and pick your favorite app!
Types of Mobile Lottery Apps
We divided all mobile lottery apps into four different categories:
Best Lottery Apps for Buying Tickets Online
Lotto applications for Android and iOS are an excellent way of purchasing lottery tickets on lottery sites without having to rely on your personal computer. They also add to the lottery experience with a good design and intuitive user interface. 
Here are some of the best lottery apps for buying tickets online.
Jackpocket – Best for US Players

Jackpocket designed this app specifically for US players and lotteries. The USA has certain restrictive lottery laws that prevent third-party lottery agents from developing apps for American players. However, this app satisfies these laws through it licensing as a registered lottery courier service in New York and New Jersey. That's why you can use the app in selected states and only for specific lotteries.
Everything in the Jackpocket works like a charm. You'll love how you can participate in state and national lottery draws and purchase tickets simply by using a mobile app. The platform is safe and utilizes multiple security layers. You can pick from a variety of payment methods.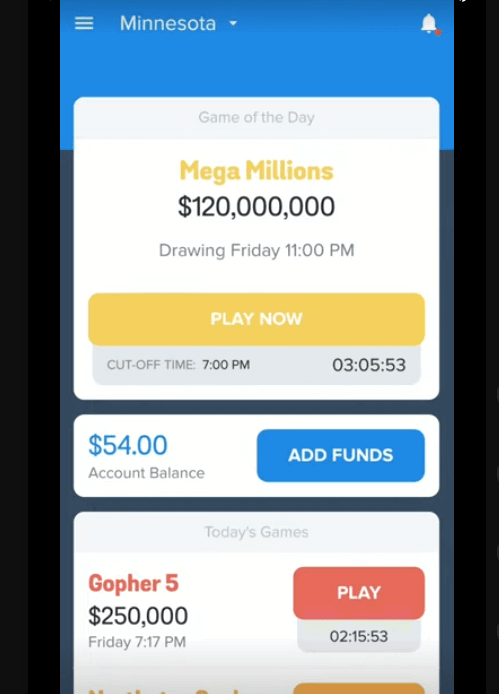 Source: Jackpocket App
Jackpocket also secured bonuses for new users. You'll get a discount on your first order and an additional boost if you refer a friend. The app is expanding its market constantly, which means we could see them in additional states and even countries soon.
Why We Recommend

The #1 app designed for US players and lotteries.
Best for

Anyone looking for a safe and trustworthy app to play the lotto.
Pros
The provider follows all relevant laws and regulations
Generous bonus plans for using the app
A variety of payment methods available
Cons
It's only available in some US states
theLotter – Best for the Rest of the World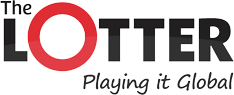 theLotter has been around since 2002, and they established themselves as a trustworthy online lottery vendor. You can find dozens of lotteries from Europe, the Americas, Asia, and Australia. You can buy tickets for all of them via the dedicated Android and iOS apps.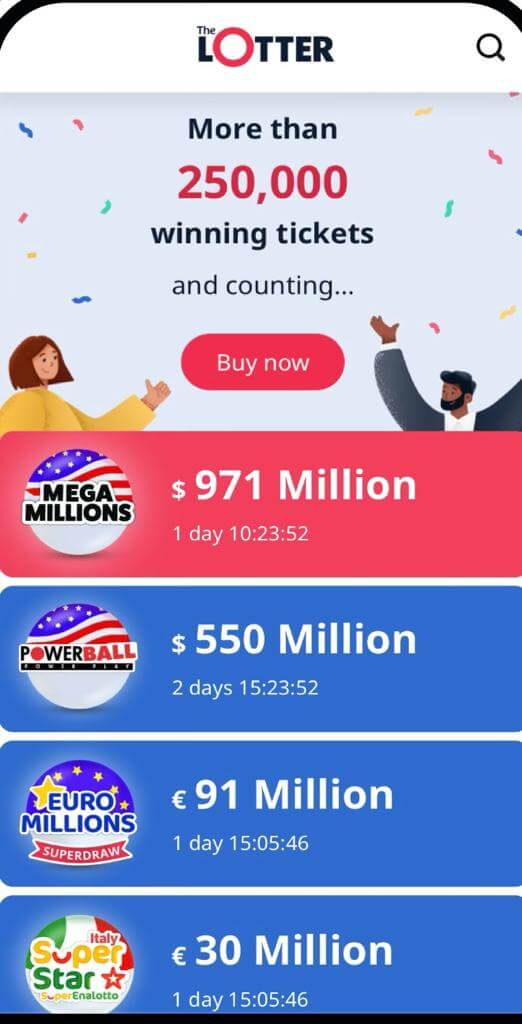 Source: theLotter App
The software is everything you could expect. It ensures smooth performance and doesn't take a lot of room. The only downside is that you need to install the Android version via the official website. It's a bit more complicated, but the instructions provided are simple. The multiple payment method is another feature players will appreciate.
Why We Recommend

A reliable app with versions for both Android and iOS.
Best for

All users looking for a comprehensive lottery selection.
Pros
All lotteries offered by the provider are available
A simple and clean layout
Flawless and bug-free performance
Cons
No option to download the Android app from the Play Store
Lotto Agent

Ever since it was founded in 2012, Lotto Agent carefully analyzed every move to establish themselves as a great place to play the lottery. They didn't rush to launch a mobile app. Instead, they took their time to analyze their market to develop a mobile platform that works seamlessly for all lottery players. The result is software that works flawlessly. It's free from bugs and crashes. You can navigate between the menus easily and quickly. Newbies will appreciate the simple layout and intuitive navigation.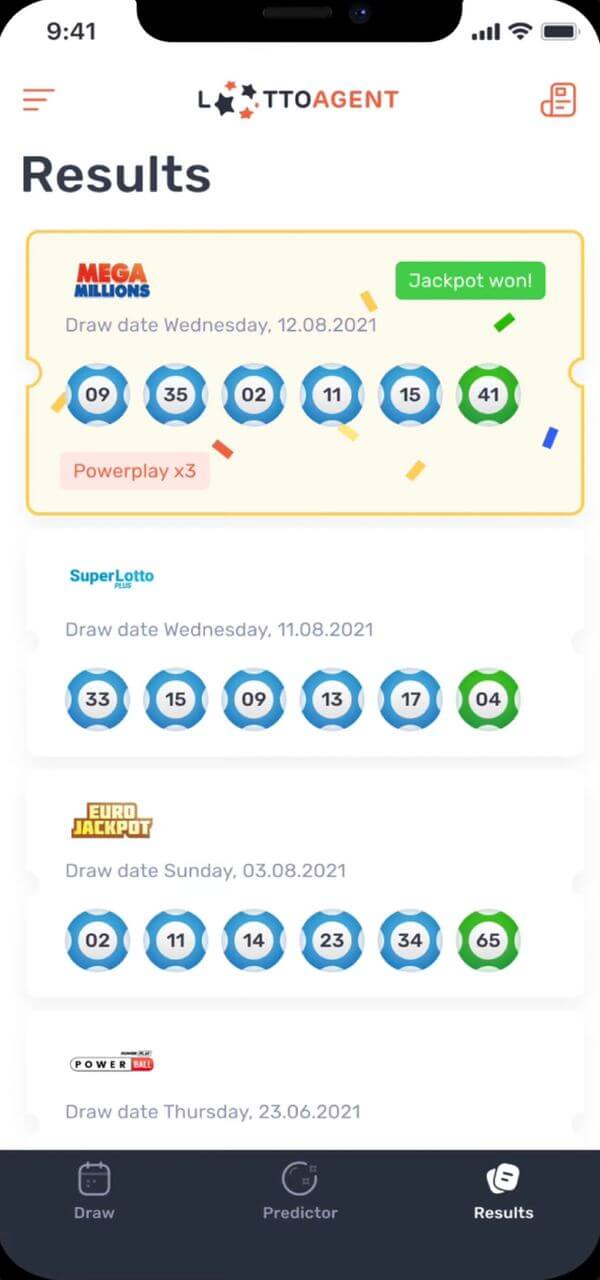 Source: LottoAgent App
Users can pick from more than a dozen payment methods and 20+ different lotteries. All the major lotto games are supported, and the provider's fees are attractive. You can even expect many bonuses and discounts when using Lotto Agent. Android users can download the app for free, but there's no iOS version at the moment.
Why We Recommend

A user-friendly app with a carefully chosen lottery selection.
Best for

Newbies and those looking for a simple user interface when choosing numbers for their tickets.
Pros
You can navigate between the menus fast
The provider's ticket fees seem attractive
Over a dozen payment methods available
LottoGo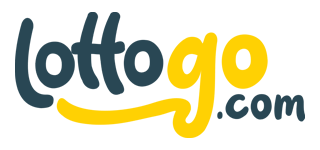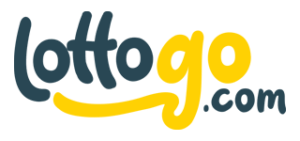 LottoGo offers a complete experience for an online gamer. With their app, you can try your luck by purchasing tickets for 20+ lotteries, and those numbers continue to increase regularly. The app also allows you to connect with syndicate play and join others to boost your winning odds. You can also play scratch cards and other instant-win games. The application give all the functionality of the website.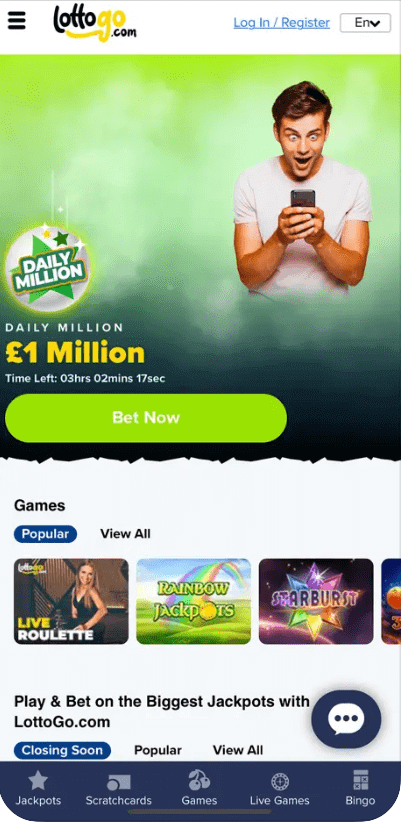 Source: LottoGo App
Whichever game you choose, your tickets will be processed instantly. The app is available for Android and iOS devices.
Why We Recommend

An all-around platform with a tempting lottery selection and premium user experience.
Best for
Those who like playing the lottery but also don't mind trying scratch cards and instant win games.
Pros
Fast lottery ticket processing
Syndicate play is available
Instant win games and scratch cards offered in the app
Cons
Pay attention to avoid subscribing to unwanted games
William Hill App

William Hill is among the most reputable bookmakers in the entire world. The provider's roots go back to 1934 when they opened the first betting shop. Today, they are primarily a sports wagering and casino gambling provider. However, they also added betting on lotteries. That includes a unique concept of guessing up to five numbers correctly.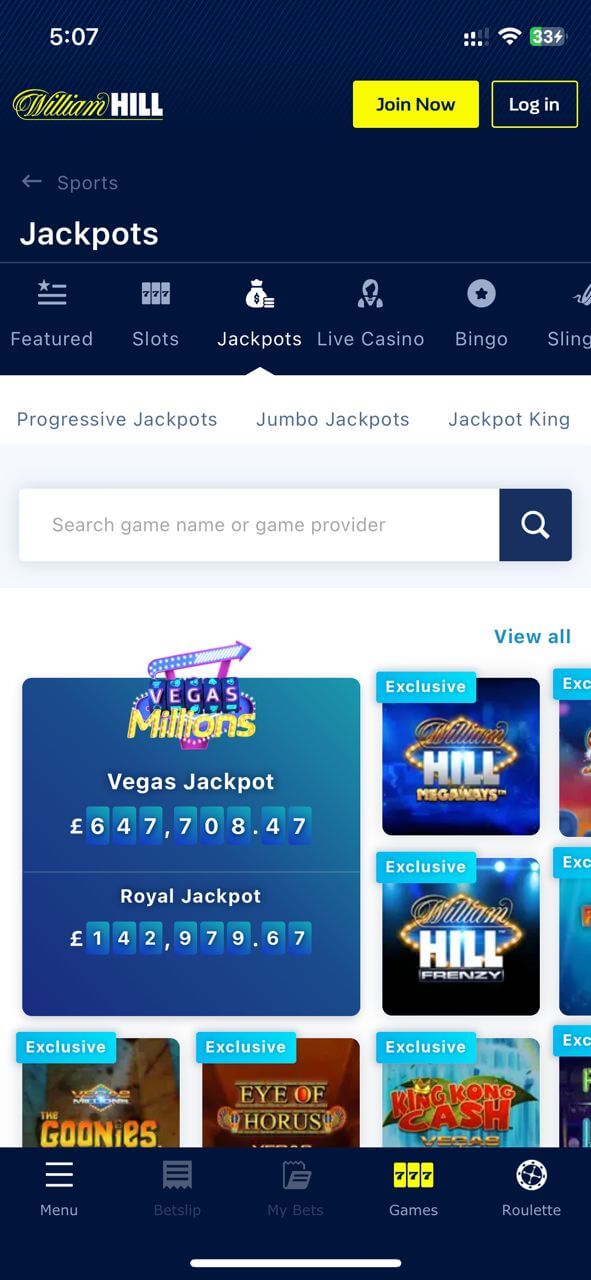 Source: William Hill App
You won't find many lotto games at William Hill. However, the app offers a huge variety of payment methods. You can localize it to multiple languages, which is a nice touch.
Why We Recommend
Lotteries are the only tip of the iceberg – WH offers casino and sports betting for all gaming fans.
Best for
Those looking for a unique concept of wagering on lottery results.
Pros
The app is available for both Android and iOS
An intuitive and user-friendly interface
A huge tradition of the provider
Cons
It needs more games in the portfolio
Lottoland


Lottoland understands the importance of a lottery vendor being mobile-friendly. Apart from a responsive website design, they also offer iOS and Android apps. The tools won't take up a lot of room on your device.
Source: LottoLand App
You can play more than 25 lotto games from various continents when using Lottoland. The menus are intuitive and easy to navigate. You'll need a bit of patience as the page loading times aren't as impressive as on similar sites.
Why We Recommend
All major lotteries from different continents are available in the app.
Best for
Those who like Special Jackpot and other promotions that spice up standard lottery play.
Pros
An attractive bonus structure offered
More than 25 games are available
You can download the app for iOS and Android
Cons
The pages aren't loading that fast
Best Lottery Results Apps
Once you purchase tickets, you will hope to win big. That's why you will eagerly wait for the draw and the results. If you need to check the latest (and archived) lottery results, you can use specialized apps. These tools gather the results of multiple lotteries in a single location to make it easier to see if you won. Here's our choice of the best lotto result software!
1. LotteryTexts – Best for International Lottery Results
If you are a passionate lottery player, you are probably experimenting with lotto games from different countries and continents. Whether you want to check the results of Austria Lotto or Japan Mini Lotto, LotteryTexts is a viable solution.
You'll find hundreds of different lotto results on LotteryTexts. The app covers everything from state to multinational lotteries. The developers give their best to offer instant updates, which implies results will be available shortly after the draw.
Source: LotteryTexts App
LotteryTexts is an Android-exclusive app, which means it's currently unavailable for iOS. You can download it for free, and it doesn't require any subscriptions. The app won't take much room on your device, and it works smoothly. You'll appreciate the user-friendly design that ensures you feel comfortable using the app immediately. Apart from actual results, the app provides useful info like the current jackpot value, next draw time, etc.
2. Lotto Results – Lottery in the US
My Lottos LLC designed the best lottery app for checking out the results of US lotteries. The software is free and doesn't take a lot of room on your device. Once you download and run it, you'll see it offers accurate and promptly updated results of many games. That includes Powerball and Mega Millions, but also state lotteries like Hoosier Lottery or New York Cash 4 Life. You can create a list of the desired games, and more than 30 state-based games are supported by the app.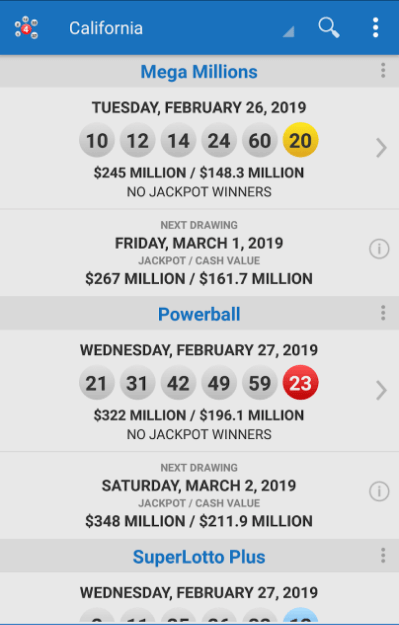 Source: Lotto Results App
Lotto Results shows detailed information about the draws. You'll discover the prize level and payouts, and you can also check out the game's history. That means you can access a huge database of previous draw results.
3. National Lottery Results
This app focuses on lotteries frequently played in the United Kingdom. The software follows six lotteries, including the UK National Lottery and EuroMillions. You can see the results of the latest draw just seconds after the session.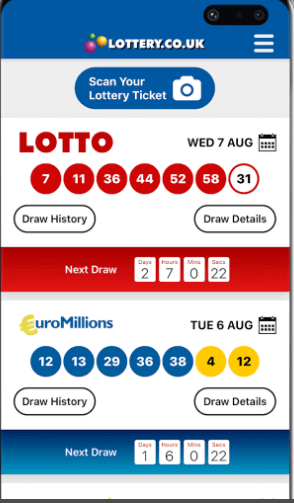 Source: National Lottery Results App
The developers implemented the Ticket Checker feature. If you bought the lotto ticket at the local vendor, you could use the QR scanner on your device. After scanning it, the app will show which prizes you won on each ticket. Another useful feature is that you can set notifications to alert you when the app is updated with new results. Also, you can access the drawing archive and even use a random number generator.
Best Apps to Check Lottery Tickets
What if you have a lottery ticket and you want to see if it's the winning one? It's much easier if the app compares the ticket with the latest results than you doing that job manually. Check out the software that offers this function!
1. Lottery Results – Ticket Alert
The Lottery Results – Ticket Alert provides a quick and convenient way to check the latest lottery results. It updates the lottery results after the draw with a prize breakdown for every draw. It offers special features that make it one of the best apps out there.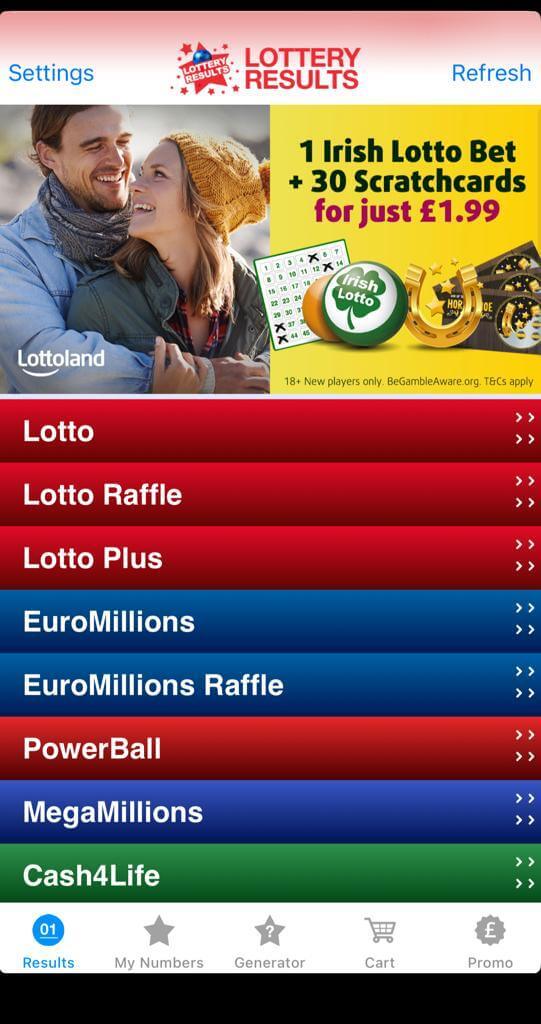 Source: Ticket Alert App
Some of them include:
Recording your numbers before the draw so that it automatically checks and alerts you if you win
Generating random numbers for you to play in the next draw.
Providing lottery statistics on the numbers that are likely to appear in the draw.
2. LotteryHUB
If you have an Apple device, you can try LotteryHUB. This free app is a convenient lottery ticket checker. It allows you to enter tickets for the available lotteries. That way, you can easily track those slips to see if you won anything.
Source: LotteryrHub App
The games supported by LotteryHUB could use some improvements. However, if you love playing major lottery games, this app is all you'll need to check the tickets. You'll also receive the latest jackpot information and get access to the archive. That means you can check the results of a draw you might have missed even after the next session is held.
Best Lottery Number Generator and Prediction Apps
You might have used a lottery number generator listed on our website. This tool serves as a help to choose a balanced combination of numbers on your ticket. You can also consider using prediction apps that generate numbers to use when playing the lotto. Check out the software worth using in this category!
1. The Lucky Lottery Numbers
The secret often lies in simplicity, and this app proves that. It's basically a random number generator, but it's a powerful utility whenever you need a lottery combination quickly.
Source: The Lucky Lottery Numbers App
You start by selecting the number range and how many numbers you require. That means that the Lucky Lottery Numbers support virtually any lottery in the world. The app allows saving the current settings, as well as refreshing the given combination if you want to play another ticket. It's a neat little utility that doesn't take a lot of room on your phone.
2. Lottery Number Generator
This app uses advanced statistics to generate numbers for lottery tickets. You can use it to generate your own lottery numbers or use the daily lucky numbers.
Source: Lottery Number Generator App
It comes with a special feature that allows players to generate numbers for specific lotteries. It supports a wide range of games, including Powerball, Mega Millions, and Euro Millions. The app offers a unique approach to choosing lottery numbers, which makes it seem like a game. You can even save the numbers and keep them till when you are ready to play the game.
You can also scan the QR code of your physical paper slip to review the latest lottery results and check if any of your numbers appear in the draw.
How Do We Rank Lottery Apps?
Our experts scratch beyond the surface and carefully analyze all relevant features of lottery apps. Check out the factors we used when selecting and ranking lotto applications:
Brand reputability – the first thing we checked is the app developer's reputation. That way, we confirm that it's secure to use the app. That's a crucial factor for platforms that allow purchasing tickets online.
Available platforms – is the app available for both Android and iOS or just one of those operating systems?
Offered games – how many lotteries are included in the app's selection? Can you play lotteries from different continents?
Potential bugs and crashes – is the app reliable or prone to crashes? That's a critical part of the overall user experience.
Graphics and interface – does the software look attractive? Is the design modern? It's even more important for the interface to be user-friendly. The navigation should be simple, even if it's the first time using a mobile lotto app.
How to Recognize Fake Lottery Apps?
Unfortunately, scams are also a part of the lotto world. That's why you should be careful and recognize a potential fake app. Check out the tips to recognize a potentially harmful application:
No option to download it from the official website or the app store. You should only download the apps from one of these two sources. Never download software from unknown or suspicious websites.
It's not a reputable brand. It's best to stick to the list of reliable apps mentioned in this article. You can't go wrong with the tools selected by professionals.
It promises you to win the lottery. As we always point out, nothing can guarantee that you will win the lotto. That's why this is a big red flag and a sign that you shouldn't trust the app.
Read reviews and ratings. Checking out the app's reviews and ratings on the app store is a great way to get an idea of what other lottery players think of it. You can see what features people like and dislike, as well as any bugs or glitches that they have encountered. This information can be helpful in deciding whether or not the app is right for you.
Check for permissions. Be cautious if an app requests unnecessary permissions during installation. Shady apps may steal sensitive information like your contacts, messages, or location.
Review their customer care service. Confirm if you can easily contact their customer service. A legitimate lottery app will provide clear contact information, such as a live chat, email address, or customer support phone number.
Final Thoughts
The lottery industry is becoming more mobile-friendly every day. The number of smartphone apps for Android and iOS increases, and these tools deliver a variety of functions. You can use the apps to purchase tickets for the upcoming draws and generate numbers and check results – without any stress.
If you are in a rush, buying tickets via an app might be the quickest solution. All you have to do is pick your favorite app and install it on your device!
Lottery Apps FAQs
Can I use lottery apps to play the lotto?
Yes, there are specialized apps you can use to play the lotto. After downloading and registering an account, you can purchase tickets for various lotteries.
Are lottery apps free for Android and iOS?
Most apps for buying lotto tickets are free. However, you need to add funds to your balance to purchase tickets. As for other app types, they are usually free, but you might need to pay for some.
What's the best free lottery app?
The best lottery app for US citizens is Jackpocket. As for the rest of the world, the experts recommend using The Lotter. It's an app with an extensive game selection and a long tradition.
Are free lottery apps safe?
Free lottery apps are 100% safe. The only requirement is to pick wisely and stick to trustworthy software. Our list of top mobile lottery apps is there to help with your selection.
Are lottery apps legal?
Yes, reliable lottery apps make sure they comply with all relevant laws and regulations. That means you can use them wherever playing the lottery is legal.
Has anyone won the lottery through an app?
Yes, many players who used apps to purchase lottery tickets won significant prizes. The reward amounts varied, but the important thing is you have equal chances like when buying on websites or at your local vendor.
How do free lottery apps work?
The basic premise is that you download the app, add funds to your profile and use them to purchase tickets. The software is fun and user-friendly, which means you should become comfortable with using it quickly.
My lottery app is not working. What can I do?
Check the app store or the platform's official website. Perhaps there is a software update you didn't install. Maybe you need to update your device's operating system. If that doesn't work, contact the app developer.
What is the best lottery app to check lottery tickets?
It depends on the device you are using. Android users won't find a better app than the Check Lottery Results, while iOS users should try LotteryHUB.
Can you use lottery ticket apps to win real money?
Yes, the entire point of these apps is to play for real money. You purchase tickets for actual lotteries. If you match numbers correctly, you can win big jackpots!