Jackpocket App Review 2021
Jackpocket is a third-part lottery app available in some U.S. states. They are a lotto courier that allows you to play multiple lotteries from a single application. Jackpocket had started its journey in 2013, and they have thousands of loyal players today.
If you'd like to learn more about the software, you've come to the right place. Our Jackpocket App guide covers everything from safety to instructions on how to buy tickets via the tool. Keep reading before you register an account!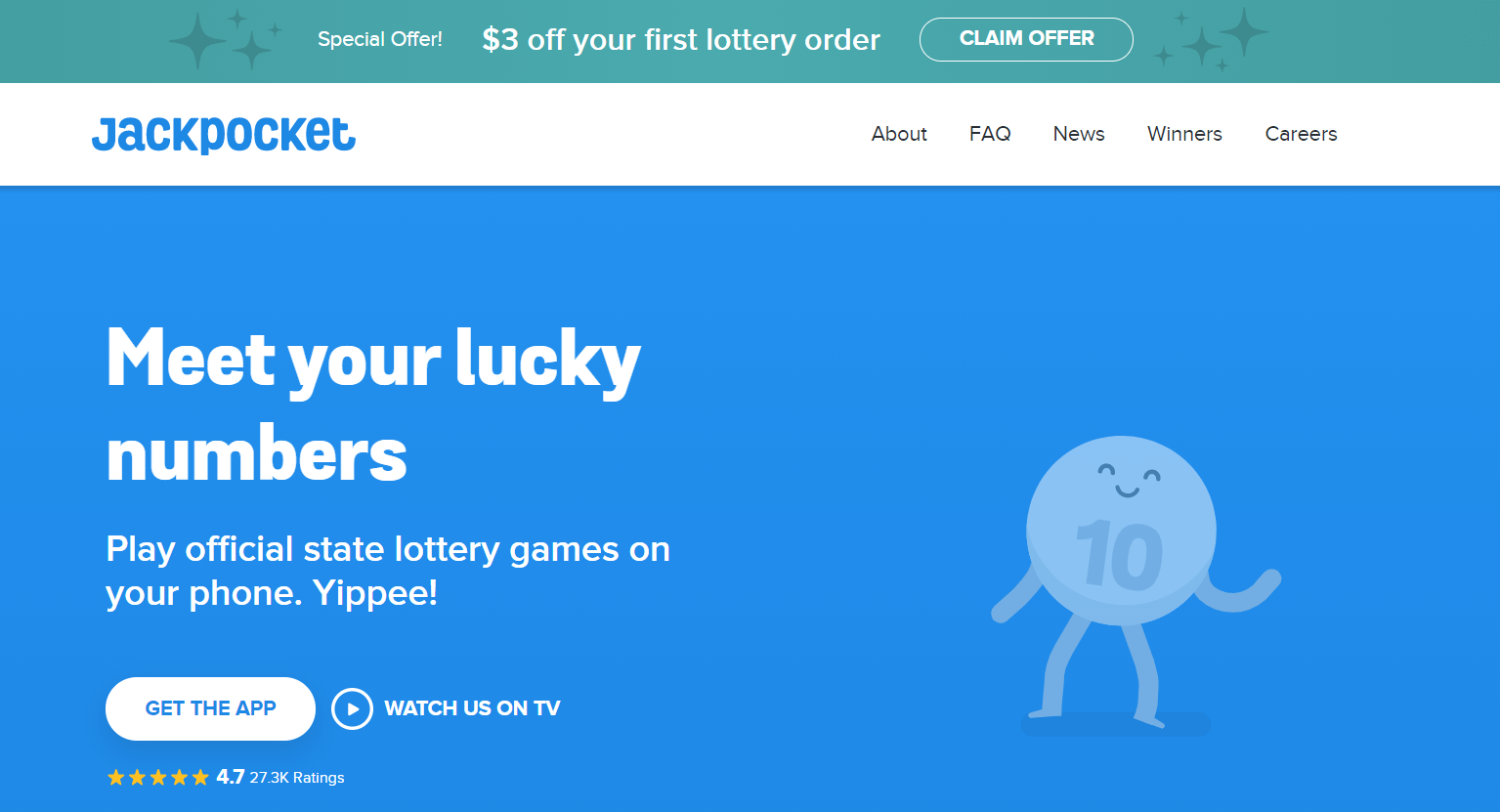 Jackpocket App Pros & Cons
What Online Lottery Games Are Available Via Jackpocket App?
The initial thing to clarify is that the Jackpocket App is only available in some states. That includes New York, New Jersey, New Hampshire, Minnesota, Colorado, Texas, Oregon, Ohio, and Washington D.C. The lottery selection will depend on your location. You can play national lotteries like MegaMillions in most places, but state lotteries might have location restrictions.
These are the lotteries you could encounter in the Jackpocket App:
How to Use the Jackpocket App
The primary requirement is to download and install the software. It only takes several minutes, and it's 100% free. Once you verify your identity, here is how to use the app:
Start by funding your Jackpocket account. It's possible to use multiple payment methods to transfer funds.
Pick the desired lottery. They might vary depending on the location. You'll find top suggestions on the homepage, as well as jackpot information.
Choose your combinations. The number selection page is intuitive and easy to use. You can play one or multiple tickets and pick PowerPlay and other special additions if you want them. Once you are happy with the choice, finalize the transaction.
The application will inform you when your ticket is processed. The only thing left is to wait for the draw and see if you won!
Additional Features Offered by the Jackpocket App
Apart from purchasing lotto tickets for the upcoming draws, you can also use additional functions of the Jackpocket App.
Those include:
Public and private pools. These are something like lottery syndicates, except they are created on the site itself. The prizes are split evenly among the players.
Automatic funding. You can choose to automatically refill your account once it becomes empty.
Lottery subscriptions. If you plan on playing a particular lotto regularly, subscribing to it can be a useful feature.
The Registration and Login Process for the Jackpocket App
These are the simple steps to follow when installing the Jackpocket App and registering an account:
Download the app for your device. You have Android and iOS versions. Start by checking out the respective app store on your gadget. If you don't find the software, you can head to the Jackpocket website and look for a download link. The app itself is free.
Identity verification. The platform works with third-party companies to confirm your identity. You verify your phone number and then the I.D. or driver's license. After the platform verifies your identity, you can access the app.
Those are the only two steps required to start using Jackpocket. You can choose for the app to automatically log you in whenever you open it. That way, you don't have to enter your credentials every time.
Is It Easy to Buy Tickets Via Jackpocket App?
Jackpocket App features a clean and simple layout. That intuitive interface makes it simple for anyone to purchase lottery tickets. The page loading times are impressively fast, and everything works smoothly. Our experts tested the app and didn't notice any bugs. The app doesn't even take a lot of room on your device, which is great if you don't have much free storage.
Jackpocket App – Crucial Features
Does Jackpocket App Offer Vouchers, Promo, and Discount Codes
You might encounter a Jackpocket App voucher offered online. It will include a special promo code. You should enter this code while purchasing the tickets for the specific lottery. Before finalizing the order, you can utilize the code and activate the discount. The total price will automatically be reduced by that sum.
Special Jackpocket App Deals and Offers
Jackpocket offers a special discount on your first lottery order via this app. Once you sign up for a new account, you can activate a freebie that reduces $3 from your first order. The system automatically activates the discount. This bonus is welcome if you want to test the app and see if it meets your expectations.
There's also a special Refer a Friend bonus available. You'll receive $10 once your friend deposits to their account, and even they will get $2 free!
Payment Methods in Jackpocket App
Jackpocket App offers sufficient payment methods to make a choice easy for all players. Most users resort to debit and credit cards. You can also use the special Play+ card that allows making a web deposit on the site, as well as physically withdrawing money from ATMs and buying in stores.
Please note that Jackpocket App might come with deposit fees. The exact charges vary on the method selected, but also your location. The good news is fees aren't high, but always check them before finalizing the deposit.
What Deposit Methods Are Available?
Visa
Discover
Mastercard
Play+
eCheck
Bank transfer
PayPal
Apple Pay
Terms and Conditions of Using Jackpocket App
The basic law requirements include meeting the legal age to register an account and confirming your identity. You also can't have more than a single account per person. Apart from that, here are some major terms to consider when using Jackpocket App:
You'll receive prizes of up to $600 directly to your account on the site. The exact sum varies on the state, but this is the usual threshold.
Prizes between $600 and $10K could involve sending the lottery ticket to your address for claiming.
If you win over $10K, you'll need to pick up the lottery ticket and go claim it in person.
Famous Verified Jackpocket App Prize Winners
Jackpocket App is transparent and has an entire page dedicated to winners. A female player from Houston is the biggest winner on this app. She won $2.15 million playing Texas Two-Step. Multiple players won $1 million dollars, including Brandon Stevenson and an unknown winner from Jersey. Another player won $935.8K while playing Jersey Cash 5 via this software. Jackpocket issued millions to lucky winners so far, which means it's a trustworthy site.
An Overview of the Customer Service
Customer support is available to everyone, even those who don't have a registered account. You can use the contact form on the site or send them a message via social networks. Jackpocket has pages on Facebook, Instagram, and Twitter. You can also contact agents from within the app. The staff gives their best to be helpful and resolve your problem quickly.
Is Jackpocket App Scam or Legit?
Jackpocket App is perfectly legit. They comply with all relevant laws and regulations and apply security measures to protect the app and the site. This platform works closely with relevant lottery organizers to comply with their rules. Everything is by the book, and there hasn't been a single problem since 2013. As long as the app is available in your state, don't hesitate to try it.
Jackpocket App FAQ
When will the Jackpocket App deliver winnings to your account?
The administrators will release your funds after the lottery publishes official results. That usually happens until 9 AM the morning after the draw. If you don't notice the money in your account, you should contact customer service.
Are there fees to prizes won via the Jackpocket App?
No, the platform won't take a single cent from your reward. However, you'll probably need to pay taxes. Don't forget to check the lottery tax calculator to understand the rates.
Can you use Jackpocket App outside of the United States?
No, you can't use it outside the U.S. Additionally, the app is only available in selected states. The good news is that expansion plans are ahead, and the courier might open its services in other states soon.
Should You Trust Jackpocket App?
Jackpocket App invested a lot to ensure it's 100% legal and safe. They work closely with state lotteries to ensure everything is in line with local regulations. The application is completely secure, and you can feel safe while playing your favorite games.
The software works like a charm and guarantees 99.99% uptime. The purchases go smoothly, and the payments are fast after the draws. However, Jackpocket is only available in certain states, and the listed lotteries depend on the location. Those are only minor downsides because the experience of using this software is fantastic. That's why you should give Jackpocket app a try today!
Jackpocket App Alternatives
Why it's better than Jackpocket App: The Lotter is an online lottery vendor offering lotteries from all parts of the world. You can play North American, but also European, African, Asian, and Australian games. The selection ranges from EuroMillions to Australia Powerball. A large number of users reveals this site is popular among lotto players.
Why it's better than Jackpocket App: We can praise Multilotto for having more than 60 lotteries in their library. That means you'll always have a vast choice of games to try. It's worth noting you can play on mobile, which means the platform is accessible from any location. The interface is user-friendly and easy to navigate.
Why it's better than Jackpocket App: If you want a mixture of aesthetics and functionality, LottoAgent is an excellent choice. You have a decent game selection from the entire world, and mobile support is impressive.