Online Lottery in the Philippines
The lottery scene in the Philippines is a lively affair. The Philippines has a bubbling lottery industry that offers many games and different types of gambling activities to lottery players.  Online lottery Philippines, organized by the Philippines Charity Sweepstakes Office (PCSO). 
➡️ This guide contains a list of the best Philippines online lottery sites, games, lottery laws, and how the lotto works in the Philippines. Let's get started.
First, here are the most popular international and local Lottery games in the Philippines:
You can play all the above lotteries (and many more) using the following sites we recommended here below. 
Best Online Lottery Sites in the

Philippines
TheLotter – A broad collection of lottery games for Philippines players.
LottoAgent – Different variety of payment options for Philippines players.
LottoLand – They offer top lottery games to Filipino players on a simple, easy-to-use, and intuitive website.
Jackpot.com – Free deposits, free withdrawals, and no commission charges for Philippines players.
TheLotter – Philippines Players' Top Choice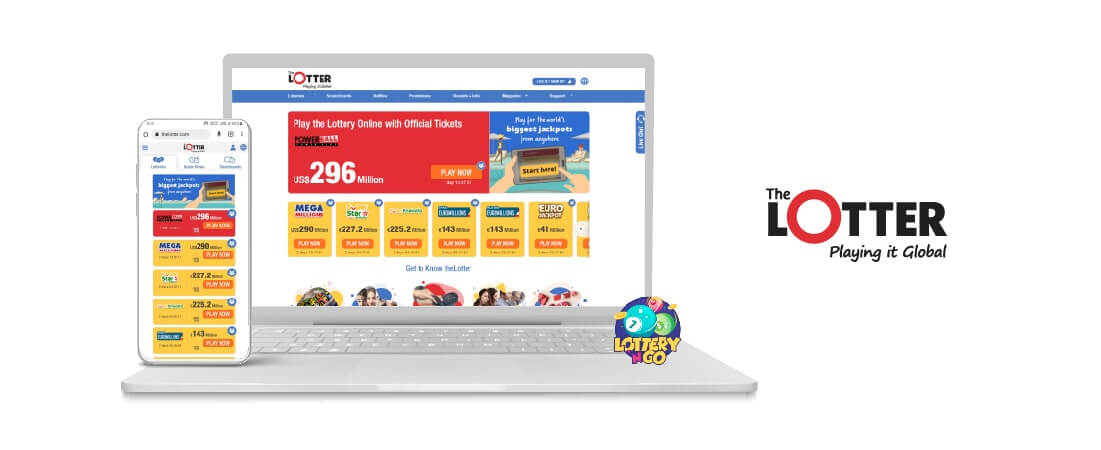 TheLotter offers a complete gaming experience to Philippines players by hosting a broad catalog of international and local games. Philippines players can participate in popular draws, including US Powerball, US Mega Millions, Italy SuperEnalotto, and other top lotteries with massive jackpot prizes. They also have an excellent reputation as a trustworthy lottery agent for Philippines players.
TheLotter offers 18 different payment methods including Visa, Mastercard, and Skrill, which Philippines players can use to fund their accounts. It is owned and managed by Lotto Direct, which is licensed and regulated by Malta Gaming Authority. You can access TheLotter through their mobile application and official website.
Pros
It has a track record of excellence in the lottery industry
Access to the top international lotteries
Top-notch mobile compatibility
Cons
It is more expensive than buying a ticket on the official game site. But this is the same for all online lottery sites.
LottoAgent – An Excellent Choice for Philippines Players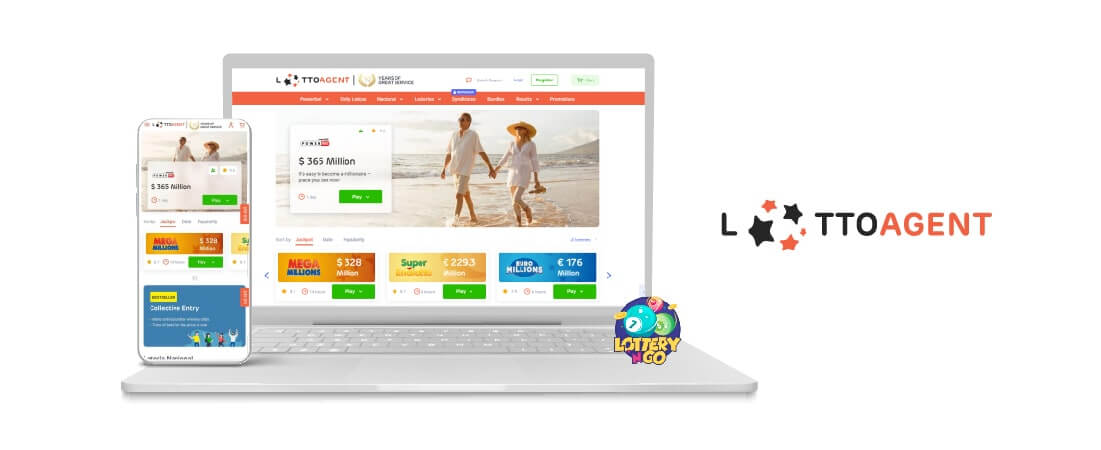 LottoAgent is one of the most popular lottery agent websites among Philippines players. It connects players to more than 30 different lotteries around the world. Philippines players can play global lottery games including the US Powerball, US Mega Millions, Italy SuperEnalotto, and Euro Millions, to mention a few.
One standing point about LottoAgent is its user-friendly website. It offers a simple and intuitive website that is easy to use for Philippines players who are new to the lottery. You can also download the application on your Android smartphone. It supports payment methods including Visa, Mastercard, Maestro, Skrill, Trustly, Sticpay, and Neteller.
Pros
A simple and user-friendly website
Access to famous international lotteries
Many discounts and promotions for Philippines players
Cons
No application for iOS devices
LottoLand – A Simple and Attractive Platform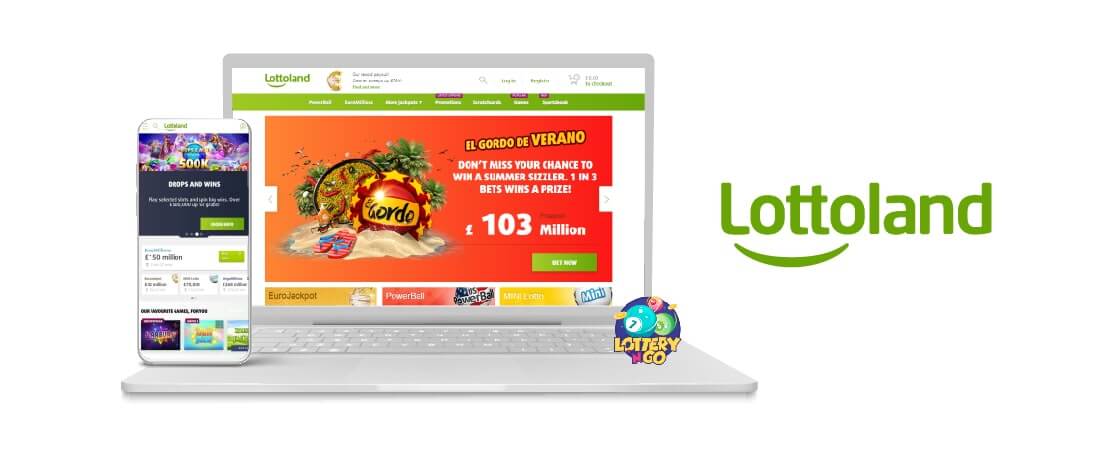 Suppose you are looking for an online lottery website for Philippines players with attractive bonuses and promotions. In that case, you should sign up for LottoLand. LottoLand promises a great lottery experience at the world's largest lotteries. You can play the top lotteries, including Euro Millions, Euro Jackpot, Mega Millions, and Ireland Lotto. It also offers scratchcards and instant win games.
Lottoland hosts a VIP loyalty program for Philippines players which offers perks such as customized promotions and bonuses, unique occasion gifts, VIP prize draws, and a personal account manager. They are managed and regulated by the UK Gambling Commission and Gibraltar Betting and Gaming Association.
Pros
Impressive promotions, bonuses, and perks
Fully functional mobile support on Android and iOS devices
Simple and easy-to-use website
Cons
Live chat isn't always available.
Jackpot.com – A Special Lotto Available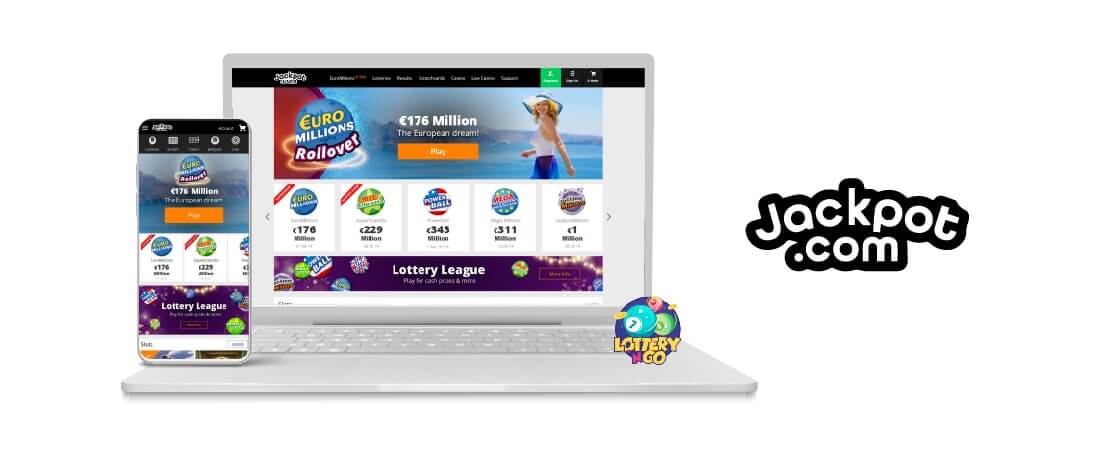 Jackpot.com is relatively new to the lottery scene. Still, it has fast established itself as an excellent place for Philippines players to play the lottery games. It offers over 30 international lotteries, including Euromillions, Powerball, SuperEnalotto, Ireland Lotto, Mega Millions, and Lotto 649. You can also play scratchcards, slots, and casino games.
The website's impressive design seamlessly guides you to the different gaming options available. In addition, it allows various payment methods for Filipinos, including Visa, Mastercard, Neteller, and Skrill, Euteller. Concerning safety and lottery regulations, Jackpot.com is regulated by Malta Gaming Commission and the UK Gambling Commission.
Pros
No deposit fees
Wide range of payment and withdrawal options
Simple website
Cons
They could offer more bonuses.
How We Rate the Best Philippines Online Lotteries
Choosing the
best online lottery sites
in the Philippines may be a little challenging because there are many options. And if you decide to do trial and error, you may have a bad lottery experience.
That is why we created this guide. We have years of experience in testing and analyzing lottery operators, so we know how to separate good sites from bad ones.
Here is what we look at when reviewing a site.
Licenses – Licenses protect the players. It guides the operations of lottery vendors, ensures they deliver the best service to players, and guarantees that players receive their winnings for lottery games. The lottery site you choose should have a license to offer lottery services in the Philippines.
Security – The website should have adequate security measures to protect the personal details of players. Ensure the lottery agent website have high-quality SSL encryption software.
Lottery Games – This depends on the games you want to play. The lottery website should have a decent collection of the major international and local Philippines games. The more games, the better the gaming experience.
Payment Methods – Does the website have a good payment option for Philippines players? If yes, then it may be a good fit for you. Look out for sites with many payment methods to withdraw and deposit funds.
Mobile experience – Does their website work well on your mobile device? Is there a dedicated mobile app? Lottery websites with good mobile support can provide a good experience on your smartphones.
Fees – Check if extra fees are attached to funding or withdrawing from your account.
Ease-of-use – Is the website simple, straightforward, and easy to use? Check if the website is simple enough for beginners to play the lottery.
For more information on the methodology for finding the best online lottery in the Philippines, read our guide on
how we rank lottery websites.
History of the Philippines Lotteries
The lottery is one of the many things the Philippines adopted from Spain.
Records show that the first lottery in the Philippines was established in 1883 by the Spanish government.
The Spanish government pioneered the first lottery, the Empresa de Reales Loteria Espanolas de Filipinas, to raise revenue for the government. The lottery was stopped during the Philippine revolution and started again in 1932 by the Philippines government after the end of the Philippine revolution. They used it to generate funds to support projects for the Filipino Youth. The massive success of the lottery encouraged the government to organize more draws for social projects. In March 1935, the president of the Philippines, Manuel Quezon, signed Act 4130 to create the Philippines Charity Sweepstakes Office. The popularity of the Philippines lottery increased in the 1980s and 1990s. With growing popularity, the size of the prizes and jackpot prizes also increased. This helped the Philippines Charity Sweepstakes to raise their contribution to charity and social projects.
Is Online Lottery Legal in the Philippines
Online lottery is legal in the Philippines. The Philippines is the only country in Asia to issue licenses to lottery providers to provide lottery services.
The Philippines is divided into the Metro Manilla and the Cagayan Valley region. This is why there are two lottery regulatory bodies in the Philippines. The Philippine Amusement and Gaming Corporation (PAGCOR) regulates all gambling activities in land-based casinos in the country. It was founded in 1977 to issue licenses, regulate the gaming market, and ensure the fairness of lottery games.
It is illegal to offer online lottery services in Metro Manilla. However, Filipinos can still play at international lottery sites because they are not subject to Philippines laws. This makes it
legal to buy lottery tickets online.
The Cagayan Economic Zone Authority (CEZA) regulates gambling regulations in the Cagayan Valley region of the Philippines. Philippines regulatory bodies set the minimum age to play the lottery to 18 years. Although poker and casino players have to be 21 years before they can legally play. CEZA grants license to independent lottery vendors who offer lottery services, so playing the online lottery in this region is legal. The Philippines are fully invested in the lottery. Still, they also enforce strict measures to protect players from gambling addiction and abuse. There are strict laws to ensure that players gamble responsibly. The government bans anyone who shows signs of
gambling addiction
to the lottery. In addition, PAGCOR and CEZA require that online lottery vendors have agreements with organizations, such as
BeGambleAware
,
GamCare
, and
Philippines Gamblers Anonymous
, that help players fight gambling addiction.
Lottery Laws in the Philippines
There are various lottery laws in the Philippines. Let's talk briefly about them.
The first lottery law was signed in 1975. This is the Decree No. 1067. This law provided the scope and definition of legal gambling in the Philippines. It also established the Philippines Amusement and Gambling Corporation (PAGCOR)
Decree No. 1602 sets the penalties and punishment for players who violate the gambling laws.
Republic Act (No. 9287) was formulated to amend Decree No. 1602 and increase the punishment for players who violate the gambling law
The President Decree (No. 1869) was formulated in 1983 to guide the operation of PAGCOR on issuing licenses to gambling organizations.
The following law is the Executive Order (No. 13), formulated in 2017 to help the fight against illegal gambling. It states that it is legal for Filipino residents to participate in foreign international lotteries. However, it is illegal for local operators to offer online lottery services. 
How Lotto Works in the Philippines
The Lotto in the Philippines works like the Lotto in any other place.
All lotteries require you to choose certain numbers from a pool.
For example, the first lottery in the Philippines was a 6/42. This means that players will pick 6 numbers between 1 to 42. The players will
win the jackpot
if they match all six numbers from the draw. There are also secondary prizes for players who matched four or five winning numbers. There are also variants of the lotto in the Philippines, including the three-digit (3D), four-digit (4D), six-digit (6D), Mega Lotto (6/45), and the Super Lotto (6/49) draws. The same rules for the 6/42 lotto apply to the different lottery variations. In the 6/49 format, the player chooses six numbers from 1 to 49 and wins if they match all six numbers in the draw.
Another thing to note about the lotto in the Philippines is the jackpot prize.
It usually starts at a few million pesos. However, it can roll over and increase to hundreds of millions of pesos until there is a winner.
How to Play Lotto Philippines Online
The
Lotto Philippines
is a 6/42 lottery that requires players to choose six numbers from a pool of 42 numbers. You win the jackpot when you match all the numbers in the draw. However, you can also win prizes in lower categories by matching fewer numbers. Here is how to play the Lotto Philippines online.
Visit your preferred online lottery in the Philippines. The lottery sites listed in this guide are great options for playing the lottery.
Choose six numbers between 1 to 42.
Your tickets should contain six numbers. However, you can play more with advanced lottery systems to increase your chances of winning.
Click ENTER and pay the ticket prize. It costs Php 20 per play.
Wait for the draw
Check if you qualify for a prize at any of the prize tiers. You must match at least three balls to win. The table below contains the odds of winning in the Lotto Philippines.
| Prize tier | Requirements | Odds of winning |
| --- | --- | --- |
| 1 | 6 matches | 1:5,245,786 |
| 2 | 5 matches | 1:24,286 |
| 3 | 4 matches | 1:555 |
| 4 | 3 matches | 1:37 |
The odds of winning a prize in Lotto Philippines is 1 in 37.
How much is a Lotto ticket in the Philippines?
Another thing Philippines players consider before they
play the lottery online
is the prize of a lotto ticket.
The prize dictates which games to play and how many entries into the draw. The table below contains the prizes of a lotto ticket in the Philippines for international lottery games.
How to Claim Lotto Winnings Philippines
After confirming that you qualify for a prize tier in the lottery, here are the steps to take to claim your lotto winnings in the Philippines.
Inquire about how to claim lotto winnings in the Philippines.
If your prize is small, it will be paid directly to your lottery account. 
But you will have to claim your lottery prize in person if you win a massive amount like the jackpot or the second-tier prize. So contact your lottery agent and find the due process to claim your winnings.
Decide whether to take a lump sum or annuity payment. A lump sum means you accept the whole winnings at once, while an Annuity means you split the payment over the years. Again, you should choose based on your personality and financial situation.
Tax on Lottery Winnings Philippines
The Philippines imposes strict laws on lottery activities in the country, and taxation is one of such laws.
The government imposes a five percent franchise tax on offshore lottery operators who offer their services in the country
. Also,
lottery winners
have to pay taxes.
There is also a 50%
tax on lottery winnings
. The government employs taxes to fund social work, infrastructure, and civic projects.
Popular Lottery Games in the Philippines
Popular lottery games in the Philippines include
Ultra Lotto 6/58
,
Grand Lotto 6/55
,
Super Lotto 6/49
,
Mega Lotto 6/45,
and
Philippines Lotto 6/42
. Below is a brief explanation of the five most popular games in the Philippines.
Philippines Ultra Lotto 6/58
This game requires players to choose six numbers between 1 to 58. You win the jackpot when you match all six numbers from the draw.
Players can also qualify for secondary prizes by matching fewer numbers in lower prize tiers. It has a jackpot that starts at 49.5 million pesos. The draws occur on Sundays, Tuesdays, and Fridays, at 21:00 in Manila.
Grand Lotto 6/55
The Grand Lotto 6/55 offers a jackpot that starts at 29.7 million pesos. It requires players to choose six numbers from a pool of 55 numbers.
They win the jackpot when they match all six numbers. However, players can also win lower prizes by matching 5, 4, or 3 numbers. The record jackpot in this game is 741 million pesos.
Super Lotto 6/49
You have to match six numbers from the draw to win the jackpot. To play, you select six numbers from 1 to 49.
It has a starting jackpot of 15.8 million pesos. The draws occur on Tuesdays, Thursdays, and Sundays at 21:00 in Manila.
Mega Lotto 6/45
You have to choose six numbers from 1 to 49 and enter them into the draw. You win the jackpot when all your selections appear in the draw
. It has a starting jackpot of 8.9 million pesos, which can grow to a large amount. The draw is held on Mondays, Wednesdays, and Fridays at 21:00 local Manila time.
Philippines Lotto 6/42

In this game, players will have to choose from a pool of 42 numbers to predict the six winning numbers from the draw.
It has a starting jackpot of 5.9 million pesos. However, the jackpot has no cap and can grow to huge amounts. The draw is held on Tuesdays, Thursdays, and Saturdays at 21:00 local manila time.
Online Lottery Payments and Withdrawals
Filipino players can employ a wide range of online lottery payment and withdrawal options to make payments and deposits from their lottery accounts. Like the ones in this guide, most lottery sites allow different methods. Some of them are listed below.
Mastercard
Visa
Maestro
Neteller
Skrill
PayPal
Paysafecard.
You should select a lottery website that offers a payment method that you are comfortable with. This will help you to easily manage your deposits and withdrawals.
However, you should note that you may have to convert the Philippines pesos to other currencies to buy tickets for international lotteries.
Summary: Are Philippine Lottery Websites Reputable?
Philippine lottery websites are reputable.
They have consistently supplied high-quality lottery services and built a good reputation as a place where you can easily play your favorite lottery games, have fun, win, and make money.
In addition, they offer a convenient platform to connect with the top international lotteries and win a huge jackpot.
GET 25% OFF for any ticket!
GET 20% OFF your first order,
promo code: LOTTERYNGO
Buy 1 Ticket and
Get 2 Tickets for FREE!
FAQs