Buy Mega Lotto Philippines Tickets Online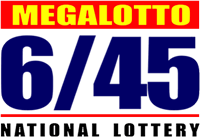 Philippines Mega Lotto Review
The Philippines have more than 108 million residents. It's only normal that such a large country offers several lotteries. The Philippines Mega Lotto is among the most popular games available. It's famous for low-ticket prizes and potentially unlimited jackpots. If you want to know more, read our Mega Lotto 6/45 review and discover more details about this lottery!
How to Buy Philippines Mega Lotto Tickets Online
It only takes a couple of minutes to purchase tickets for the Philippines Mega Lotto 6/45.
Here's how:
Find the desired online lottery vendor that has this game in its selection.
Register an account and find the Mega Lotto on the site.
Choose the numbers by using the selector on the site.
Play as many combinations (or try system tickets) and confirm the purchase.
Wait to see if you are the winner!
The single ticket price for the Philippines Mega Lotto is PHP20, which is around $0.45.
How to Play Philippines Mega Lotto Online
Philippines Mega Lotto offers a single-drum 6/45 concept. PCSO decided not to complicate things and go with this simple formula. The pot has 45 balls, and six of them are drawn during each session. You need to guess all six correctly to win the grand reward. There's also an option of winning if you guess five, four, or three numbers correctly. The prize sums vary based on the reward structure you can find below.
Odds of Winning Philippines Mega Lotto
It's not difficult to calculate your chances of winning the jackpot at Philippines Mega Lotto. You need to guess six out of 45 numbers correctly, and the odds of that happening are 1:8,145,060. The game offers four prize tiers, with the lowest reward offering odds of 1:45. It's not as Russian Gosloto 6/45 where you can guess two numbers and win, but it's close enough.
Here is a complete overview of the winning odds at Philippines Mega Lotto:
| Prize Tier | Requirements | Odds of Winning |
| --- | --- | --- |
| #1 (Jackpot) | 6 matched numbers | 1:8,145,060 |
| #2 | 5 | 1:34,808 |
| #3 | 4 | 1:733 |
| #4 | 3 | 1:45 |
If you want to calculate your chances of winning other lottery games, you can check our lotto odds calculator.
When Is the Philippines Mega Lotto Drawing?
You can participate in the Philippines 6/45 Mega Lotto draws three times per week. The drawing days are Monday, Wednesday, and Saturday. The time is always the same – 9 PM PST, which is 3 PM CET.
Philippines Mega Lotto Payout Chart
Philippines Lotto 6/45 has a guaranteed jackpot fund of approximately PHP9,000,000. That's around $188.9K dollars, which is tempting. The rollover function offers an unlimited option for the grand reward to increase. That means there's no restriction to how big the jackpot can become.
As for other prizes, the second and third are quite tempting for a cheap lottery like this one. The last tier secures you compensation for the invested sum on the ticket.
Here is the payout chart for the Philippines Mega Lotto:
| Requirements | Prize |
| --- | --- |
| 6 matched numbers | PHP9,000,000 (approximately $188.9K) |
| 5 | PHP50,000 ($1,050) |
| 4 | PHP1,500 ($31.5) |
| 3 | PHP20 |
Philippines Mega Lotto Taxes
The country has a 20% lottery tax rate on all prizes above PHP10,000. If you win less than that sum, income tax for individuals applies. While you can claim other prizes in local PCSO branches, you need to go to the main office to claim the jackpot.
It's interesting to note the government applied an additional tax for lotto companies, which is why the ticket price was PHP24 for several years. It was in 2018 when PCSO decided to revert the cost of a Mega Lotto ticket to PHP20.
Philippines Mega Lotto History
The first drawing of the Philippines Mega Lotto was in 1997. Since the Philippines Charity Sweepstakes Office (PCSO) has been behind the game, this lottery has instantly become popular. The guaranteed jackpot fund increased several times, and additional drawing days were implemented. Apart from that, there weren't changes to the actual rules.
Biggest Philippines Mega Lotto Jackpots in the History
You can find information about the jackpot winners on the lottery's official site. The statistics indicate that the biggest prize won was in December 2020. A lucky player won a jackpot of PHP166.5 million, which is around $3.48 million. Since there's no limit on how many times the jackpot can roll over, we expect to see even bigger sums in the future!
Philippines Mega Lotto FAQ's
How to Play Philippines Mega Lotto from Outside the Philippines? Is It Legal?
Yes, it's perfectly legal to play this game from anywhere (as long as the local laws allow it). You can purchase tickets online at lottery vendors like The Lotter.
What Are The 7 Most Common Numbers in the Philippines Mega Lotto?
The most frequent numbers in the Philippines 6/45 Mega Lotto include 31, 11, 17, 1, 19, 27, and 25.
What is the deadline for buying Philippines Mega Lotto tickets before the drawing?
The official website indicates you should buy your tickets until 8 PM PST on the drawing day. The deadlines at third-party lottery vendors could be shorter.
Philippines Mega Lotto – Is It Worth Playing?
Do you like lotto games with a simple concept? Are you looking for a lottery that offers affordable ticket prices and frequent draws? If the answer to those questions is yes, you'll love playing Philippines Mega Lotto. This game has a long tradition and offers decent prizes that are worth the set ticket cost. That especially applies to the grand reward. Make sure to give Philippines mega Lotto 6/45 a shot, and you'll end up loving this game!