The lottery has been around for decades, but it was never as popular as these days. That's because the option to purchase tickets online gives players access to numerous games from around the world. Moreover, you don't have to dress up and go to your local vendor. Instead, you can buy a ticket from the comfort of your home.
Would you like to learn how to play the lottery online? Here is a detailed guide on purchasing tickets. We list various internet lotto vendors and provide step-by-step instructions for first-time buyers.
Why Would You Play Lottery Online?
What makes playing the lottery online attractive? If you are still having second thoughts about purchasing tickets over the web, here are the significant benefits of this approach:
Access to worldwide lotteries 🌐– Thanks to online vendors, you can play US Powerball and other top global lotteries from any location in the world. You can also select from dozens of games, which means the fun never stops.
It's perfectly safe 🔒 – You want to stick to the list of reliable lottery ticket sellers, such as official organizations and reputable vendors. As long as you do that, purchasing tickets online is 100% safe.
A smart choice for pandemic times 😷 – In the times of a lockdown, you don't have to leave home to buy lottery tickets. Instead, you can purchase them online in several simple steps.
Open around the clock 🕑 – Did your local vendor close earlier than expected? Internet sellers give you the option to purchase tickets at any time. That means these websites are open 24/7!
Promotions and bonuses 🛒 – Some websites will often run promotions and offer discounts on specific lotteries. That is a saving method and improves your overall playing experience!
The 3 Ways You Can Play the Lottery
Did you know that there are three ways how to play the lottery online? You are free to pick your favorite. Before you do that, check out the specifics of each method below.
Lottery Agent Sites – Your first option is lottery agent sites, such as TheLotter.
You purchase a ticket over the desired website.

The site immediately buys the tickets on your behalf (many platforms will even send you a scanned ticket to your inbox).

After purchasing tickets, you wait for the draw.
If you win, the website credits your account with the sum you won.
Some large prizes, such as jackpots, require claiming them in person. If that happens, the site will contact you, so you can come to the lotto office and claim the winnings.
The entire process is perfectly safe and simple. You can use multiple payment methods to buy tickets, and they are available for purchase right until the specified deadline for that round.
GET 25% OFF for any ticket!
GET 20% OFF your first order,
promo code: LOTTERYNGO
Buy 1 Ticket and
Get 2 Tickets for FREE!
Lottery Betting Sites – From the perspective of the player, lottery betting websites are precisely the same as the agents mentioned above. However, there is a crucial difference when it comes to how they work.
Instead of purchasing actual tickets, you bet on the outcome of a lottery. The odds are the same, so if you win, you get paid the same amount. The party that pays is the lottery vendor – it's the same principle used by sports betting sites.
Official Lottery Site – You can also use official lottery sites to purchase lotto tickets. The reason this is the most popular option is simple – all vendors offer only tickets for their games. That means the Chilean lottery will only provide tickets for Loto Chile and other games they designed.
The limited selection of games is why this is the least recommended way of playing. Lottery agents and betting sites gather all lotteries in a single place, which is more convenient. However, it's worth noting that official lottery platforms are perfectly safe and legit, too.
A Step-by-Step Guide to Playing Lottery Online
It's time to learn how to play the lottery online. The good news is you don't need any advanced tech knowledge. All that's required is a good internet connection and a device to access the desired website.
In short, we created this graph to explain all the steps (click to watch the full size)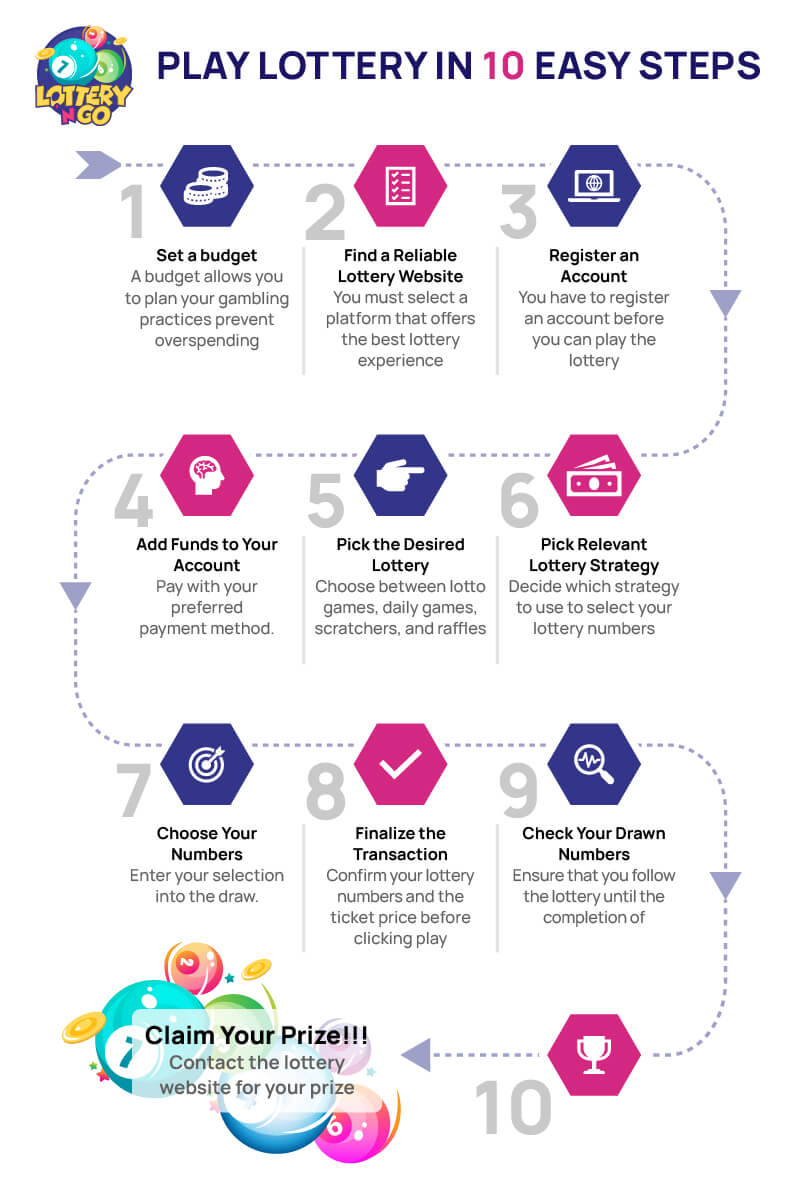 Here are the detailed instructions on purchasing lottery tickets:
Prepare a Budget
How much are you willing to spend on lottery games? It is a great idea to have a budget before you start playing. A financial plan will allow you to plan what games you will play and how many tickets to buy. In addition, it will prevent overspending and allow you to keep a clear head when playing lottery games.
Find a Reliable Lottery Website
Before you can buy a lotto ticket, it's vital to choose a reliable vendor. The fact that you can pick between dozens of platforms is a blessing and a curse. It is a blessing because you have many options to pick from. Also, it is a curse because it becomes difficult to choose a reliable lottery website from the many options available.
Our recommended lottery agent to start to play with is TheLotter. You can CLICK HERE to open your account and follow the next steps.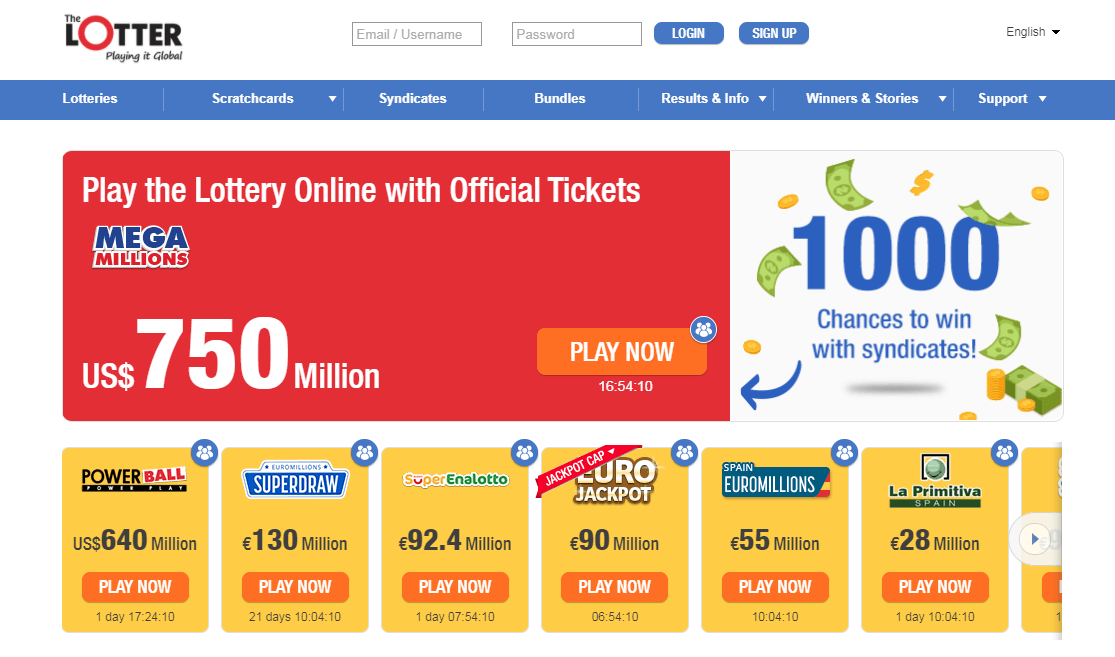 Here are some factors to use when choosing the desired lotto provider:
Regulation and security – the transactions should be encrypted, and the lottery vendor should honor all the applicable laws and security standards.
History – a look into the platform's history can reveal a lot about it. For example, are they in business for years and have a reputable tradition? Did they have previous problems with data breaches, and do they pay on time?
Game selection – does the website offer your favorite lotto game? Can you play lotteries from around the world, and does syndicate play an option?
Payment options – it's vital that the supported payment methods include the ones you prefer.
Customer support – if you encounter any problem, it's crucial that the staff is knowledgeable and ready to help.
Mobile gaming support – is there a dedicated app for Android or iOS? Is the website mobile-friendly and the interface intuitive?
Register an Account
You found a good lottery website and opened its homepage. The next step is to register for an account. It's vital to state that this is a free process, and lotto vendors don't charge the actual registration. You need to sign up because your account would be unique, and they'd know where to pay the winnings when you win anything.
The registration process involves providing basic information, such as your name, email address, etc. Most platforms require verifying your email or phone to confirm your account.
We'll take The Lotter as an example. Once you click Sign Up on the homepage, you'll see the following: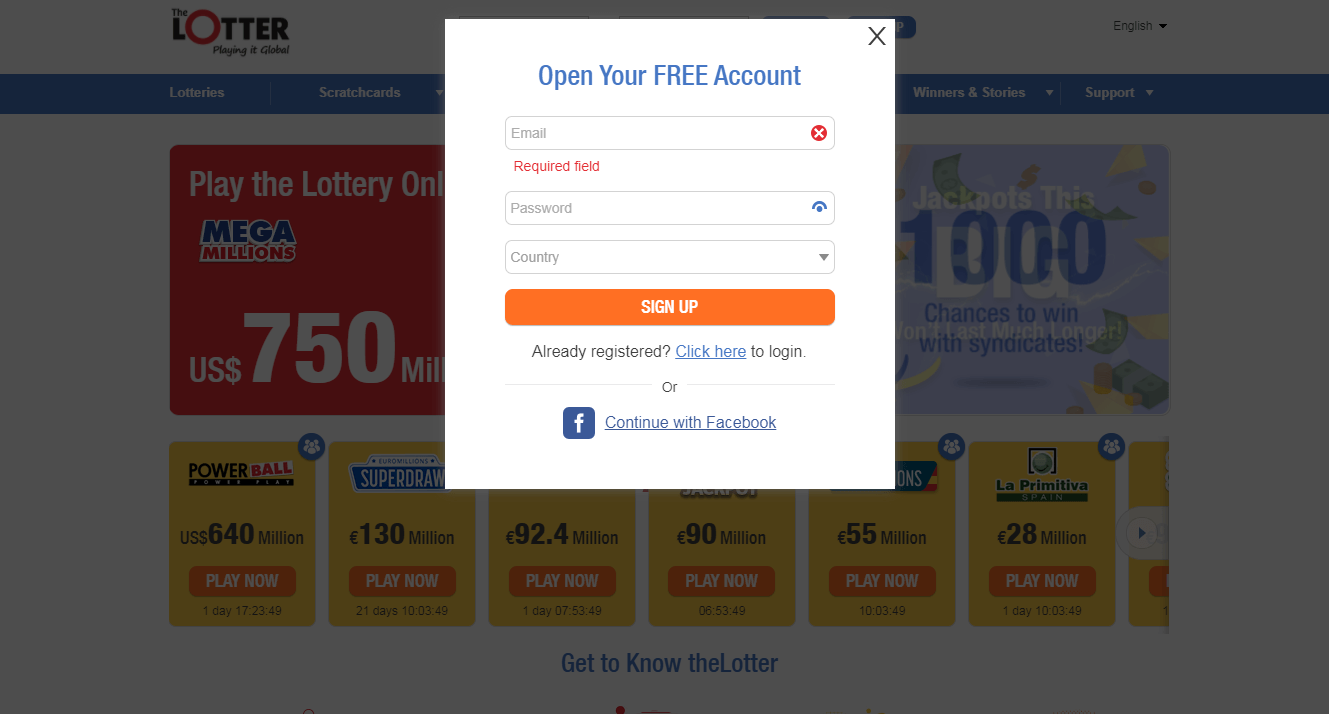 After entering the required details, click on Sign Up and finish the registration process.
Add Funds to Your Account
When it's time to play, you will have to add funds to your account on that platform. You can do that by using the available payment methods. They vary from vendor to vendor, but most sites support Visa, Mastercard, PayPal, Skrill, etc.
Payment Methods
Debit Cards e.g Mastercard, Visa,
Cryptocurrency e.g Bitcoin, Ethereum, Doge Coim
Credit Cards e.g Mastercard, Visa
Prepaid Cards e.g Paysafecard, Neosurf, EcoPayz
Bank Transfer
E-Wallet e.g PayPal, Skrill, Neteller
The depositing process involves the following:
1. Select Deposit on the homepage.
2. Pick the preferred method.
3. Enter the payment details.
4. Finalize the transaction.
Your money should be available immediately – you'll see it appear in your account balance.
Pick the Desired Lottery
It's now time to choose the desired lottery. Depending on the site, you can pick from an impressive lottery selection. That could include large jackpots like US MegaMillions or smaller-scale lotteries like Loto Quebec 49.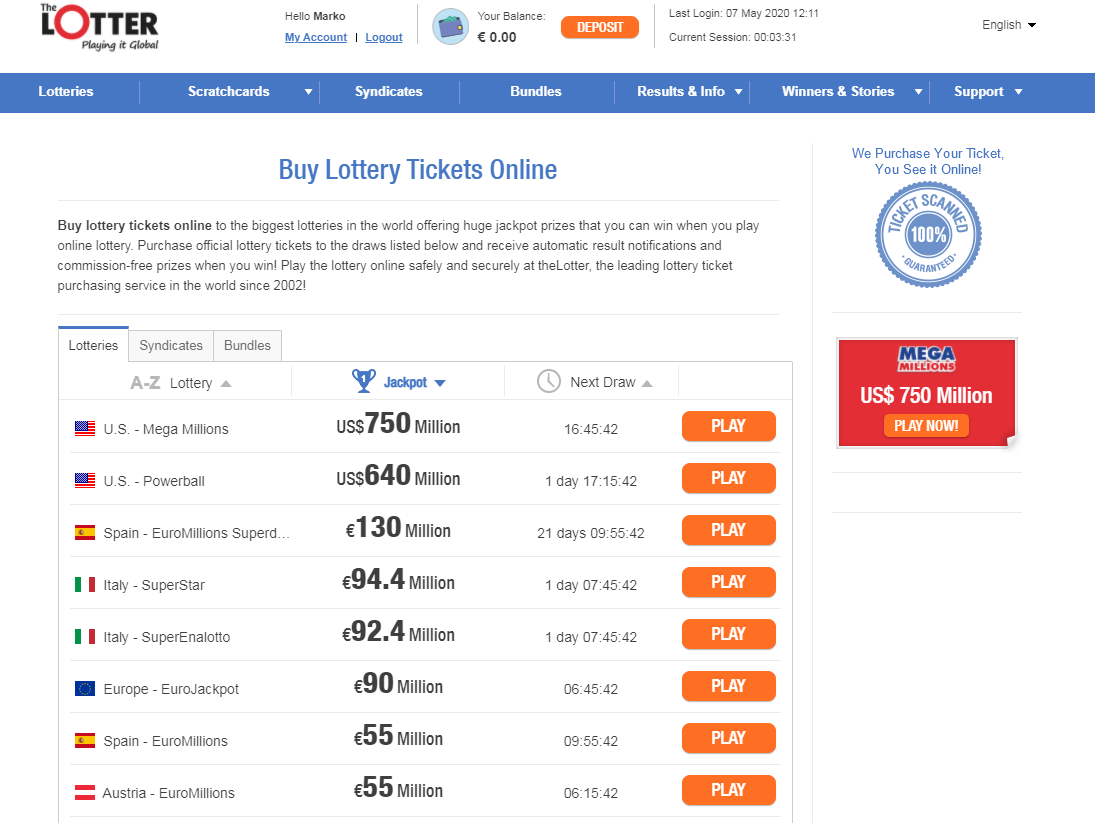 Lottery websites allow browsing the available games. You can check out the upcoming schedule and pick lotto games where draws are to be held soon. Alternatively, choose the one with the highest jackpot or the concept that suits your preference.
An exciting fact about the lottery is that there is a wide range of lottery games for players of different tastes and preferences. For example, you can choose to play the lotto, scratcher, raffle, or even daily games like Pick 3 and Pick 4. Below is a brief explanation of the different types of lottery games.
Lotto games
Lotto games are the most popular types of games that you will come across in the lottery. These games require players to choose and match up to six numbers in a draw. Some games like the Powerball and Mega Millions also involve a special ball, which helps them to win the grand prize.
 You will win the jackpot if you match all the numbers, including the special number. Other examples of Lotto games are Euro Millions, SuperEnalotto, and EuroJackpot.
| Lotto games | Odds of Winning |
| --- | --- |
| US Powerball | 1 in 292,201,338.00 |
| US Mega Millions | 1 in 302,575,350 |
| Italy SuperEnalotto | 1 in 622,614,630 |
| Europe Eurojackpot | 1 in 139.838.160 |
| Spain EuroMillions | 1 in 139,838,160 |
Scratcher
Scratcher games offer an easy avenue to play the lottery. Unlike traditional lottery games, you don't have to choose numbers or make any selection. Instead, it involves playing with scratch cards that have hidden numbers. You have to select the game you want to play, buy the ticket, and click the reveal button to check if your cards contain the winning numbers. Famous examples of scratcher games are 777, Powerball, Fruity Flurry, and Red Ruby.
Daily Games
Daily games work like Lotto games. The more numbers you match in the draw, the more money you win. If you match all the numbers, you win the jackpot. The only difference is the number of times the draw is held in a week.
While lotto games are draw-based games held twice or thrice a week, daily games organize their draws twice a day. This means you have more opportunities to play daily games. Pick 3 and  Pick 4 are the most popular examples.
Raffle
The raffle is a particular type of lottery game in which players buy numbered tickets that contains a pre-printed raffle code. Unlike the Lotto and daily games, you will not need to match any number; instead, you automatically become the winner of the raffle if your raffle code is pulled in the draw.
Pick a Relevant Lottery Strategy
How do you make your lottery selection? Different players employ a wide range of lottery strategies to choose the numbers that can maximize their chances of success. Below is a brief explanation of some of the most common lottery strategies.
Hot and Cold Number Theory
One way to guess the winning number is to use the hot and cold number theory. Hot numbers appear regularly in the draw, while cold numbers are drawn less frequently. Overdue numbers are numbers that have not appeared in a while.
Some people believe that hot numbers will keep the trend and appear in the next draw. Others say that the trend will stop in the next draw, and cold numbers will be drawn. Finally, another variation believes that the longer a number hasn't been drawn, the more likely it will be drawn in the next round.
This theory can help you to make your lottery selection. For example, you can decide to choose hot numbers only, cold numbers only, overdue numbers only, or a combination of hot, cold, and overdue numbers.
Wheeling System
A wheeling system is a lottery strategy that involves targeting a group of expected numbers and playing all possible combinations of the numbers. You can design the wheeling system to suit your lottery plan. The types of wheeling systems are the full wheel, abbreviated wheel, and key digit wheel.
In the full wheel system, you will play all possible combinations of the numbers. The abbreviated wheel system used fewer combinations than the full wheel system. But it is more affordable than the full-wheel system. The key wheel system chooses a number that includes all possible combinations.
Pick 3 System
The Pick 3 strategy is a lottery strategy that focuses on three numbers in a combination. For instance, if you choose a number between A and I, use A as your key digit. This will give you a good chance of matching some of the numbers from the draw. You will end up with 28 varieties, including ABC, ABD, ABE, ABF, ABG, ABH, ABI, ACD, ACE, ACF, ACG, ACH, ACI, ADE, ADF, ADG, ADH, ADI, AEF, AEG, AEH, AEI, AFG, AFH, AFI, AGH, AGI, and AHI.
The Pick 4 Strategy
This works like the Pick 3 strategy. The Pick 4 Strategy involves choosing at least five numbers and focusing on four numbers within that particular range of values. Then you create various combinations from them. You can employ different combination methods such as the Tic Tac Toe Pick 4 Strategy and the Rundown Pick 4 strategy.
The Pick 5 Strategy
The Pick 5 Strategy follows the pattern of the Pick 3 and Pick 4 strategies. It involves selecting six numbers and making different combinations from them. For instance, if you want to choose five numbers between A to E, you will have five varieties: ABCDE, ACDEF, ABCEF, ABDEF, BCDEF, and ABCDF. For more information, read our ultimate guide to the Pick 5 Strategy.
Choose Your Numbers
Once you pick the desired lottery, it's time to choose the numbers. This is the most essential part of the lottery as it determines whether you win or lose in the lottery. This is why players treat this stage with care. You have multiple approaches here. You can use the manual selection or the Quick Pick feature.
Manual Selection
The first approach is to manually make your selections. You can employ lottery strategies, like the examples listed above, to select numbers that they think will increase their chance of success in the lottery.
Players can also use lucky numbers such as their birthdays, anniversaries, and other important numbers in their lives to make their selection. For example, Neal Wanless used the birthdates of people close to him and won $232.1 million in the lottery.
Quick Pick Feature
Other players opt for the Quick Pick feature. Using the Quick Pick will allow the computer system to randomly generate numbers for you. In the past, it yielded some of the largest lottery jackpots, so there's no reason why you shouldn't try it. For example, Ushakiran Patel, one of the biggest lottery winners in India, employed the quick pick in the US Powerball lottery and won $1 million.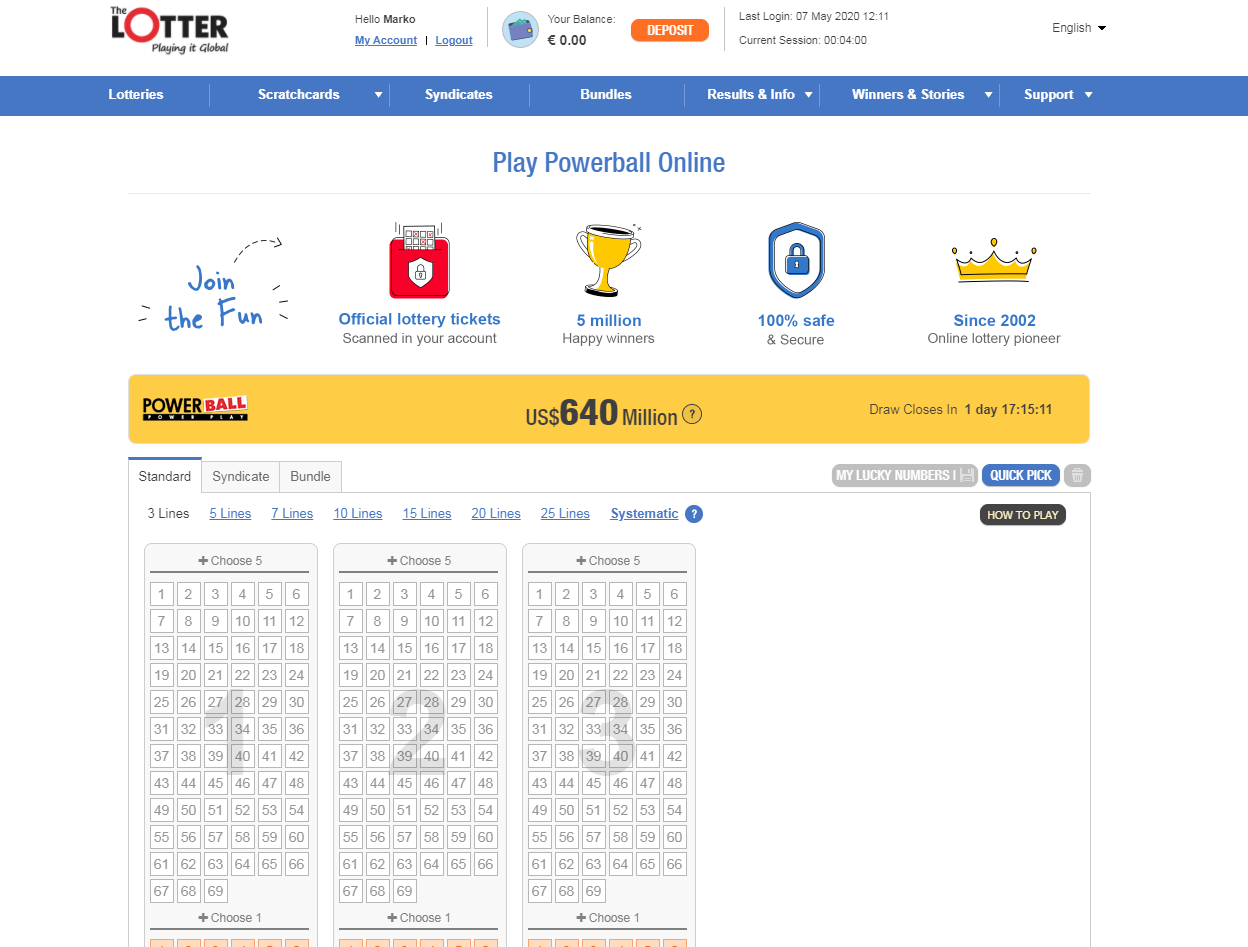 You can always select the numbers yourself. Our website offers a lottery number generator, a tool that utilizes expert tips to compose a combination to give you better odds of winning.
Lottery websites offer the option of buying many tickets at once. Some platforms allow you to buy the tickets for several rounds in advance at a discount price.
Finalize the Transaction
The final step is to confirm the transaction. Before you do that, ensure everything is how it should be. Are the numbers on the tickets the ones you wanted? Is that the desired number of slips you plan on?
Finally, check the total price and click on the Play button. The transaction should be completed immediately, and you'll see the tickets in your inbox soon.
Check Your Drawn Numbers
It doesn't end there. It is important to follow the draw and confirm the drawn numbers. This will help you know if you match any number from the draw or qualify for any prize tier in the lottery. Failure to monitor to draw might cause you to forfeit your winnings if you have any drawn numbers.
In 2011, an unlucky player forfeited $77 million from the US Powerball lottery. Another player lost $68 million from the US Powerball lottery in 2002 because he didn't know he won until after the expiration date. The lesson from this story is to actively follow the draw until completion.
Here are the draw days for the top five lotteries
| Lottery | Draw Days |
| --- | --- |
| US Powerball | Monday, Wednesday, and Saturday |
| US Mega Millions | Tuesday and Friday |
| Italy SuperEnalotto | Tuesday, Thursday, and Saturday |
| Europe Eurojackpot | Tuesday and Friday at 9pm |
| Spain EuroMillions | Tuesday and Friday |
Claim Your Prize!
Congratulations! You are a winner. Once you confirm that you are a winner from the draw, you should contact the lottery to find out the payout process for your winnings. The lottery provider may pay it directly to your lottery account if it is a secondary winning. From there, you can withdraw it with your best withdrawal option.
Suppose your lottery win is a massive jackpot. In that case, you will have to contact the lottery provider to claim your win. Then you will learn about the payment methods. International lotteries like the US Powerball and Mega Millions allow jackpot winners to choose between a one-time lump sum or annuity payment spread across several years.
Are You Still Here? Start Play NOW!
GET 25% OFF for any ticket!
GET 20% OFF your first order,
promo code: LOTTERYNGO
Buy 1 Ticket and
Get 2 Tickets for FREE!
FAQ
Is it legal to buy lottery tickets online?
Yes, purchasing lottery tickets online is perfectly legal. However, please note that the legality depends on your location. If your area or country considers playing the lottery outside the law, it's illegal to buy tickets online. However, if purchasing tickets offline is legal, the same applies to buying them over the web.
How can I play the lotto on my phone?
Many lottery vendors, such as TheLotter, LottoAgent and Lottofy, offer mobile-friendly websites. The process of purchasing the tickets is the same as on your PC. You head to the website and log in to your account. From there, pick the desired lotteries to play and purchase the tickets.
Has anyone won lotto buying online?
Yes, many platforms have paid out millions of dollars to their players. Playing the lottery online gives you equal chances when buying the ticket from your local vendor.
Is playing the lottery online safe?
Yes, it is perfectly safe. However, it's crucial to stick only to reputable websites with a long tradition. That's the surefire way of avoiding potential scams and ensuring that you'll receive the prize if you are lucky enough to win one.
Can I use a credit card to play the lottery online?
Credit and debit cards like Visa and Mastercard are available on most lottery websites. That implies you can use them to purchase tickets for the desired games.
Final Thoughts
As you can see, playing the lottery online is fast and simple. It's an enjoyable process that guarantees maximum fun because you can participate in a wide selection of games. Online lottery vendors are reliable, safe, and open around the clock. If you feel like purchasing tickets for the upcoming lotto session but don't want to leave home, internet sellers are the place to go to get your tickets right away!