Mega Sena is the biggest lottery in South America. It was launched in March 1996 by Caixa Economica Federal, one of the biggest banks in Brazil, to fund non-profit projects in Brazil. Mega Sena offers huge jackpots that can reach as high as nine figures. It has gained widespread popularity worldwide, and even international players outside Brazil and South America can play the game.
If you want to try your luck in the lottery, Mega Sena is one of the best lotteries to check out. It has a pretty simple format that is easy to learn and a fair price compared to other lotteries. This article will explain how to play Mega Sena from anywhere and give tips for success in the lottery.
How Do You Play Mega Sena Online [Step by Steps]
You can play Mega Sena online through lottery agents, lottery betting sites, and official Mega Sena websites. In terms of playing experience, each method provides similar results, with the same prize and odds. The only difference is how they work.
Lottery Agents: Lottery agents are representatives in places where you are not physically present. They can buy the tickets on your behalf and send a scanned copy to you. This allows you to get a piece of the action from anywhere worldwide. Famous examples are TheLotter and LottoAgent.
Lottery betting sites: As the name implies, lottery betting sites allow you to place a bet on the lottery. With lottery betting sites, you would not actually buy the ticket; instead, you would be placing a bet on the lottery winning numbers. If you can accurately guess the winning numbers, you will get the same prize as if you actually played the Mega Sena game. Famous examples are  WinTrillions, Lottofy, and Jackpot.com.
Official Mega Sena website: You can also play directly on the Mega Sena website. The website comes in English, Portuguese, and Spanish, so it should be easy for international players to navigate.
The best choice for international players is often the lottery agents and lottery betting sites. They offer a localized lottery experience allowing players to play in their local languages and currency. They also provide access to various side attractions in the lottery.
Here is a step-by-step guide to playing the Mega Sena.
Choose an Online Lottery Platform
The first step is to choose where to play the game. You will find many options on the internet. But sadly, many of them do not come as advertised. Some of them might be scams or shady lottery services. Your best bet is to look for websites with a history of delivering quality lottery services. To help you out, we have prepared a list of the most reliable online lottery sites. The list contains only the best online lottery platforms for the Mega Sena game.
Important Note We already listed the most recommended lottery sites, and you can also get some discounts.
GET 25% OFF for any ticket!
GET 20% OFF your first order,
promo code: LOTTERYNGO
Buy 1 Ticket and
Get 2 Tickets for FREE!
Register on the Lottery Site
After deciding where to play the game, you will be directed to register and create an account to access their lottery games. Click "SIGN UP" or "REGISTER" to start the registration process. 
 When creating your account, you will have to provide personal information such as your name, contact details, and age verification to ensure compliance with the legal rules. You will also have to accept the terms and conditions of the lottery site to complete the registration.
Fund Your Account
Before you start playing, you will have to fund your account. Most websites immediately direct you to the payment page to make your first deposit. You will find several options: debit cards, credit cards, cryptocurrency, and e-wallets. Choose your preferred options to complete the transactions.
Your first deposit usually comes with a welcome bonus, cashback, free plays, or discounts on lottery tickets.
Go to Mega Sena on the Lottery Page
Once the payment has been approved, you can start playing Mega Sena. Go to the lottery page and search for Mega Sena among the available options.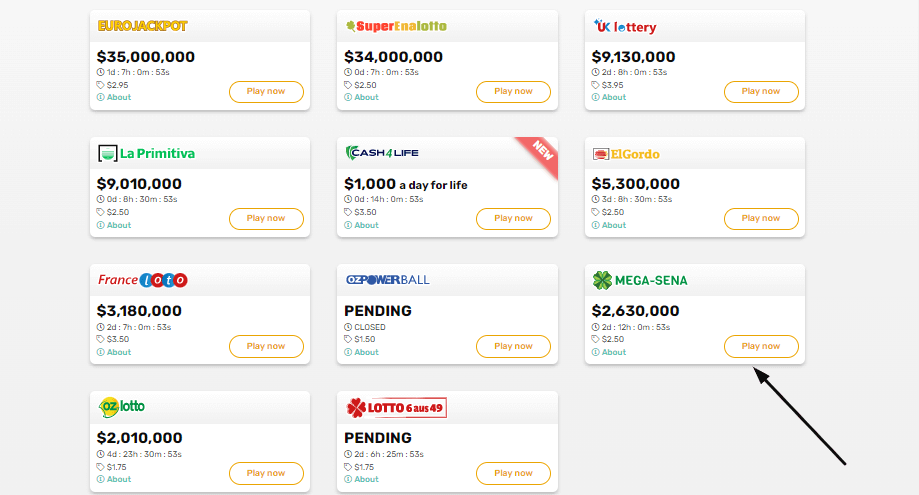 Create Your Lottery Combination
To play Mega Sena, you have to choose six numbers between 1 to 60. Select your lottery numbers to make your entry into the draw. You can use the quick pick option, usually represented by a shuffle or dice icon to let the computer choose for you. You can also employ lottery strategies like the Pick 6 method, lottery wheeling, or lottery prediction software.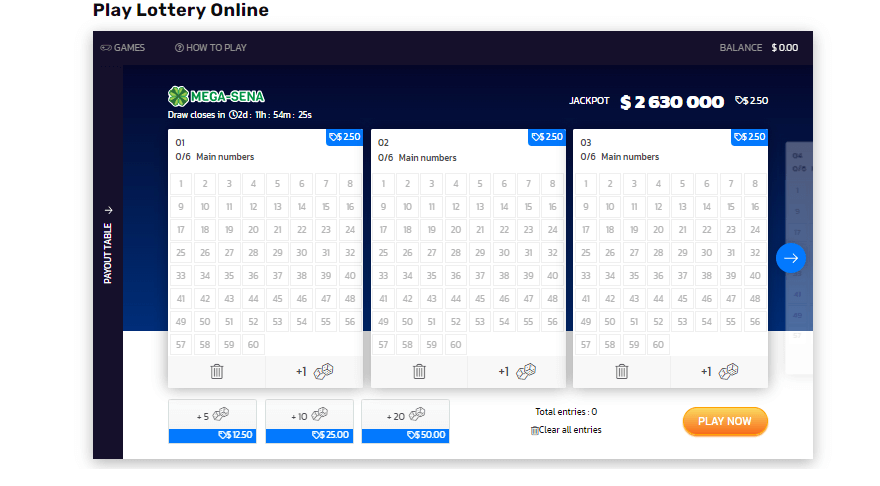 Wait for the Draw
The next step is to wait for the draw where the winning numbers will be revealed. The draws take place on wednesday and saturday at 8 pm Brazil time. You can watch the draw live on TV or follow the draw on YouTube.
You can also follow the draw here on Lottery 'n Go. We regularly follow the draw and post Mega Sena lottery results on our result page.
How to Play Mega Sena – Mega Da Virada?
The Mega Da Virada is the last and biggest Mega Sena draw of the year. It takes place on the 31st of December every year. It has a jackpot that has been slowly built from a portion of the weekly draws over the course of 12 months. In recent years, the Mega Da Virada jackpot has grown to as high as R$300 million.
How Much Does It Cost to Play Mega Sena
According to the official website, it costs R$4.50 to play the Mega Sena. However, if you wish to play at other lottery websites, you will have to spend more money. It costs a little more on lottery agents and lottery betting sites. They charge more for business reasons.
The table below compares Mega Sena prices across the top lottery sites.
Mega Sena has a lower price than other top international lotteries. The table below compares the official Mega Sena ticket price to other lotteries.
How Late Can You Buy a Mega Sena Ticket?
You can buy Mega Sena tickets until about 5 pm on the draw days. This means you have until about three hours before the draw to buy your tickets and make your entry into the draw. Suppose you are playing through a lottery agent. In that case, we recommend you play earlier than the deadline to avoid disappointment with your ticket entry.
When Does the Mega Sena Play?
Mega Sena draws are held on Wednesdays and Saturdays at 8 pm Brazil time. The draw is usually held in a special lottery truck that travels around the country. The lottery organizers typically announce the next location for the draw for people who want to watch the drawing live.
You can also follow the ball live on the Brazillian television channel, RedeTV or their YouTube channel.
What Countries Can You Play Mega Sena?
You can play the Mega Sena lottery from anywhere in the world. There are no geographical restrictions, so you can access the game anywhere the online lottery is legal, provided you meet the age requirement.
How Do You Win Mega Sena
You win the Mega Sena lottery by matching all six numbers in the draw. Matching the winning combination wins you the top prize. There are also prizes in the lower tiers for people who match at least four numbers in the draw.
Overall the odds of winning a prize in the Mega Sena lottery is 1 in 2,298. However, here are some tips to improve your chances in the lottery.
Learn about the Mega Sena lottery: You can considerably improve your chances by doing some research on the Mega Sena lottery before you make your entry into the draw. Doing this gives you some insights into the game and helps you to make intelligent decisions about the game.
Learn lottery strategies: Lottery strategies can help you choose lottery combinations more likely to appear in the draw. Popular lottery strategies that can help you in the Mega Sena lotteries are the Pick 6 and lottery wheeling strategies. You can also use lottery software and a lucky number generator to help you randomly generate lottery combinations.
Review recent lottery results: Checking the most common winning numbers in the Mega Sena lottery can give you an insight into which numbers to put in your lottery selection.
Join a syndicate: With a Mega Sena syndicate, you can cover more lottery combinations while reducing ticket costs. However, you will also have to share your winnings with the syndicate.
Buy more tickets: The more ticket you buy, the higher your chances of winning a prize in the Mega Sena lottery. You should play more for better chances in the Mega Sena lottery.
Play more frequently: Truthfully, the odds are against you, and your chances of winning are relatively low. It is easy to get discouraged. However, you need to be in the game to win the game. Keep playing, and luck may shine on you soon enough.
Mega Sena Payout
The Mega Sena does not have a fixed Payout. Instead the prize tiers are determined by how much is in the prize pool. So the amount will vary from draw to draw. 73% of the prize pool will be paid to the winners. If there is no winner, it will roll over to the next draw.
The table below shows the available prizes at Mega Sena.
| Match | Prize |
| --- | --- |
| 6 | Starts from R$3 million (35% of the Prize Pool) |
| 5 | 19% of the Prize Pool |
| 4 | 19% of the Prize Pool |
Odds of Winning Mega Sena
The table below shows the odds of winning the Mega Sena lottery.
| Match | Odds of Winning |
| --- | --- |
| 6 | 1 in 50,063,860 |
| 5 | 1 in  154,518 |
| 4 | 1 in 2,332 |
What Happens if You Win the Mega Sena
If you win the Mega Sena, you will have to fill out a claim form to receive your winnings. Your lottery agent will assist you in claiming your prize from anywhere you are. From there, you can move it to your personal bank account.
Here is a breakdown of how to claim your winnings in the Mega Sena lottery.
Contact the lottery website t notice them of your winnings
Inquire about the claiming process
Submit identification documents such as your ID card, passport, or driver's license
Choose how you want to receive your prize: lump sum or annuity payment
Decide whether to reveal your identity to the public
Wait for the organizers to pay.
Summary: Playing the Mega Sena
The odds at Mega Sena are much better than most international lotteries. You are more likely to win in this game than in other games. If you are looking for a lottery with a decent chance of winning, try out the Mega Sena lottery. You only need to create an online lottery account and start playing.
FAQ
How old do I have to be to play Mega Sena?
You have to be at least 18 years to play Mega Sena. Online lottery websites will require you fulfil their age requirement before you can creating account on their platform.
Can I play Mega Sena if I don't live in Brazil?
Yes, you can play Mega Sena even if you don't stay in Brazil. Anyone worldwide can open an online account through a lottery website to play the game.
Is there a minimum jackpot?
No, the jackpot is determined by ticket sales so there is no minimum amount. However, it usually starts at around R$3 million.
Is there a maximum prize limit?
No, there is no maximum prize limit, so the jackpot will keep rolling over until someone matches the winning combination. The only exception is during the Mega da Virada draw where a winner is guaranteed.
What is the biggest Mega Sena Jackpot of all time?
The biggest Mage Sena draw of all time was R$ 153,315,118. This is approximately $30 million. The rollover feature of the Mega Sena allow the jackpot to grow to huge amount.