SuperEnalotto is a top Italian lottery renowned for its huge jackpots, which can rise as high as €100 million. It is one of the longest-existing lotteries in the world, since the 1950s when it was known as the Enalotto. It was eventually rebranded to SuperEnalotto on Wednesday, 3rd December 1997. At the moment, it is one of the biggest lotteries worldwide for local and international players.
With the increasing popularity of online players, more and more players have unrestricted access to the SuperEnalotto lottery. You can play the game through lottery options over the internet. In this guide, we will provide important information on how to play the SuperEnalotto lottery and tips to set you up for success in the lottery.
How Do You Play SuperEnalotto Online [Step by Steps]
You can play the SuperEnalotto lottery via lottery agents, betting sites, or the official SuperEnalotto website. The different methods offer similar services with the same odds and chances of winning; the only difference is how they deliver their services to the players.
Lottery Agents: As you can probably guess, SuperEnalotto is an Italian lottery, so the draw will take place in Rome, Italy. For foreign players who reside outside Italy, it can only be possible to get the tickets if you have a representative in Italy to buy the ticket for you. Lottery agents are your representative. They will buy the ticket on your behalf and send the scanned copy to you. This allows you to participate in the lottery.  Popular examples are TheLotter and LottoAgent.
Lottery betting site: As the name implies, this platform allows you to bet on the SuperEnalotto lottery. With lottery betting sites, you are not actually buying tickets for the SuperEnalotto draw. Instead, you are placing a bet on the lottery results. If you guess the numbers right, you will get the same prize as if you actually bought the tickets. Popular examples are WinTrillions, Lottofy, and Jackpot.com.
SuperEnalotto official website: You can also play the game on the official website. The website is available in different languages alongside Italian, so it should be easy to use.
The playing process and experience are the same regardless of where you play. However, most international players will prefer lottery agents and betting sites because of the ease of usage and the localized experience on the website.
Here is a step-by-step guide to playing the SuperEnalotto lottery guide.
Choose a Lottery Website
The first step is to find a reliable lottery website to play the game. You will find that you have a lot of options to play SuperEnalotto. This is good, but it becomes a disadvantage due to the presence of shady websites and scams. Some websites just want to take your money and wouldn't pay you when you win. To avoid this, it is best to stick to lottery websites that have consistently proven to deliver excellent lottery services. We have a guide to the best online lottery sites to help you out.
Important Note We already listed the most recommended lottery sites, and you can also get some discounts.
GET 25% OFF for any ticket!
GET 20% OFF your first order,
promo code: LOTTERYNGO
Buy 1 Ticket and
Get 2 Tickets for FREE!
Sign Up
The website will require you to sign up and create an account before you can access SuperEnalotto. This usually includes filling out a form containing your name, email, address, and zip code. You will also need to accept their terms and conditions to complete the registration.
You can sign up by clicking "SIGN UP" or "CREATE AN ACCOUNT" button on the website. For most websites, the button is on the upper right side.
Fund Your Account
You need to add money to your account to be able to buy tickets. Go to the payment page – usually on your profile. Choose your preferred payment method and the amount you want to pay into your account. Several payment options are available on most platforms, including debit cards, credit cards, cryptocurrency, and e-wallets.
Making your first deposit can win a welcome bonus, cashback, free plays, and free spins on other games.
Select SuperEnalotto on the Lottery Section
Now you can start playing. Go to the lottery page and select SuperEnalotto among the available lottery games.
Select Your Numbers
Pick your numbers to create your lottery combinations. SuperEnalotto requires players to choose six numbers between 1 to 90. You can choose your numbers randomly or use lottery strategies to help you make calculated choices at this stage. You can also use the Quick Pick option to let the software choose for you.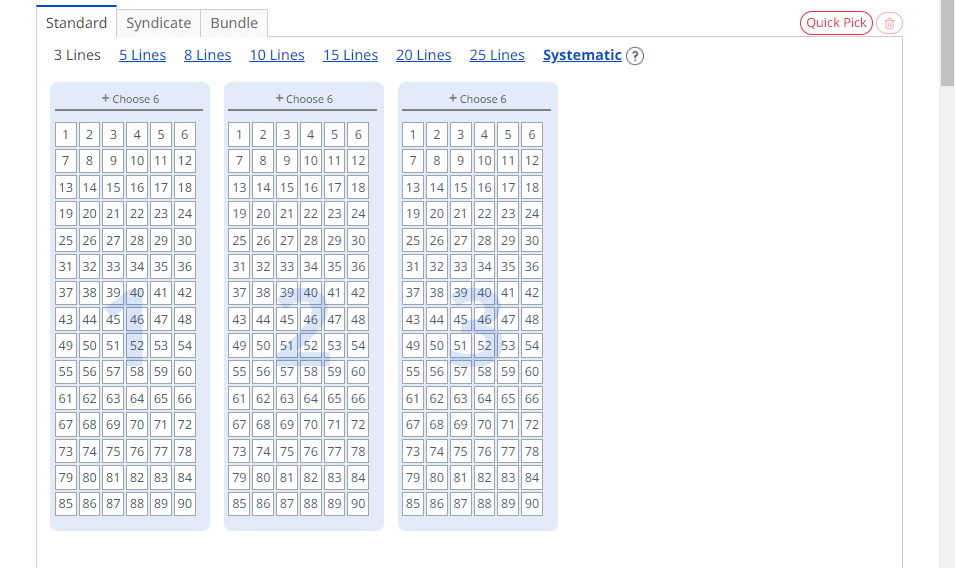 Wait for the Draw
The winning numbers will be revealed during the draw. SuperEnalotto draws are held thrice a week on Tuesday, Wednesday and Saturday at 20:00 CET. Follow the draw to check if you win. The organizers do not televise the draw live; however, you can watch a recorded version on the official website.
You can follow the draw via their dedicated YouTube page to find out if you matched the winning numbers. We also post SuperEnalotto lottery results on our result page.
How to Play Mega Sena – Mega Da Virada?
The Mega Da Virada is the last and biggest Mega Sena draw of the year. It takes place on the 31st of December every year. It has a jackpot that has been slowly built from a portion of the weekly draws over the course of 12 months. In recent years, the Mega Da Virada jackpot has grown to as high as R$300 million.
How Much Does It Cost to Play SuperEnalotto
It costs €1 to play SuperEnalotto, according to the official SuperEnalotto site. However, it costs more on online lottery options. This can be attributed to business costs and other factors.
The table below shows SuperEnalotto ticket prizes on the top lottery platforms.
The table below shows how SuperEnalotto ticket price compares to other lotteries.
How Late Can You Buy a SuperEnalotto Ticket?
You can buy a SuperEnalotto ticket until 19:30 CET on draw days. This implies that you have until thirty minutes before the draw time to buy your ticket and make your entry for the draw. Ticket sales will resume shortly after the draw has been concluded.
When Does the SuperEnalotto Play?
The SuperEnalotto draw takes place at 20:00 CET on Tuesdays, Thursdays, and Saturdays. They do not show it on TV stations. However, you can follow it live on the official site or through their dedicated YouTube channel.
What Countries Can You Play SuperEnalotto?
You can play the SuperEnalotto lottery in any country worldwide where the online lottery is legal. No geographical restrictions exist on the SuperEnalotto lottery, so everyone can play regardless of where they stay.
How Do You Win SuperEnalotto
You win the SuperEnalotto lottery when you predict the six numbers that will be revealed in the draw. There are also lower prizes for matching at least two numbers in the draw. Overall, the odds of winning a prize in the SuperEnalotto lottery is 1 in 20.
Here are some tips to put the odds in your favour.
Buy more tickets: You can improve your chances by purchasing more entries into the draw. For instance, the odds of winning a prize is 1 in 20, but if you buy two tickets, it becomes 2 in 20. The more tickets you buy, the higher your chances of winning a prize at the SuperEnalotto lottery.
Join a syndicate: A SuperEnalotto syndicate can help you to cover more lottery combinations in the game. By joining other players, you can buy more tickets and reduce ticket expenses.
Add the Superstar option to your ticket: If you have an extra €0.50 to spare, consider adding the Superstar option to your entry. The Superstar option allows you to choose an additional number, which further increases your chances of success in the game.
Sign up for a subscription: A subscription allows you to play advance draws. If you want to play the same numbers multiple times, consider setting up a subscription plan to enter future draws. You may be lucky to get discounts on lottery tickets if you sign up for a subscription.
SuperEnalotto Payout
The SuperEnalotto jackpot starts from €2 million. The table below shows the available prizes int he SuperEnalotto lottery.
| Match | Prize |
| --- | --- |
| 6 | Starts at €2 million |
| 5 + Jolly | €1,150,947.88 |
| 5 | €261,566.40 |
| 4 | €668.28 |
| 3 | €38.67 |
| 2 | €7.22 |
Odds of Winning SuperEnalotto
The table below shows the odds of winning in the SuperEnalotto lottery.
| Match | Odds of Winning |
| --- | --- |
| 6 | 1 in 622,614,630 |
| 5 + Jolly | 1 in 103,769,105 |
| 5 | 1 in 1,250,230 |
| 4 | 1 in 11,907 |
| 3 | 1 in 327 |
| 2 | 1 in 22 |
However, it should be noted that the prize may vary according to the amount in the lottery pool.
What Happens if You Win the SuperEnalotto
The claim procedures vary depending on how you played and how much you won. If it is a physical ticket, you have to claim your lottery winnings at the retail store within 90 days. But if you play online, small prizes will be paid directly to your online lottery account.
If you win the SuperEnalotto jackpot or any substantial amount, the organizers will contact you to begin the claiming process. You must fill out a claim form and prepare suitable documentation for the lottery agency.
Below is a breakdown of how to claim your SuperEnalotto winnings.
Wait for the call from the lottery website. You can also contact them via their contact page.
Fill out the claim form.
Submit your identification documents, such as your identity card, driver's license, and international passport.
Consider hiring tax specialists, lawyers, and consultants who specialize in financial matters.
Decide whether you want a lump payment or an annuity payment.
Summary: Playing the SuperEnalotto
If you want a lottery that combines that comes with a low ticket prize with a massive jackpot, then try out the SuperEnalotto. It has no jackpot limit, and it will continue to roll over into the next draw until someone matches all six numbers. As a matter of fact, the biggest SuperEnalotto win happened early this year on Thursday, 16th February 2023 – a whooping sum of €371 million. With SuperEnalotto, you have a chance to win millions, all just for €1.
FAQ
What is the SuperEnalotto raffle?
The SuperEnalotto is a special raffle organized at certain times of the year. The organizers will broadcast when the raffle will be held. Anyone who plays the SuperEnalotto lottery during this period can win an extra prize at the raffle.
How to play SuperEnalotto SuperStar?
The SuperEnalotto SuperStar is a feature which allows you to add an extra number to your six main numbers. This increases your chance of winning a prize in the SuperEnalotto game and the number of prizes that can be won in the draw. The SuperStar option costs an additional €0.50 per entry.
How to play SuperEnalotto Jolly?
The SuperEnalotto Jolly is a feature that allows players who match five winning numbers to increase the value of their prize. Matching five numbers qualifies you for the second-tier prize. But with the jolly option, you can add a hundreds of thousands euros to your final prize. The jolly option is free.
How do I claim my prize?
You can claim your prize by filling out the claim form and complying with the claiming process at the lottery. If you play online, small prizes of up to Up to €5,200 will be paid to your online account.
Does SuperEnallato have a jackpot limit or a rollover limit?
No, there is no jackpot or rollover limit. This means the jackpot will continue to rollover and grow until someone matches all six numbers.
How old do I have to be to play SuperEnalotto?
You need to be at least 18 years to play SuperEnalotto. If you play without meeting the age limit, you wil be unable to claim your prize when you win.
Will I pay tax on SuperEnalotto prizes?
Yes, you have to pay 20% tax on winnings above €500. However, prizes below €500 are tax-free. Our lottery tax calculator can help you figure out how much you will have to pay on your winnings.