Indians love to play the lottery. It has been a big part of Indian culture, with active participation in the government-run lottery games. Indian players have many online lottery options to play their favorite games. They can play the online lottery straight from their smartphones and computers.
When it comes to the online lottery in India, the lottery laws and regulations are not clear, so it may be difficult for beginners to understand the legality of online lottery providers in India. This article provides an answer to explain if the online lottery is legal in India. 
Is Online Lottery Legal in India?
Yes, the lottery is only legal in certain parts of India. This means that you can only play it legally in certain places in the country. However, it is illegal in some other states.
There are 13 states -out of the 29 states in India – where government lotteries are fully operational. Indian players can only play lottery games at the physical establishment of these lottery agencies. It is a very controversial topic in India as each state determines whether to legalize the different lottery forms.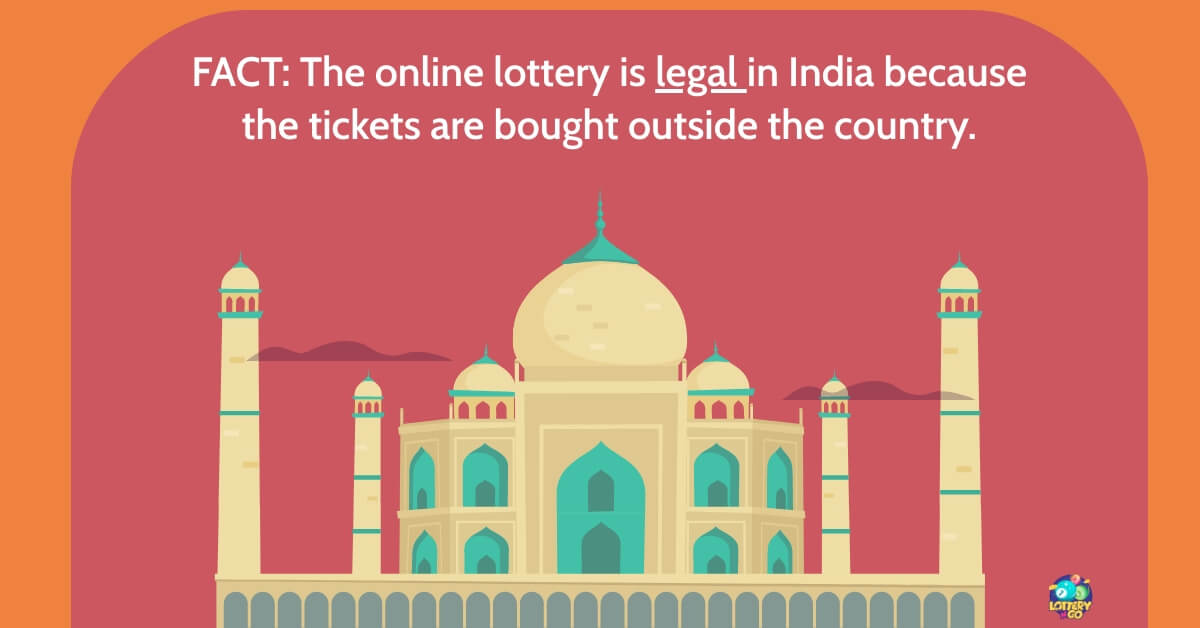 The online lottery is also legal in India because the tickets are bought outside the country. Since the state government holds a monopoly on gambling operations, online lottery sites in India operate outside Indian jurisdiction and are not subject to Indian lottery laws. Moreover, the federal government and state governments did not impose any sanctions on the use of foreign lottery websites in India.
Even Indian gamers who reside in states where the lottery is deemed illegal can participate in online lottery games. Get an electronic device like a laptop or a smartphone, an internet connection, and a digital payment method, and you are good to participate in the biggest lottery games in the world.
Engaging in online lottery play with an international provider like theLotter, or Lotto Agent is legal and permissible. Start playing without any legal restrictions now!
The Indian Legal Disparities VS Traditional and Online Lotteries
| Format | Traditional Lottery | Online Lottery |
| --- | --- | --- |
| Legality in India | It is only legal in 13 states out of the 26 states | It is legal throughout India |
| Regulation Level | Presence of Indian gambling laws at the central and state level | No Indian gambling laws |
| Who Can Play | Residents above 18 years in states where the lottery is legal | All Indian above 18 years of age |
Dos and Don'ts of Legal Online Lottery in India
Here are some dos and don'ts of the online lottery in India.
| ✅ Dos | ❌ Don'ts |
| --- | --- |
| Create an account on online lottery sites with the correct information so it will be easy to get your winnings without any hassle. | Don't play if you are not at least 18 years of age. The minimum age to participate in lottery games is 18 years. |
| Watch out for scams. There are no local lottery regulatory agencies in India so it is easy to fall victim to scammers. | Don't play at local private lottery companies in India. It is against the law. |
| Only play at lottery websites that meet international security standards and have top-notch security systems. | Don't play on shady lottery sites. Check for their operating license before you play. |
| You should only play at a lottery that has operating licenses from trusted authorities. | |
| Read reviews and feedback on their service before you sign up online lottery sites in India. | |
Indian Lottery Laws and Regulations Laws
The legality of lottery in India is determined by two major laws -The Lotteries Regulation Act of 1998 and the Public Gambling Act of 1867. These laws do not mention foreign lottery sites. But we still have to consider them carefully, so before we can safely play the online lottery in India without breaking the law.
The Public Gambling Act of 1867
The Public Gambling Act of 1867 regulates all kinds of gambling activities in the country. It was formulated to prevent the operation of public-gambling establishments and gaming houses in India. It considers all types of gambling activities done in public places to be illegal acts.
However, this law is not fully accepted in all Indian states. States that legalize gambling in India choose to do without this law; instead, they have their laws for gambling. Still, the remaining 16 states in India uphold The Public Gambling Act of 1867 and consider gambling to be an infringement of the law.
The Lotteries Regulation Act of 1998
The Lotteries Regulation Act of 1998 contains a set of rules that guide the operation of all lottery draws in the parts of the country where the lottery is legalized. It dictates that only state governments can offer lottery services in their respective states. The law also prevents gamblers in one state from buying lottery tickets from the lottery of another state government. It also forbids the establishment of private lottery companies, so you must also buy lottery tickets from a state-authorized lottery vendor.
Online lotteries are exempt from these laws because the draws are organized outside India.
States Where the Government Lotteries are Legal
The lottery is legal in 13 Indian states. Below is a list of states with state-run lottery services.
States Where the Government Lotteries are Illegal
Lottery games are illegal in 16 states due to social concerns such as gambling addictions and other related problems. Or simply because the state government does not want gambling establishments. However, you can still play online at foreign lottery sites even if you reside in these states. These states include:
How to Play Legal Online Lottery in India
When you are ready to play your favorite online lottery games, you will come across a wide array of options. It is a smart idea to take a step back and research the best ways to play the legal online lottery in India. Here are a few steps to help you out.
Choosing a Website Headquartered Elsewhere
Start by looking for international online lottery websites. Indian lottery laws do not apply to foreign lottery websites whose headquarters are stationed outside India. This makes it legal for Indian players to play the online lottery without breaking any Indian laws.
To help you out, you can choose from any of our lottery sites on our list of the best online lottery sites. Their headquarters are located outside India, so you should have no problem playing your favorite games on their website. They also have a track record of excellent service to lottery players.
Safe Payment Methods
Safety is a crucial part of the gambling experience. Most lottery operators have a wide range of payment methods including debit bank transfers, credit cards, debit cards, and electronic wallets. The website must allow you to use any payment method without any breach of privacy. You want to be sure that the website has state-of-the-art security services before you create an account and upload your personal and confidential details.
A great way to check if a website is safe for you is to read reviews and check their website for what type of security encryption service they use to secure your data. The top lottery provider will usually provide all the information on the security features on their website.
Licenses
Always check that your preferred lottery operator in India is licensed and regulated by reputable lottery authorizing organizations including the United Kingdom Gambling Commission, Curacao e-Gaming Licensing Authority, Gibraltar Gaming Commission, and Malta Gaming Authority. Licenses provide proof that an online lottery service is legitimate. It will also ensure that all players get the highest levels of protection and that winners in a lottery get their deserved winnings.
Verify Trustworthiness Through Our Reviews
Read online reviews of the best legal online lotteries in India. Doing this allows you to know whether an online lottery provider is the best choice for you. You will also gain insights into their gambling services including the types of games, bonuses, available payment methods, licenses, and other players' feedback from lottery games.
Are Online Lottery Betting Sites and Lottery Agents Legal in India?
Lottery agents and lottery betting sites are not legal in India, but players can still play lottery games on international lottery sites that reside outside India. For instance, you can legally play games at LottoLand because it is registered, licensed, and headquartered in Gibraltar. Indian laws have no effect on lottery operation in Gibraltar nor does it affect Indian players who play lottery games on LottoLand websites.
Concerning their differences, lottery agents purchase real-life lottery tickets on behalf of the players. Betting sites, on the other hand, do not buy tickets. Instead, they allow clients to bet on the outcome of lottery draws.
Is It Legal to Purchase Online Lottery Tickets in India?
Yes, it is legal to buy online lottery tickets in India provided that you buy them from a lottery site that is not headquartered in India. Indian lottery laws do not apply to foreign online lottery sites because it does not mention them. This limitation provides a gray area that allows us to purchase online lottery tickets without breaking the law.
Best Legal Online Lottery Websites in India
These lottery sites satisfy all the requirements required by Indian players including big bonuses, high-level security, a wide catalog of games, and a variety of payment methods. 
Paytm, UPI, Phonepe, MasterCard, Visa, Skrill, Neteller, PaySafecard
RuPay, MasterCard, Visa, NetBanking, Skrill, Neteller, PaySafecard
UPI, PayPal, MasterCard, Visa, NetBanking, Skrill, Neteller, PaySafecard
UPI, RuPay, MasterCard, Visa, NetBanking, Skrill, Neteller
MasterCard, Visa, Skrill, Neteller, Bitcoin
So, How Can You Play Online Lottery in India?
You can play the online lottery in India without breaking any laws if you play at state-run lottery services or international lottery sites. If you do not patronize private lottery services or lottery services in states where the lottery is deemed illegal, you are not breaking any lottery laws in India.
Now that you know how to play the online lottery without breaking the law. You will see that you only have two choices to legally play online lotteries in India. We recommend that you choose the best online lottery in India to enjoy a greater variety of games, higher prizes, and bigger bonuses.
FAQ
Is it Possible to Legally Play Foreign Lotteries in India?
Yes! You can legally play foreign lotteries in India provided that the website is registered under a reputable lottery licensing organization and not located in India.
Will the Indian Government Seize My Winnings?
No, the Indian government cannot seize your winnings because the lottery laws do not declare the online lottery as an illegal act. You are not breaking the Indian lottery laws, so the government will not do anything to your prize.
Where Can I Get Legal Lottery Tickets Online in India?
You can get your legal lottery tickets online in India straight from the official website of the lottery agents. LottoLand, Lotto Agent, theLotter, and Lottofy have online payment methods to easily purchase lottery tickets and make your entry into the draws.
How Much Can I Win from Legal Online Lotteries in India?
The answer is:" as much as you can". There is no limit to lottery winnings from online lotteries in India. You can take home the entire jackpot.
Am I Required to Pay Taxes at Legal Online Lottery Sites?
Yes, you will have to pay taxes at legal online sites. They charge the exact tax rate as though you were playing the lottery in the origin country. You also have to play an Indian flat rate and an extra ten percent charge for prizes above Rs. 10 lakhs.
Can I Send My Winnings to My Indian Bank Account?
Yes, you can send your lottery winnings to your Indian bank account. It will be converted to Indian rupees and transferred to your bank account.
How Do I Know if an Online Lottery Site in India is Legal?
You can identify a legal online lottery site in India by researching the location of their headquarters. You should also review other safety parameters such as licenses and site security systems.
Is It Legal to Fund an Online Lottery Site in India?
It is legal to fund an online lottery site in India if the lottery provider is not situated in India. But if the website operates from India, you will be committing a crime.
What is the Legal Age to Buy Lottery Tickets?
The legal age to buy lottery tickets is 18 years. You need to be at least 18 years old to create an account on lottery websites and play lottery games. If you do not fulfill the age requirement, you may have to forfeit your winnings or even get penalized by the law.
Which State Banned Lottery First?
The first state to ban the lottery in India was the state of Madras, now known as Tamil Nadu. It was banned in 1967 to curb addiction and losses that Indian citizens began to suffer from the lottery.
GET 25% OFF for any ticket!
GET 20% OFF your first order,
promo code: LOTTERYNGO
Buy 1 Ticket and
Get 2 Tickets for FREE!