Do you believe the lottery is just pure luck, or are there strategies to help you win? Some people stick to using meaningful dates, while others analyze previous draws. It depends on the preference, but if you want to improve your winning odds, you can't go wrong with using the lottery software.
These lottery programs were developed by experts to assist players in choosing the right combinations. You'll find many software solutions out there, but not all of them are reliable. That's why we tried to filter the trustworthy tools that do their job right. Check out our selection of the best lottery software currently available.
Quick Summary of the Best Lottery Software for 2023:
WinSlips – this is the best lottery program out there. Massive selection of supported games, and easy to use (read more).
Pick3Sniper – it's an online-based solution that can give you a 600% combinatorial advantage (read more).
Lotto Pro – if you need advanced lotto analysis software with wheeling systems, this is the tool for you (read more).
SamLotto – It is an all-in-one lottery solution for over 200 lotteries with support for changing lottery rules (read more).
SmartLuck – it offers a selection of multiple tools for different lotteries (read more).
PowerFall – it's an excellent utility for analyzing results from the previous draws (read more).
Lotto Logic –the tool supports games with bonus numbers and has an advanced range finder (read more).
LotWin – along with a supported Android app, you can use filters, statistics, and reduction functions (read more).
Lotto Sorcerer – more than 600 lotteries in the base and an impressive number of integrated wheels (read more).
Best Lottery Software for 2023 (Detailed)
It's time to find the top lotto software solutions! Our team analyzed the current programs available and sorted the best options below. Check out our reviews and find your favorite!
WinSlips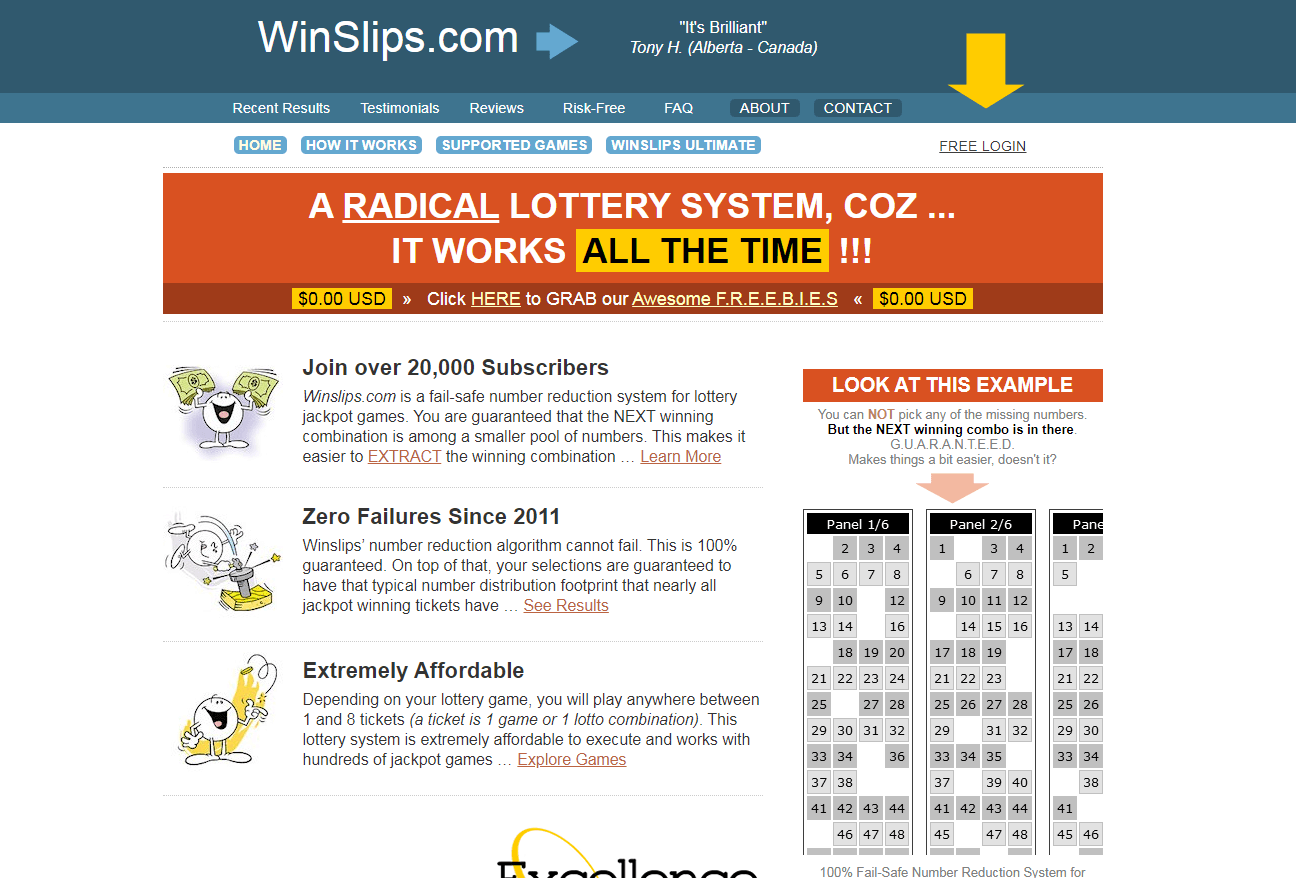 WinSlips is a popular program that has been around for over a decade. Stefan Vandevelde created the tool in 2011, and he claims it uses a proven algorithm for number reduction. The program currently has over 20K subscribers from around the world.
The biggest advantage offered by WinSlips is support for dozens of lotteries. That ranges from major games like US Powerball to lotteries from Europe, Africa, and Australia. The software is suitable for low-budget players that don't want to invest big money in lotto games.
Don't let the outdated website design fool you. WinSlips doesn't need a site with a modern layout, and it's extremely popular despite that. The creator offers a 24-hour free trial. That way, you can see if you like the tool before acquiring the previous version.

Pros
A huge selection of supported games
A free 24-hour trial
Suitable for low-budget players
Pick3Sniper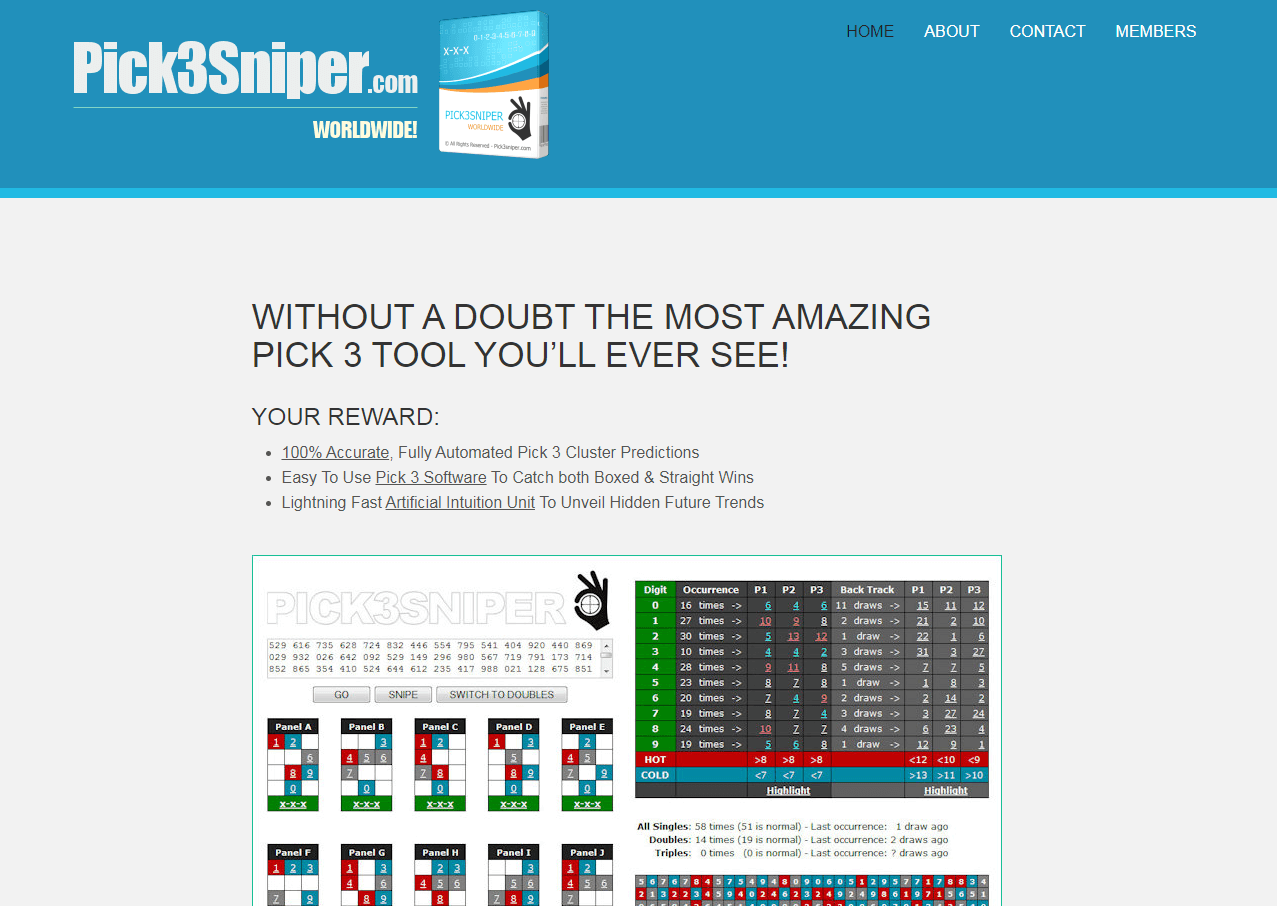 The Pick 3 system is among the popular lottery strategies out there. If you use this strategy, Pick3Sniper is the perfect tool for you. It's another lotto program created by Stefan Vandevelde. This lottery number generator works with any lottery where there are three digits drawn from ten digits. Thanks to this approach, you can get a 600% combinatorial advantage for the upcoming draw.
Pick3Sniper is an online-based tool. You don't have to download and install software, which makes it perfectly safe. Additionally, it will work on PC and most portable devices too. You can log in in seconds, and the software is incredibly easy to use.
It's possible to discover hidden trends and catch singles and doubles with this tool. It's a shame that a free trial isn't available. Your only option is to purchase a yearly membership with a one-time payment.

Pros
Get a significant combinatorial advantage
No software installation required
Easy to use for beginners
Lotto Pro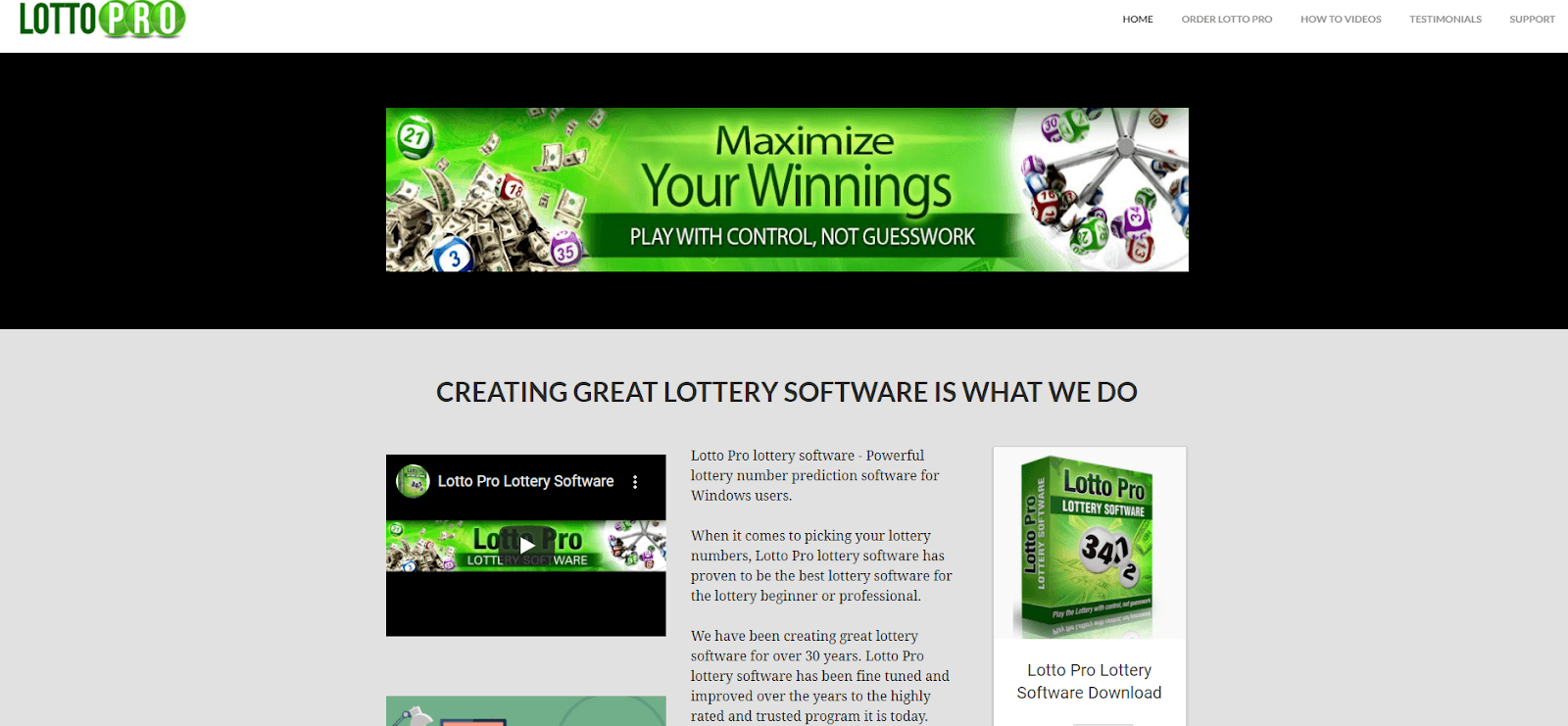 Lotto Pro is a specialized Windows program, which means it won't run on Mac computers. However, if you're a Windows user, you'll love the versatility of this lotto software. A one-time payment will ensure you can use this tool forever. Apart from downloading the software, it's even possible to order the CD version.
The tool supports wheeling systems to assist you in choosing the best lottery combinations. Lotto Pro has a library with dozens of games, and they update drawing histories regularly. The tool runs a statistical analysis of previous sessions and comes up with numbers for the upcoming draws. You'll find a helpful user manual on the website.
Pros
Advanced lotto analysis software
It supports wheeling systems
A one-time purchase for lifetime membership
Cons
It won't work on Mac computers
SamLotto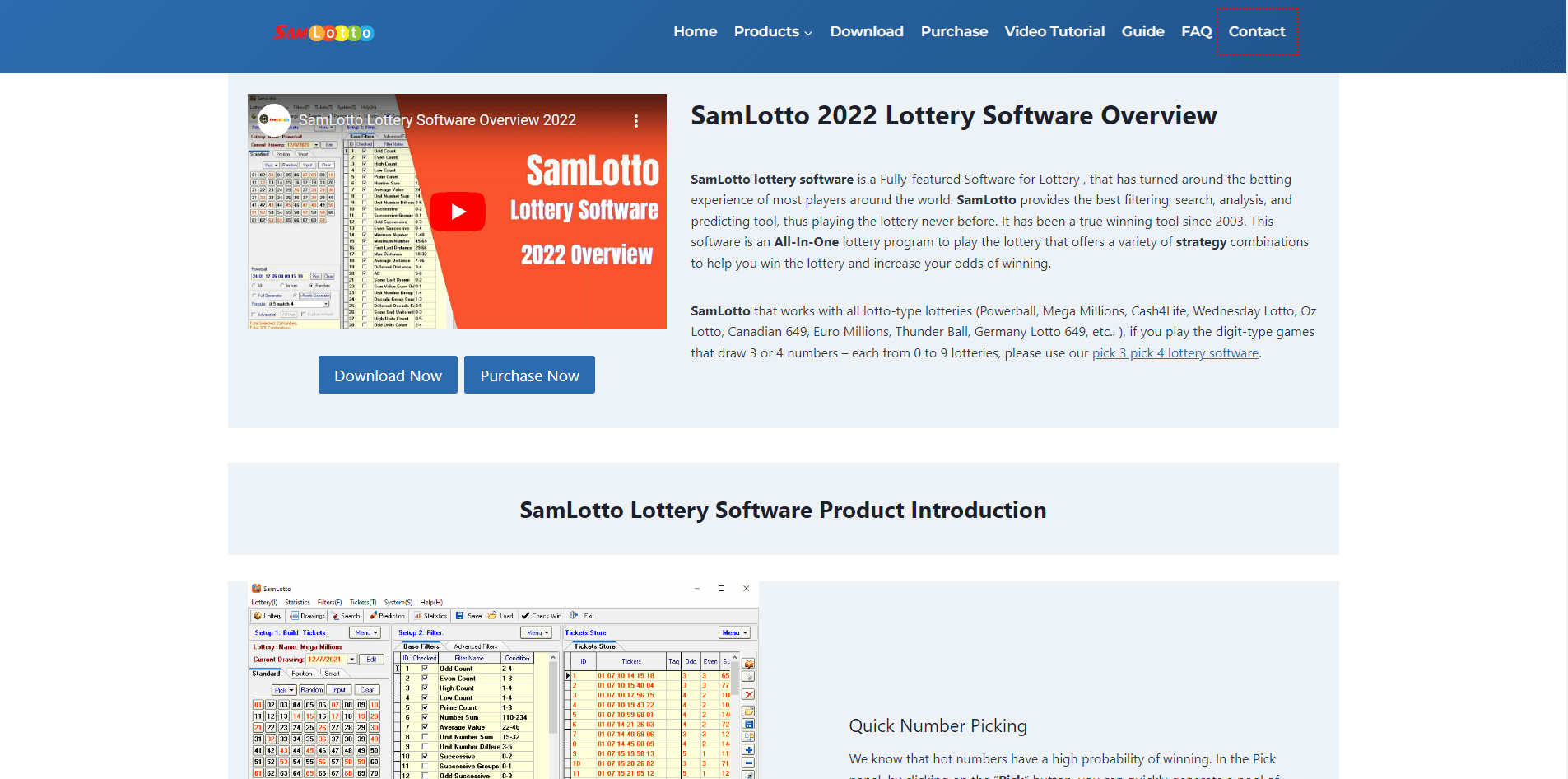 SamLotto offers an all-in-one statistical analysis and prediction software for many lottery games, including Powerball, Mega Millions, Oz Lotto, Canadian 649, Cash4Life, and many more. Players looking for a lottery software and prediction tool that can work for many lotteries will find this helpful tool.
It analyzes the results of past draws to provide insights for the new draw. Then it employs different strategies and lottery systems such as Quick Number Picking and Lottery Wheeling Systems to provide lottery combinations that can increase the odds of winning the lottery. SamLotto also has a lottery filtering feature that helps players to eliminate bad lottery combinations from the lottery.
SamLotto has a one-time lifetime cost of $169. There are no monthly fees and no subscription periods. You buy once and have access to the software forever.
Pros
Lottery prediction on over 200 lotteries
It employs over 150 charts for analysis
One time purchase for lifetime membership
No monthly fees
Cons
More expensive than other lottery prediction tools
SmartLuck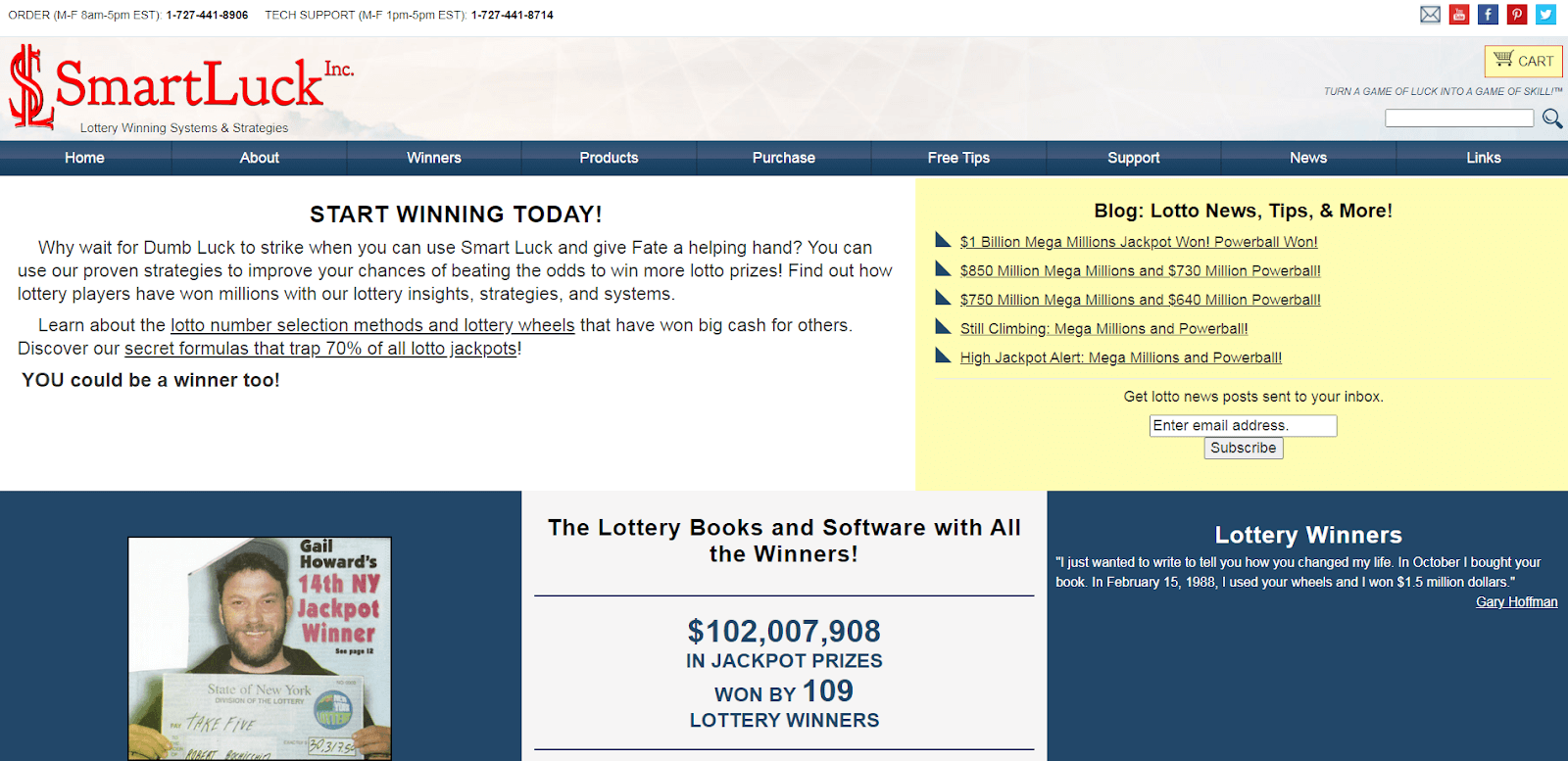 Do you know how they say that someone won the lottery because they had "dumb luck?" SmartLuck is a wordplay based on that term, and it focuses on finding lottery combinations with the best winning odds. Gail Howard, the famous lotto strategy pioneer, established this company decades ago.
Today, SmartLuck is a selection of multiple products offering lottery systems and strategies. You can order wheel software systems for games that include picking from three to ten numbers. That covers most major lotteries, but the trick is that each version is available separately. It could significantly affect the total software price if you play multiple lotto games. Once you decide on the desired version(s), you'll find SmartLuck easy to use. It doesn't come with a learning curve, which is important for new players.
Pros
A selection of multiple tools for different lotteries
Wheeling systems and proven strategies used by the software
It's surprisingly easy to use
Cons
You need to buy each version separately
PowerFall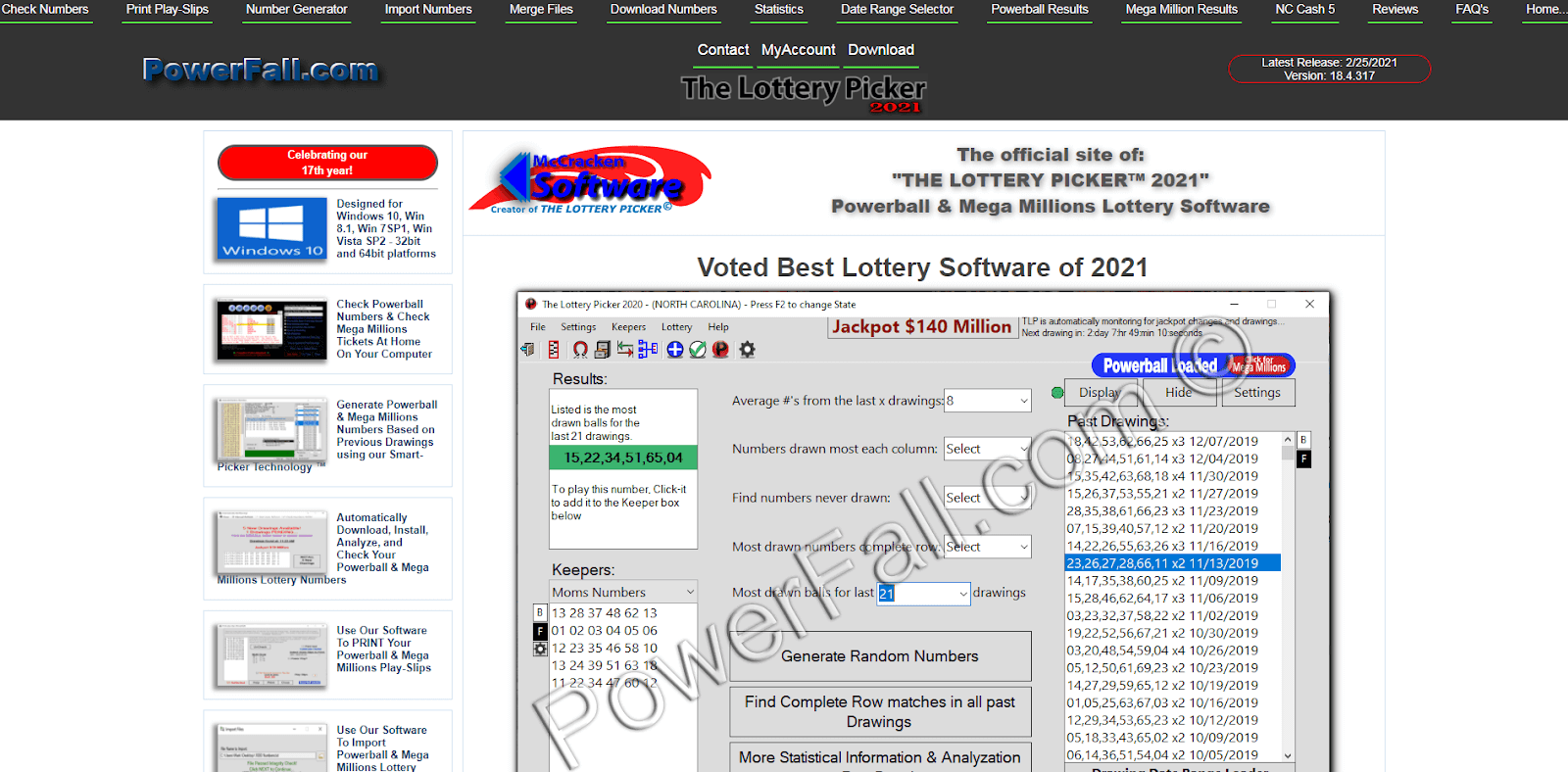 The next in line of our lottery software reviews is PowerFall. The program only supports US Powerball and MegaMillions. These games usually offer the best jackpots, so the tool might be worth trying.
PowerFall is essentially the lottery analysis software. That means it will analyze the past draws to help you determine the right combination for the upcoming session. You have numerous useful options, including even storing the numbers you want to keep.
It's possible to load a date range for detailed analysis, import, and merge lottery files. PowerFall offers automatic software and lotto updates.
Pros
Automatic updates of previous draws
Easy to analyze drawing sessions from the past
Numerous other useful options
Cons
It only supports two games
Lotto Logic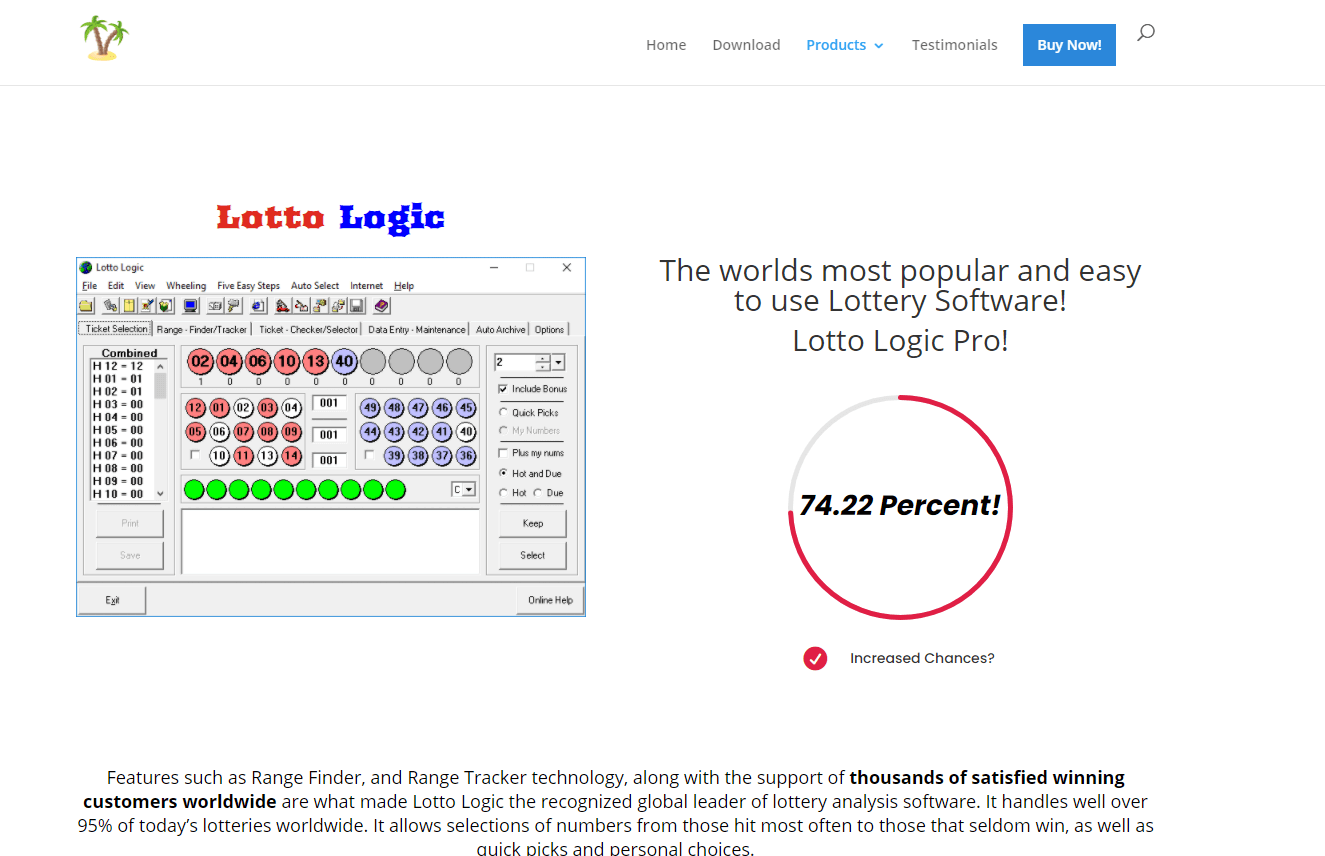 Timersoft developed Lotto Logic Pro as only one of their tools to help lottery players. It's a helpful asset if you are looking for an easy-to-use tool with a user-friendly interface. You can use it for a huge selection of worldwide lotteries, including those with up to two bonus numbers.
According to the information posted on the site, Lotto Logic doesn't seem to offer automatic draw updates. That can be a hassle if you need to enter everything manually to build the database. The program could still be worthwhile, especially if you are looking for an advanced range finder function.
Pros
It supports lotto games with bonus numbers
An advanced range finder with useful features
A simple and beginner-friendly interface
Cons
It doesn't seem to have automatic draw updates
LotWin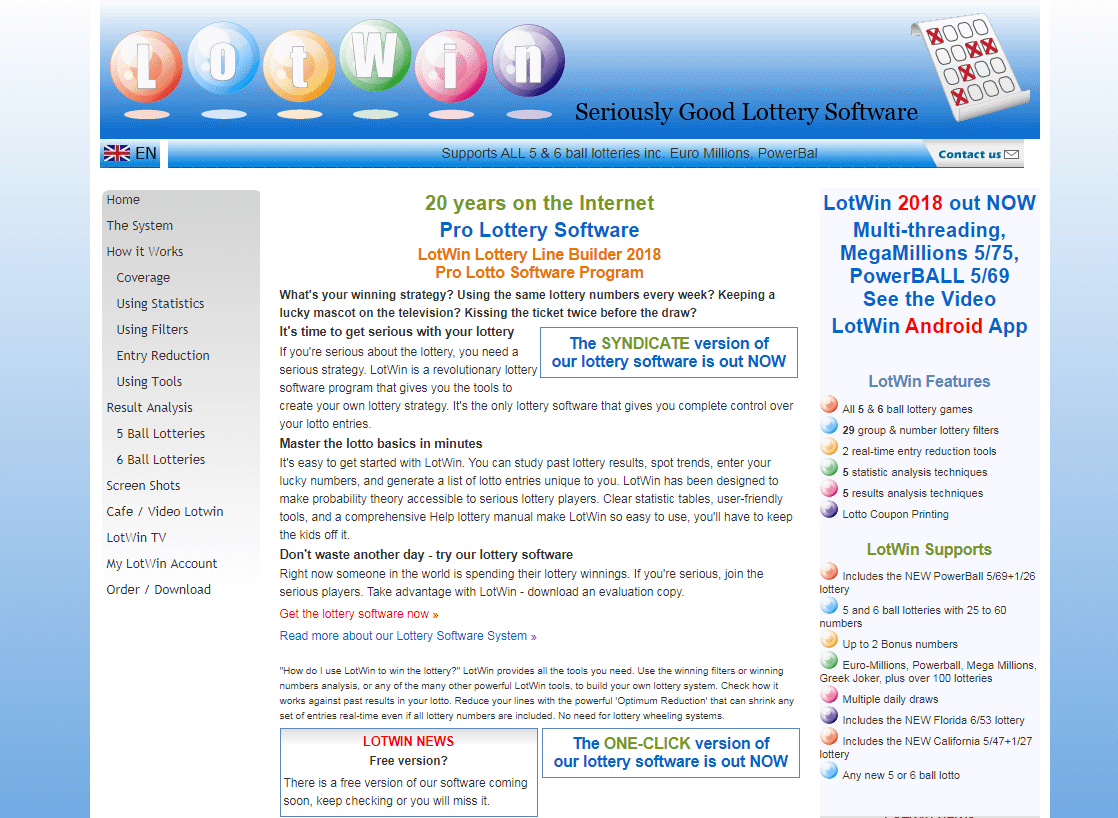 LotWin is a lotto analysis program that has been around for over two decades. The creators upgraded it over the years to ensure it's one of the best lottery software solutions currently available. You can use statistics, filters, and entry reduction to discover the most probable combinations for the upcoming draws.
You can pick from buying a subscription or the tool itself. LotWin promises the lottery software a free version soon, which is another way they show player satisfaction is their top priority. It's a shame they haven't updated their website, especially since the working process explanation could be better.
Pros
A supported Android app
Statistics, filters, and reduction functions
Pick from a subscription option or lifetime purchase
span

Cons
It could use a better website
Lotto Sorcerer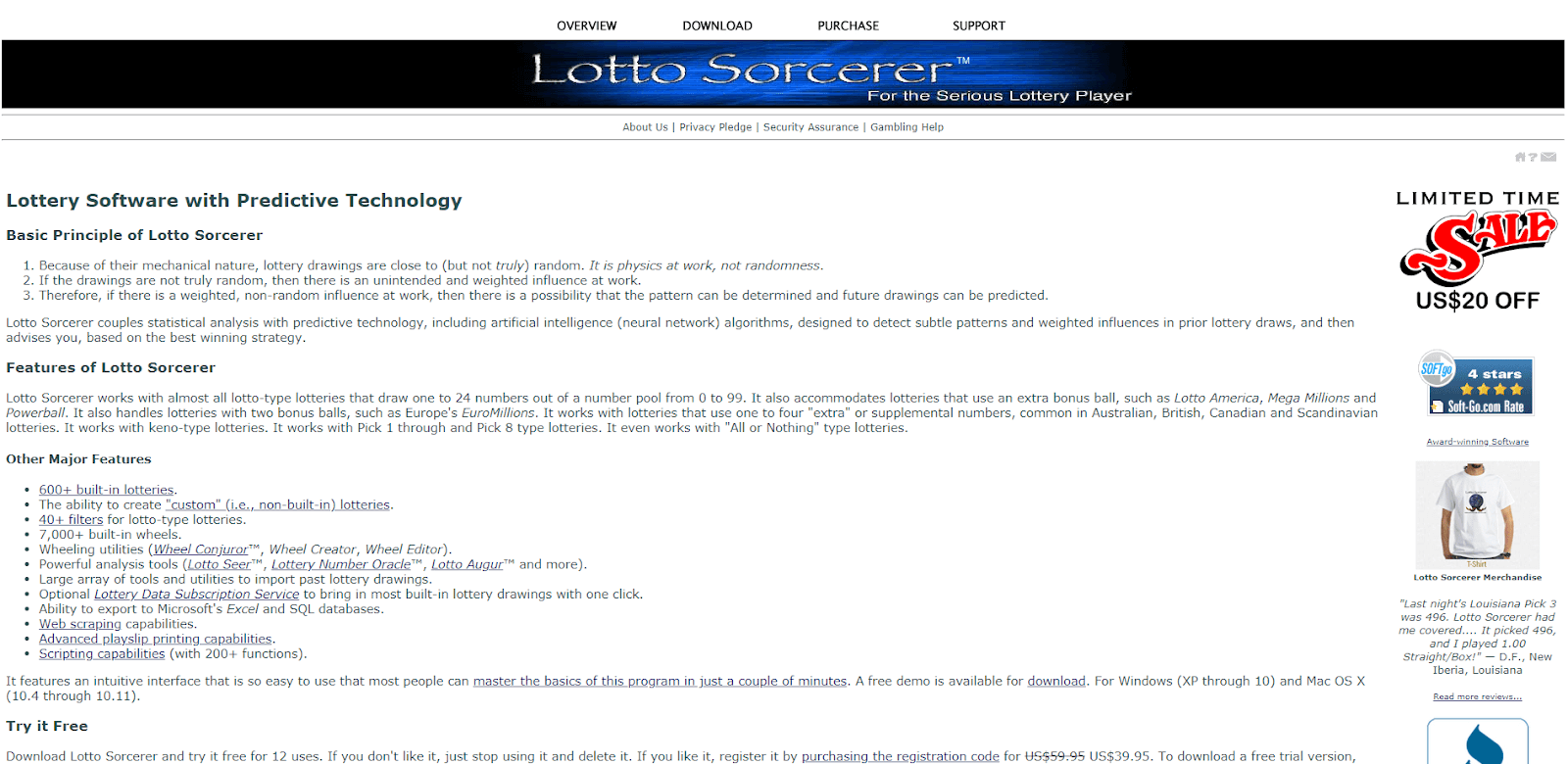 Although you might think from the name, Satori Publishing doesn't collaborate with Harry Potter. However, Lotto Sorcerer is nothing short of a magical tool, at least when it comes to improving your lottery odds.
The tool supports more than 600 lotteries from around the world. You can even create a custom lotto design. You'll also find multiple wheeling utilities and over 7,000 integrated wheels. You can scrape information from the web, and the software also has scripting capabilities.
Lotto Sorcerer has a free trial with 12 uses. Although there's a small learning curve for using the program, that should be enough to check if the program is the right choice for you.
Pros
It supports over 600 lotteries
An impressive number of integrated wheels
Free trial available
Cons
There's a small learning curve
How We Test & Review The Best Lottery Software Programs
What should you consider when selecting the most suitable software for your need? According to our experts, these are the primary factors to consider:
Covered lotteries – it's normal to expect your favorite lottery included in the range of covered games. Some tools only support several lotto options, while others have hundreds of games from around the world in their database.
Accuracy and trust – you need the tool to do the job you are using it for, which means the algorithms should be accurate. That's a vital consideration to ensure you actually improve the odds of winning the lottery.
The importance of databases – many lotteries come with a database of previous draws that goes years back. Automatic updates are convenient and make it easier for the user.
Ease of use – the interface should be intuitive, and you should navigate the  lottery statistics menus easily. You should enjoy using the lotto program and not find it a hassle.
Pricing – some lotto analysis programs are free, and some only offer free trials. The prices also vary, so it's another thing to consider when choosing your favorite.
Support – if anything goes wrong, the developer should be there for you. They should offer useful instructions with the program and be ready to answer any question you might have.
How Lottery Prediction Software Works (Theoretically)
Random draws are among the main characteristic of lottery games. The idea is that all numbers in the drum are equal. Whether there are 30 or 90 numbers, each one has an equal chance of being drawn. But if you think about it, is that really true?
For example, the Canada Lotto 6/49 has 13,983,816 lottery combinations available, which gives you rough odds of winning the jackpot. But have you ever seen that the winning combination in a lotto game is 1, 2, 3, 4, 5, 6? The answer is no because the probability calculates far worse odds for six consecutive numbers to be the winning ones.
That's where lottery analysis software comes into play. The idea of these tools is to start by eliminating the combinations that are most unlikely. Those are all consecutive, but also all odd, even, or even numbers from the same decade.
If the program has information about previous draws, it could use it to filter some other unlikely combinations, too. It depends on the principle used by that particular software. Some tools search for numbers that are overdue, which means they weren't a part of the winning combination for a while. After applying its algorithms, the lottery software provides you with a balanced combination for that draw.
Lotto Software FAQ
Are all lottery software tools free?
No, lotto software programs aren't always free. You'll find those that don't charge a single cent. However, advanced analysis and algorithms usually require a premium version. There are several tools that are scams and are not useful enough. So while looking for lottery tools it's better to check if they are legit to use rather than looking for free or paid ones.
Does using lottery software guarantee a win?
No, there is nothing that could guarantee a win when playing the lottery. The idea of using lotto software is to improve your winning odds.
Is it hard to use lotto analysis programs?
The creators usually make sure their programs come with an intuitive layout and a user-friendly interface. Even if the software has a learning curve, it shouldn't take more than a couple of minutes to get used to it.
Summary: Is Lottery Software Worthwhile?
It's all about finding the best lottery software out there. For example, WinSlips has impressive support for different lotteries worldwide. Its approach is particularly useful for low-budget players who don't want to overinvest.
Pick3Sniper is a tool that can give you a 600% combinatorial advantage. That also makes it worth considering, but it's all up to you in the end. We hope our reviews helped you to learn more about the top lotto programs currently available. You want to pick the tool you find most useful, and make sure that your favorite games are supported!