Jackpot.com is a fairly new name in the online lottery world. It launched in 2016 but has already attracted many players worldwide. It offers a wide range of lottery games, with the tendency of this number increasing in the future.
If you are interested in playing on this website, read our Jackpot.com review. It will reveal all details about this platform so you can know what to expect after registering!
English, Russian, German, Spanish, Italian, Portuguese
Instant deposit without paying any commission
The website organizes its own lottery with tempting prizes
Fast loading times and easy to navigate around the site
Owns a license from the Malta Gaming Authority
Different side games such as slots, keno, and scratchcards.
Customer support on different platforms
Wide variety of payment methods
Weekly promotions and offers for VIP players.
256-bit encryption for a secure lottery experience
Subscription discounts for bulk ticket purchases
It could use more bonuses and promotions
Limited working hours of customer support
Not available in many countries
No dedicated mobile application
The syndicate option is only available to UK players
⭐ Rating:

4.4/5

🥇 Overall rank:
#4 out of 8
🌎 Country:
Malta
📖 Ticket Scan:
Yes
💵 Ticket Price:
$2+
🖥️ Lotteries:
30+
🍿 License:
Yes
🔥 Current deal:
Visit Website
💳 Deposit options
Visa, Mastercard, Neteller, Skrill, Sofort, Maestro, Fast Bank Transfer, MuchBetter, Neosurf, PayPal, Paysafecard, Trustly, Boku, EcoPayz, EPS, Euteller, Net Banking, Safetypay, Trustly, UPI, Webmoney
🎁 Bonus options
Discount, Subscriptions, Cash spins, Scratch Bundles
📲 Social Media Accounts
Facebook, Twitter
💁 Customer support
Live chat, Email –

[email protected]

, Telephone – +441515414507
How to Play Jackpot.com Online Lottery?
Jackpot.com offers players a great variety of lottery games and other side attractions such as slots, keno, and scratchcards. This makes it a favorite choice among many lottery players. If you want to play at Jackpot.com, you must first create an account.
It doesn't matter if you are a newbie or an experienced lottery player; playing at Jackpot.com online lottery is relatively easy, and anyone who satisfies the age requirement can sign up and start playing. Follow these steps to create your free lottery account on Jackpot.com.
Visit the Jackpot.com website. The process of signing up at Jackpot.com is as easy as ABC. Once you head to the website, you will find a homepage that looks like this.

From here, you want to click on Register in the upper-right corner. That will open a pop-up window with the registration form.

The details that you should enter include your desired username and password, as well as a valid e-mail address and country of residence. Once you complete the form, finalize the process and complete your registration.
Jackpot.com should log you in automatically. If it doesn't, you will find the Sign In button in the upper-right part of the homepage.
How to Sign Up and Login to Jackpot.com
After your account has been successfully created, you can now start playing on Jackpot.com. Here are the steps for logging into Jackpot.com and playing.
Click SIGN IN on the upper-right part of the homepage.
You will find LOTTERIES among the options at the top of the page. Click it to open a pop-up menu which highlights the top lotteries. Then click SEE ALL LOTTERIES to access the full list of available lotteries. 
You can choose from numerous amazing games. The ticket prices might vary significantly.

Pick the lottery and select numbers for your tickets.
Be patient until the drawing starts to see if you won anything.
You can expect any winnings to be transferred directly to your account shortly after the drawing.
What Online Lottery Are Available at Jackpot.com?
The selection of lotteries is more than sufficient on Jackpot.com. If you are pursuing large prizes and life-changing jackpots, you will appreciate popular options like Powerball and MegaMillions. But that's far from all the various gaming opportunities you can exploit at Jackpot.com. So let's check out each of them individually.
Lottery
Apart from multi-state, transnational, and national lotteries, you can also enjoy games organized by the website. Jackpot.com has a special JackpotMillions lottery with the grand prize often reaching tempting sums.
Here is an overview of 30+ lottery games available on this platform: 
| Lottery | Ticket Price | Draw Days |
| --- | --- | --- |
| MegaMillions | €4.75 | Tuesday, Friday |
| US Powerball | €4.75 | Monday, Wednesday, Saturday |
| EuroMillions | €3.50 | Tuesday, Friday |
| SuperEnalotto | €2.50 | Tuesday, Thursday, Saturday |
| EuroJackpot | €4.50 | Tuesday, Friday |
| Oz Lotto | €2.67 | Tuesday |
| Lotto America | €3.50 | Monday, Wednesday, Saturday |
| Australia Powerball | €2.50 | Thursday |
| Germany Lotto | €1.75 | Wednesday |
| Brazil Mega Sena | €1.50 | Wednesday, Saturday |
| Cash4Life | €3.00 | Everyday |
| Lotto 6/49 | €4.00 | Wednesday, Saturday |
| Ireland Lotto | €4.00 | Wednesday, Saturday |
| France Loto | €3.50 | Monday, Wednesday, Saturday |
| Poland Lotto | €1.50 | Tuesday, Thursday, Saturday |
| Lotto India | €0.50 | Tuesday, Friday |
| Canada Lotto Max | €5.00 | Saturday |
| Australia Monday & Wednesday Lotto | €1.50 | Monday, Wednesday |
| Australia Saturday Lottery | €1.50 | Saturday |
| Austria Lotto | €2.50 | Wednesday |
| Pick 3 | €0.50 | Thrice a day |
| Lucky Lotto | €6.99 | Wednesday, Saturday |
| Jackpot Lotto | €0.50 | Twice a day |
| Lotto China | €0.50 | Tuesday, Friday |
| Jackpot Millions | €1.50 | Everyday |
| UK Powerball | 1.50 | Wednesday, Saturday |
| Loto Santiago | €0.50 | Wednesday, Saturday |
You can purchase tickets for a single session, as well as subscribe for multiple draws in advance. That is only available for selected lotteries, and you can buy tickets for up to 50 draws or more.
But on Jackpot.com, you better be prepared for a thrilling gaming experience as the lotteries are only the tip of the iceberg.
Lottery Scratchcards
The scratchcards section at Jackpot.com is definitely one of the leading in the industry regarding lottery gaming sites. The section itself is elementary to navigate and there are various filters that will make you cruise through the different gaming options, choosing only the games you want to play.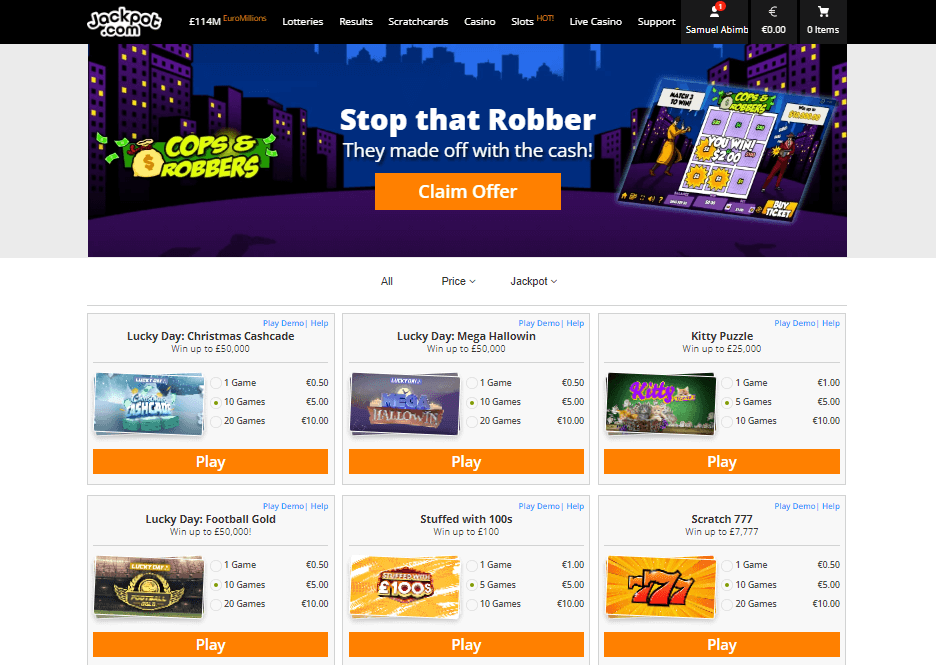 That said, let's dive a bit deeper into the scratchcards gaming opportunities and understand why they are so popular at Jackpot.com.
ScratchCard Game
Minimum Payout and Odds
Maximum Payout and Odds
Ticket Prices
Lucky Day: Football Gold

€0.25

(1 in 5)

€50,000

(1 in 70,000)

1 Game: €0.50

10 Games: €5

20 Games: €10

Fruity Flurry

€0.1

(1 in 5)

€50,000

(1 in 2,000,000)

1 Game: €0.80

5 Games: €4

10 Games: €8

Royal Charm

€5

(1 in 14)

€50,000

(1 in 10,000,000)

1 Game: €5

5 Games: €25

10 Games: €50

Hercules Magnus

€0.25

(1 in 143)

€50,000.00

(1 in 10,000,000)

10 Games: €5

20 Games: €10

30 Games: €15

Lucky Irish

€0.25

(1 in 9)

€44,444

(1 in 3,000,000)

10 Games: €6

20 Games: €12

30 Games: €18
Although the scratchcards you can dive into on Jackpot.com offer fantastic winning opportunities, some players might want better chances of landing a significant amount like these. But for that reason, the site's platform also offers an incredible casino section.
Online Casino
Generally,  the online casino sections in the various lottery gaming sites shouldn't be all that impressive, but it seems that this unspoken rule is not relatable to Jackpot.com. In fact, the online casino section on the site provides everything that the thrill chasers might want to try out. 
There are various online slots available, including some of the most profitable in the industry, with jackpots that reach millions. On top of that, there are exciting table games and a live casino section that brings all of this together in one balanced and thrilling mix!
How Does Jackpot.com Work?
Even if you have never played the lottery before, you will feel right at home with Jackpot.com. However, Jackpot.com works a little differently from an online lottery agent. Even though the overall experience of playing is similar with other lottery sites, you are not actually buying the ticket in the lottery. Instead, you are betting on the outcome of the official lottery; and if you win, Jackpot.com will pay you directly. They have an insurance model which insures every bet and helps them to pay out huge jackpots.
If you want a more detailed explanation of how online lotteries work on Jackpot.com, you can take a look at this video guide.
Does Jackpot.com Feature a User-Friendly Interface?
It doesn't matter if you are a beginner or an experienced lottery player. The best lottery sites should always aim to offer a user-friendly interface and straightforward navigation.
It seems that is exactly what happens with Jackpot.com. You will feel right at home with the design as everything looks quite simple. The top section contains menus and subsections, while the central scene is reserved for page content. You can access lottery results by pressing a single button, which is a nice touch.
Major Features of Jackpot.com
Play Jackpot.com on the Mobile
Jackpot.com doesn't offer a dedicated mobile app that you can download for a portable device. However, the platform guarantees maximum cross-device compatibility. That means you can use smartphones, iPhones, tablets, and other portable devices and assess the website via the web browser.
You will enjoy the same features as on desktop devices. That means you can select numbers and purchase both regular tickets and subscriptions.
Jackpot.com Promo Codes, Vouchers, and Discount Codes
You can look for different incentives if playing regularly on the website. One of the most popular options that players use is purchasing subscriptions. For example, you can buy a subscription for more than 50 drawings of Jackpot Lotto for less than €5.
Players can also buy tickets for 5-20 subsequent drawings of popular lotteries like EuroMillions and US Powerball. The website occasionally offers seasonal promotions like lottery tournaments.
Jackpot.com Subscriptions Price and Discounts
The subscriptions of Jackpot.com may be one of the best functions you can use on the site. They will provide you with a new world of freedom where you won't even need to buy tickets every day and spill your precious time. 
Instead, you can use a subscription, and the team of Jackpot.com will do the work for you, submitting the numbers and tickets you want to play. That's how you can rest assured that you won't ever miss a draw of your favorite lotteries, and the best thing is that you even get a discount of up to 40%. 
The following table will show you just how much you can benefit from subscriptions on the site for the various popular lotteries you may use.
Jackpot.com VIP Club
By themselves, the discounts you can get when purchasing tickets at Jackpot.com are significant. However, this is not the only perk you get when exploiting the deals from the subscriptions.
What is interesting about this online lottery platform is that once you get a subscription, you automatically join the VIP club of the site. When you find yourself in this exclusive environment, you can expect to receive various bonuses, cool gadgets, and even digital service memberships.
Payment Methods at Jackpot.com
You can choose between 13 deposit methods, and they are all instant. That means you will have the available money seconds after finalizing your deposit transaction.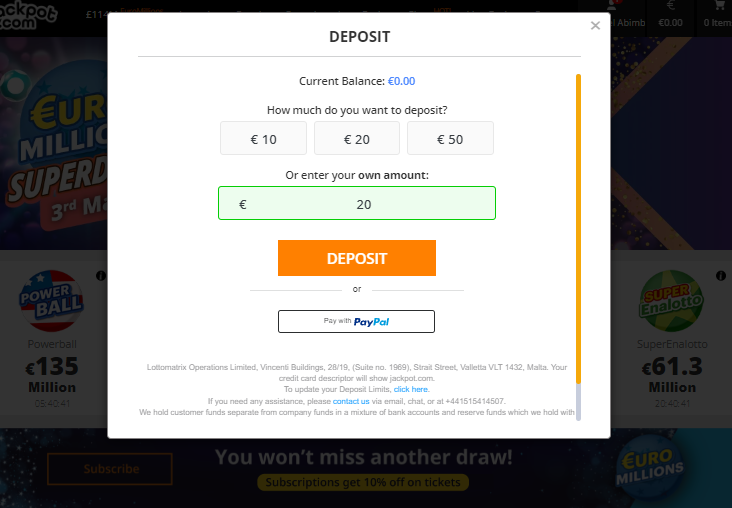 Primary methods are all covered, which means you can choose between credit and debit cards, e-wallets, and bank transfers. You shouldn't expect any fees for deposits, and the website doesn't mention a minimum required sum.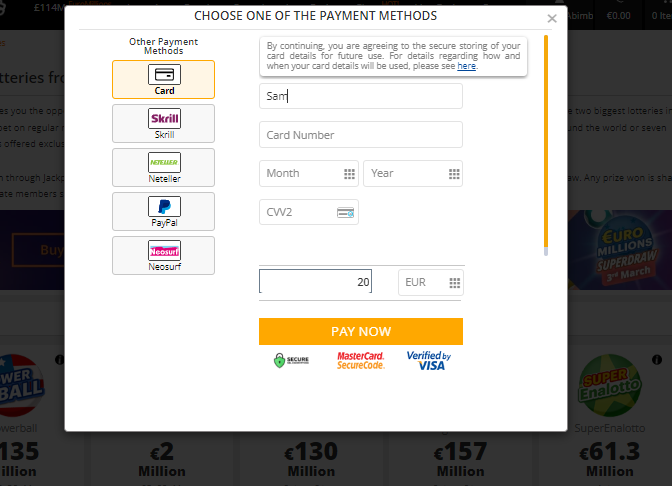 Deposits are instant, but you will need to be patient with withdrawals. They could take between one to three business days, although the platform tries to process every request as soon as possible. As for the covered withdrawal methods, you can choose between eight options, including Visa, MasterCard, Skrill, Interac, Fast Bank Transfer, Neteller, MuchBetter, and WebMoney.
The minimum required sum for withdrawals is €1, and the maximum is placed at €1,000. You also have an option to ask for a refund if your account was closed, and there was still money left. However, the restriction is that there is at least €1 left in the account.
Jackpot.com Deposit Methods
Generally, there are tens of different deposit options you can choose from at Jackpot.com, and no matter what player you are, you will always have the utmost freedom to choose how you want to manage your funds on the platform.
To better comprehend the picture we are explaining here, and what are the payment options awaiting you at Jackpot.com, we will come up with a detailed table that shows all the crucial features of all these available options. Let's start with the deposit methods:
| Deposit Method | Minimum Deposit | Fee | Accepted Currencies |
| --- | --- | --- | --- |
| Visa | €10 | No Fee | € / £ |
| Mastercard | €10 | No Fee | € / £ |
| Neteller | €10 | No Fee | € / £ |
| Skrill | €10 | No Fee | € / £ |
| Sofort | €10 | No Fee | € / £ |
| Webmoney | €10 | No Fee | € / £ |
| EPS | €10 | No Fee | € / £ |
| Euteller | €10 | No Fee | € / £ |
| Fast Bank Transfer | €10 | No Fee | € / £ |
| MuchBetter | €10 | No Fee | € / £ |
| Neosurf | €10 | No Fee | € / £ |
| PayPal | €10 | No Fee | € / £ |
| PaysafeCard | €10 | No Fee | € / £ |
| Safetypay | €10 | No Fee | € / £ |
| Trustly | €10 | No Fee | € / £ |
| UPI | €10 | No Fee | € / £ |
| Netbanking | €10 | No Fee | € / £ |
As you can see, there are 17 different deposit methods you can choose from. This will be more than enough for every online gambling lover, even if you generally like to use more than one method to fund your account.
On the flip side, let's check out what the withdrawal section offers.
Jackpot.com Withdrawal Options
| Payout Method | Minimum Withdrawal | Fee | Accepted Currencies | Processing Time |
| --- | --- | --- | --- | --- |
| Visa | €1 | No Fee | € / £ | 1-3 Days |
| MasterCard | €1 | No Fee | € / £ | 1-3 Days |
| Fast Bank Transfer | €1 | No Fee | € / £ | 1-3 Days |
| Skrill | €1 | No Fee | € / £ | 1-3 Days |
| MuchBetter | €1 | No Fee | € / £ | 1-3 Days |
| Neteller | €1 | No Fee | € / £ | 1-3 Days |
| Webmoney | €1 | No Fee | € / £ | 1-3 Days |
The withdrawal options at Jackpot.com will provide you with the most frequently used and reliable withdrawal methods in the gambling industry, which will be more than enough to handle all your payments.
Moreover, the payout process on the site is straightforward, so there won't be a player who will face any issues when trying to make a withdrawal from the platform. There are only a few elementary steps that players should take.

After logging into your account, you just need to click on your funds and you will be redirected to the payments section where you can choose an option and proceed with your transaction.
The next step is to select the amount you want to withdraw and choose your preferred payment method.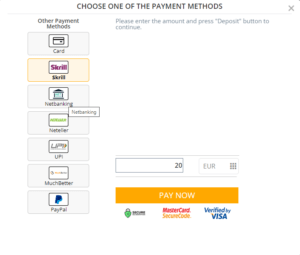 Rules and Regulations in Jackpot.com
As usual, with lottery websites, Jackpot.com might not be available in all countries. It usually depends on the local laws, which is why the platform doesn't offer its services in the United States.
Players will appreciate knowing that Jackpot.com won't take any portion of your prize should you win it. That means the entire reward will be yours, although you should always calculate taxes. You are subject to paying taxes in both the country that hosts the lottery and local taxes, if applicable.
You need to be at least 18 years old (or the equivalent of being an adult in your country) to sign up for an account at Jackpot.com. It is also not allowed to have more than a single account registered on the platform.
Jackpot.com Terms and Conditions
The following are some of the terms and conditions at Jackpot.com that you need to be familiar with.
Jackpot.com has four different lottery sites for players in the United Kingdom, Sweden, Ireland, and other countries. Their operation in the UK is licensed by the UK Gambling commision, in Sweden by the Swedish Gambling Authority, in Ireland by the Irish Remote Bookmakers, and in other countries by the Malta Gaming Commission.
You need to be above 18 to play on Jackpot.com.
Deposits can only be made in Pounds Sterling, Euros, and Swedish Krona. If you fund your account in other currencies, you will be subject to the exchange rate by the bank.
Withdrawals can only be paid to the account from which you funded your lottery account.
Jackpot.com Verified Winners
You will find an interesting blog on the Jackpot.com website. That is where they discuss lottery jackpot winners. It is possible to read intriguing stories about EuroMillions winners and entrepreneurs who used lottery prizes to kick off a business career. You can rest assured the platform pays prizes on time, which makes it a safe place to purchase lottery tickets.
A Student from Laos
The great thing about online lottery winnings is that everyone can get on the end of enormous jackpots! That was the case with Sililat, who is a student in Laos. By playing the famous Powerball lottery, she managed to bank the hefty prize of $50,000, which is truly life-changing for a student nowadays! 
A Quarter of a Million Taken Down
One fantastic success story occurred in 2017, with one of the first confirmed winners at Jackpot.com. This was the tale of an Enfield welder who came just one number short of 25 million in the EuroMillions draw!
But the result was still pretty satisfying, as the lucky winner could take home a cool €248,000. Despite sharing that he won't be quitting his job, Valentin, 40, was confident this win would change his life for the better. 
A Maltese Subscription Player
How cool will it be to receive a call that you had just won €97,000? Well, most of us could only be dreaming of something like this, but this is precisely the story of Maria Dolores, who had won the hefty prize through a Jackpot.com EuroMillions subscription! 
But, of course, she didn't even move her finger to bank her win. Instead, Jackpot.com did all the work for her, submitting the usual numbers for every draw. Indeed an astonishing winner story!
Customer Support
You have multiple methods of contacting customer support:
 Live Chat over the website
Over the phone by calling +441515414507
Sending an email to [email protected]
Using Facebook Messenger to send a message
The fastest way of resolving a problem is by sending a message over live chat. However, the problem is that agents are only available between 11 AM and 11 PM CET. As for the phone support, you can reach an agent from 11 AM CET to 10 PM CET.
Those limited hours are quite restrictive and indicate you might not be able to resolve the problem on the same day. According to the information on the website, Jackpot.com will respond within 24 hours to every email you send.
Is Jackpot.com Legit or Scam?
Before trusting Jackpot.com with your details and funds, you should be pretty confident that the site is reliable and will provide you with all the necessary protection so that you can have an effortless gaming experience.
So, is Jackpot.com a platform like this?
Judging by the numerous positive reviews on the site online and the various licenses from the regulatory bodies like Malta and UK, this indeed seems to be the case.
Moreover, we should note that Malta and UK gambling commissions are the most rigorous in the industry, meaning that every section of Jackpot.com has been thoroughly tested to comply with all of the highest industry standards.
If that's not enough, we can see that Jackpot.com is closely cooperating with the famous company for gambling self-exclusion services – Gamstop. 
This further ensures that the platform's primary purpose is to serve players instead of the opposite. You should also feel pretty comfortable directly on the site's platform, considering it's using the latest SSL-encryption technology to ensure your details and funds are fully protected.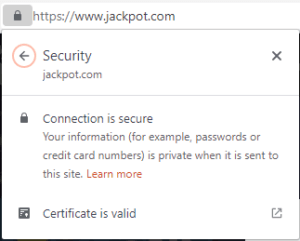 Jackpot.com Alternatives
Lottery players looking for excellent lottery experiences in many international games can count on Jackpot.com to deliver. The table below compares Jackpot,com to other top competitor sites.
Criteria
Jackpot.com
TheLotter
LottoAgent
WinTrillions
Lotteries to Play
29
60
34
23
Ticket Price
Low
High
High
High
Discount
Yes
Yes
Yes
Yes
Syndicate Play
No
Yes
Yes
Yes
Subscription
Yes
Yes
Yes
Yes
Payment
Visa, Mastercard, Neteller, Skrill, Sofort, Maestro, Fast Bank Transfer, MuchBetter, Neosurf, PayPal, Paysafecard, Trustly, Boku, EcoPayz, EPS, Euteller, Net Banking, Safetypay, Trustly, UPI, Webmoney
Mastercard, Visa, Skrill, Neteller, Paysafecard, Trustly, Sofort, EPS, Rapid, Efecty
Mastercard, Visa, Bank Transfer, Sticpay, Neteller, Skrill, Cryptocurrency
Visa, DineroMail, WebMoney, MasterCard, JCB, AstroPay, ToditoCash, American Express, Skrill, Giropay, Mail Check, PostFinance, Ukash, EPS, Bank Transfer, Entropay, OXXO, Efecty, Neteller, GANA, PSE
Welcome Bonus
No
Bonus money to players after the first online ticket purchase
Bonus money and free spins to players after the first online ticket purchase
90% bonus on first Powerball monthly subscription
Mobile App
No
Android and iOS
Android
No
License

Malta Gaming Commission

UK Gambling Commission

Swedish Gambling Authority

Irish Remote Bookmakers

Malta Gaming Commission
Government of Curacao
Central Government of Curacao
Trustworthiness
High
High
High
High
 
 
TheLotter Review
LottoAgent Review
WinTrillions Review
 
Ticket Price Comparison
The table below compares lottery ticket prizes at Jackpot.com to other top lottery sites.
If I Win at Jackpot.com, Where Does the Prize Money Come From?
The betting concept used by Jackpot.com means they won't purchase tickets for the actual lottery (although there are some exceptions). Instead, you wager on the outcome and the platform pays out the same winnings as if you play the lotto.
If you happen to win big, don't worry because Jackpot.com has an active insurance policy. They'll activate that policy to initiate the payout. The company might contact you for some assistance in claiming the winnings. Please note you'll probably need to verify your identity before claiming the prize. 
Also, they may require you to participate in marketing activities to show the world that people can win the lottery at Jackpot.com.
How and Where Do I Find the Jackpot.com Lottery Result?
There are two ways to check for lottery results on Jackpot.com. 
Step 1
Go to the lottery section and pick the game you want to check. For instance, if you want to check Powerball results, go to the Powerball section.
Click POWERBALL results among the options at the top of the page.
The page will immediately show the last lottery results.
If you want to check the result for older draws, click the drop down menu and select the draw date you want to check.
Step 2
You can also check lottery results by clicking RESULTS at the top of the page. You will find this option anywhere you are on Jackpot.com website.
You will find the most recent lottery draws on the page.
However, if you want to check for a particular lottery, click the drop down menu to reveal the list of lotteries.
You  can also search for the lottery by name.
The final way to find lottery results is to visit the lottery results page here at Lottery 'n Go. Our lottery result page has the winning numbers from the top international lotteries worldwide. We also regularly update it after the draws so it stays up to date.
FAQs
What currencies are supported at Jackpot.com?
You can choose whether to invest in British Pounds or Euros when depositing funds on the website.
Is syndicate play an option at Jackpot.com?
Although you cannot join syndicates via Jackpot.com, you can purchase lottery subscriptions. That allows you to purchase tickets for multiple drawings in advance.
Is it safe to play at Jackpot.com?
Yes, Jackpot.com has a reputation for being a reliable lottery provider. It also acquired a license from the Malta Gaming Authority to ensure that it complies with the latest industry regulations.
Why Should You Play at Jackpot.com?
While it might not be the best lottery website out there, Jackpot.com is still worth checking out. It has a decent game selection with all the major lotto games covered, and it's licensed by major gambling commissions like Malta and the UK.
The purchasing process is simple, and you can buy tickets on mobile, too. There are some features that could be better, but that shouldn't stop you from trying out this operator. If you are looking for a lottery website that also offers slots and casino games, you might love this platform.