Among the top lotteries in Europe, the EuroJackpot ranks as one of the most prominent European lottery players. It is a transnational lottery launched in March 2012 with seven participating countries, including Denmark, Estonia, Finland, Germany, Italy, the Netherlands, and Slovenia. It was eventually introduced to nine more countries, including Spain, Norway, Sweden, Iceland, Croatia, Latvia, Lithuania, the Czech Republic, Hungary, and Poland.
EuroJackpot offers impressive prizes for lucky winners, with jackpots that start at €10 million and can roll over to as high as €120 million. Currently, eighteen countries participate in the EuroJackpot lottery. However, it is also possible to play the EuroJackpot online if you reside outside these countries. This guide explains how to play EuroJackpot from anywhere. It also offers related information such as ticket prices, payout, tips, and lottery odds.

Next Draw
Tuesday, Dec 05, 2023
3


Days

5


Hours

52


Minutes

14


Seconds
How Do You Play EuroJackpot Online [Step by Steps]
Anyone looking to play the EuroJackpot lottery online can join the game in three major ways: lottery agent, lottery betting site, and the official EuroJackpot website.
Lottery Agents: Lottery agents break the distance barrier for international players. They serve as the link between players who can't physically buy tickets and the organizers. They buy the ticket on your behalf and send a scanned copy to you. Popular examples are TheLotter and LottoAgent.
Lottery Betting Sites: These work like lottery sites; however, they do not buy tickets from the lottery. Instead, they create a platform where you can bet on the game's outcome. However, the odds, prizes, and lottery experience remains the same as lottery agents. Popular examples include WinTrillions, Lottofy, and Jackpot.com.
Official EuroJackpot Site: You can also play directly with the lottery organizers by visiting their official EuroJackpot website or downloading the mobile application.
You can use any of these platforms to play the EuroJackpot lottery. However, lottery agents and betting sites are the best choices for international players because they create a localized playing experience regardless of location. However, the basic requirements for online play remain the same. You will need a smartphone or laptop, access to the internet, and a payment method to fund your lottery account.
Here is a step-by-step guide that describes how to play EuroJackpot online.
Choose Where to Play EuroJackpot
The first step to the EuroJackpot game is deciding where you want to play the game. If you are new to the online lottery, you may find it challenging to choose where to play. There are many lottery sites, and the sheer number of options may overwhelm you. You may also fall victim to scams or shady sites that only want your money. This is why we recommend that you read reviews and research different lottery websites before you make your choice.
We recommend you consult our guide on the most proven online lottery sites to find and compare the best options for players. Our review employed criteria such as security, bonus, mobile compatibility, user experience, payment methods, and customer support.
Important Note We already listed the most recommended lottery sites, and you can also get some discounts.
GET 25% OFF for any ticket!
GET 20% OFF your first order,
promo code: LOTTERYNGO
Buy 1 Ticket and
Get 2 Tickets for FREE!
Create an Account
Visit the official website of your preferred option. You will be required to create an account before you can have access to the game. Your online lottery account serves as a bank to store your lottery ticket, funds, and playing history. Once registered, you can browse the available lottery games and buy tickets with your payment method.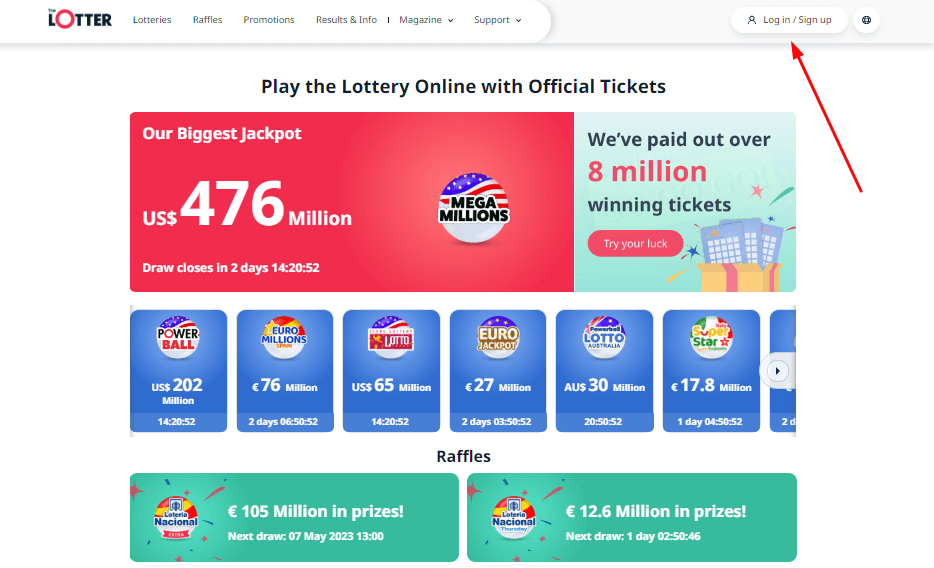 Most websites have the "SIGN UP" or "REGISTER" button on the top right corner. Click it. It will direct you to a page to put your personal information, such as your name, email, date of birth, zip code, and address. You must also accept their terms and conditions to complete the registration.
Make the First Deposit
The website will require that you fund your account before you start playing. Most websites offer welcome bonuses on the first deposit. Go to your profile, click the payment page, and select "DEPOSIT."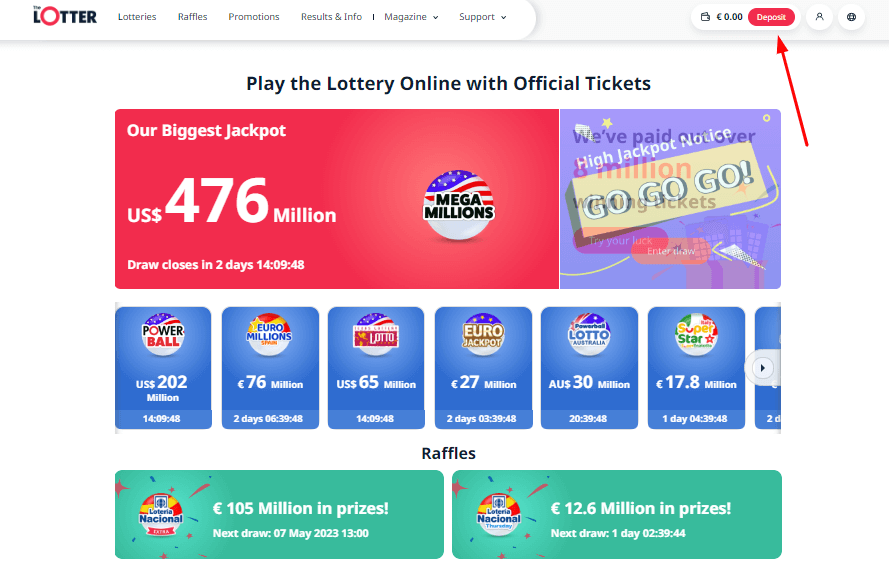 You will be presented with different payment methods such as Visa, Mastercard, cryptocurrency, e-wallet, and bank transfer. Select the one that works for you. From there, you will be redirected to a payment portal to complete the transaction.

Select EuroJackpot in Their Lottery Section
Go to their lottery section to choose EuroJackpot.

Select Your Lottery Numbers
The EuroJackpot lottery requires players to choose five main numbers between 1 to 50 and two extra numbers from 1 to 12. Select your numbers from the table. Then click "PLAY" to enter your numbers into the draw.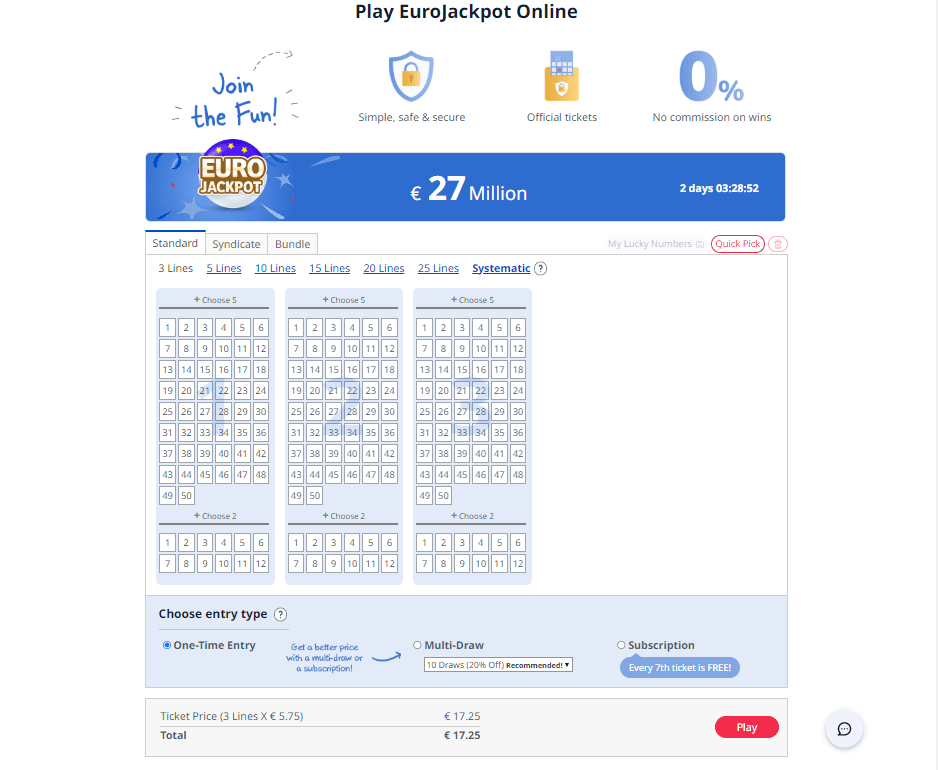 Wait for the Draw
The next step is to wait for the draw, where the winning lottery numbers will be revealed. Follow the draw to find out whether you matched some of the winning numbers. If you are unable to follow the live draw, you can also check the recent EuroJackpot results on our result page at Lottery 'n Go.

Next Draw
Tuesday, Dec 05, 2023
3


Days

5


Hours

52


Minutes

14


Seconds
Claim Your Prizes
You win a prize by matching at least two main numbers and 1 euro number. The lottery website will pay small rewards directly to your online lottery account. However, you will need to wait a while to claim your prize if you win the jackpot or other substantial amount because they will need to perform additional checks and verification.
How to Play EuroJackpot Quick Pick?
The EuroJackpot Quick Pick is a unique number generator that helps players to choose their numbers. This allows you to create your lottery combination much faster than lottery strategies or the self-pick option. All lottery websites offer this feature for the EuroJackpot game. Just click it, and it will automatically fill up your lottery selection.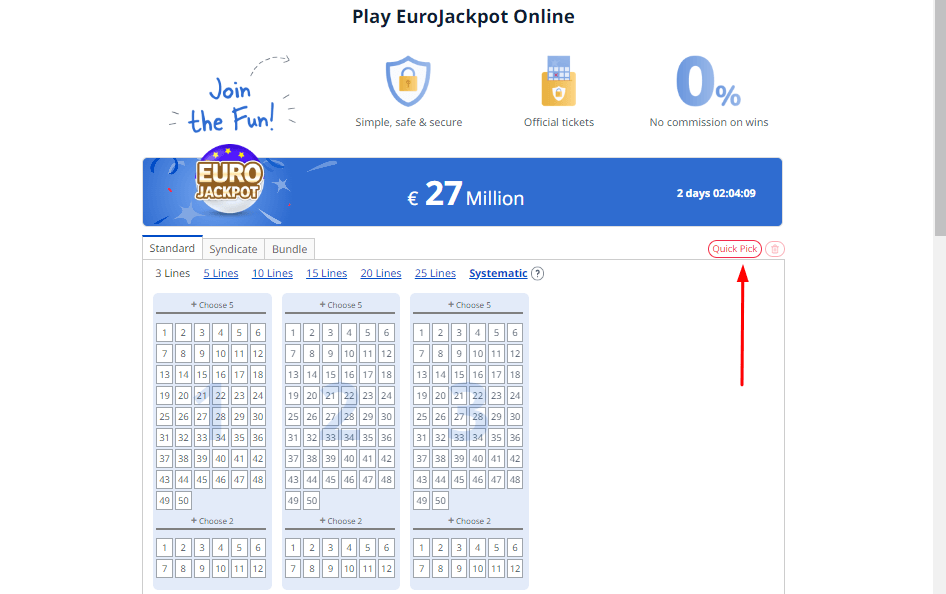 How Much Does It Cost To Play EuroJackpot?
According to the official website, it costs €2 to play the EuroJackpot lottery. However, this amount will be higher at lottery agents and betting sites due to the extra costs of setting up the lottery services. It's also crucial for them to make a profit. The table below shows EuroJackpot ticket prices across the best lottery sites.
Below is a comparison of the official EuroJackpot ticket prices with other top international lotteries.
How Late Can You Buy a EuroJackpot Ticket?
You can buy a EuroJackpot ticket until 19:00 CET on the draw days. This means you have 1 hour before the draw starts to buy your ticket, choose your lottery numbers, and make your entry into the draw.
When Does the EuroJackpot Play?
The EuroJackpot draw starts at 20:00 CET on Tuesday and Friday in Helsinki, Finland. The draw is not broadcast on TV in most countries except Slovenia. Slovenian residents can watch the EuroJackpot draw live by 23:00 on POP TV. Residents in other countries can follow the draw through their dedicated YouTube page.
The table below shows the draw times for the participating countries in the EuroJackpot lottery.
What States Can You Play EuroJackpot?
There are no restrictions to the EuroJackpot lottery. This implies that everyone can play the lottery regardless of location anywhere in the world, provided they meet the age requirements and accept their terms and conditions.
How Do You Win EuroJackpot?
You win the EuroJackpot by matching the five winning numbers and two euro numbers in the draw. EuroJackpot is a game of chance with 139,838,160 possible lottery combinations, so it is impossible to have a guaranteed chance of winning. However, there are a few ways to increase your chances of winning.
Research the game: You can have a better experience in the EuroJackpot game when you have all the information about the game. Learning about the game helps you to understand the odds, how the draw works, and the different lottery strategies for the best chances of winning.
Lottery strategies: While the lottery is a game that depends largely on luck, it is also possible to improve your chances by using a lottery strategy. Lottery strategies can assist players in picking lottery number combinations with the best chances of appearing in the draw. Examples include the Pick 5 strategy, lottery software, and the wheeling system.
Consult past lottery results: The lottery is entirely random, so every number has an equal chance of showing up in the draw. However, lottery results show that some numbers, also called hot numbers, appear more often than others. You could employ them in your lottery strategy to increase your chances.
Play in a syndicate: The most effective way to increase your chances is to buy more tickets. But this could be expensive for a single player. Joining a EuroJackpot syndicate helps you improve your chances, cover more lottery combinations, and reduce ticket costs. However, remember that any prizes won will be shared among the syndicate members.
Play your lucky number: You can leave it to chance. After all, your luck is written in the stars. We recommend playing your lucky numbers or any number that holds special significance. It could improve your luck and help you to manifest winning the lottery.
EuroJackpot Payout
EuroJackpot top prize starts at a guaranteed  €10 million and rolls over until the jackpot cap of €120 million. When it gets to the jackpot cap, the excess rolls to the lower prize tier until a winner matches the winning combination.
The table below shows the available prize tiers in the EuroJackpot lottery.
| Matches | Prize |
| --- | --- |
| 5 + 2* | Jackpot (starts at €10 million) |
| 5 + 1* | €1,035,936 |
| 5 | €197,629 |
| 4 + 2* | €5,302 |
| 4 + 1* | €315 |
| 3 + 2* | €160 |
| 4 | €113 |
| 2 + 2* | €25 |
| 3 + 1* | €20 |
| 3 | €17 |
| 1 + 2* | €13 |
| 2 + 1* | €10 |
The symbol "*" represents the euro ball. You should also note that the prizes may vary according to the amount in the lottery pool.
Odds of Winning EuroJackpot
There are 139,838,160 possible lottery combinations in this game. This implies that the odds of winning EuroJackpot will be 1 in 139,838,160.
The table below shows the odds in the different prize tiers of the EuroJackpot game.
| Matches | Odds of Winning |
| --- | --- |
| 5 + 2* | 1 in 139,838,160 |
| 5 + 1* | 1 in 6,991,908 |
| 5 | 1 in 3,107,515 |
| 4 + 2* | 1 in 621,503 |
| 4 + 1* | 1 in 31,075 |
| 3 + 2* | 1 in 14,125 |
| 4 | 1 in 13,811 |
| 2 + 2* | 1 in 985 |
| 3 + 1* | 1 in 706 |
| 3 | 1 in 314 |
| 1 + 2* | 1 in 188 |
| 2 + 1* | 1 in 49 |
What Happens If You Win the EuroJackpot?
Review your lottery selection after the draw to check if you won. If you play online, your lottery website will notify you of your win and credit your account amount immediately if it is a small prize. Due to extra documentation, verification, and fund collection from retail stores or the insurance company, Jackpot prizes take a little while to process.
Here is a summary of how to claim your EuroJackpot winnings:
Reach out to the lottery website to inform them of your win.
Submit identification documents such as your international passport, driver's license, and identity card.
Organize a team of financial experts such as a lawyer, tax specialist, and financial consultants.
Decide whether you want to hide your identity and claim your prize anonymously or reveal your identity to the public.
Decide whether you want to claim your prize as a lump sum or installment payments over several years.
Collect your winnings.
For more in-depth information, we recommend you read our guide on how to claim lottery winnings.
Summary: Playing the EuroJackpot Online
EuroJackpot is a two-pot lottery game. It requires players to choose five main numbers between 1 to 50 and two euro numbers between 1 to 12. You win the jackpot if you accurately predict the numbers appearing in the draw. There are also prizes for matching fewer numbers.
FAQs
How does EuroJackpot work?
EuroJackpot is a two-pot lottery game. It requires players to choose five main numbers between 1 to 50 and two euro numbers between 1 to 12. You win the jackpot if you accurately predict the numbers that will appear in the draw. There are also prizes for matching fewer numbers.
What time is the EuroJackpot payout?
EuroJackpot payout will be done after the draw to the respective lottery winners via their online accounts. However, huge prizes may take a few days to process due to the extra verification, documentation, and fund collection from the participating countries.
What are the most common numbers in EuroJackpot?
The most common numbers in the EuroJackpot lottery are 49, 20, 34, 35, and 7. These numbers have appeared the most times in the lottery draws.
Can I play EuroJackpot from the USA?
You can play EuroJackpot from the USA on an online lottery website. EuroJackpot is open and available to everyone, regardless of their country of residence.
Can a foreigner win EuroJackpot?
A foreigner can win the EuroJackpot if they match all the numbers from the draw. Playing online allows a lottery website to purchase the ticket on their ticket, and if they win, the lottery website will assist them in collecting their winnings.
Who can play EuroJackpot?
Anyone who satisfies the age requirement in the participating countries or on the lottery website can play the EuroJackpot game. There are also no geographical restrictions, so it is available to everyone.