If we are talking about huge European lotteries, we need to mention EuroJackpot. The game's history goes back to 2012, indicating the lotto has been around for over a decade. It gained a massive base of fans in participating countries and beyond.
Those who'd like to try EuroJackpot might be wondering how to guarantee a win in this lottery. The only way that guarantees a win is to play all lottery combinations. However, that's a considerable investment, and you'll end up in the red even if you win the jackpot. The better option is to take a strategic approach and maximize your odds of winning EuroJackpot. Here is how to improve your chances of having the winning ticket in the next session!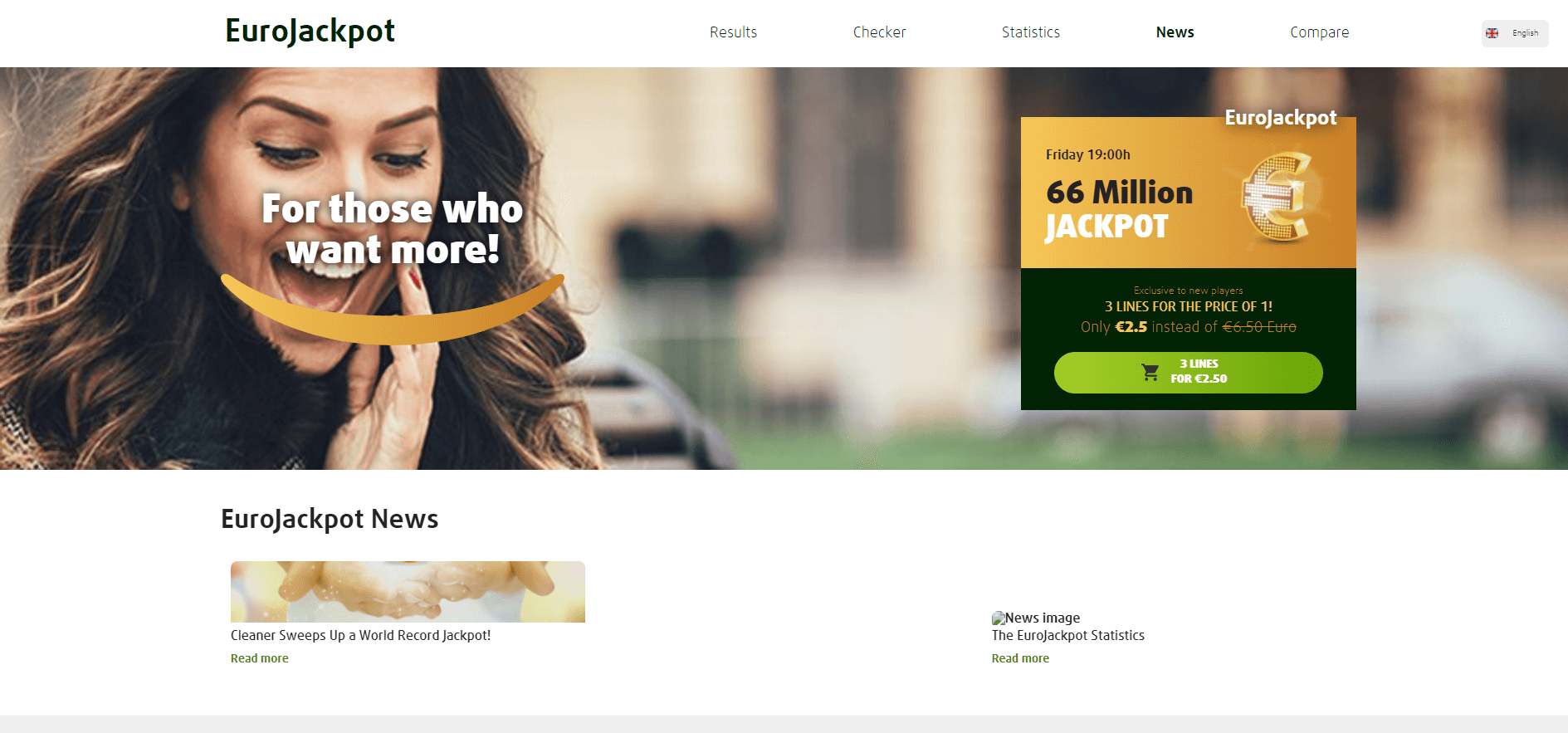 Source: EuroJackpot Website 
What Are the Chances of Winning EuroJackpot?
If you want to win any lottery, it's essential to know the game's rules. EuroJackpot is a two-drum game, and you need to guess all seven numbers drawn correctly to win the jackpot. The concept is 5/50 + 2/10, and most strategies focus on picking the primary numbers for your ticket.
According to our EuroJackpot odds guide, there's a 1:35 chance of winning any prize in this lottery. You have 12 prize tiers, but the lowest ones have only symbolic sums as rewards.
It would be best if you could win the jackpot, but the chances for that stand at 1:95,344,200. That's better than in EuroMillions, but it's still not favorable to players. You'll need a lot of luck, and that's logical because the grand prize is massive.
Use These 9 Tips and Strategies to Win EuroJackpot
If you find the EuroJackpot concept attractive and would like to try it, preparation is the key to success. By adopting tips tailored to this game, you can adjust your playing style to maximize the winning chances. Here are some suggestions that could prove to be successful in EuroJackpot:
Try a lottery syndicate – You can form one with friends or join a EuroJackpot syndicate online. The idea is identical – more players join money together to buy a large number of tickets. Thanks to that, they have a better chance of winning, and the prize is split according to the arrangement.
Pick lucky numbers based on numerology – You might not want to use the classic Quick Pick feature, and this option is a great alternative. Our numerology lucky number calculator will offer the potential winning numbers based on your date of birth and name.
Listen to what your dreams have to say – Another way to choose the lucky number is to check our lottery dream guide. It helps discover the hidden messages and create the best possible selection accordingly.
Go with your lucky horoscope digits – If you believe lucky numbers depend on your sign and the current position of the stars, you'll love our horoscope lucky number guide. It could reveal the next lucky EuroMillions combinations, so make sure not to miss it!
Use lottery systems – Many online lottery sites allow playing a system instead of a regular lottery ticket. It ensures you can put more than five numbers in your basic selection. That improves your winning odds but also the ticket price.
The power of analysis – Players find it fun to sit down and analyze previous draws. They look for the right combination based on the statistics. Once they choose the numbers, it boosts confidence and helps send a positive message into the universe about winning. You can use lottery software for easier analysis.
The power of balance – Luck might be the deciding factor, but a balanced combination has a better chance of winning. You've never seen "1, 2, 3, 4, 5" to be the winning selection for EuroJackpot. It's much better to go with a mixture of low and high, but also odd and even numbers.
Apply wheeling systems – The basic idea is to improve the coverage of the preferred lottery numbers. The complete wheel covers every combination, while the key digit and abbreviated are more affordable but also less reliable. You can learn more in our wheeling systems guide, but this is a frequently used strategy among EuroJackpot players.
The importance of a primary combination – Many EuroJackpot fans have one default combination they stick to in the long run. It could be a mixture of special dates and birthdays or picked randomly. The idea is to stick to it since the law of probability increases the odds of it getting drawn with every new session.
Important If you feel ready after reading the tips & strategies above to win the EuroJackpot, get one of the bonuses from our most recommended online lottery sites and play safe:
GET 25% OFF for any ticket!
GET 20% OFF your first order,
promo code: LOTTERYNGO
Buy 1 Ticket and
Get 2 Tickets for FREE!
Some EuroJackpot winners believe you should analyze the current jackpot sum. It could be tempting to play when the grand prize is the highest. And while you can participate with one or two tickets, your primary focus should be on lower jackpot amounts. The reason is simple – fewer players will join because the grand prize is less attractive. That means less competition and boosted odds that you won't have to share the winning sum.
If you look at our list of famous lottery winners, you'll find many used the Quick Pick feature. That indicates the secret might be not to overthink. Instead, you should let the faith do its job. However, pay attention that most winners revealed they played multiple tickets in every single draw. Buying multiple slips could be an excellent way to improve your odds and attract Lady Luck to smile at you.
FAQ
Is EuroJackpot the Same As EuroMillions? 
No, they are two different lotteries. Read our reviews on EuroMillions and EuroJackpot to learn more about each.
How Long to Claim the Prize in EuroJackpot?
You have up to 180 days from the drawing date to claim your prize. Depending on the size and the platform, some online vendors release the reward to your account automatically.
When Is the EuroJackpot Draw?
The lottery only has one draw weekly, and it's on Friday at 8 PM CET.
Can a Foreigner Win EuroJackpot?
If you consider non-Europeans to be foreigners, the answer is yes. Anyone can purchase a ticket and win prizes in this game.
Where to Buy EuroJackpot Tickets?
If you live in one of the participating countries, you can purchase tickets at a local vendor. Internet lottery sites sell EuroJackpot tickets for these countries and the rest of the world where lotto is legal.