BuyLottoOnline Review 2023
BuyLottoOnline has been offering its services for over 15 years. From the launch in 2005, they turned more than 260,000 players into winners. They offer a decent selection of lotteries with all the major games included.
The players seem interested in the platform, so we decided to check all its features. Our detailed BuyLottoOnline review describes the purchasing process, bonuses, and other details worth mentioning. Here is what you should know about this online lottery vendor!
English, German, French, Spanish, Portuguese, Russian, Chinese, Polish
BuyLottoOnline Pros & Cons
What Games Can You Play at BuyLottoOnline?
At the point when we reviewed the site, BuyLottoOnline had 19 lotteries available. That includes the big guns like US Powerball, Spanish El Gordo, and EuroJackpot. You can pick games from different continents, which is a nice touch. 
Apart from lotteries, you can also play millionaire raffles and lotto syndicates. Special syndicates are also available to premium members.
How to Buy Tickets at BuyLottoOnline
BuyLottoOnline has a nice little explanation of how the process works on the website. It comes down to purchasing a ticket over their platform. They take over from there and buy an actual ticket on your behalf. If you win, the vendor pays the full sum of your prize.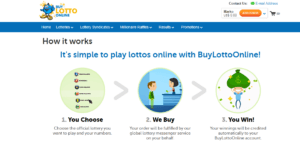 Here is how you purchase a ticket over BuyLottoOnline:
Register an account and deposit funds.
Pick the desired lottery.
Choose the preferred number of tickets, and enter your lucky numbers.
Finalize the purchase and wait for the draw to see if you are a lucky winner!
An Overview of Signing Up and Logging in to BuyLottoOnline
The first step is to initiate the registration process. BuyLottoOnline made that convenient since you can start from any page. You need to click on Open an Account in the top-right section.
The form will require a couple of minutes of your time. Please note only the fields with a "*" are mandatory. However, make sure to provide accurate details since you might need to pass an identity check later.
Once you finish filling the form, click on Submit. There's no need to verify your e-mail. The system will get you into your account immediately. The next time you access the site, you can log in by clicking that button in the top-right section.
Is BuyLottoOnline Easy to Use?
Players love when they see a nice and clean layout of an online lottery vendor. That's what the BuyLottoOnline delivers on its site. You'll find the homepage filled with useful information. You can see the upcoming lotteries with their expected jackpots. The top menu offers simple navigation around the platform.
If you access a lottery purchase screen, you'll find it simple to pick your preferences. BuyLottoOnline allows a choice between choosing numbers or letting Quick Pick do the job for you. It's convenient that you can purchase tickets for up to eight draws in advance.
BuyLottoOnline Features
Is There a Mobile Version of BuyLottoOnline?
BuyLottoOnline doesn't offer a dedicated mobile app. However, that doesn't disrupt the playing experience. The developers made sure the website design was mobile-friendly. It doesn't matter which device you use – all features will be available and easily accessible. That makes playing on the go a breeze.
BuyLottoOnline Promotions, Bonus Codes, and Voucher
The website offers a fine range of promotions to its players. You can find the field to enter the promo code while depositing your funds. That's where you can add a code to qualify for a bonus.
Now, let's take a look at the variety of promotions available at BuyLottoOnline:
Premium membership. You can pick between Gold, Diamond, Platinum, and Titanium levels. These qualify you for free and discounted syndicate play, exclusive offers, free credit, and even a complimentary e-book on how to win the lottery. The Gold tier costs $10, Diamond $50, and the other tiers require contacting the support to learn about the prices.
Refer a friend. For each friend that you refer, you'll receive a free US MegaMillions ticket. However, please note they need to purchase over the site first, and then you can claim your prize.
Gift vouchers. These are a great way of surprising someone for the holidays or special occasions.
VIP program. You automatically qualify by registering on the site. The rate is one point per each $2 spent. You can get ticket discounts in exchange for your ticket points.
Daily deals. Depending on the day, you can expect 5-50% discounts on specific lotteries.
BuyLottoOnline Payment Methods
BuyLottoOnline didn't impress us with the available payment methods. They offer only debit and credit cards. The good news is that Visa, MasterCard, and American Express are all available. The transactions are secure, and you'll notice that deposits are instant. 
They are also free of charge, and the same applies to withdrawals. However, withdrawals might require up to 72 hours. The staff will process some requests immediately, but others might require some patience.
Deposit Methods
| | | |
| --- | --- | --- |
| Visa | MasterCard | American Express |
Main Rules of Playing at BuyLottoOnline
There's not much surprise when it comes to the rules of playing on this site. Here are some requirements for being a member of the BuyLottoOnline:
You need to be at least 18 years old to join (you can't be a minor per the laws of your country).
Each user can only have a single account. The platform reserves the right to verify your identity prior to paying your funds.
You'll receive a full amount of any prize that you win.
The provider charges a fee for the service of buying tickets on your behalf. Expect the ticket price to be higher than the default lottery cost.
BuyLottoOnline Jackpot Winners
You'll find the list of the latest winners on the homepage of BuyLottoOnline. Some winners choose to remain anonymous, but people like David from Australia didn't mind publishing their photos. David won $250K on US MegaMillions, and another lucky couple from Colombia won €30K on EuroJackpot. Although it seems that BuyLottoOnline still waits for its first grand jackpot winner, this list of prior winners boosts the website's credibility.
Customer Service at BuyLottoOnline
You can visit the FAQ and Help section if you have questions about how the website works. The knowledge base has answers to many questions but also lacks some sections. That's why you might need to contact customer support. If you want to do that, the only option is an e-mail. You'll need to specify your topic of interest and be patient until the staff answers. They claim to be online around the clock, but it might take a couple of hours to answer your message.
Is BuyLottoOnline a Scam or Legit?
The website is 100% legit as it has paid out lottery prizes to over 260,000 people. BuyLottoOnline has been around since 2005, which means it has over 15 years of tradition. The platform now has thousands of players from different continents. It's reliable, safe, and you trust that you'll receive your winnings.
If I Win at BuyLottoOnline, Where Does the Prize Money Come From?
Here is how this works – BuyLottoOnline purchases tickets on your behalf. The money ultimately comes from the lottery where you won the prize. However, if you win up to $600, the platform will pay you immediately. They will later reimburse themselves by claiming the prize. 
But if you win over $600, you need to go through the prize-claiming process. The administrators will contact you to explain the process of getting your money.
BuyLottoOnline FAQ
Can you play lottery syndicates at BuyLottoOnline?
Yes, the syndicates are an option for all popular games. That includes Powerball and MegaMillions, but also Florida Lotto, Spain La Primitiva, and other lotteries.
What is the rate of earning VIP points at BuyLottoOnline?
The VIP loyalty program earns you a point for every $2 spent on the site. For every 25 points collected, you get a $1 discount on the desired purchase.
Which currencies are available at BuyLottoOnline?
The platform only accepts US dollars. You can use credit cards in other currencies, but conversion will occur during the payment.
BuyLottoOnline – Do We Recommend It?
BuyLottoOnline has several unique features compared to other lottery sites. For starters, they offer a premium membership. It requires a subscription but qualifies you for benefits that high-roller players should have. A VIP program can also secure discounts, and there are daily deals on various lotteries.
The game selection on BuyLottoOnline is decent. The website works smoothly on all devices. The purchasing process is simple, and you can buy tickets for multiple draws in advance. Ultimately, BuyLottoOnline is a platform worth trying, so don't hesitate to join it today!
BuyLottoOnline Alternatives


Why it's better than BuyLottoOnline: TheLotter is the players' favorite because it offers a curated lotto selection. It also ensures excellent mobile support and makes it easy to play on the go.

Why it's better than BuyLottoOnline: LottoAgent looks great on both PC and mobile devices. You'll enjoy the fast payment processes and a fine selection of lotteries.