24Lottos is a licensed online lottery vendor with the main office in Nigeria. We traced back its roots to 2016, which means they've been around for five years. During that time, they had over 25,000 winners on the website.
You could be next, but before you begin playing, check out our 24Lottos review. It offers details on games and payment methods, but also information on bonuses and customer support. Here is a detailed explanation of what makes this platform worth using for buying lotto online!
What Games Can You Play at 24Lottos?
24Lottos is among the best online lottery sites when it comes to game selection. It offers games from four different continents, including all major lotteries with grand jackpots. Apart from basic games, you can try group and system play.
The current number of lotteries available at 24Lottos is 33. However, that's likely to increase soon as the brand looks to add new games constantly. Here is the list of lotteries that you can play now!
How to Buy Tickets at 24Lottos
It's no rocket science to purchase lottery tickets at 24Lottos. So, even if it's your first time buying a lotto online, it will be simple. Here is a quick explanation of what you should do:
Sign up for an account at 24Lottos.
Deposit using your preferred payment method.
Check out the list of games and pick your favorite.
Choose the desired combinations and type of play.
Purchase tickets and wait for the draw to see if you won!
An Overview of Signing Up and Logging in to 24Lottos
It's common that a lottery website asks you to register an account before you can play. That way, they ensure you have an authentic profile to use when purchasing tickets.
If you want to sign up, you can do it for free. In the upper-right section, you'll find the Signup button. Click on it to open the registration process.
The registration process is fast and only requires basic details. The first page involves choosing your username and password. Make sure that your password is strong to avoid potential breaches. The experts advise using special symbols and both upper and lowercase letters.
The second step involves providing your name. Make sure this is authentic because you might need to prove your identity later.
Once you click Confirm, the system registers an account automatically.
You'll get a confirmation message and be able to play the desired lotteries right away. Don't forget to deposit funds into your account first.
Is 24Lottos Easy to Use?
We love to see when the designers don't complicate things. Most lottery players love a simple and clean layout, and that's what 24Lottos offers. You can see the lottery selection and most tempting games on the homepage. Once you pick the desired game, the interface for choosing the numbers is user-friendly.
You can navigate to results or see the list of winners from the top menu. The only downside is that the only available language is English. Fortunately, most people understand it well enough to be comfortable browsing the site.
24Lottos Features
Is There a Mobile Version of 24Lottos?
It would be a huge disadvantage if you can't use an online lottery platform on the go. 24Lottos wants to be competitive with major providers, and that's why their website is mobile-friendly. They still haven't made dedicated smartphone apps, and there is no indication if they'll be available soon. Despite that, playing on the move is easy on the mobile 24Lottos site.
24Lottos Promotions, Bonus Codes, and Voucher
24Lottos has a loyalty program for its customers. It begins the moment you register since you get 10% off on your first purchase as a welcome gift.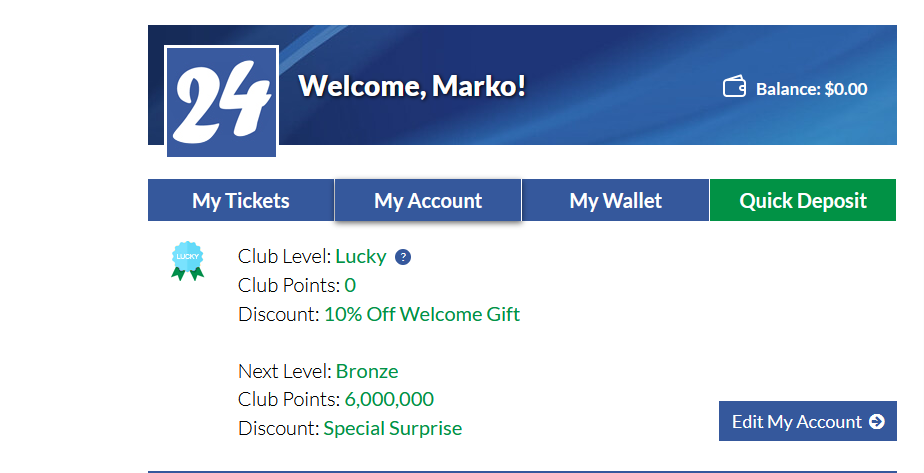 Once you enter your profile, you can also see that you became a Lucky level member of their club. This is the 24Lottos Billionaires club for loyal players. You earn club points by purchasing tickets on the site. The rate is 1,000,000 points per every $1 spent. Earning points also secure progress through the levels. The maximum discount you can get is 17.5%, but there are other special bonuses for loyal players.
Gift Cards
24Lottos also offers a Gift Card bonus, which is a reward for referring friends.
You can send the registration link to a friend after you deposit funds at least once. After sending the link, they need to use it to register and deposit money, too. That will unlock the Gift Card bonus, and you'll each receive $5 free to purchase tickets at 24Lottos!
24Lottos Payment Methods
24Lottos offers all the popular payment options. You shouldn't have a problem finding your favorite. The platform supports debit and credit cards, as well as classic bank transfers. It's even possible to use cryptocurrencies, including Bitcoin, Ethereum, and Dai. 
It's worth noting that the actual methods available depend on the area. For example, M-Pesa is available only in some African countries. All the deposits are free, and the minimum amount is $1, but it's different for the withdrawals.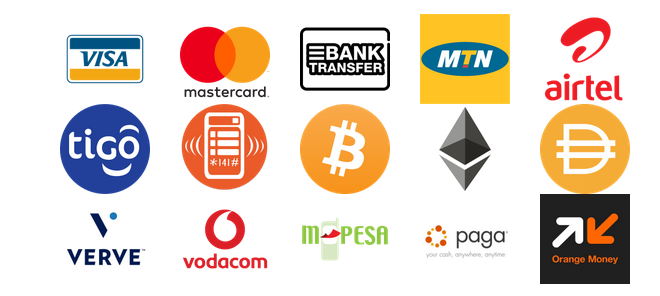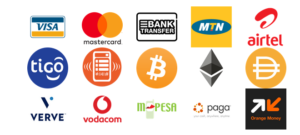 The withdrawal process is simple. It takes a couple of clicks to finalize the transaction. You can choose between mobile money and bank transfers. Once you submit a request, it will take 3-10 business days for the money to arrive. Additionally, the fee can be from $5 to $50. There's no exact information on how the required processing fee changes, except that it depends on the operator and the bank. Also, the minimum withdrawal amount is $10.
Deposit Methods
| | | |
| --- | --- | --- |
| Visa | MasterCard | Bank transfers |
| MTN | AirTel | Tigo |
| Bitcoin | Dai | Ethereum |
| Vodacom | Verve | M-Pesa |
| Orange Money | Paga |   |
Main Rules of Playing at 24Lottos
The platform isn't demanding when it comes to rules for players. However, it took all the necessary precautions to ensure a safe playing environment. Here's what you should know before joining 24Lottos:
You can't have more than one account per person.
It's necessary to meet the age requirement per your location's laws. In other words, you should be at least 18 years old to play.
The platform takes a commission for purchasing tickets on your behalf. If you win, they don't keep anything regardless of the sum.
24Lottos Jackpot Winners
24Lottos runs a transparent business. You can see that because they publish a list of all winners that ever won anything on the website. As of this point, the list exceeds 25,000 players. The information you can see includes the winning amount, date of winning, game played, and a part of the player's username to maintain anonymity. The website doesn't mention its largest wins issued, but the very fact they release the entire list publicly makes them trustworthy.
Customer Service at 24Lottos
24Lottos is a relatively new site, and we can understand they need time to optimize their services. At this point, their customer support isn't the fastest possible. You can only contact it via the form on the site. It helps to explain your problem well because the staff takes up to 24 hours to respond. Depending on the time of the day, you might receive your answer in two or ten hours. Fortunately, there's an FAQ section with answers to the questions beginners usually have.
Is 24Lottos a Scam or Legit?
24Lottos is a legitimate online lottery provider. It started in 2016, and it's based in Nigeria. The company acquired a license from the National Lottery Regulatory Commission. That confirms they comply with the relevant local laws. Additionally, the platform has 128-bit SSL encryption and secure transactions. You can relax and play at this website without worrying about it being a scam. The platform is 100% legit.
If I Win at 24Lottos, Where Does the Prize Money Come From?
24Lottos will buy tickets on your behalf. If you win, they will claim those tickets and credit the money to your profile on the site. It might happen that you win big, which requires claiming the prize personally. If that happens, the platform will contact you and help in arranging everything. So, the prize money comes from the lotteries in which you won them.
24Lottos FAQs
Can you play lottery syndicates at 24Lottos?
Yes, you can play lottery syndicates. They are only available for some games, such as Powerball. Please note that 24Lottos uses the term "Group Play," and that's what you need to select when purchasing tickets.
What currencies can you use at 24Lottos?
The default currency is USD. You can use other currencies, too. However, please note that conversion to USD will occur when depositing funds.
Can I play from any country at 24Lottos?
The only requirement is that an online lottery is legal in your location. If you don't break the local laws, you are free to join 24Lottos from any country.
24Lottos – Do We Recommend It?
There aren't many African-based online lottery vendors that offer lotto games from different continents. That's what makes 24Lottos a true refreshment on the market. The platform made sure you could play over 30 lotteries, including all major games with the most tempting prizes. You can purchase standard tickets but also try systems or join group play. 
The available deposit methods are impressive, and there's a low minimum amount. There are things that could be better, such as withdrawal speed and customer service. But despite these drawbacks, 24Lottos is worth trying. It has everything a player needs, so make sure to test it and purchase online lottery tickets today!


Why it's better than 24Lottos: A long tradition combined with a fine game selection is what makes TheLotter players' favorite. You can purchase standard tickets and syndicates.

Why it's better than 24Lottos: You can play on the go with LottoAgent. Its user-friendly interface will ensure the ticket purchasing process is simple and fast.