BOTB, short for Best of The Best, is a car drawing that has been around since 1999. It has consistently proven itself as a great place to play and win games over the internet. This platform offers weekly lotteries with premium vehicles as top prizes. Other rewards include bikes, cash, holiday trips, watches, and modern gadgets. If you want something different from the traditional lottery, you should check it out.
The concept sounds tempting, but you might be wondering if you can trust this website. Our experts reviewed every detail of this platform. Make sure to read the article before you start playing. That way, you'll know what to expect in the pursuit of your dream vehicle!
A unique playing concept different from other lottery sites
Two cars are awarded every week
Holiday trips, gadgets, and other additional prizes are available
Ticket prices suitable for every player type
Safe and secure payment methods
Quick and responsive customer support
Licensed and regulated by a reputable gambling commission
Not a classic lotto website
No information on lottery odds
Taxes and import duties if you win from outside the UK
No welcome bonus available for new players
⭐ Rating:

4.4/5

🌎 Country:
UK
📖 Ticket Scan:
Yes
💵 Ticket Price:
$2+
🖥️ Lotteries:
3+
🍿 License:
NA
🔥 Current deal:
Get 20% off!
💳 Deposit options
Visa, Mastercard, Apple Pay, PayPal, JCB
🎁 Bonus options
Vouchers, Refer a Friend Bonus, Supercharged Club
📲 Social Media Accounts
Facebook, YouTube, TikTok
💁 Customer support
Live chat, Telephone: +442073718866, Mail:

[email protected]
How to Play BOTB Online Lottery
Like other sites, you need to create an account before you can start playing their games. Your online account gives you access to their games and contains your personal information and payment methods.
Follow these steps to create an account on BOTB.
Visit the official website.
Click "SIGN UP" at the top right-hand side.

Input your email into the form. You can also join with your social media accounts.

This directs you to an information page to fill in your personal info.

Accept the terms and conditions.
Click "SIGN UP".
Start playing.
How to Sign Up and Use BOTB
Upon completing the registration, you will be immediately directed to start playing. The website will also direct you to fill in your surprise contact details so they can organize surprises for you if you get lucky in their draws. 
You can sign up and start playing by following these instructions.
Log into your BOTB account.
Pick the desired competition. You can pick between three event types and dozens of games and prizes available. Click "COMPETITIONS".

Select a car you want to play for.

Select the number of tickets you want to buy.

You'll need to play the Spot the Ball game to purchase a ticket. It involves selecting a position where the ball could be in the picture. Alternatively, the Lifestyle competition requires you to answer a question to participate.
After adding the desired tickets to the basket, head to the checkout.
If you have a voucher code, apply it. Once you enter payment details, finalize the transaction.
Wait for the competition's end time on Sunday at midnight.
The judges meet after the ticket-purchasing time expires. 
The organizers will announce the winner on Tuesday.
What Online Lotteries Are Available at BOTB?
BOTB.com offers three different competition categories. Each type offers dozens of games with different prizes. It is worth noting that the games on BOTB are better described as a game of skill than luck.
Here is a quick overview of each event class before we describe it.
| Game | Ticket Price | Prize |
| --- | --- | --- |
| Dream Car Competition | Depends on the car | Cars from luxury brands such as Volkswagen, Lamborghini, Mercedes, Porsche, Bentley, Audi, and Aston Martin |
| Midweek Lifestyle Competition | Depends on the prize | Cars, Cash, Bikes, Watches, Gadgets |
| Friday Fun Competition | £0.40 | New Kitchen, Kia Picanto, Luxury Maldives Holiday |
What Is a Dream Car Competition?
Dream Car is the main event on the BOTB.com website. The top prize is a brand-new vehicle with £50K as a bonus. These are weekly competitions; you can compete for any of the 180 offered cars. Those include Porsche, BMW, Audi, Lamborghini, and other reputable brands.
The ticket price varies based on the vehicle chosen. The minimum cost is 80p, but it can go to £5 or more. Once you purchase the ticket, you'll participate in the Spot the Ball Challenge. A weekly session ends at midnight on Sunday, while BOTB reveals the winners every Tuesday.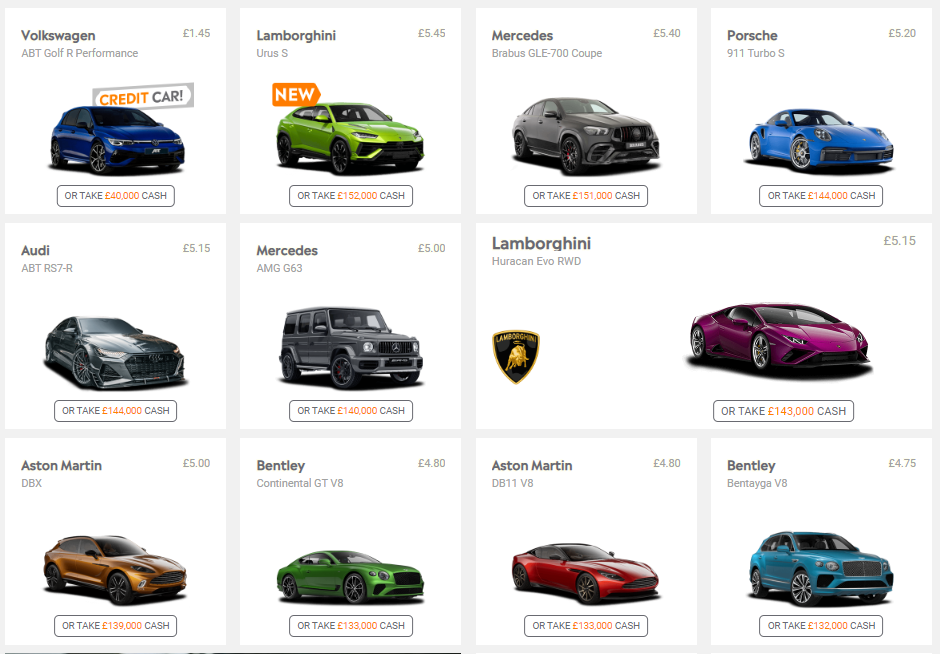 The picture below shows an example of a Spot the Ball Challenge. The player has the guess where the ball will be in the picture. The ticket that had the closest coordinates takes the win. You can find more information on the Spot the Challenge in a short video posted on YouTube by BOTB.
Midweek Lifestyle Competition
This is another draw implemented by BOTB.com. It also involves cars, but the cash boost is £2,000 in the trunk. The vehicles are less expensive the the prizes in Dream Car Competition, but they are still brand new. The tickets cost from 50p. You ]need to answer questions to win. The person with the most correct answer wins.  A single session ends at midnight Wednesday. Then the company reveals the winner on Thursday.
You can win gadgets, holiday trips, watches, motorcycles, and pure cash prizes.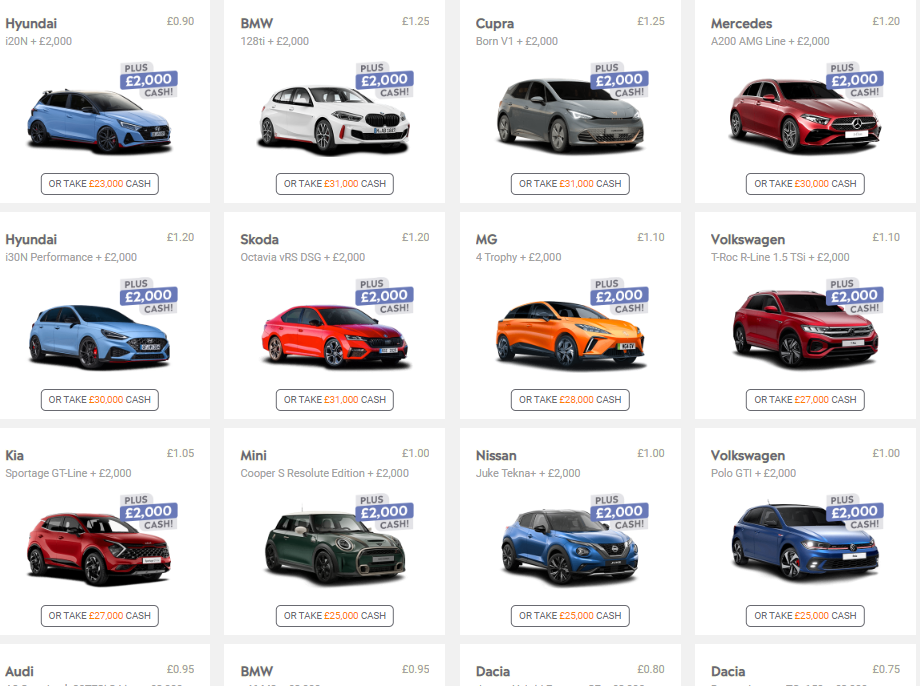 The picture below shows an example of a question in the Midweek Lifestyle competition.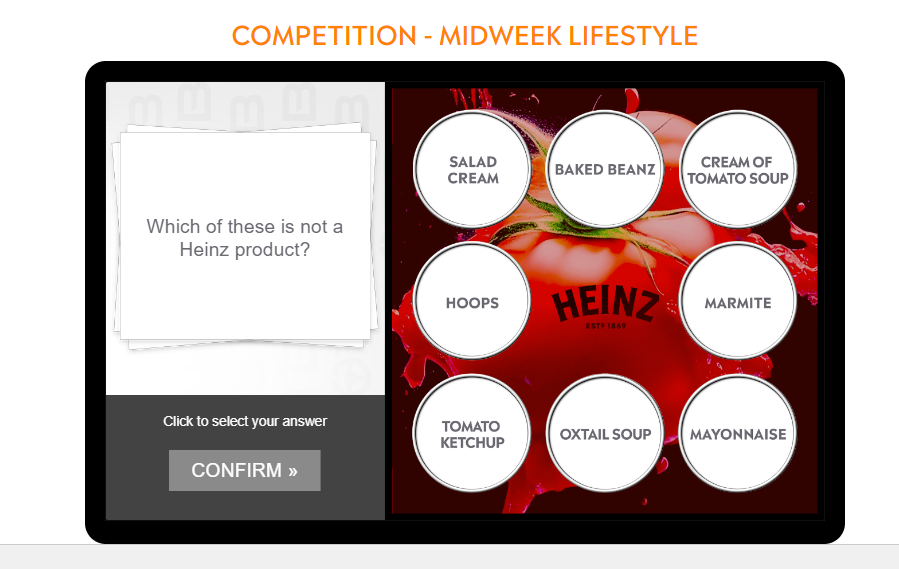 Friday Fun Competition
The Friday Fun competition is an event recently introduced at BOTB. It's a weekly session that ends on Friday at midnight. The ticket price starts at only £0.40. You can win a new Kitchen, Kia Picanto, and Luxury Maldives Holiday.
Unlike other games on this platform, the Friday Fun Competition uses a random draw.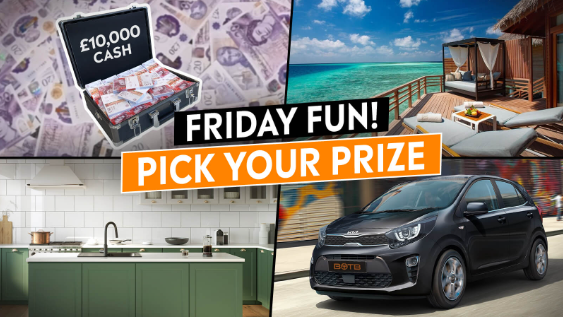 How Does BOTB Work?
By now, you already know that BOTB works differently from other lottery sites because you are playing to win cars instead of cash prizes. The game was started by William Hindmarch, a car lover, to allow people to win their dream cars for a small amount of money. Also, their games are skilled competitions rather than games of chance. The judges meet after the purchasing deadline to assess the game entries and find the person who made the most accurate match on the spot-the-ball challenge or provided the correct answer. 
Suppose multiple players choose the same point with the judge's decision. In that case, the judge decides the winner based on the selection entry.
Does BOTB Feature a User-Friendly Interface?
Yes, BOTB features a user-friendly interface. When you enter the website, a video containing slideshows of different luxurious cars start playing in the background. Scrolling below shows a preview of the most recent car winners and a look at the midweek lifestyle competition. You can also find other pages on this site relatively easily.
Even if you are a first-time visitor, you'll feel right at home on the BOTB website. The layout is clean and straightforward, which makes navigation easy. You can get basic information from the homepage and access the desired games. The purchasing process is also user-intuitive. It's easy to add items to the basket and finalize transactions.
The icing on the cake is the "FIRST VISIT" button, which immediately directs players to the FAQ section containing information on how to play the game. Everyone should be able to use and play on this website without hassle.
Major Features of BOTB
Can You Access BOTB on Mobile?
Yes, BOTB.com is entirely mobile-friendly. It has a dedicated mobile application for iOS devices. Unfortunately, it is not available on the Android operating system. Instead, you can use internet browsers to access the site. The responsive design ensures the platform is easy to use. You can open the main menu to browse the competitions or access the essential sections from the homepage.
Are There Promotions, Vouchers, and Other Deals Available for BOTB?
BOTB.com offers an option to add voucher codes during the checkout process. If you have a valid code, entering it calculates your discount immediately. It can reduce the ticket price and allow you to purchase slips more cheaply.
You can also earn the Dream Car Credits as you play. The Dream Car credit is a special bonus to reward players who compete well on their platform. You can also get Dream Car Credits by referring a friend or engaging in their social media challenges.
Payment Methods at BOTB
BOTB.com supports debit and credit cards and PayPal. The standard checkout system involves entering your card details. The transaction system uses encryption to ensure all payments and user data are secure. Alternatively, you can proceed via PayPal. That only involves confirming your transaction with login credentials, and there's no need to enter credit card information.
How to Deposit on BOTB
Follow these steps to make your first deposit on BOTB.
Make your entry into the game.
Click the cart icon in the top right-hand corner.

Click "CHECKOUT".

Fill out the form with your billing address and card details.

Click "CHECKOUT".
If you prefer to use PayPal, click "PAYPAL" to link to the payment portal.
Input your details.
Finalize the transaction.
The table below contains the available deposit methods on BOTB.
| | | |
| --- | --- | --- |
| Visa | MasterCard | American Express |
| JCB | PayPal |   |
How to Withdraw on BOTB
When you win a prize, BOTB will contact you immediately to begin the claiming process. They will deliver your car anywhere in the world to you, free of charge. However, you may have to pay import duties in your Country. If you decide to get the vehicle's cash value instead, they will begin the withdrawal process to send the money to your bank account. Winners have to provide a copy of their passport and credit card used to buy tickets. They also have to pose for photos or videos with the car.
Disqualification may occur if you do not claim your prize within five days.
Rules and Regulations in BOTB
BOTB.com offers a unique concept compared to other lotto games. These competitions have the following terms:
You need to meet the legal age requirement to play.
The maximum number of tickets you can buy for a single draw is 75.
You can choose a cash alternative to the main prize.
It's not possible to have more than a single account per user.
It's guaranteed that the company will award two new vehicles every week.
BOTB Recent Car Winners
You'll find detailed information about the winners on BOTB's website. They publish new information and photographs of the winners on a dedicated page. It takes a day or two to reveal the winner's identity. The last notable win was by Colin Davison, who won a £200,000 cash prize and a £20,000 rated luxury holiday. It's nice to see the photos of players who won with their new car. That's another confirmation you can trust the website.
Customer Support
If you need to contact BOTB, you can do that by sending them an email at info @ BOTB.com. They might even respond on the same day, especially on a business day.
Alternatively, you can call their office in London at +442073718866. The form on the website also forwards the user's messages.
Their live chat is also responsive. We tested it and got a response within minutes. We recommend you contact them during their operating hours for immediate feedback.
Is BOTB Legit or Scam Site?
Yes, BOTB is perfectly legit. The platform has existed since 1999 with plenty positive reviews. They initially focused on UK airports. However, with the perks of modern technology, their business is strictly online-based today.
BOTB.com is legit and does business by British law. Their games comply with the rules of the UK Gambling Commission. The company is registered under the number 03755182. The company also trades on the London Stock Exchange. It uses security measures to protect users' personal and financial data.
Furthermore, it offers clear rules and transparent conditions for playing the lotto. You can play safely on this platform.
BOTB Alternatives
By now, you already know that BOTB doesn't offer the same lottery service as other top international lottery sites. Nevertheless, here is how BOTB compares to top competitors in the lottery scene.
Criteria
BOTB
TheLotter
Lottoland
LottoAgent
Lotteries to Play
3
60
35
34
Ticket Price
Low
High
Low
High
Discount
No
Yes
Yes
Yes
Syndicate Play
No
Yes
Yes
Yes
Subscription
No
Yes
Yes
Yes
Payment
Visa, Mastercard, Apple Pay, PayPal, JCB
Visa, Mastercard, Skrill, Neteller, Paysafecard, Trustly, EPS, Rapid Transfer
Visa, Mastercard, Bank Transfer, Neteller, Skrill, Paysafecard, UPI
Visa, Mastercard, Bank Transfer, Sticpay, Neteller, Skrill
Welcome Bonus
N/A
Free $10 after first play
Free Euromillion, US Powerball, SuperEnalotto, and MegaMillions bets
Buy 1 and Get 1 free
Mobile App
iOS
Android, iOS
Android, IOS
Android, iOS
License
UK Gambling Commission
Malta Gaming Authority
Government of Gibraltar
Central Government of Curacao
Trustworthiness
High
High
High
High
 
TheLotter Review
Lottoland Review
LottoAgent Review 
 
If I Win at BOTB, Where Do the Prizes Come From?
The company estimates the value of cars given to winners over the years is over £52 million. It's an impressive sum for over two decades of existence. All prizes come directly from BOTB.com. It simplifies the prize-claiming process. Furthermore, the company contacts the winner shortly after they pick it. You can look forward to receiving the rewards within a week of winning them.
How and Where Do I Find the BOTB Lottery Result?
The website will contact you to claim your prize when you win the BOTB lottery. However, you can also find the BOTB lottery results on the website. Follow the steps below to view the recent BOTB lottery result.
Visit the official website.

Click "WINNERS".

Select "VIEW FULL RESULTS".
Scroll down to view lottery results.
BOTB FAQs
Can you win at BOTB.com if you are outside the UK?
Everyone is welcome to play the BOTB games. If you win outside the UK, the company will even send the vehicle to the nearest port.
How do they determine a competition winner at BOTB.com?
A team of judges meets with an independent lawyer. They oversee the team while they agree on a position for the center of the ball. The player who has the closest coordinates to that position wins. The only exception is the Lifestyle competition, where the winner is drawn randomly.
What's the lowest ticket price at BOTB.com?
You can participate in some Lifestyle events for only 15p. The cost for the Midweek and Dream Car draws could be up to five pounds or more, depending on the prize selected.
What does BOTB stand for?
BOTB is an acronym for "Best of The Best." This online platform lets you win cars, motorbikes, gadgets, and other exciting prizes.
What if I don't want the car?
BOTB allows winners to swap the car for the cash equivalent. This is a good option for people who have better use for the money or want to avoid the stress of shipping to their respective countries.
BOTB – Is It a Recommended Site?
BOTB.com isn't your ordinary lottery website. Instead, it's a platform that organizes competitions where you can win cars, cash, and other prizes. If that feels like something you would be interested in, you can trust BOTB for a superior gaming experience. The company has been around for over two decades, and they made many winners happy down the road. Although it might not be for classic lotto fans, it's still a fun game with tempting prizes!