US Powerball is the #1 lottery game worldwide. It's the most popular game in the United States and beyond. This lotto has also had some largest jackpot wins in lottery history. Those tempting prizes make you wonder if there is a guaranteed way to win the jackpot.
If you want to win the lottery, it's important to understand the game first. It's the rule that applies to any lotto, including US Powerball. We have an entire article dedicated to Powerball winning odds, but it comes down to two main numbers.
While there's no option to ensure you'll win the lottery 100%, there are ways to boost your winning chances. This guide will reveal top tips and strategies to win the US Powerball. We'll also share some expert insights from the previous jackpot winners. Keep reading to learn more about this game and how to land that winning ticket!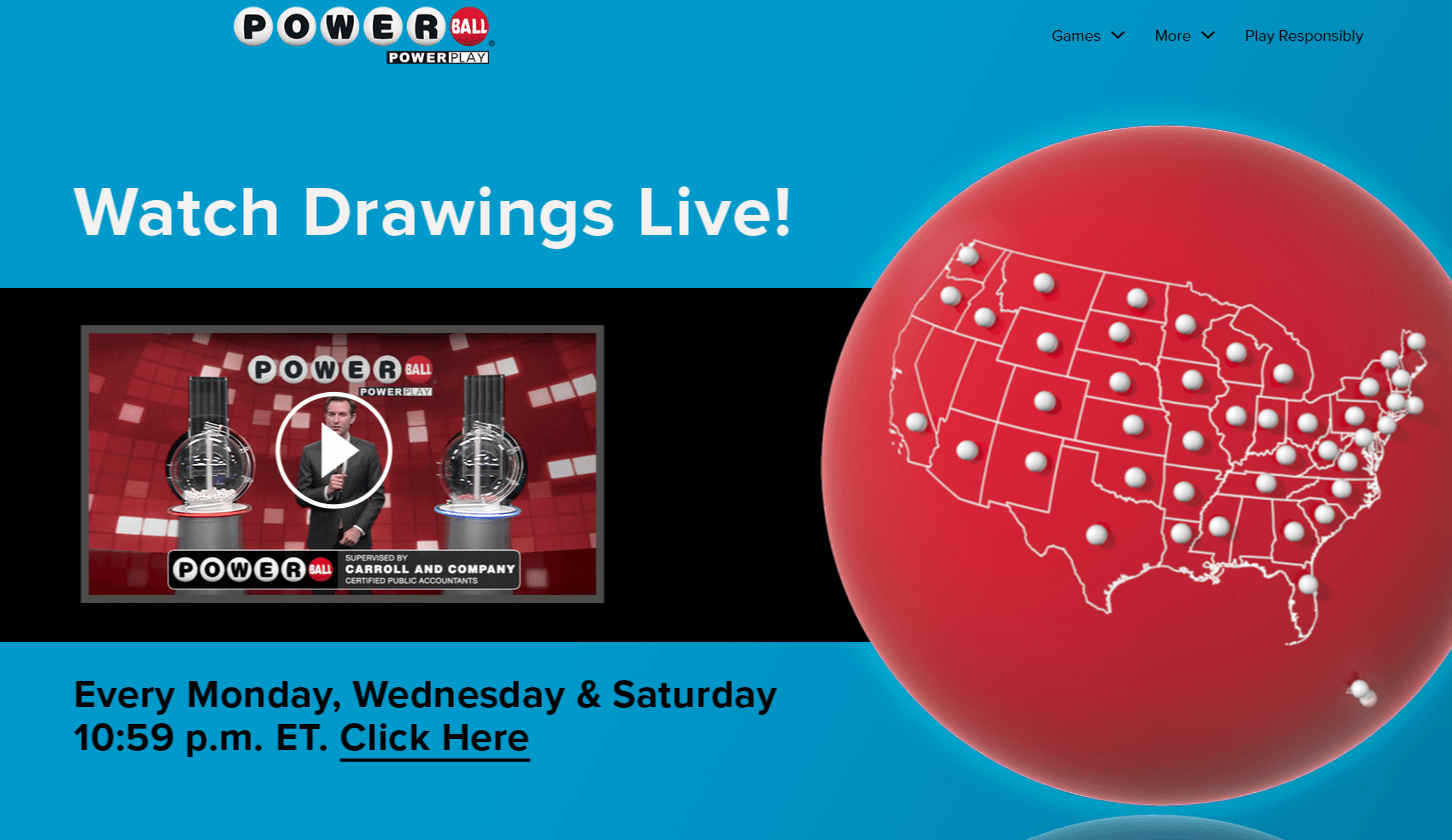 Source: US Powerball Website
What Are the Chances of Winning a US Powerball?
The odds to win any prize in the US Powerball stand at 1:24.9. The lottery has nine prize tiers, and the lowest reward is $4. As for the jackpot, the chances stand at 1:292,201,338. Those odds are among the slimmest when compared to other lotteries. It only makes sense since Powerball offers generous prizes to its players.
To have a hundred percent chance of winning the Powerball, you will need to purchase all possible 292,201,338 lottery combinations. This will amount to $584,402,676 at $2 per ticket. However, this isn't realistic because almost everyone does not have this huge amount. Furthermore, even if you have it, you would probably not spend it on lottery tickets.
Even then, buying $584 million worth of Powerball tickets has some risks. For instance, it may seem profitable, especially when the Powerball jackpot has rolled over to more than $584 million. However, you need to consider that the government may charge taxes as high as 37 percent on lottery winning. Also, if more than one person matches the winning combination, all winners will share the winnings equally. So there is no way to guarantee that you get the expected jackpot.
Despite the unfavorable odds, the best way to play Powerball is to buy tickets for each draw, employ lottery strategies, and hope for the best. The section below contains a few tips to help you win the Powerball lottery.
Use These 10 Ways to Win Powerball 
You already got the essential tip related to the importance of knowing your odds. Now it's time to learn other tips that would help to win the US Powerball. Check out these suggestions specifically tailored to this lotto:
Participate in all three weekly draws – US Powerball has three weekly drawing sessions. If you want to boost your lottery winning chances, you should ensure not to miss a single draw.
Buy more tickets for a single draw – Many jackpot winners revealed they bought more than one ticket for that draw. The math is simple – if you have more tickets, you have a higher chance of winning a prize.
Go with a balanced combination – The law of probability suggests that we should see an equal number of odds and even, as well as high and low numbers in a single session. So diversifying can be a smart way of boosting your odds to win a Powerball prize.
Think about the time when you purchase the tickets – If you plan on buying multiple tickets, think about purchasing them at different times. Don't buy them all on a single occasion, but one each day, or at least one in the morning, and the next one in the evening.
Follow the statistical trends – It's the so-called "hot number strategy." You analyze the latest draws and pick the numbers that have appeared most frequently.
Go against the statistics – Has it been a while since a particular lottery number appeared? If yes, perhaps now is the right time for it to come out from the drum.
Stick to the median value – For the main Powerball drum, the highest number drawn can be 69. That puts the median value at 69/2=34.5. Now, once you pick five numbers from the primary drum and divide them by five, that value should be as close to the median value as possible. For example, the combination of numbers 4, 18, 33, 49, and 65 gives a median value of 33.8, which is close enough to the target.
Pick 3 system – This system is the primary system in the "pick X" approach. It's attractive for newbies, while advanced players can go with Pick 4 or higher.
Wheeling systems – You'll find these systems are among the common lottery strategies for Powerball and other lotteries. US PB is suitable for key digit, abbreviated, and full-wheel systems. Feel free to experiment with the approach that suits you best.
Join a Powerball Syndicate – A Powerball Syndicate is a group of Powerball players who pool their money together to buy more tickets. This significantly improves your chances of winning because the more tickets you buy, the higher your chances of winning.
Important If you feel ready after reading the tips & strategies above to win the US Powerball, get one of the bonuses from our most recommended online lottery sites and play safe:
GET 25% OFF for any ticket!
GET 20% OFF your first order,
promo code: LOTTERYNGO
Buy 1 Ticket and
Get 2 Tickets for FREE!
Mavis Wanczyk is the proud winner of the biggest jackpot ever awarded to a single player. The grand prize she won was $780 million, although it was reduced to $336 million after Powerball taxes because she picked a lump sum payment.
According to Mavis, her winning numbers were a mix of birthdays and special family dates. It's why none of the numbers chosen were above 26. As for the special Powerball number, Mavis picked "4" as her favorite Keno number.
Marie Holmes, on the other hand, used the Quick Pick feature for selecting the numbers. Lisa and John Robinson also relied on Lady Luck when they won the Powerball jackpot.
FAQ
Can Foreigners Win the US Powerball Lottery?
Yes, foreigners can play US Powerball. If you are in the United States, feel free to head to the local vendor. And if you want to play from a foreign country, you can visit the best online lottery sites that offer this game.
How Much Is the US Powerball Jackpot?
Powerball has a minimum jackpot set at $40 million. The grand prize can't be lower than that, and there's also the rollover feature. Thanks to that, the jackpot can increase to $500 million or higher.
What Are the Latest US Powerball Results?
If you missed the draw, we have a page dedicated to the latest Powerball results. You can always check the winning numbers from the previous draw in that section.
How Is US Powerball Paid Out?
US Powerball offers jackpot winners the chance to choose between lump sum and annuity payments. Lump-sum means the entire prize is paid immediately, although the rules often lower the amount compared to the one advertised. Annuity payments imply you get yearly installments during the next three decades.
When Is US Powerball Drawing?
Powerball has three drawings weekly. The sessions occur on Monday, Wednesday, and Saturday at 10:59 PM EST.
Is There a Secret to Winning the Powerball?
There is no secret or foolproof formula to win the Powerball lottery. Every draw is random, and there is simply no way to accurately predict the numbers that will come out in the draw. However, you can improve your chances by using lottery strategies.

Can a non-US citizen Win Powerball?
Yes, a non-US citizen can win the Powerball. As a matter of fact, you do not need to be a US citizen or US resident to play and win the Powerball game. All you have to do is visit an online lottery website to play Powerball.
How many numbers do you need to win a prize in Powerball?
You need to predict one number, the Powerball, to win a prize in the Powerball game. Although the prize you get is $4, which is the lowest prize in the prize tiers. You need to match more numbers and the Powerball to win higher amounts. The jackpot prize starts at $20 million and rolls over until a winner matches all the numbers.

How much do you win If you match three numbers on Powerball?
You win $100 if you match 3 numbers and the Powerball in the draw. If you match only three numbers, you will win $7. Match more numbers to win higher amounts.
What do I win if I get two numbers on Powerball?
You win $7 if you get 2 numbers and the Powerball in the draw. If you match only two numbers without the Powerball, you will win $4. You will have to predict more numbers to win from higher prize tiers.
What's the best strategy to win the Powerball?
There is no best strategy to win the Powerball. No strategy can accurately predict the exact number that will appear in the next draw. They can only improve your chances of choosing winning numbers. Popular Powerball strategies include Pick 6, Wheeling Systems, Quick Pick, and Lottery prediction software.
What are the five most common Powerball numbers?
The five most common Powerball numbers are 1, 26, 18, 10, and 2. These numbers are the most frequently appearing Powerball numbers in Powerball history.
Do Powerball winners usually pick their numbers?
Records that 80 percent of Powerball winners used the Quick Pick options to choose their lottery numbers. They didn't choose their numbers themselves; instead, they used the Quick Pick feature to generate them randomly. However, choosing your numbers is as effective as quick pick. No method is better than the other.

How do I get a guaranteed Powerball ticket?
No ticket can be a guaranteed Powerball winner. You can only try your luck by playing your numbers and hoping it shows up in the draw. Lottery strategies can help you choose numbers with a high chance of appearing in the draw.