Was a Lottery Jackpot What This Single Mom Needed?
If anyone deserves to be a lottery winner, it's a single mom who's barely making ends meet. That's what happened to Marie Holmes in 2015 when she won the $188 million jackpot in US Powerball. Her life was exciting and filled with various events up to that point. However, that night turned it into a real rollercoaster. Check out our exciting story about this Powerball winner!
Who Was Marie Holmes Before Winning the Jackpot?
Marie Holmes is a native of North Carolina. She lived in Shallotte, which is a small town with a population of only 4,000 people. Marie was born in 1989, which means she was 26 when the big day occurred in 2015.
At the time, Holmes had four small children, and the reports indicate one of them was disabled. It was a struggle for a single mom, especially since she changed jobs frequently. Marie worked in Walmart, McDonald's, and similar facilities, which means her income wasn't high. Her son developed cerebral palsy, which is a permanent disorder that required Holmes to stay home to care about him.
Despite everything, Marie tried to stay positive. In February 2015, she even gave her mom $15 and told her to buy US Powerball tickets.
How Much Did Marie Win?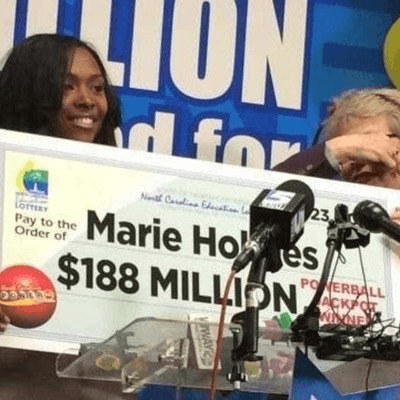 Source: Living Magazine
The drawing occurred on the 23rd February 2015, and the winning numbers were 11, 13, 25, 39, and 54. Marie and her mom didn't use any lotto strategy. Instead, they trusted the Lady Luck will smile on them, so they went with the Quick Pick function. It randomized the numbers and nailed the winning combination.
Although the total jackpot was $564 million, three winners split it, and Marie was among them. Her portion was $188 million, which was roughly halved because of the taxes and the fact she picked a lump-sum payment. Despite that, it was still around $90 million, which is money that Holmes has never seen in her life before.
It was a huge milestone and a sign everything is going to change. However, that didn't necessarily mean everything will change for the better.
More Details About Marie Holmes' Background Story
Marie lived in a small town where everybody knew what was going on in other people's lives. That's how the town knew her father served five years in prison for drug-related offenses at the time Holmes won the US Powerball.
Fortunately, Marie's mother helped a lot through difficult times. She was even the one that purchased the Powerball tickets after Marie gave her the money. We don't know if it's an accident that Fontella, Marie's mom, was going to church on that day.
Marie Holmes has had another important figure in her life. Lamarr McDow, also known as Hot Sauce, has already been with Marie two years at the time. He's stayed by her side through some tricky times, but better days were around the corner.
How Did Marie Find Out That She Won?
It wasn't until the next orning when Holmes realized she had all the numbers on the ticket. She talked about how she started screaming, and her children just observed. They weren't old enough to understand, but her mom was happy for them, too.
The entire family lived in a trailer at the time. The big win meant that Marie and her four children are moving to a better home. Everything seems like in a movie, but the surprises were yet in store for Marie.
What Did Marie Holmes Say About Winning the Jackpot?
It was only natural to assume that Marie was happy, but also afraid, confused, and surprised. She admitted that she didn't know what to do with the money. There were numerous routes available – going back to college and getting her degree, traveling the world, etc.
However, there was one thing Marie was certain of at that point. She wanted to give back to the community to ensure people in her town live better than they did before she won the money. Holmes started with that plan immediately and donated $680K to the Pleasant Hill Missionary Baptist Church in her hometown.
Upgrading from a Trailer to a Five-Bedroom Home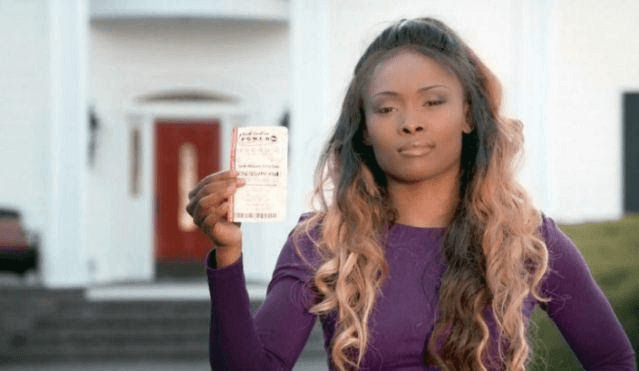 Source: Yahoo News
If you lived in a trailer and got a lottery jackpot, it's only normal that the priority would be moving to a better home. That's what Marie Holmes did when she purchased a gated property. She stayed in her hometown Shallotte but moved to a better neighborhood. The information indicates she paid $350K for a five-bedroom house for her family.
The problem was that they were new in that neighborhood and the only black family to live there. Marie moved in with her children, but also her boyfriend Lamarr McDow. He discovered in an interview that a neighbor planted a security camera to follow their movements. Marie Holmes mentioned on multiple occasions that it felt like they were under a microscope.
Cops Raided Marie's Home
It was about six months after winning the jackpot when somebody tipped the police that they sensed marijuana smell coming from Holmes' property. The local police acquired a warrant, and they found a small party inside the home. After a detailed search, the police found paraphernalia and marijuana.
The problem with marijuana is that it's illegal in North Carolina. It's one of only eight states where you can't use cannabis legally, which was a bit of bad luck for Lamarr and Marie. The police charged them for drug possession, but that was the least of their problems.
Lamarr McDow Had Been Arrested Before!
It was November 2014 when Marie's boyfriend was arrested. According to the police report, Lamarr and his partners had no less than 1,600 heroin bags in their possession. Now, it doesn't take an expert to understand that's a huge quantity of this drug, and having more than 28 grams on you could lead to up to 225 months of prison time.
Lamarr was in jail when Marie Holmes won the jackpot. However, once she got the money, Holmes bailed her boyfriend out, and for a sum of $3 million dollars. It's another proof of how serious Lamarr's crime was.
However, that also means Lamarr couldn't have any firearms on him. Once the police found a firearm when they raided Marie's new home, he ended up in jail again. The new bail was doubled and Holmes paid it once again. At that point, there were $9 million paid only for Lamarr's bail, and that's over 10% of the winnings.
How a Pastor Sued Marie
Marie donated a huge sum to the local church, which implies she is quite religious. That's why it's not a surprise that pastor Kevin Matthews visited her home in Shallotte occasionally. However, the pastor had an entirely different plan in mind. He claimed he dreamed about establishing a retreat center and was discussing with Marie how she could finance it.
According to what Matthews said, she agreed to donate him $1.5 million while they were discussing the project. However, Marie didn't seem so fond of that idea, and the pastor realized she won't give him the money.
The pastor resorted to extreme measures – he revealed he is suing Marie for $10 million! According to him, Marie made him a promise and refused to fulfill it. Additionally, Matthews claimed how he is in depression and going through emotional turmoil because Marie backed out of the deal. The pastor already made arrangements for that project because he believed he'd be getting the money.
A Lawsuit That Escalated Quickly
It didn't take a lot of time for the public to discover the pastor's lawsuit. People on social networks criticized the pastor and claimed he was blackmailing Marie. Holmes appreciated that she could count on Lamarr because he was out of prison (after she paid the bail).
Now, let's fast forward to 2016. Lamarr might be out, but he now had an ankle bracelet, so police could monitor his every move. He even opened an auto repair shop, and it was Marie who sponsored the opening. It was all an idea to move things in the right direction, and the police allowed him to leave home for work.
Lamarr's staff counted 11 people, and there couldn't be any guns or drugs on the premises. However, it was in December 2016 when Lamarr moved out of the allowed zone of moving. The authorities now discovered he was a part of an illegal street racing scheme. However, McDow claimed that he had to take his pickup and finish a work-related errand.
The police didn't believe that but instead continued the good practice of increasing bail. It was now $12 million!
The Public Directed Their Rage at Lamarr
It seems that the public has been fond of Marie all this time. After criticizing the pastor, they were now displeased with Lamarr. His pictures of diamond and gold jewelry didn't help. Although he was with Marie before she won the jackpot, they raised the question if he stayed with her because of the money.
The couple didn't pay for the bail at this point. Instead, Lamarr agreed to spend seven years in prison in a plea deal. If all this was exciting, let us tell you this is not the end of the story!
Who's Better at Fixing Lives Than a Life Coach?
Source: OWN
Marie already earned her place among the most famous lottery winners. However, her popularity was about to grow even more because she signed up for a TV show.
The US reality show Iyanla: Fix My Life involves a life coach who works with various people to improve their lives and get them in order. Marie signed up for the show, but she was in for a hell of a ride.
Aside from everything going on in her life, Holmes discovered a new piece of information. Marie's mother revealed she didn't use the Quick Pick feature for the numbers. Instead, she combined the birthday and age of Marie's brother who passed away. That led to some people thinking that it was Marie's mother who had the right to the money because she picked the winning numbers.
Final Thoughts – Where Is Marie Holmes Now?
According to the latest information, Marie's still in Shallotte. However, her mom moved to Seattle with her children. She's now taking care of them because Marie's lifestyle isn't suitable for caring about kids. Although she didn't want to do it in the first place, Marie posted the $12 million bail for Lamarr to get him out of prison once again.
But let's end this story on a cheerful note. Once she won the lottery, Marie established a foundation. Carmel Wheaton, Marie's aunt, has been in charge of the foundation. The two women made an agreement that Holmes would invest $9.7 million in the foundation, and she did that all the way in 2015.
Ever since then, Marie's money has been helping people in need. That includes families who received school supplies, toys, and other vital items. Marie might not have made smart moves for herself, but nobody can say she hasn't contributed to the community!
Are You the Next Lottery Winner?