From Modest Winners to Owning a Private Lake
Lisa and John Robinson had one of three winning tickets that claimed the largest jackpot in the US Powerball history.
They appeared on Today show even before they claimed the prize, and they claimed how they wanted to continue living their normal life. Here is where they are today and what happened after winning the jackpot!
How Much Did the Robinsons Win?
Let's get our facts straight first; we all know US Powerball is a game where the jackpot has a rollover feature. It starts at $40 million and grows until someone wins it. It never happened that it reached $1.58 billion before January 2016. The entire country went nuts with purchasing the tickets because it was a matter of time when the record-breaking prize will be awarded.
The fantastic feat finally came, but there were three winning tickets instead of one! That's a huge amount of money, so it was only fair to have multiple winners, and the Lady Luck arranged it.
Lisa and John Robinson were owners of one of those tickets. Their prize was $527.7 million if you go with yearly installments, but there is the alternative of the lump-sum payment. The Robinsons agreed to take that option, which is how their price was decreased to $327.8 million.
The good news is that Tennessee doesn't have a lotto tax policy, but the federal tax is still 25% for such large amounts. Once they paid the taxes, Lisa and John took home $245.85 million.
How Did Lisa and John Find Out They Won the Money?
Source: CBS News
Although you buy the ticket hoping you'll be the jackpot winner, most of us don't put high hopes on it. It was Lisa Robinson who was dreaming more than John about this big win. That's how she ended up calling her husband while he was returning from work that day.
John revealed he was feeling tired and didn't feel like stopping. However, he agreed to do that as a favor to Lisa since there's probably not much he wouldn't do for his wife. Furthermore, John didn't buy one, but four Powerball tickets.
He used the Quick Pick option, and one of the tickets had the combination "4, 8, 18, 27, 34, and the PB number 10." Once John had returned home, he gave all tickets to Lisa and went to bed. He wasn't feeling well, but she stayed up and watched the draw.
Lisa was thrilled they turned out to have the winning ticket and woke up John immediately. The couple spent a sleepless night while thinking about what to do with the money.
In the morning, John called their daughter Tiffany. He wanted to tell her the news in person, so he asked her to buy some pills because he "wasn't feeling well." Unfortunately, the plan didn't work out because Tiffany sent someone else that they, so John had to settle for letting her know over the phone.
Special Guests on the Today Show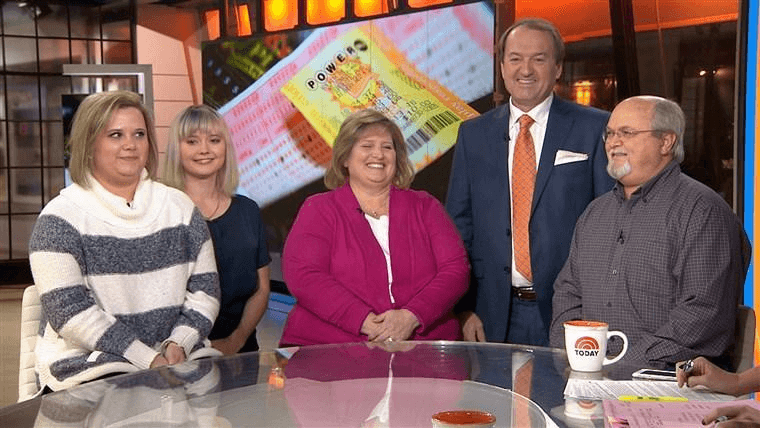 Source: Today
Lisa and John Robinson wanted to do everything by the book. They were living in a small town in Tennessee called Munford. The location has a population of about 5,000, so it's safe to say all the neighbors knew the Robinsons.
The first thing they did once they won the lottery was to call a friend. It was that person who recommended a lawyer called Joe Townsend. He's from Memphis and is a specialist in taxes and estate planning. The lawyer made a surprising suggestion that they reveal themselves to the whole country. Furthermore, he said it should be on the Today show.
Townsend admitted he is a big fan of the show, and he and his daughter also participated in the Today section dedicated to the Robinsons. That begs up the question if it was the right thing to do or they just wanted to show up on TV.
Either way, the Robinsons ended in the Today show. That confirmed their spot among the most famous lottery winners. They revealed many interesting details there, including that they still haven't claimed the winning ticket! That's because they had to go to the local lottery office in person, and they still didn't have the time to do that.
Apart from that, Lisa and John Robinson planned to continue with their "normal lives." However, it's impossible to avoid the huge win to affect them in multiple ways.
Lisa Wanted to Go Back to Her Job, but…
Lisa Robinson revealed on Today that she had been working in a dermatologist's office. She even called her boss live to tell her she's coming on Monday and reveal she won the prize. We don't know if that's because she went live on TV or she won huge money, but things weren't the same for Lisa once she went to work.
She revealed coworkers were looking at her differently, which is why she eventually decided to quit. The problems continue in Munford, the small city in Tipton county. Although the Robinsons only wanted privacy, people often came to ask them for money. They also received numerous letters where people asked for cash.
And some neighbors had good things to tell about the Robinsons. They claimed there's no better fit to win the jackpot than Lisa and John. The Robinsons paid off their loans and returned their daughter's student loan. They also gave generous money to the church and had plans to stay in Munford.
However, they felt it wasn't the best place for them anymore. That's why they decided to splash their cash on a ten-bedroom home! That was a huge change, but it's no less than what a Powerball jackpot winner deserves. The estimations are they paid $6.2 million for the property spread on 320 acres, and that includes a private lake.
Final Thoughts
Lisa and John Robinson tried to be modest when they won the Powerball lottery. However, it didn't take long to realize they deserve to spend money on themselves and get a taste of a luxurious life. That's how they ended up in a real mansion away from the small city where they lived before that.
The Robinsons fired their lawyer for making them appear in Today's show. These days, the only thing they need is privacy, and it seems they found their peace and are now enjoying life.
Are You the Next Lottery Winner?