Ladbrokes has a rich history as it's a company whose roots go back to 1886. Although it was focused on gambling and betting, it also owned the Hilton Hotel and offered exclusive clubs throughout the UK. Today, the company's online platform also has a dedicated Ladbrokes Lotto section. If you are a lottery fan, you might be wondering if it's worth trying. Our experts conducted a detailed review, and here is whether you should trust this site!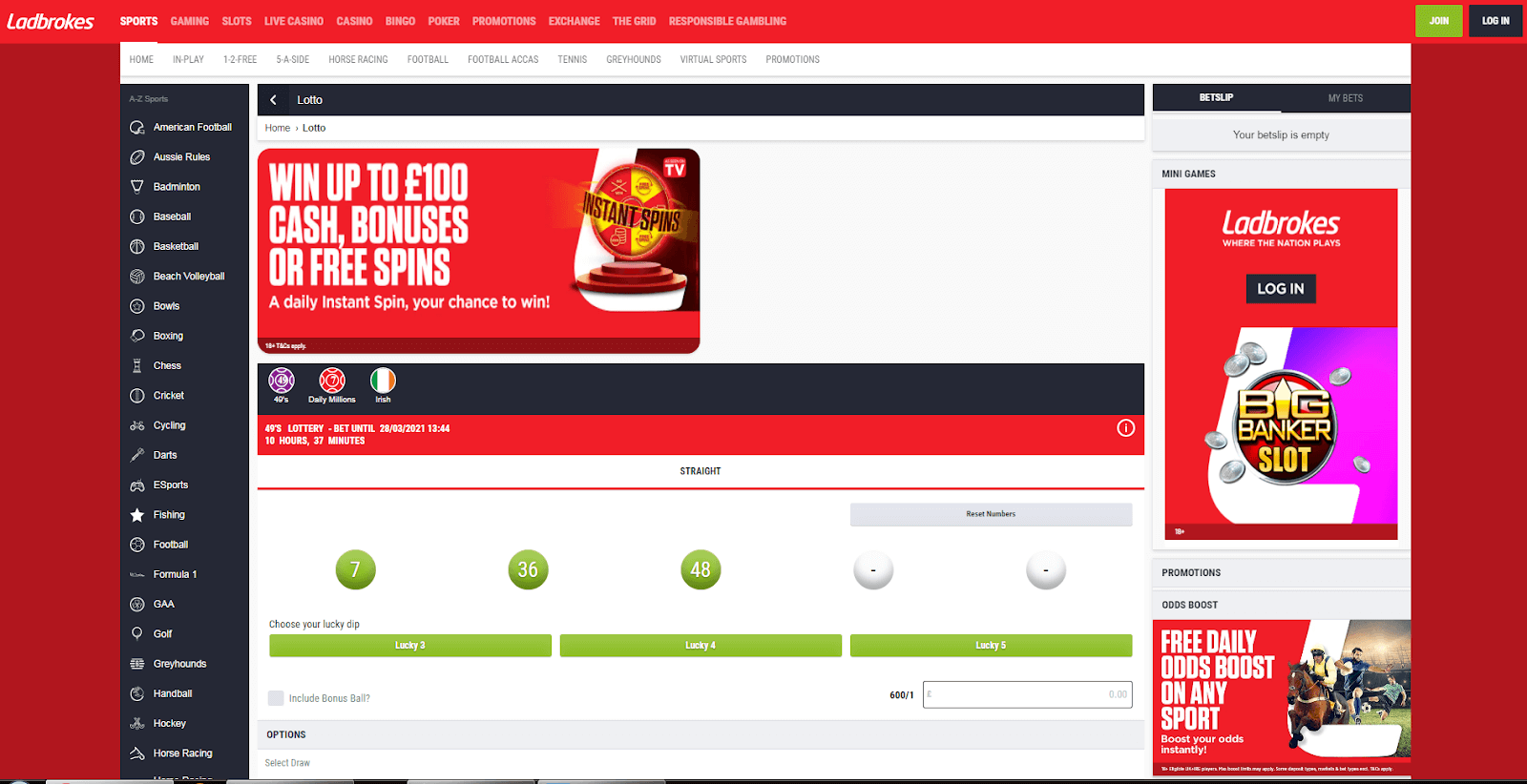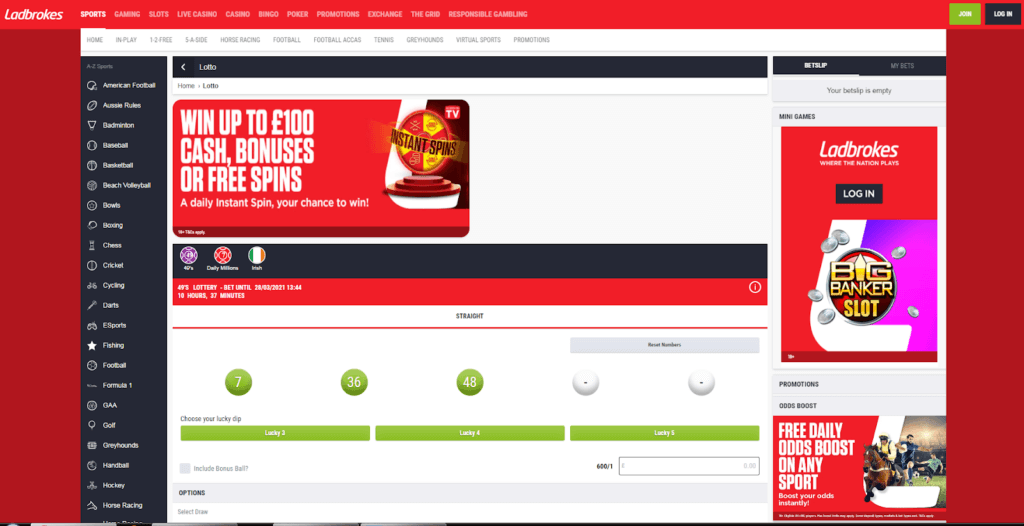 English, Deutsch, Irish, Swedish
Ladbrokes Lotto Pros & Cons
What Online Lotteries Are Available at Ladbrokes Lotto?
The basic requirement for a lottery player is that the selection of lotto games is sufficient. Ladbrokes is a UK-oriented website, so all lotteries offered come from this region. You can enjoy the standard Irish Lottery but also try its Daily Millions variation.
If you feel like trying something different, give a chance to the 49's Lottery. It's a special lotto with two daily draws and a 6/49 single-drum concept with a bonus number. The drawing frequency and affordable ticket prices make it particularly attractive.
You can check an overview of the available lotteries in the table below.
How to Use Ladbrokes Lotto
Check out these quick steps to use Ladbrokes Lotto:
Register an account. It only takes several minutes and is completely free.
Deposit funds to your account. You'll need cash in your profile balance to place lotto wagers.
Pick the desired lotto and wager. Start by choosing the preferred game and then place a bet. You can bet on guessing up to five numbers in a single draw correctly. The concept is a bit different than usual but rather exciting. It's possible to use a Lucky Dip feature to randomize the numbers.
Finalize the purchase. You place the bet and wait for the draw results. If you won, the funds automatically appear in your balance shortly after the session.
Quick Guide to Registering at Ladbrokes Lotto
You can see the Join button at the top-right corner of every page. Once you click it, it will take you to the Registration page. Here is how the form will look:
Please note that only users from several countries are welcome to play Ladbrokes lotto. That includes the United Kingdom, Gibraltar, Argentina, Croatia, New Zealand, Luxembourg, Ireland, and Belarus. You can also pick between seven different currencies, including but not limited to GBP, USD, and AUD.
The next step involves providing your personal details:
Please note they should be valid since you might be required to pass identity verification.
Finally, you should provide relevant contact details.
It might seem Ladbrokes is asking too much, but this is a reliable platform that follows UK laws. That means they'll keep your information safe. These are merely mechanisms against money laundering.
The Other Games You Can Play at Ladbrokes Lotto
Ladbrokes offers an all-around betting and gambling experience. If you get tired of lotto, you can try the following games:
Sports wagering – the operator covers everything from popular events to not-so-famous disciplines. You can bet on Premier League in football or try your luck on handball or even fishing.
Horse racing and greyhounds – if you are a fan of races, you'll love these markets.
Virtual sports – are fast-paced events that guarantee plenty of fun.
Casino – all casino games like slots, roulette, and blackjack are present on the site.
Is Ladbrokes Lotto Mobile-Friendly?
Ladbrokes Sports Betting is an app that you can download for both Android and iOS. All it takes is to head to the respective app store and install it on your device for free.
If you don't like the idea of installing this software, you can also visit Ladbrokes via a web browser on any device. Enter the URL of the operator's site and log into your account to play the lotto and other desired games.
Are There Bonuses and Promotions at the Ladbrokes Lotto?
There's no specific bonus for lotto games at Ladbrokes. However, new players will appreciate the boost they receive on their first deposit. If you bet £5 on sports after signing up, you'll receive four free bets.
Players who appreciate greyhounds and horse racing will appreciate bonuses for those events. Casino fans will find free spins and other promotions for slots and table games. Although there's some room to promote lotto play, in particular, you'll still appreciate the general bonuses offered by Ladbrokes.
Payment Methods at Ladbrokes Lotto
Ladbrokes Lotto seems fair to its users when it comes to the payment process. For starters, they offer multiple deposit methods, and all popular alternatives are covered. The actual options available might depend on your location. However, the minimum deposit is usually £5, which is quite low and affordable. The only exception is £10 if you plan on adding funds via PayPal.
As for the withdrawal process, there's no unnecessary delay from the administrators. They'll process the request as soon as possible. The minimum is usually £5, although it can be lower if you use The Grid. However, that requires contacting customer support. E-wallets take only hours to finalize the transaction, while you might wait up to several business days for other methods. You can use additional payment options for withdrawals outside of the United Kingdom, such as Skrill and MoneySafe.
Deposit Methods
| | | | |
| --- | --- | --- | --- |
| Apple Pay | Mastercard | Visa | PayPal |
| Paysafecard | Maestro | Trustly | Fast bank transfer |
| EcoPayz | Grid |   |   |
Ladbrokes Lotto Terms and Conditions
Ladbrokes has some specific terms and conditions for its lottery draws. Here are the details you should know:
It's possible to play wagers that predict a single ball, two balls (double), and all the way up to five balls (five-fold).
The odds depend on the wager you placed. The best payment odds are for guessing five balls in the 49 Ball game – you receive 150,000/1 for nailing that bet. As for a single-ball payment, it varies from 3/1 to 5/1, depending on the lottery.
The maximum payout is £100,000 for the 49's Lottery and £500,000 for the Ireland Lottery,
If a draw gets canceled, your bets will stay active for the following drawing session.
Ladbrokes Lotto Customer Service
The website has a comprehensive help section that answers the most common questions users have. Once you head to the contact page, you should pick a relevant category. Ladbrokes FAQ will offer answers to common topics in that category and an option to contact customer service if you need extra help.
Agents are available via live chat, e-mail, or social networks. Twitter and Facebook are networks where you can look for staff members. Although the agents respond quickly, it's still the fastest to use the live chat feature.
Is Ladbrokes Lotto Legit or Scam?
Everything on the site points out that Ladbrokes Lotto is legit. The company behind the platform is LC International Limited. It acquired a gaming license from the Government of Gibraltar. You'll also find it's dedicated to your privacy and protecting sensitive user information.
The operator offers equal conditions for all players and guaranteed payments. It also has a long tradition with decades of gambling and betting. It's another reason to completely trust this platform.
Ladbrokes Lotto Verified Winners
As a popular lotto and sports betting platform, Ladbrokes has numerous winners daily. That's why they don't publish winner names regularly. However, the company paid millions of pounds to lucky players in the past.
For example, we found a report that a user won £2.6 million in a single spin in Ladbrokes casino. The platform paid it quickly and without any problems. Since they paid out such a large prize, there's no dilemma that you'll receive any win you qualify for at the site.
Ladbrokes Lotto FAQ
Is Ladbrokes Lotto Legal?
Yes, it is perfectly legal since it's a legitimate business. The platform has a gaming license and a long tradition, so you can rest assured it's safe.
Does Ladbrokes Lotto Support Syndicates and Bundles?
No, it doesn't seem that this type of playing is available at Ladbrokes Lotto. However, you can try the Lucky Dip random feature for all available lotteries.
What Currencies You Can Use at Ladbrokes Lotto?
You can use AUD, CHF, EUR, USD, GBP, NOK, and NZD. That makes a total of seven currencies available, which is an impressive selection.
Ladbrokes Lotto – Is It a Recommended Site?
We have to be honest and say that Ladbrokes Lotto could offer more lottery games in its library. However, they have multiple daily draws of the 49's Lottery plus a couple of more additions. It should be sufficient if you are a newbie or looking for a website that offers lotto but also sports betting and casino games.
Ladbrokes is an all-around gaming platform that's reliable and easy to use. The layout is intuitive, and the operator supports playing on the go. Ultimately, Ladbrokes Lotto can be a wise starting point if you are looking to try something new. Their unique approach to guessing a specific number of balls in a draw is innovative and intriguing to try!
Ladbrokes Lotto Alternatives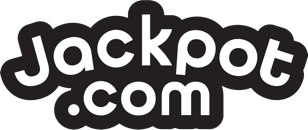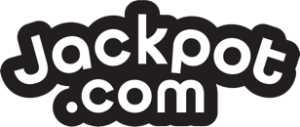 Are you looking for an excellent experience of playing lotteries online? If you'd like an easy-to-use interface, Jackpot.com is a viable option as it supports faster loading times. It has a wide range of lottery games selection, including lottery subscriptions for multiple draws.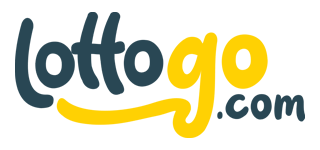 LottoGo is your destination if you like lottery syndicate play. It offers more than 18 games and a specialized iOS app. On top of that, it's an all-around gaming platform. That means you can enjoy slots and casino games apart from the lotto. The entire process of using the site is incredibly intuitive.

William Hill Lotto and Ladbrokes share a lot in common. For example, you can play 49's Lottery on both platforms. They are also both primarily wagering sites. However, the major difference is that William Hill offers some additional lotto games. These include Polish Lotto, German Lotto, French Lotto, etc.