Hit or Miss

(Canada) Lottery Results & Winning Numbers
Latest

Hit or Miss

Winning Numbers & Jackpots
| | | |
| --- | --- | --- |
| | | |
| | | |
| | | |
| | | |
| | | |
| | | |
| | | |
| | | |
| | | |
| | | |
Hit or Miss

Hot & Cold Numbers
Show Results From Last
Draws
Hit or Miss

Quick Pick Numbers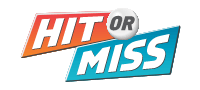 Next Draw
Wednesday, May 31, 2023
Hit or Miss Prizes and Odds
Some lotteries can bring you a tidy sum even if you match… nothing! The list of such games is rather short, and Hit or Miss, played across Atlantic Canada, is one of them. An unusual game structure, the opportunity to rely on fate, and winning chances at 1 in 26 are the features thousands of players just can't resist!

| Match | Winning Amount | Odds % |
| --- | --- | --- |
| 12 | $250,000 Jackpot (fixed) | 1 in 2,704,156 or 0,000037% |
| 11 | $1,000 | 1 in 18,779 or 0,0053% |
| 10 | $25 | 1 in 621 or 0.15% |
| 9 | $5 | 1 in 56 |
| 3 | $5 | 1 in 56 |
| 2 | $25 | 1 in 621 or 0.15% |
| 1 | $1,000 | 1 in 18,779 or 0,0053% |
| 0 | $250,000 Jackpot (fixed) | 1 in 2,704,156 or 0,000037% |
If you've been dreaming of a prize for a long time, don't miss this chance!
Join engaged players in
Canada
and follow our
tricks on how to win the lottery
.
Hit or Miss Instant Draw Prizes and Odds
An Instant Draw is a classy feature that takes place when your ticket is printed. If some of your numbers match those generated by the computer, you get an amount that may be added to your Main Draw winnings! As for lottery odds, in this case, they are considerably higher and are estimated at 1 in 4.54.

| Match | Winning Amount | Odds % |
| --- | --- | --- |
| 12 | $25,000 | 1 in 2,704,156 or 0,000037% |
| 11 | $1,000 | 1 in 18,779 or 0,0053% |
| 10 | $25 | 1 in 621 or 0.15% |
| 9 | $5 | 1 in 56 |
| 8 | $2 | 1 in 11 |
| 4 | $2 | 1 in 11 |
| 3 | $5 | 1 in 56 |
| 2 | $25 | 1 in 621 or 0.15% |
| 1 | $1,000 | 1 in 18,779 or 0,0053% |
| 0 | $250,000 Jackpot (fixed) | 1 in 2,704,156 or 0,000037% |
There are no multipliers that can increase your prizes within the Main or Instant Draw. However, you may still add a couple or even several hundred Canadian dollars to your prize if you opt for a TAG. This unique feature offered by the ALC implies a kind of extra draw with the formation of a six-digit number. If your numbers match some of the digits in the exact order, a big or small extra win may occur!

| Match | Prize Payout |
| --- | --- |
| 6 | $100,000 |
| Last 5 digits | $1,000 |
| Last 4 digits | $100 |
| Last 3 digits | $20 |
| Last 2 digits | $10 |
| Last 1 digit | $2 |
To increase your winning chances, learn more about lottery combinations and decide on the number of tickets for the draw. Our lottery odds calculator may help you find the proper answer.
Hit or Miss Drawing Schedule
You will never miss the Hit or Miss drawings, as they are held every day, from Sunday until Saturday! All you need to do is work on your lottery strategy and plan all the plays you will enter. As the numbers are drawn at night, it will not interfere with your daily routine!

|   | Every Day |
| --- | --- |
| Draw Time | 11:30 p.m. (Atlantic Standard Time) |
| Sales Stop | 11:30 p.m. (Atlantic Standard Time) |
The Biggest Hit or Miss Winners and Jackpots
Though the information about the winners who hit over $10,000 is public knowledge in Atlantic Canada, there are not many stories released on the official site. The latest is about Denise Everick-Moore, a lady from Timberlea, Nova Scotia. She managed to hit the Instant Draw top prize and a bit more, so she became the owner of $25,004 on May 2, 2023.
To get more inspiring stories, read about lottery winners who are still rich.
Hit or Miss Rules in Canada
Hit or Miss is the game overseen by the Atlantic Lottery Corporation. This organization, founded in 1976, is aimed at providing responsible lottery products in four provinces of Canada, including New Brunswick, Newfoundland and Labrador, Nova Scotia, and Prince Edward Island. Though this very lottery obeys some common ALC rules, it has its own peculiar features:
The minimum legal gambling age for this game is the same as established across Atlantic Canada and equals 19.
Here, a rather unusual 12/24 matrix is offered.
You win by matching 12, 11, 10, 9, 3, 2, 1, or none of the numbers. 
The biggest prizes are implied for hitting 12 or no numbers, and they are rather considerable. In fact, all the winnings are fixed.
Your numbers are played within two draws, which are Main and Instant. So, you can win twice!
You can also opt for a TAG draw to win extra prizes.
There are seven Hit or Miss plays per week.
Hit or Miss is an Atlantic Canada-only game, and you must stay within its jurisdiction to buy tickets and play.
Unlike some other ALC games, this lottery is not played online. You must find a retailer to try your luck.
The rules of the game imply the following actions:
Find an Atlantic Lottery retailer nearby to ask for a play.
Wait until the computer picks 12 of the 24 numbers for your game. You will be offered three selections per play.
Mark the TAG option to enter the special draw. There are 10 TAGs available to you on each ticket.
After that, your ticket will be printed, and you will enter the Instant Draw. Check how many numbers are matched and what prize you hit.
Take your ticket home and be ready for the Main Draw which is about to be a win!
When the draw is over, you will see the results on the ALC's official website or in the mobile app if you download it. Besides, our Hit or Miss page will show the winning numbers as well!
Canada Hit or Miss Payout and Taxes
Winning Hit or Miss is fun, just like any other lotto! If it happened to you, you must claim the lottery prize within 365 days, and the collecting options are rather distinct; just choose the most convenient one.

Amount
How to Claim My Hit or Miss Prize in Canada
$1 – $250
The smaller amounts can always be collected at participating Atlantic Lottery retailers. However, some locations go bigger and may even claim prizes of up to $500 or even $999! Contact your retailer to ask about it if you are going to claim the amount.
$250-$9,999

The most convenient ways to get these winnings are to turn to any Bank of Nova Scotia (Scotiabank) in Atlantic Canada or just claim them in person at the Atlantic Lottery's Head Office in Moncton, New Brunswick. For this, just submit the online prize claim form and get your payout in 14 days.

If mailing, please provide some papers:

your winning ticket (make copies of both sides for your record);
a copy of your primary ID or two copies of your secondary ID;
any document or a note with your current address, phone number, or email to contact you just in case.

Then, envelope all this to send to

PO Box 5500,

922 Main St.,

Moncton, N.B., E1C 8W6

The turnaround will take about 6–8 weeks, so collecting your winnings via online claims is faster and more effective.

$10,000 and over
If you match 12 or none of the numbers in any Hit or Miss play, the claiming order will be different. Please call 1-800-561-3942 for further arrangements.
True gamblers like to play in Canada, as there are no taxes on the lottery prizes. However, they must be reviewed on the Family Responsibility Office request, and if you owe any care child support, it will be subtracted from your prize of $1,000 and over.
Things to Know About Hit or Miss in Canada
A Hit or Miss entry that implies three-number picking will cost you $2. Add another $1 if you want to enter a TAG draw.
The computer chooses the winning numbers for this game. You can't mark them on your own.
You will not get any prizes if you match 8, 7, 6, 5, or 4 numbers in the Main Draw. Still, the Instant Draw gives more opportunities, as there are prizes for 8 and 4 numbers matching.
Though the lottery is not available online, you may like other games on the gambling sites that we highly recommend.
Your ticket needs verification before you submit a claim. However, you can collect your prize online only if you do it on the official site or via the ticket checker. If you do it in the terminal, the option is barred, and you must contact the Customer Care Center at 1-800-561-3942 to set your further steps. 
In the United States, there is a similar lottery. It is called All or Nothing and is played in Texas and Wisconsin.
Advertisement
Note: The lottery results on Lottery n' Go are not official. When playing the lottery, it is always advisable to verify your results with an official lottery agent before taking any further action. This is to ensure that you have correctly interpreted the results and that you are not about to make any rash decisions based on incorrect information.
We're doing our best to provide updated results every 1h. If you found any mistake, please report here.