A Young and Wise Man Who Won $450 Million Jackpot
You can employ hours finding the right lottery strategy, but in the end, it all comes down to luck. If you don't believe that claim, you can ask Shane Missler. He won a huge Mega Millions jackpot by using a Quick Pick feature when purchasing tickets.
His story is filled with social media controversy and trying to do the right thing. Check out more details about Shane Missler!
Who Is Shane Missler?
Shane Missler is a Maine native, but he moved to Florida during his childhood. The destination was Port Richey, and that's where Shane finished high school. According to the information, he completed Spruce Mountain High School.
Missler tried to pursue a college career as he enrolled in the Northern Essex Community College. That required moving to Massachusetts, and the business management career seemed to be Shane's future. However, he only spent a semester in college before returning and getting a job.
According to what he revealed, Shane changed multiple job positions. He had been working at a country club before getting a job at Best Buy. Shane's Facebook profile at the time noted that he was a verification specialist. That means he was working for a company that runs background checks of employees for other businesses.
It doesn't come as a surprise that Shane quit his job after discovering he won the grand prize at Mega Millions.
How Much Did Shane Missler Win?
The biggest US lotteries and that includes Mega Millions, use the same approach. They advertise a jackpot sum that would be awarded in annual installments. However, the winners also have the option of picking a lump sum payment. If they choose the lottery to pay them right away, the sum decreases.
In January 2018, the jackpot at Mega Millions reached the whopping $450 million sum. Once the lottery announced that there was only a single lottery winner, it was clear – that will be one of the largest jackpots wins ever.
Shane decided to take a lump-sum payment, which means the lottery will pay him $282 million. According to the lotto tax laws, Florida doesn't take a single cent from the winner. However, he still needed to pay the 25% federal tax, which means he received $211.5 million.
What Were the Winning Numbers?
Shane Missler played the following numbers on his ticket – 28, 30, 39, 59, and 70. The additional Mega Ball was "10," and that combination landed Shane the jackpot.
It's worth noting that Missler didn't purchase a single ticket, but five tickets at once. He bought them in the 7-Eleven store in Port Richey. The store received $100K for selling the winning ticket, which is impressive!
What Did Shane Do After Winning the Lottery
Source: Heavy
It was around 30 minutes after the draw when Shane Missler realized that he won the jackpot. As he belongs to generations that grew up with social media, he couldn't resist making a Facebook status about it.
However, he was mysterious enough as he only posted three words: "Oh, my God."
He Agreed to Reveal His Name to the Public
Florida laws have always been progressive and dedicated to transparency. That's why the state requires providing your information after winning the lottery. While there are ways to help you stay anonymous, anyone could request your name from the state.
Shane Missler decided to take a different approach – he willingly discovered his name to the public. Furthermore, he even made a press statement where he discovered what he plans to do with the money.
A Mixture of Fun and Good for Humanity
Although he only spent a semester in college, you could see Shane is a bright boy. That was evident from his letter sent to the public. According to that statement, he plans to help his family and secure a better life for them. Missler also revealed he took a quick course on managing personal finances. We don't know if he read about the famous lottery winners who lost it all, but it seemed he was taking a smart approach after winning all that money.
Shane also didn't forget the importance of doing good for the community. That's why his lawyer helped him open a trust fund. The fund's name is "Secret 007," which clearly shows that Missler was 20 when he won the lottery after all. However, it's nice to see a young man who feels that he wants to do something with the community and leave a legacy.
Another thing that was in line with Shane's age is honesty. He didn't hesitate to reveal that he'll pursue various passions and have fun. However, that's something every jackpot winner can afford, so there is nothing wrong with that claim!
Many lottery winners have issues with scammers who claim they represent them, and Shane Missler wasn't an exception. However, the fact Shane is active on social networks seems to have helped this scam work.
As soon as the public revealed Missler was the Mega Millions jackpot winner, we started seeing fake Twitter and Facebook accounts in his name. These accounts claimed that he will award $5K to the first 50K persons who retweet the message. If you do the math, you'd find out that would be $250 million, which is more than Missler even won in the first place!
These accounts started attracting thousands of people, which caused some bad press for Missler. That's why Shane had to issue an update on social networks where he said he only has Twitter and Instagram and uses only the "TheShaneMissler" account.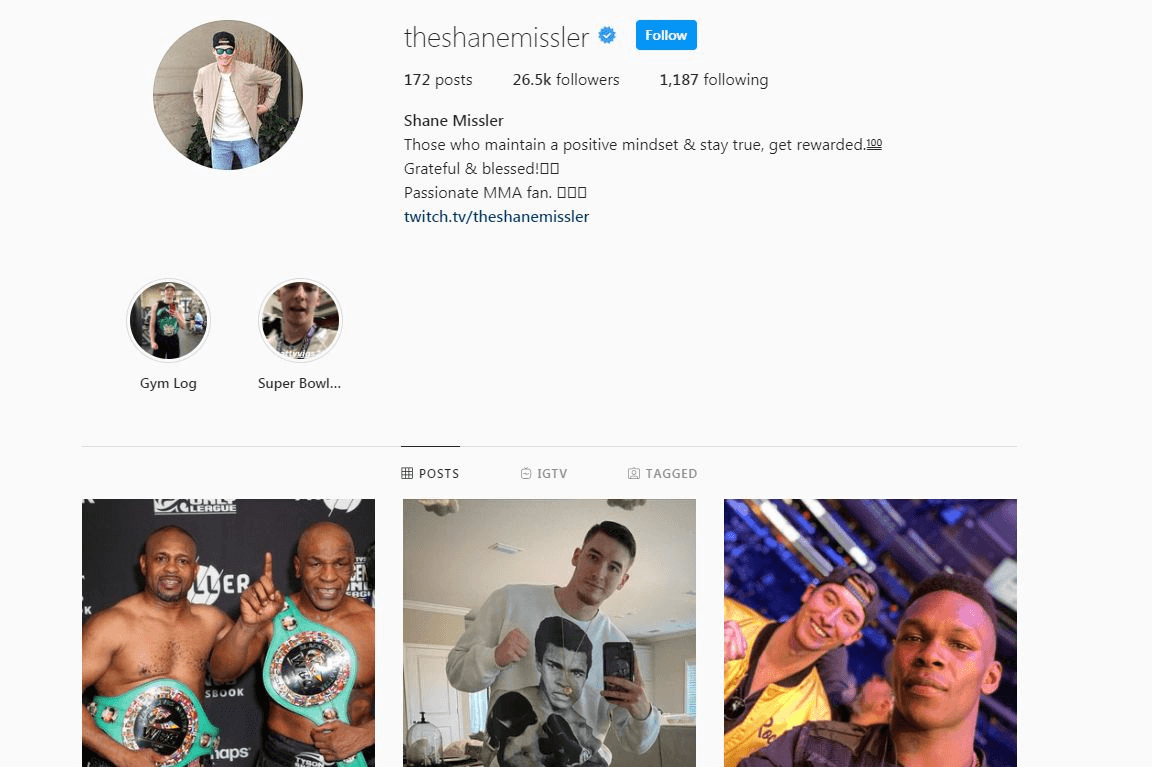 Source: Instagram
Social media now supports approving your account and having an icon that confirms it's your official account. Shane acquired that famous blue icon, which means you shouldn't trust any other account that might send messages in his name.
Final Thoughts
It has been over two years since Shane Missler won the jackpot. There is no new news about him, and it's encouraging to see Missler hasn't been a part of any scandals. It's a shame that scammers abused his name, but that's something that comes with being a lottery winner.
However, Shane remains one of the most responsible lottery winners out there, and his success is even bigger if you consider he was only 20 when he won the lottery. The latest reports indicate he wanted to leave his hometown, but there's no confirmation of his current whereabouts.
Are You the Next Lottery Winner?