Pick 4

(US Virgin Islands) Lottery Results & Winning Numbers
Latest

Pick 4

Winning Numbers & Jackpots
| | |
| --- | --- |
| | |
| | |
| | |
| | |
| | |
| | |
| | |
| | |
| | |
| | |
Pick 4

Hot & Cold Numbers
Show Results From Last
Draws
Pick 4

Quick Pick Numbers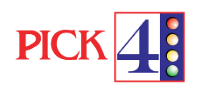 Next Draw
Friday, Dec 08, 2023
Pick 4 in the Virgin Islands is a game you should definitely try! A lot of ways to win and rather tempting prizes attract hundreds of gamblers who don't even wonder about the winning odds. Still, gambling is for thrills, not for money, so this lottery is worth participating in.

| Match | Prizes ($1 Bet) | Prizes ($2 Bet) | Odds% |
| --- | --- | --- | --- |
| Straight (the digits you choose must match the exact order) | $4,000 | $8,000 | 1 in 10,000 or 0.01% |
| 4-Way Box (enter the game with 3 identical and 1 different digit; the order doesn't matter at all) | $1,000 | $2,000 | 1 in 2,500 or 0.04% |
| 6-Way Box (you must match two different pairs of identical digits to win the prize) | $666 | $1,332 | 1 in 1667 or 0.06% |
| 12-Way Box (you must pick two same digits while two others must be different) | $333 | $666 | 1 in 833 or 0.12% |
| 24-Way Box (all the digits are distinct) | $166 | $332 | 1 in 417 or 0.24% |
Besides, there is the Front 3/Back 3 game style, where only three digits matter. These digits imply the combinations within their set, and you can see them in the table below.
Match
Prizes ($1 Bet)
Prizes ($2 Bet)
Front 3/Back 3 Straight
$400
$800
Front 3/Back 3 3-Way Box
$135
$270

Front 3/Back 3

6-Way Box

$65
$130

Front 3/Back 3

3-Way Straight/Box

–
$535

Front 3/Back 3

3-Way Straight/Box

–
$465
The game structure is very varied.
Despite the lack of multipliers, you have a lot of ways to win a prize.
Devoted players know how to attract more winnings; they just place a larger bet, and you can follow their example! Also, read about
famous winners' approaches
to get insights and choose the
lottery strategy
that leads you to winnings!
In the US Virgin Islands, Pick 4 is played along with the other pick-type game, Pick 3, so the time of the draws is the same. It means that you can enter both and hit more numbers at any time of the day!

|   | Every Morning | Every Midday | Every Evening | Every Night |
| --- | --- | --- | --- | --- |
| Draw Time | 10:00 a.m. (Eastern Standard Time) | 01:00 p.m. (Eastern Standard Time) | 06:00 p.m. (Eastern Standard Time) | 09:00 p.m. (Eastern Standard Time) |
| Sales Stop | 09:55 a.m. (Eastern Standard Time) | 12:55 p.m. (Eastern Standard Time) | 05:55 p.m. (Eastern Standard Time) | 08:55 p.m. (Eastern Standard Time) |
The Biggest Pick 4 Winners and Jackpots
As the Pick 4 prizes may be rather large here, some winners' stories are highlighted on the official lottery site. We managed to find out something about the recent winners, so we can see the results of our research in this table.

| Name | Location | Amount | Date |
| --- | --- | --- | --- |
| Lisa Wilkins | Unknown | $8,666 | May 29, 2022 |
| John Webbe | Unknown | $8,332 | Unknown |
| Jay Lioe-A-Tjam | Unknown | $4,166 | June 11, 2021 |
| Unknown | Unknown | $4,666 | Unknown |
| Marcel Filbert | Unknown | $4,333 | June 12, 2020 |
| Dennis Jeffers | Unknown | $4,166 | January 13, 2020 |
Pick 4 Rules in US Virgin Islands
Pick 4 is a classic number game that can be played across all of the United States Virgin Islands. Despite the fact that the Caribbean Lottery created and produced this game, the VI Lottery is qualified to manage it on behalf of its members. The lottery is based on the following features and principles:
The minimum legal gambling age in the Virgin Islands is 18.
Pick 4 offers the traditional scheme, with 4 digits between 0 and 9.
You can choose any of the four play types – Straight, Box, Straight/Box, Front 3/Back.
There are several types of wagers that can increase your winnings.
Pick 4 is held in the morning, at midday, at sunset, and in the evening.
You can play it in the Virgin Islands and in some other territories where the Caribbean Lottery provides gambling. Still, if your prize is won in the USVI, it must be claimed right there.
The game can be entered with physical tickets purchased at the local official retailers only.
If you want to join the Pick 4 gamblers, this instruction can be helpful:
Ask a VI Lottery retailer for a game slip.
Select four digits ranging between 0 and 9. If you don't know which of them is the happiest, Quick Pick will come in handy. Also, we recommend reading about the most common ways of picking digits for playslips and remembering the six luckiest lotto numbers.
There are 5 panels in the playslip, and each panel is a play. You can complete all of them or just a few.
Set the wager you are going to make.
Choose the type of game.
Define the time you will enter the draw.
Set the number of advanced plays.
Pay for your ticket, keep it closer… and good luck!
You can see if you won or not on the lottery's official site, or just visit a VI Lottery retailer nearby. Experienced players often use our VI Pick 4 results page, and they are quite right!
US Virgin Islands Pick 4 Payout and Taxes
As the US Virgin Islands Lottery operates Caribbean Lottery games within the jurisdiction, the rules for collecting the prizes are strictly set. You have 90 days to claim your lottery winnings, so don't miss your money. The options are clear, and we will tell you about them.

Winning Amount
How can I claim my US Virgin Island Pick 4 winnings?
$1-$600
You can claim them at the VI Lottery authorized retailers and the sales offices. You can find them in St. Thomas and St. Croix, so there won't be any problem.
$600 and over

These prizes are redeemed at the VI Lottery Offices only. There are two of them, so you can choose the most convenient location:

St. Croix VI Lottery Office

Sunny Isle Shopping Center

Suites 6, 7, and 8A

Christiansted, St. Croix, 00823

St. Thomas VI Lottery HQ

The Virgin Islands Lottery

3081 Kronprindsens Gade

St. Thomas, VI 00802

Winners who are outside the territory can claim their prizes by mail. Sign your ticket, attach the prize claim form, and send this paperwork to

St. Thomas VI Lottery HQ

The Virgins Island Lottery
3081 Kronprindsens Gade
St. Thomas, VI 00802

It won't take you too long to get your winnings after you submit your claim. You will receive your check within one business day.
Some lottery prizes are liable for taxation in the Virgin Islands. If you need more information, just consult your financial advisor.
Things to Know About Pick 4 in US Virgin Islands
The Pick 4 ticket may cost $1, $2, $5, or $10. It depends on the amount you are trying to win.
This game is also played in Saint Kitts and Nevis, Barbados, and Sint Maarten.
If you want to play this version of Pick 4, you must visit any jurisdiction where the Caribbean Lottery operates. Still, you can try your luck in other games on trusted online lottery sites without leaving your sofa.
The liability limit is also set for this game, just like for Pick 3. However, it equals $1 million here.
You can enroll in up to seven consecutive draws if you want to go ahead!
Advertisement
Note:

The lottery results on Lottery n' Go are not official. When playing the lottery, it is always advisable to verify your results with an official lottery agent before taking any further action. This is to ensure that you have correctly interpreted the results and that you are not about to make any rash decisions based on incorrect information.
We're doing our best to provide updated results every 1h. If you found any mistake, please report here.