Pick 3

(US Virgin Islands) Lottery Results & Winning Numbers
Latest

Pick 3

Winning Numbers & Jackpots
| | |
| --- | --- |
| | |
| | |
| | |
| | |
| | |
| | |
| | |
| | |
| | |
| | |
Pick 3

Hot & Cold Numbers
Show Results From Last
Draws
Pick 3

Quick Pick Numbers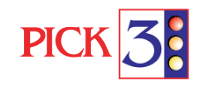 Next Draw
Sunday, Dec 03, 2023
We are sure you know a lot about the Pick 3 game. Well, now it's time to play in the US Virgin Islands and try the Caribbean vibe. Here, you have eight ways to win in a multitude of combinations. Though the overall odds of winning this game are unknown, the players don't usually think much about it and just have fun!

Match
Examples of The Winning Combinations
Prize Payout ($1 Bet)
Prize Payout ($2 Bet)
Odds %
Straight

You pick: 648

You win: 435 only

$400
$800
1 in 1000 or 0.1%
3-Way Box

You pick: 559

You win: 559, 955, 595

$135
$170
1 in 333 or 0.3%
6-Way Box

You pick: 824

You win: 824, 842, 428, 482, 248, 284

$65
$130
1 in 167 or 0.6%
3-Way Straight/Box
Any combination
–
$400/$135
1 in 333 or 0.3% (overall)
6-Way Straight/Box
Any combination
–
$400/$65
1 in 167 or 0.6% (overall)
Pairs (Back/Front/Split)

You pick: 657

You win: 65X (Front Pair), X57 (Back Pair), 6X7 (Split Pair)

$40
$80
1 in 100
We suppose now you understand the game structure and
lottery odds
.
The rules are simple.
Besides, when entering the VI Pick 3, you will not find
any add-on options or multipliers
like Fireball, Combo Play, or anything of the kind.
The only way to win more here is to bet more! As the wagers offered for the lottery range between $1 and $10, you can choose the more reasonable stake. Also, turn to the lottery odds calculator to decide how many tickets to purchase. The information about lotto combinations will come in handy, too.
You will never be late for the Pick 3 draw in the Virgin Islands, as the game is held four times a day throughout the week. You can enter all the plays in a row. Though make sure it doesn't turn into a gambling addiction!

|   | Every Morning | Every Midday | Every Evening | Every Night |
| --- | --- | --- | --- | --- |
| Draw Time | 10:00 a.m. (Eastern Time Zone) | 01:00 p.m. (Eastern Time Zone) | 06:00 p.m. (Eastern Time Zone) | 09:00 p.m. (Eastern Time Zone) |
| Sales Stop | 09:55 a.m. (Eastern Time Zone) | 12:55 p.m. (Eastern Time Zone) | 05:55 p.m. (Eastern Time Zone) | 08:55 p.m. (Eastern Time Zone) |
The Biggest Pick 3 Winners and Jackpots
Pick 3 Rules in US Virgin Islands
Pick 3 is one of the two number games played in the Virgin Islands. Formally, this game was established by the Caribbean Lottery, an agency that provides gambling across the USVI, as well as Saint Kitts and Nevis, Sint Maarten, and Barbados. However, here it is overseen by the Virgin Islands Lottery, a Caribbean Lottery member, and an independent agency formed by the territorial government. So, Pick 3 is subject to the following principles:
The game is available for participants 18 and older.
Pick 3 obtains the traditional format that implies the choice of 3 digits out of 10. The typical Pick 3 strategy and Quick Pick method work here as usual.
There are four game types for the players, including Straight, Box, Straight/Box, and Pairs.
The biggest amount you can win in a single play is $400.
Pick 3 is played four times a day, so you can choose the time that is most convenient.
This game can be entered in all the jurisdictions overseen by the Caribbean Lottery. However, if you win in the USVI, you must claim the prize within the territory only.
Online sales of the local lottery products are prohibited, so you can buy the Pick 3 tickets at any retailer across the Virgin Islands.
To play Pick 3, just follow a few simple steps:
Visit a VIL retailer to ask for a game slip. You can also complete it at the lottery terminal.
Pick three digits between 0 and 9. You can choose numbers on your own or prefer Quick Pick.
Mark the type of game; that can be Straight, Box, etc.
Define your wager.
Decide on the number of advanced draws.
Set the time you are going to enter the play.
Wait till the ticket is printed and handed to you, and then just wait a little!
Right after the draw, the winning numbers are available on the lottery's official site and at local retailers. For even more convenience, just bookmark this page on our site.
US Virgin Islands Pick 3 Payout and Taxes
The US Virgin Islands Lottery obeys the Caribbean Lottery rules for all its games. Thus, you have 90 days to collect the prizes if you win the lottery, and the options are set out in the table below. Also, we recommend reading the in-depth guide on how to claim lotto winnings in advance.

Winning Amount
How can I claim my US Virgin Island Pick 3 winnings?
$1-$600
The smaller prizes are claimed at all the participating retailers and the sales offices in St. Thomas and St. Croix.
$600 and over

These amounts are claimed at the VI Lottery Offices. Depending on your location, the address may be the following:

St. Croix VI Lottery Office

Sunny Isle Shopping Center

Suites 6, 7, and 8A

Christiansted, St. Croix, 00823

St. Thomas VI Lottery HQ

The Virgin Islands Lottery

3081 Kronprindsens Gade

St. Thomas, VI 00802

If you are off-island, you can claim your winnings by mail. Just send your winning ticket to

St. Thomas VI Lottery HQ

The Virgin Islands Lottery

3081 Kronprindsens Gade

St. Thomas, VI 00802

The claims are processed within one business day, and the prizes are redeemed in the form of a check.
The Lottery prizes are subject to reporting to the local tax department. Please consult a
lottery lawyer
in the Virgin Islands to figure out if there are any deductions or not.
Things to Know About Pick 3 in US Virgin Islands
There are four types of wagers when you play Pick 3 in the Virgin Islands. You can bet $1, $2, $5, or $10, depending on the amount you are planning to hit.
The most popular points for VI Lottery ticket sales are Udder Delight, Caribana, Anna's Market, and other stores across the islands.
The VI Lottery is the only US gambling agency operating outside the mainland.
The Straight/Box play type is not available at a $1 wager.
Pick 3's drawing combinations are subject to liability limits. The Lottery sets $500,000 as the prize pool. If the exposure reaches this amount for the same set of digits picked by different players, any further combinations with these digits are barred and declined.
The Multi-Draw option implies up to seven consecutive plays, though it may not be enough. So, purchase more tickets if you want more prizes!
Advertisement
Note:

The lottery results on Lottery n' Go are not official. When playing the lottery, it is always advisable to verify your results with an official lottery agent before taking any further action. This is to ensure that you have correctly interpreted the results and that you are not about to make any rash decisions based on incorrect information.
We're doing our best to provide updated results every 1h. If you found any mistake, please report here.