Kentucky 5

(Kentucky) Lottery Results & Winning Numbers
Latest

Kentucky 5

Winning Numbers & Jackpots
| | | |
| --- | --- | --- |
| | | |
| | | |
| | | |
| | | |
| | | |
| | | |
| | | |
| | | |
| | | |
| | | |
Kentucky 5

Hot & Cold Numbers
Show Results From Last
Draws
Kentucky 5

Quick Pick Numbers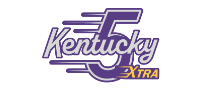 Next Draw
Friday, Dec 08, 2023
Kentucky 5 Prizes and Odds
Kentucky 5 is a classical lotto game with prizes on three tiers. The overall winning odds of 1 in 99.6 may seem insurmountable here. Still, we are absolutely sure that luck favors the bold, so it's worth a shot!

| Match | Prize Amount | Odds % |
| --- | --- | --- |
| 5 | Jackpot ($40,000 minimum) | 1 in 575,757 or 0.00017% |
| 4 | $250 | 1 in 3,387 or 0.0029% |
| 3 | $5 | 1 in 103 or 0.97% |
The minimum
Kentucky 5's jackpot of $40,000
is not comparable to the
highest grand prizes ever won
. Nevertheless, nobody will refuse to put into their pocket this amount. That's why this game is one of the most popular among the engaged players in
Kentucky
. Try your luck, too! We've prepared plenty of helpful tools and analyzed the
lottery combinations
, so you have all the chances to become a winner.
Kentucky 5 Xtra Play Multiplier Prizes
If you are striving for perfection, the Xtra Play is just what you need to take it all from Kentucky 5! Pay $1 per base, and if you win, your prize will be multiplied. The overall chance of getting several times more is 1 in 8.77, and that's not bad at all! Besides, you can hit the runner-up prize for an extra $2. In this case, you win at Match 2 as well, though the sum is small.
Read several lottery books and figure out the most common methods of lottery number picking to increase your winning chances.

| Match | Xtra Play 2X | Xtra Play 3X | Xtra Play 4X | Xtra Play 5X |
| --- | --- | --- | --- | --- |
| 5 | Jackpot (not multiplied) | Jackpot (not multiplied) | Jackpot (not multiplied) | Jackpot (not multiplied) |
| 4 | $500 | $750 | $1,000 | $1,250 |
| 3 | $10 | $15 | $20 | $25 |
| 2 | $2 | $2 | $2 | $2 |
Kentucky 5 Drawing Schedule
Though Kentucky 5 is an evening lottery played daily, there is a snag. As the state is in different time zones, the time of the draw and the suspension of ticket sales vary depending on your location. So, we offer you both points, so you can be on time for your game no matter which part of Kentucky you are in!

|   | Every Day |
| --- | --- |
| Draw Time | 10:00 p.m. (Central Standard Time)/11:00 p.m. (Eastern Standard Time) |
| Sales Stop | 09:55 p.m. (Central Standard Time)/10:55 p.m. (Eastern Standard Time) |
Before playing, remember the six luckiest numbers and learn lottery strategies. Experiment with different approaches to find the winning way!
The Biggest Kentucky 5 Winners and Jackpots
As Kentucky 5 is a relatively new game, the top prize winners are rare birds for the time being. Besides, the jackpot is not so big here. The estimated minimum is $40,000, and the progress is around $5,000 after each non-winning draw. Nevertheless, we found out that the game brought in its first grand prize right after five draws since its start!
It occurred on November 28, 2022, when a Louisville man made up his mind to play the lottery. The KLC retailer clerk offered him Kentucky 5; he agreed and preferred Quick Pick, as he didn't know the rules. In the end, his baldness brought him $60,000, and that is a good amount for fixing his car and paying off bills, he said.
To get more exciting stories, read about famous lottery winners and try to replicate their methods.
Kentucky 5 Rules in Kentucky
Kentucky 5 is a new game that was introduced by the Kentucky Lottery Commission on November 21, 2022. As the lottery has been on the run for several months, there have been no amendments made to its structure, and its features are the following:
Kentucky 5, like the majority of lotteries in the United States, allows players to participate if they are 18 or older.
There are only three primary tiers for you to win.
KLC set a 5/39 matrix for the game. Get to know how the Pick 5 strategy works in advance!
You can multiply your non-jackpot winnings by adding the Xtra Play option, though you must pay a bit more.
The Kentucky 5 jackpot is progressive and starts at $40,000.
Like all the other lotteries in the state of Kentucky, it can be played online!
Kentucky 5 is one of the simplest KLC games, so the rules are a piece of cake here if you play with paper tickets:
Take a walk-in to any Kentucky Lottery retailer nearby to get a playslip.
Pick five numbers ranging between 1 and 39.
Add the Xtra Play base you prefer.
Mark the Match 2 fixed $2 feature if you like.
Set the number of the advanced draw in the appropriate field.
Get your ticket printed and keep it in a safe place until the results are known.
Those who prefer a without-leaving-a-chair play can do it on the KLC website or in the mobile app. All the instructions are given there, so the entry will not be a problem. Also, you can read our guide on how to play the lottery online.
There are at least four ways for you to know the results of the past draws as soon as possible:
Visit the Kentucky Lottery's official website when the draw is over.
Download the official mobile app and see all the winning numbers there.
Contact the Winning Numbers Line at 502-583-2000.
Get the results by mail (for Kentucky Lottery Fun Club members only).
Our Kentucky 5 results page is a great alternative as well. Bookmark and enjoy!
Kentucky 5 Payout and Taxes
Winning a new Kentucky game is a great joy, but we think you will keep it together. The claiming period is 180 days here, but we have no doubt you will be happy to have it all done as soon as possible! Our step-by-step instructions on how to claim a lottery prize will help you.

Amount
How to Claim Your Kentucky 5 Winnings
$1 – $599

There are two ways for you to get your small prize:

In-person – have it redeemed at any Kentucky Lottery retailer.
Claiming by mail – complete the Winner Claim Form, sign your ticket, and send it all to the KLC Claims Department (1011 W Main St., Louisville, KY 40202).

$600-$5,000

The most convenient way is to turn to an Authorized Cashing Agent or a Super Cashing Agent in your area. Besides, some Kentucky Lottery retailers redeem these prizes, so figure it out on the official lottery site.

Please make sure you have the Winner Claim Form properly completed and your valid photo ID with you when claiming your money in person.

$5,000-$25,000

These big amounts can be claimed at a Super Cashing Agent or at the Kentucky Lottery Headquarters located at:

Kentucky Lottery Corporate Headquarters

1011 West Main Street

Louisville, KY 40202

over $25,000
Big prizes and jackpots must be claimed at the KLC Headquarters only.
Online prizes

The claiming order depends on the amount you hit.

The prizes of $600 or less are deposited directly into your Kentucky Lottery account. If your amount is higher, the instructions concerning the claiming process will be emailed to you.
You pay taxes if you win in Kentucky!
Please note that 5% state tax and 24% federal tax are withheld from your winnings of $5,000 and over right away. If the amount is between $600 and $500, the report to the IRS is your responsibility, and you will receive a W2G form along with your payout. If you want to estimate the sum you will get in the end, the
lottery tax calculator
is at your service!
Things to Know About Kentucky 5 in Kentucky
Each Kentucky 5 entry will cost you $1. Add $1 for the Xtra option and $2 for Match 2.
There are 15 Super Cashing Agents and 225 Authorized Cashing Agents across Kentucky, so claiming your big prize is fine!
Match 2 is added along with Xtra only.
The first Kentucky 5 big win took place five days after its start.
Though Kentucky 5 is available online on the official website, you can still try other games on the lottery sites we vouch for!
Want to play this game without buying tickets all the time? Take advantage of the Multi-Draw option and choose up to 21 consecutive draws!
Advertisement
Note:

The lottery results on Lottery n' Go are not official. When playing the lottery, it is always advisable to verify your results with an official lottery agent before taking any further action. This is to ensure that you have correctly interpreted the results and that you are not about to make any rash decisions based on incorrect information.
We're doing our best to provide updated results every 1h. If you found any mistake, please report here.