All or Nothing

(United Kingdom) Lottery Results & Winning Numbers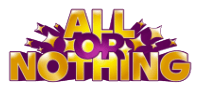 Next Draw
Tuesday, Sep 26, 2023
1


Days

11


Hours

16


Minutes

16


Seconds
Latest

All or Nothing

Winning Numbers & Jackpots
| | | |
| --- | --- | --- |
| | | |
| | | |
| | | |
| | | |
| | | |
| | | |
| | | |
| | | |
| | | |
| | | |
All or Nothing

Hot & Cold Numbers
Show Results From Last
Draws
All or Nothing

Quick Pick Numbers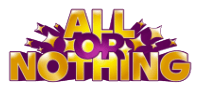 Next Draw
Tuesday, Sep 26, 2023
1


Days

11


Hours

16


Mins

16


Sec
All or Nothing Prizes and Odds
All or Nothing is a unique game that can bring you a jackpot even if you match none of the numbers drawn! Considering its high chances of winning, estimated at 1 in 4.5, its unusual structure, and the ten ways of getting prizes of different values, this game always becomes a revelation for true gamblers.

| Match | Winning Amount | Odds % |
| --- | --- | --- |
| 12 | £25,000 (fixed, non-progressive) | 1 in 2,704,156 or 0.000037% |
| 11 | £250 | 1 in 18,779 or 0.0053% |
| 10 | £25 | 1 in 621 or 0.16% |
| 9 | £2.50 | 1 in 56 |
| 8 | £1 | 1 in 11 |
| 7, 6, or 5 | No prizes | – |
| 4 | £1 | 1 in 11 |
| 3 | £2.50 | 1 in 56 |
| 2 | £25 | 1 in 621 or 0.16% |
| 1 | £250 | 1 in 18,779 or 0.0053% |
| 0 | £25,000 (fixed, non-progressive) | 1 in 2,704,156 or 0.000037% |
The structure,
lottery odds
, and rules of All or Nothing in the
United Kingdom
don't imply any features that can multiply the prizes, so we can say they are strictly fixed. Still,
you can try to do your best by matching 12, 11, 1, or no numbers to get those considerable amounts
, or just join happy players on
reliable online lottery sites
that strive for record jackpots!
All or Nothing Drawing Schedule
All or Nothing tickets are available any day and time across the UK, so you can purchase them for any coming draw. The sales close right when the game starts, so you can enter the next draw if you are late. But don't be upset; devote this time to reading lottery books or analyzing lotto combinations to meet a situation head-on next time.

|   | Tuesday | Friday |
| --- | --- | --- |
| Draw Time | 07:00 p.m. (Western European Time, GMT) | 07:00 p.m. (Western European Time, GMT) |
| Sales Stop | 07:00 p.m. (Western European Time, GMT) | 07:00 p.m. (Western European Time, GMT) |
The Biggest All or Nothing Winners and Jackpots
As the All or Nothing jackpot is fixed, we can hardly say there are bigger top-prize winners. The prizes are won several times a week across the UK, so you can read more about the winners on the THL official page. When you want some inspiration, read about famous lottery winners and their approaches. Their methods may come in handy for you too!
All or Nothing Rules in the United Kingdom
All or Nothing is a game run by the Health Lottery, an operator that works on behalf of six Community Interest Companies that manage six lotteries across the United Kingdom. It is a new entertainment introduced on November 18, 2022, so the rules have not changed yet:
Just like for any other lottery game in the UK, you must be 18 or older.
To play All or Nothing, you choose 12 numbers from the set of 24 balls.
All the prizes are fixed, including the jackpot, which equals £25,000.
The top prize is won if you match all 12 numbers or none of them. That is why the game is called All or Nothing.
You don't win anything if you match 5, 6, or 7 numbers. It sounds strange, but that's how it works!
All or Nothing is held twice a week on weekdays.
You can play All or Nothing online! Just create an account, set your Direct Debit, and enjoy your gambling, receiving prizes right into your affiliated bank account.
All or Nothing can be entered in a few simple steps:
Have your game slip ready to make an entry.
Pick 12 numbers ranging between 1 and 24. For your convenience, the Quick Pick option is at your service if you prefer a randomly generated selection. If you want to pick the lottery numbers on your own, convert your dreams to digits or use other helpful tools.
Decide on the number of lines you are going to play.
Define the number of consecutive plays on your game slip.
Pay for your entry depending on the number of lines, and just wait for your joyful win!
If you prefer to play the lottery online, just visit the official site and enter the game with a few clicks!
To follow the All or Nothing results, you can go to the THL official page or contact the Helpline at 0330-3902289. Some players prefer other methods, including local newspapers and visits to participating retailers. Besides, you can visit the game's results page on our site.
The United Kingdom All or Nothing Payout and Taxes
In the United Kingdom, the winners have 180 days to collect the amount they were lucky enough to hit. If they miss the period, the unclaimed amounts are donated to many good causes across the state. We are sure charity is your passion, but if you still want to get your money at your disposal, the instructions on claiming lottery winnings are below!

Amount
How to Claim My All or Nothing Prize in the United Kingdom
£1 – £500

These prizes can be claimed at any Health Lottery retailer, though some of them can only be redeemed for up to £100; please figure it out beforehand. Besides, your winnings can be paid out at the designated Post Offices.

Also, you can mail your request to

The Health Lottery

Kingsgate

1 Tower Wharf

Birkenhead

CH41 1LH

Please attach your signed winning ticket, the claim form, and a copy of your photo ID. Making copies of the back and front of the ticket is a good idea as well, as the Health Lottery is not responsible for lost or stolen documents.

If you hit this amount playing online, the money will be deposited directly into your Health Lottery account (no Direct Debit) or into your linked bank account (Direct Debit).

£501-£30,000

To claim your bigger wins, turn to a designated post office or the Health Lottery Center in Birkenhead. The second option is preferred, as it is more reliable.

Please prepare your winning ticket and proof of your ID.

Claiming is even easier if you play online, with Direct Debit or without it. In both cases, your winnings are transferred to your bank account. However, you must confirm your payment if you hadn't set up the Direct Debit before.
In fact, the lottery prizes are not subject to Income Tax or Capital Gains Tax in Great Britain.
However, if the sum is deposited into your bank account, any amount you earn through interest is considered income, so taxation will follow.
Things to Know About All or Nothing in the United Kingdom
The price of an All or Nothing entry in the UK is £1. Multiply this amount by the number of lines you play, and you will get the exact sum you need to pay.
All or Nothing is a new game in the UK. Its first draw took place late in the autumn of 2022.
The chances of winning this lottery are rather high. The experts estimate it at 1 in 4.5.
Playing this game is more convenient if you do it in your THL account with Direct Debit. It means that all your prizes will go to your bank account immediately.
You can play the same numbers for up to five weeks in the UK. Whether to choose Tuesday draws, Friday plays, or both is up to you.
Advertisement
Note: The lottery results on Lottery n' Go are not official. When playing the lottery, it is always advisable to verify your results with an official lottery agent before taking any further action. This is to ensure that you have correctly interpreted the results and that you are not about to make any rash decisions based on incorrect information.
We're doing our best to provide updated results every 1h. If you found any mistake, please report here.