Super5 PLUS

(Malta) Lottery Results & Winning Numbers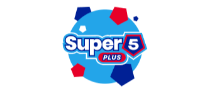 Next Draw
Wednesday, Dec 06, 2023
3


Days

20


Hours

0


Minutes

48


Seconds
Latest

Super5 PLUS

Winning Numbers & Jackpots
| | | |
| --- | --- | --- |
| | | |
| | | |
| | | |
| | | |
| | | |
| | | |
| | | |
| | | |
| | | |
| | | |
Super5 PLUS

Hot & Cold Numbers
Show Results From Last
Draws
Super5 PLUS

Quick Pick Numbers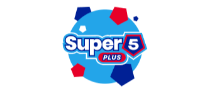 Next Draw
Wednesday, Dec 06, 2023
3


Days

20


Hours

0


Mins

48


Sec
Super5 Plus Prizes and Odds
Playing a lottery in Malta allows you to try traditional games, and Super5 Plus is here for your entertainment! This is the second draw of the Super5 lottery, with a classical structure, prizes in three tiers, and chances of winning a big jackpot that seem tempting to hundreds of players all over the country.
| Match | Prize Pool Distribution |
| --- | --- |
| 5 | 11% of the prize fund (€100,000 minimum estimated) |
| 4 | 18.2% of the prize fund |
| 3 | 70.8% of the prize fund |
Though there are no multipliers offered for Super5 Plus in Malta, you can still raise your winning chances by playing the so-called Systems. It is a feature that provides the opportunity to choose more than five numbers on one playing board. However, you can choose up to 20 numbers only, though the chances rise greatly in this case.
Use all the opportunities, including lottery predictions or famous lotto winners' experiences, and hope for your luck!
Super5 Plus Drawing Schedule
Though Super5 Plus is a well-known lottery, the players can't enjoy it very often, as it occurs only twice a week, after the evening news on TVM. On the other hand, you can spend this time with benefits, creating the lottery prediction algorithm in Excel, learning proven lotto strategies, and preparing for your future win!

|   | Wednesday | Friday |
| --- | --- | --- |
| Draw Time | 08:40 p.m. (Central European Time) | 08:40 p.m. (Central European Time) |
| Sales Stop | 08:10 p.m. (Central European Time) | 08:10 p.m. (Central European Time) |
The Biggest Super5 Plus Winners and Jackpots
Looking for the Super5 Plus jackpot winners is hardly enough, as the National Lottery doesn't reveal any secrets, and anonymity after a win is normal. However, we did our best to find some exciting stories for you.
So, the latest known winner is a man from Fgura who took home an overwhelming €1,093,944.59 on August 19, 2022. As he said, he used to pick numbers that were synonymous with some events in his family's life. So, we can congratulate him, as the strategy worked! You might replicate his experience and experiment with your own lucky numbers, or you can use the digits that your star sign will tell you.
Another funny story took place on January 30, 2019, when the 760th draw occurred. It was a record, as there were 77 top-prize winners who bet the combination of 5, 10, 15, 20, and 25. As the jackpots are pari-mutuel in Malta, the amount was shared between all of them. The lottery paid out €4,545 to each winner, but some of them considered it a disappointment. Still, we think this win is not as bad!
Super 5 Plus Rules in Malta
The Malta Super5 Plus is a game run by the National Lottery plc and operated by Maltco Lotteries. Its first draw took place on July 14, 2004, and now it is one of the most popular lotteries across the country. In its 20 years of existence, Super5 Plus has preserved the following rules and principles:
The players can purchase tickets if they are 18 or older.
A 5/45 matrix is established for the game. Read more about how the lottery odds work and learn the Pick 5 strategy to have more winning chances.
The prizes are available in three tiers, and the winning amounts depend on the total prize pool that is based on the lottery ticket sales.
There is a feature called Systems or a Combination Slip. It implies selecting up to 20 numbers instead of 5, for higher winning chances.
As there are 10 boards in a single playslip, you can try different combinations here. For example, you can play one game as a Simple Column, another as a Combination Slip, and the third as a Quick Pick.
The Super5 Plus tickets are sold only in Malta. So, you can make a small gambling trip to this amazing country or just keep on playing on the trusted online lottery sites we listed for you.
Any Super5 Plus entry is made according to the following rules:
Visit any National Lottery plc retail outlet and ask for a paper playslip.
Here, you will see ten Playing Boards. One board means one game. You can complete them all, manage just a few, or fill out all the panels.
Apply the add-on features if necessary. It can be System or a Quick Pick play when your numbers are drawn by the computer.
Mark the number of consecutive plays you are going to enter.
Hand your playslip to the retail clerk, pay for your ticket, and get it printed.
Treat your ticket carefully and wait until the draw is over.
When playing a lottery in Malta, you can learn the winning numbers information in the following ways:
check your ticket on the National Lottery's official website;
call Lottery Helpline 2388-3333;
keep to the Instagram and Facebook pages, where the results of all the Malta lotteries are released;
email a request to [email protected];
read the local newspapers;
watch the live draws on the local TV station.
As usual, our Malta Super5 Plus results page is updated after each draw to provide you with the latest winning numbers.
Malta Super5 Plus Payout and Taxes
The experienced players in Malta know they have only 60 days to claim their prizes. Procrastination is no good here. If your lottery ticket expires, you will lose your money.

| Amount | How to Claim My Super5 Plus Price in Malta |
| --- | --- |
| €1 – €5,000 | These amounts can be claimed at any National Lottery plc retail outlet. Please provide your winning ticket to establish your ownership; in this case, your winnings will be redeemed immediately. |
| €5,000 and over | The bigger prizes are paid out at the National Lottery plc Head Office. During its working hours, visit it, and be ready to provide your ticket and a valid and unexpired identification document. |
Usually, the lottery prizes in Malta are paid out as tax-free lump sums.
So,
if you win the lottery
, just enjoy your victory!
Things to Know About Super5 Plus in Malta
The Super5 Plus ticket price is €1. If you want to play Systems, you must pay an extra €1 per board it is applied to.
You can enter Super 5 Plus as a group of players. In this case, the ticket is split into 8 to 100 fractions, and the minimum price of each fraction is €4.
You can claim your prize even if the QR code and the Barcode numbers are damaged for some reason. However, your ticket must contain the readable CRC Number, the Retailer Number, the Playslip Number, and the Draw Date. If this information is distinct, you can provide your ticket at the Head Office to get your money.
The maximum number of consecutive draws you can be enrolled in is 60! That means you can play Super5 Plus for a year without visiting retail locations!
Advertisement
Note:

The lottery results on Lottery n' Go are not official. When playing the lottery, it is always advisable to verify your results with an official lottery agent before taking any further action. This is to ensure that you have correctly interpreted the results and that you are not about to make any rash decisions based on incorrect information.
We're doing our best to provide updated results every 1h. If you found any mistake, please report here.