Pick 3

(Malta) Lottery Results & Winning Numbers
Latest

Pick 3

Winning Numbers & Jackpots
| | |
| --- | --- |
| | |
| | |
| | |
| | |
| | |
| | |
| | |
| | |
| | |
| | |
Pick 3

Hot & Cold Numbers
Show Results From Last
Draws
Pick 3

Quick Pick Numbers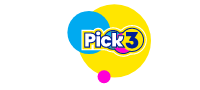 Next Draw
Friday, Dec 08, 2023
If you think Pick 3 is a USA-only game, it's time to change your mind, as we will tell you about the Malta Pick 3. The quick and easy lottery implies similar combinations, three play types, good prizes, and much higher overall winning odds!

| Match | Winnings (€1 Bet) | Winnings (€2 Bet) | Odds % |
| --- | --- | --- | --- |
| Straight or Order (the player picks 3 digits that must match the same order) | €600 | €1,200 | 1 in 1,100 or 0.09% |
| Box or Any Order (the three digits selected by the player may match any order) | €100 | €200 | 1 in 167 or 0.6% |
| Wheel 2 (two digits are picked by the player while the third digit is chosen automatically) | €60 | €120 | 1 in 100 |
| Wheel 1 (the player picks only one digit; two other digits are selected by the computer automatically) | €6 | €12 | 1 in 10 |
As Pick 3 in Malta has a very distinct structure and rather high lottery odds, there is a direct multiplier implied for this game. Thus, you can bet €1 or €2 and just raise your stakes further by multiplying them by up to 10. If you choose this option, your wagers will be multiplied across all the game boards you've chosen. This is a good chance to hit more, especially if you learn more about lottery combinations and the most common winning numbers in advance.
If you are attracted to games with the highest jackpots ever won, welcome to reliable lottery sites for good play and overwhelming prizes.
Malta offers 14 Pick 3 draws a week across the country. The lottery is held twice a day, from Sunday to Saturday. However, many players try to avoid gambling addiction and play just a few games, spending some time working on their lottery strategies. Decide what you want and rely on your luck!

|   | Every Midday | Every Evening |
| --- | --- | --- |
| Draw Time | 01:30 p.m. (Central European Time) | 07:30 p.m. (Central European Time) |
| Sales Stop | 01:28 p.m. (Central European Time) | 07:28 p.m. (Central European Time) |
The Biggest Pick 3 Winners and Jackpots
There is no list of winners on the lottery's official site. However, as winning odds are high, we may suppose that winners of the prizes are hit rather often here. So, think of trying these Malta thrills or get inspired by the stories of lottery winners who are still wealthy.
The Malta Pick 3 refers to the so-called fast games in the pool of the agency's games. Playing it is a piece of cake, as the rules are very clear and distinct:
The minimum legal gambling age is 18 in Malta.
To win the game, you choose 3 numbers between 0 and 9.
There are three play types available to gamblers. If you prefer Straight, your numbers must match the exact order. If you prefer Box, the order of your digits doesn't matter. At last, Wheels implies choosing just two or one digits that must be drawn in exact order for your win.
You can multiply your wager by up to 10 and win more.
This is a daily game played at midday and in the evening.
Pick 3 is played in Malta only.
For entering Pick 3, make the following steps:
Visit a National Lottery retailer in Malta or Gozo to fill out a game slip.
Build a so-called simple column by picking 3 digits between 0 and 9 according to the chosen type of play – Straight, Box, or Wheel.
Mark the time of the draw you will take part in (midday or evening).
If necessary, apply Quick Pick for the random choice of your numbers. If you want to select numbers on your own, turn to the lottery number generator, the numerology lucky number calculator, or experiment with other helpful tools.
Set the number of consecutive draws.
Activate the Multiplier if needed.
Pay for your ticket and have a little patience. Your win is coming!
The National Lottery provides several opportunities to follow the Pick 3 results across Malta. The list of them includes:
the lottery's official website;
the Lottery Helpline (2600-7777);
the official Instagram and Facebook pages;
emailing [email protected];
local newspapers and the National Lottery retail locations.
We always follow the latest news and lottery statistics, which is why our Malta Pick 3 page will provide you with the results of the current draws at any time.
Malta Pick 3 Payout and Taxes
That's great if you win the lottery! You can finally rejoice and celebrate your victory. Still, don't wait for too long, as you ought to get your prize within 60 days. The claim process is the simplest here, so take your coveted winnings as soon as possible!

| Amount | How to Claim My Pick 3 Prize in Malta |
| --- | --- |
| €1 – €5,000 | Any National Lottery retail outlet can redeem these amounts. In this case, you must provide your winning ticket, as it is your only bearer instrument and your win cannot be validated without it. |
| €5,000 and over | The bigger prizes are claimed at the National Lottery's Head Office during working hours. Please make sure to provide your winning ticket along with a valid identification document. |
There are no taxes withheld from lottery winnings in Malta.
However, they are considered income. According to local law, the deductions will follow at the end of the year. For more information, consult the
lottery lawyer
.
Things to Know About Pick 3 in Malta
The minimum Pick 3 wagers are €1 and €2. Multiply them by 2, 5, or 10 if you want bigger winnings.
The winning numbers are drawn through the National Lottery Central System. The Random Number Generator is used for this.
If you play Wheel, please note that your digits must match the exact order only.
There are some restrictions on claiming the Pick 3 prizes in Malta. If you are a prohibited ticket holder (less than 18 years of age, for example), your ticket is tampered with, or its QR code is unreadable, you need some special procedures to get your winnings or be deprived of them at all.
The National Lottery sets the prize liability limit for Pick 3. If the predefined amount for a specific combination of digits is reached, nobody else can pick it anymore.
The most frequently drawn Pick 3 numbers in Malta for the last 3 years are 0, 1, 4, and 7.
You can opt for 14 consecutive Pick 3 draws, which means two weeks of thrills without thinking of any ticket purchases.
Advertisement
Note:

The lottery results on Lottery n' Go are not official. When playing the lottery, it is always advisable to verify your results with an official lottery agent before taking any further action. This is to ensure that you have correctly interpreted the results and that you are not about to make any rash decisions based on incorrect information.
We're doing our best to provide updated results every 1h. If you found any mistake, please report here.