Milionaria

(Brazil) Lottery Results & Winning Numbers
Latest

Milionaria

Winning Numbers & Jackpots
| | | |
| --- | --- | --- |
| | | |
| | | |
| | | |
| | | |
| | | |
| | | |
| | | |
| | | |
| | | |
| | | |
Milionaria

Hot & Cold Numbers
Show Results From Last
Draws
Milionaria

Quick Pick Numbers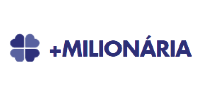 Next Draw
Saturday, Dec 09, 2023
Milionària Prizes and Odds
If you strive for millions, it's time for a visit to Brazil and a couple of Milionària draws! The game, with prizes in 10 tiers and a progressive jackpot with a guaranteed amount of R$10 million, sounds exciting.

Match
Winning Amount
Odds %
6 numbers + 2 clovers

62% of the prize pool

R$10 million jackpot (minimum guaranteed, progressive)

1 in 238,360,500
6 numbers + 1 or no clovers
10% of the prize pool
1 in 17,025,750 or 0.0000059%
5 numbers + 2 clovers
8% of the prize pool
1 in 902,881 or 0.00011%
5 numbers + 1 or no clovers
8% of the prize pool
1 in 64,491 or 0.0015%
4 numbers + 2 clovers
6% of the prize pool
1 in 16,798 or 0.0059%
4 numbers + 1 or no clovers
6% of the prize pool
1 in 1,200 or 0.083%
3 numbers + 2 clovers
B$50
1 in 900 or 0.11%
3 numbers + 1 clover
B$24
1 in 112 or 0.89%
2 numbers + 2 clovers
B$12
1 in 117 or 0.85%
2 numbers + 1 clover
B$6
1 in 15
This game attracts Brazilian players thanks to its clear rules and good odds of winning. If you want to have a good time and win, try different lottery strategies and lucky numbers! We are sure our tricks on how to get a lotto prize will be helpful too.
The game is rather simple to play, and the prizes are tracked as they are, without any multipliers or add-on features. However, the winning amounts are offered in a wide range of tiers, so you can count on considerable sums when hitting higher tiers.
If Milionària is unavailable for some reason, the prizes are not the same as you expected, and you dream about the highest jackpots ever won, place your bets on the trusted online lottery sites. Don't be afraid of online lotto scams here; these websites are safe, reliable, and offer plenty of features to win.
Milionària Drawing Schedule
Milionària is a weekly lottery, though the format may seem very unusual for those who get used to gambling several times a week. Anyway, the expectation may be even more exciting. So, many gamblers find this schedule convenient as well. They don't worry about gambling addiction and have enough time to figure out how to pick the lottery numbers.

|   | Saturday |
| --- | --- |
| Draw Time | 08:00 p.m. (Brasilia Time, UTC -2 to -5) |
| Sales Stop | 08:00 p.m. (Brasilia Time, UTC -2 to -5) |
The Biggest Milionària Winners and Jackpots
That may be a disappointment, but the Lottery doesn't highlight the stories of its winners on its official site. Perhaps you will want to read about the lucky players who are still wealthy for more inspiration and new gambling ideas.
Milionària Rules in Brazil
Milionària is a lottery in the long list of games overseen by CAIXA Loterias, a lottery operator in Brazil. This jackpot lotto has the following features and principles:
You can enter the game if you are not younger than 18.
There are two matrices on which to build your game. The Matrix of Numbers has a set of 50 numbers, while the Matrix of Numbered Clovers implies a choice between 1 and 6.
The prizes may be won in 10 tiers, depending on the number of digits you hit. Before playing, learn the Pick 6 strategy and Quick Pick method. Also, check out our helpful tools to make your play easier and more exciting.
About 43.35% of the income received from Milionària ticket sales goes into the prize pool of the game.
The Milionària guaranteed jackpot equals R$10 million, but it rolls over after each draw where there are no top-prize winners.
Milionària can be played only within Brazil's borders.
You can try your luck in this game without leaving your armchair, as it can be played online, on the website, or in the mobile app!
If you are eager to join the lottery fans with a paper ticket, this short guide is for you:
Stop by any CAIXA outlet to ask for a playslip.
Pick six numbers between 1 and 50 in the Matrix of Numbers.
Mark two numbers between 1 and 6 in the Matrix of Numbered Clovers.
Pay for your entry, keep your ticket closer, and wait till the draw is over!
If you prefer playing through the Internet, create an account at the CAIXA Loterias Online, select the numbers on your own or with a Quick Pick, and then just follow the instructions given to you right on the run. Also, you can read how to play the lotto on the Internet in advance.
You can see if you are a winner or not on the official YouTube channel, where live draws are provided. Besides, the results become available on the CAIXA website and in the official mobile app. Our Milionària results page is at your service, too!
Milionària Payout and Taxes
Winning a Milionària draw is great fun! If it happens to you, take your money as soon as possible. In the table below, you can see all the available options.

Amount
How to Claim My Milionària Prize in Brazil
R$1 – R$2,112

These prizes can be claimed at the CAIXA-authorized outlets or its branches. Prepare your winning ticket when visiting any of them, as it is the main and only bearer document that proves your ownership.

The online players have three options for claiming their prizes:

at any Lottery unit;
at the CAIXA agency nearby;
as a Mercado Pago transfer.

R$2,112 and over

The bigger amounts can be received at the CAIXA branches only. There, you will be asked to provide the following documents:

the ticket containing the winning numbers;
a document to prove your ID;
your original winning bet receipt;
a redemption code of six digits.

It is the CAIXA Portal where you can generate your redemption code. Please note that it is valid for just 24 hours, so take your time! Instead, you can generate a QR code in your CAIXA Loterias account and claim your prize within 60 minutes. In this case, you don't need to provide a bet receipt and a redemption code; the clerk just scans your QR.

As a rule, winnings under R$10,000 are paid out on the same day. The bigger amounts are redeemed within 2 business days.
The lottery prizes in Brazil are taxed!
The tax rate for the winning amounts is set at 13.8%, as they are considered income. As CAIXA advertises its prizes after the deductions are made, you will get the sum announced in the prize chart after the draw.
Things to Know About Milionària in Brazil
There is a special price scale for Milionària. The minimum you will pay is R$6 per entry, and you may see the other expenses on the official website.
If the jackpot is not won, the minimum guaranteed amount of R$10 million is added to the top prize for the next draw.
There is a prize guarantee reserve (RGP). It is the amount that guarantees the minimum jackpot payout of R$10 million. It grows every time there are no top prize winners.
A lion's share of the CAIXA proceeds goes to support various government-initiated social programs concerning health, education, sports, and culture.
Playing Milionària, you can count on five consecutive draws.
Advertisement
Note:

The lottery results on Lottery n' Go are not official. When playing the lottery, it is always advisable to verify your results with an official lottery agent before taking any further action. This is to ensure that you have correctly interpreted the results and that you are not about to make any rash decisions based on incorrect information.
We're doing our best to provide updated results every 1h. If you found any mistake, please report here.