Lucky 3

(Aruba) Lottery Results & Winning Numbers
Latest

Lucky 3

Winning Numbers & Jackpots
| | |
| --- | --- |
| | |
| | |
| | |
| | |
| | |
| | |
| | |
| | |
| | |
| | |
Lucky 3

Hot & Cold Numbers
Show Results From Last
Draws
Lucky 3

Quick Pick Numbers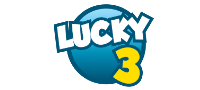 Next Draw
Saturday, Dec 02, 2023
Lucky 3 (Aruba) Prizes and Odds
We suppose you like pick-type games. However, the gamblers that live in the Lesser Antilles in the Caribbean know them, too! Moreover, the Aruba Lucky 3 is one of the most popular lotto games here.

| Wager | Prize Payouts (at a 3-digit match in any order) |
| --- | --- |
| Afl. 0.50 | Afl. 250 |
| Afl. 1 | Afl. 500 |
| Afl. 2 | Afl. 1,000 |
| Afl. 3 | Afl. 1,500 |
| Afl. 4 | Afl. 2,000 |
| Afl. 5 | Afl. 2,500 |
| Afl. 10 | Afl. 5,000 |
| Afl. 15 | Afl. 7,500 |
| Afl. 20 | Afl. 10,000 |
| Afl. 50 | Afl. 25,000 |
As you can see, though the
format of this game is somewhat unique,
the features of a better-known Pick 3 in the
USA
are clearly visible. Even if you don't know the
lottery odds
of this game, you can learn the
Pick 3 strategy
or read some
lotto books
to boost your skills and increase your winning chances.
There are no multipliers offered for Lucky 3 in Aruba. It is just a fun game that keeps its players entertained. However, if you consider the lotto your chance to win a prize you've always dreamed of, you can also join the gamblers on safe and reliable online lottery sites. They offer plenty of opportunities to hit a jackpot. Still, read our gambling addiction guide in advance.
Lucky 3 (Aruba) Drawing Schedule
You can enjoy Lucky 3 fourteen times a week. We don't know for sure if you have enough time for this intense gambling, as Aruba is marvelous! Still, it is very easy to join the lottery. You can do it every day and try various lotto strategies.

|   | Midday Draws (Monday-Saturday) | Midday Draws (Sunday) | Evening Draws (Sunday-Saturday) |
| --- | --- | --- | --- |
| Draw Time | 02:30 p.m. (Atlantic Standard Time) | 02:00 p.m. (Atlantic Standard Time) | 07:45 p.m. (Atlantic Standard Time) |
| Sales Stop | 02:15 p.m. (Atlantic Standard Time) | 01:45 p.m. (Atlantic Standard Time) | 07:30 p.m. (Atlantic Standard Time) |
The Biggest Lucky 3 (Aruba) Winners and Jackpots
Due to the commonly modest prizes won by Lucky 3's players, there is not much information about them on the official website. If you want to find inspiration, read about famous lottery winners.
Lucky 3 was established by Fundacion Lotto pa Deporte (FLpD), an organization that oversees lottery products in the small Caribbean state of Aruba. This game may be seen as one of the easiest lotteries to win, so it will be a piece of cake for you to remember all its principles and features:
You can enter Lucky 3 and any other FLpD game if you are 18 or younger.
Like in Pick 3, you select three digits between 0 and 9. By the way, Quick Pick is available here as well!
There are ten types of wagers between Afl. 0.50 and Afl. 50. The more you bet, the more money you win!
If your first set of numbers makes a match, you win the top prize of Afl. 500, no matter how much you bet.
Lucky 3 is played every day, at midday and in the evening.
This is an in-state game, and you can't join it off-island.
This game is available online. Read how to participate in the lotto on the Internet to play comfortably!
If you want to play in-store, these steps are for you:
Search for an FLpD retailer and take your playslip.
Select four combinations of three digits between 0 and 9. You can choose numbers on your own or rely on Quick Pick.
Place your bet.
Decide on the number of consecutive plays.
Check all your numbers carefully. Please remember that lottery tickets cannot be canceled in Aruba.
Wait for the good news!
If Lucky 3 online play is preferred, register on the official site and just follow the instructions you will see on the corresponding page.
The winning numbers will appear on the lottery's official site. Besides, you can visit an official retailer for a ticket check, follow the news on FLpD social media, or bookmark the resulting page on our site and see if you are a winner right there!
Aruba Lucky 3 Payout and Taxes
No matter how much you bet and how much you win, the prize must be claimed within 90 days in Aruba. It is just three months, so take your time and collect your money using the step-by-step instructions on claiming the lottery winnings.

Amount
How to Claim My Lucky 3 Prize in Aruba
Afl.1 – Afl. 3,500
The prizes of this amount are usually collected at the Fundacion Lotto Pa Deporte (FLpD) participating retailers or at the Lottery Main Offices.
Afl. 3,500 and over

Only the Lotto Main Office can redeem high-tier prizes across the state. In this case, you must provide your winning ticket and a form of picture identification. Besides, you must have a valid local bank account.

The address for claiming in person is

Fundacion Lotto pa Deporte

Paardenbaaistraat, 10

Oranjestad, Aruba.
Aruba has a unique tax law,
so some aspects need revising. If you win a big prize here, please contact your financial advisor.
Things to Know About Lucky 3 in Aruba
The cost of the Lucky 3 ticket depends on your wager. You may bet AWG 0.5, AWG 1, AWG 2, AWG 3, AWG 4, AWG 5, AWG 10, AWG 15, AWG 20, or AWG 50. Higher stakes imply bigger wins!
Lucky 3 is much like Pick 3. However, there are no special game types, and the players must match digits in any order.
You must be a resident of Aruba if you want to play the local games online. However, if you prefer physical tickets, there are no restrictions concerning your residence.
The Multi-Draw option works in Aruba as well!
Advertisement
Note:

The lottery results on Lottery n' Go are not official. When playing the lottery, it is always advisable to verify your results with an official lottery agent before taking any further action. This is to ensure that you have correctly interpreted the results and that you are not about to make any rash decisions based on incorrect information.
We're doing our best to provide updated results every 1h. If you found any mistake, please report here.