Buy Take 5 Lotto New York Tickets Online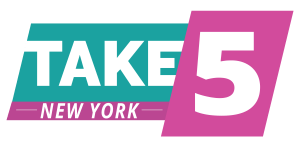 Take 5 Review
Take 5 is a lottery organized by the state of New York, and it uses a 5/39 formula. The single-drum lotto has daily drawing sessions and offers low ticket prices. Take a look at our Take 5 review to discover details about this lotto!

How to Buy Take 5 Tickets Online
Have you ever tried purchasing lottery tickets online? The internet offers numerous lotto providers, but make sure to choose a reputable one. After signing up and adding funds, you can use that money to purchase Take 5 tickets.
The default price is $1 per line. Feel free to purchase as many tickets as you want. You can use lottery strategies when choosing the numbers, or use the random Quick Pick feature.
How to Play Take 5 Online
When it comes to lottery games, it can't be a lot simpler than Take 5. The lotto features a single drum with 39 balls marked with numbers from 1 to 39. The game uses a 5/39 formula, which means five balls will be drawn during every session.
If you guess all five correctly, you can win the grand prize. It is interesting to note that you can also enjoy the Instant Win feature. It grants you a $1 prize, and you receive a new ticket with your numbers. To further boost the chances of winning, you can have a look at the expert tips on how to win the lottery.
Odds of Winning Take 5
Take 5 is a small-scale state lottery with decent jackpot odds and modest prizes. The odds of winning a jackpot are set at 1:575,757. The rewards might not be as tempting, but the chances of winning the grand prize are better than in national lotteries Powerball and MegaMillions.
Let's take a look at the detailed winning chart for this lotto:
| Prize Tier | Requirements | Odds of Winning |
| --- | --- | --- |
| #1 | 5 matched numbers | 1 : 575,757 |
| #2 | 4 | 1 : 3,386 |
| #3 | 3 | 1 : 102 |
| #4 | 2 | 1 : 9 |
When Is the Take 5 Drawing?
Take 5 draws are held every day of the week! That means you can participate in seven draws weekly. The time of the draw is always the same – 11:21 PM EST (5:21 AM CET the next day).
Take 5 Payout Chart
NY Lottery provides estimations on the jackpots before every draw. For the jackpot, the minimum expected sum is at around $57.5K, which is fairly high for a state lottery.
The game has four prize tiers, although the lowest one only secures a free play and is not a cash reward.
Check out the detailed payout chart:
| | |
| --- | --- |
| Requirements | Prize |
| 5 matched numbers | Jackpot (around $57,575.70) |
| 4 | $508 |
| 3 | $25 |
| 2 | Free Play |
Take 5 Taxes
Take 5 is subject to state and federal taxes. It is important to note that the federal government taxes all winnings over $5,000. If you are a resident, the sum to pay will be 25%, while it is set to 30% for non-residents.
Take 5 History
Take 5 is organized by the NY Lottery, which is an organization that is a part of the state government. It is interesting to note that the law requires 100% of the lottery revenues go for public causes, and Take 5 helps education throughout the state of New York.
The first draw of Take 5 occurred in 1992, and the lotto didn't change its format until today. However, as its popularity grew, the lottery became a daily draw.
Biggest Take 5 Jackpots in The History
Half of the purchased tickets goes into the prize pool and only a fifth of those funds for the jackpot. That means grand prizes in Take 5 aren't exactly life-changing. The biggest jackpot ever was given in 1999 when a lucky player won $156,926.
The second and third-largest prizes were rewarded in 2019 when lucky players won $78.8K and $76.6K, respectively. The majority of jackpots is around $60K, and they are won frequently.
Take 5 FAQ's
How to Play Take 5 from Outside New York? Is It Legal?
Not only is it legal to play Take 5 from outside New York, but you can also play it from other countries legally. The easiest way to participate is to purchase tickets online.
What Are The 5 Most Common Numbers in Take 5?
The most commonly drawn number in the history of the game is 6, which was drawn 1,173 times. Other frequent numbers include 17, 31, 7, and 10.
What is the deadline for buying Take 5 tickets before the drawing?
The deadline for purchasing Take 5 tickets is 11 PM EST (5 AM CET the next day).
Take 5 – Is It Worth Playing?
If you like state lotteries and small-scale lotto games, Take 5 might be a lottery that fits your preferences. The game features daily drawings and a low ticket price. Although the prizes might not be as tempting as in other games, that promises a lot of fun, so make sure to try this lotto!