Established in 1994 by the Tatts Group, Oz Lotto is the first national lottery game in Australia. It has become a popular choice worldwide due to the huge jackpots and entertaining lottery experience. Players can now access this game through the internet via online lottery websites.
This comprehensive guide will walk you through how to play the Oz lotto, including essential details such as the rules, ticket purchasing options, prize tiers, and some valuable tips to maximize your chances of winning. So, let's dive in!
How Do You Play Oz Lotto Online [Step by Steps]
There are three primary ways to play the Oz Lotto: lottery agents, betting sites, and the official Oz Lotto website. Let's explore them in detail.
Lottery Agents: Lottery agents are intermediaries for players not physically present in Australia. These agents buy the tickets on your behalf and send a scanned copy to you as proof of ownership. You can actively enter the Oz Lotto from anywhere in the world using lottery agents. Notable examples include TheLotter and LottoAgent.
Lottery Betting Sites: Lottery betting sites provide an alternative method to play Oz Lotto by allowing you to place bets on the outcome of the lottery draw. So rather than making an entry into the draw, you will be making predictions on the results. If your predictions match the official Oz Lotto numbers, you will get the same prizes as if you played the game directly. Examples of sites that offer Oz Lotto betting include WinTrillions and Lottofy.
Official Oz Lotto Site: For players who prefer a direct approach, you can use the official Oz Lotto sites. However, this option may be more ideal for players who reside in Australia.
On the other hand, international players may find lottery agents and betting sites more convenient since they cater to players worldwide. They also offer a localized playing experience that allows them to play in their local currency. Nevertheless, the process of playing the Oz Lotto remains the same regardless of which platform you choose to play the game.
Here is a step-by-step breakdown of how to play Oz Lotto:
Choose an Online Lottery Platform
The first step is to choose where to play. You should carefully select a reliable and trustworthy online lottery platform that offers a secure and fair gaming experience. There are scams and shady websites over the internet looking to prey on new players. To stay safe, it is crucial to research reputable lottery companies with a proven track record of providing quality services in the Oz Lotto game.
We recommend you consult our list of the most reputable online lottery websites to find the best places to play Oz Lotto.
Important Note We already listed the most recommended lottery sites, and you can also get some discounts.
GET 25% OFF for any ticket!
GET 20% OFF your first order,
promo code: LOTTERYNGO
Buy 1 Ticket and
Get 2 Tickets for FREE!
Account Creation
After deciding where to play, proceed to the registration page to create an account. An account gives you access to the lottery games and stores your payment method, playing history, and funds. You must fill in personal information, including your name, phone number, contact details, and age. Then accept the terms and conditions of the site to proceed.
Fund Your Account
Once the registration is complete, you will be redirected to the payment page to add money to your account for ticket purchases. Most websites offer numerous payment options, including debit cards, credit cards, e-wallets, cryptocurrency, and bank transfers. Choose your preferred method and follow the instructions to make your initial deposit. Often, platforms offer bonuses, cashback, free plays, or discounts on lottery tickets for first-time deposits.
Find Oz Lotto on the Lottery Page
After successfully funding your account, navigate to the lottery page on the online platform. Look for the Oz Lotto game among the available options. Click on the Oz Lotto tab to proceed to the ticket purchase section.
Choose your Lottery Combination
The Oz Lotto follows a 7/47 format. This means players have to select seven numbers from a pot of balls numbered 1 to 47. You win the jackpot for matching all seven numbers in the draw. Choose your numbers carefully, either manually or by using the quick pick option provided. The quick pick feature generates random numbers for you. If you prefer, you can employ lottery strategies like the Pick 7 strategy, lottery wheeling system, or lottery prediction software to enhance your chances of winning.
Wait for the Draw
The next step is to wait for the draw, where the winning numbers will be revealed. The draw happens every Tuesday at 8:30 pm AEST (or 9:30 pm AEDT). You can follow the draw on certain Australian television stations and the 7plus website. You can also watch the draw on The Lotts channel on YouTube.
The results are also available here on Lottery' n Go. We regularly follow the draw and upload the Oz Lotto lottery results for our readers.
How Much Does It Cost To Play Oz Lotto
The official website of Oz Lotto says it costs $1.60 per entry to play the game. It is the standard fee for participating in the game directly through their platform. However, if you play on another platform, the price will be slightly higher due to business reasons.
The table below compares Oz Lotto across the top lottery sites.
The table below shows how the official ticket price of Oz Lotto compares to other lotteries.
How Late Can You Buy an Oz Lotto Ticket?
On draw days, you can buy an Oz Lotto ticket up until 7:25 pm AEST (or 8:25 pm AEDT). This means you have up to one hour before the draw to enter the draw. Suppose you are playing with a lottery agent. In that case, we recommend that you play way ahead of the deadline to give them enough time to purchase the ticket on your behalf.
When Does the Oz Lotto Play?
The Oz Lotto draw is held every Tuesday at 8:30 pm AEST (or 9:30 pm AEDT). The winning numbers will be revealed here, and you will know if you qualify for a prize. You can watch the live draw on television or stream it through the official 7plus website. You can also follow it via their dedicated YouTube page.
The table below shows the TV channels to watch the Oz Lotto draw:
| Station | Time | Draw Day |
| --- | --- | --- |
| Channel 7 | 8:30 pm AEST | Tuesday |
| 7Two | 8:30 pm AEST | Tuesday |
What Countries Can You Play Oz Lotto?
You can participate in the Oz Lotto regardless of location because the online lottery is legal in your country, and you meet the age requirements. There are no geographical restrictions so everyone can play.
How Do You Win Oz Lotto?
You win the Oz Lotto by matching all seven numbers in the draw. But then, it is a matter of chance, and the overall odds of winning a prize in the Oz Lotto are unfavorable to the players. However, there are a few tips and strategies to increase your chances of success in the draw.
Acquire Knowledge about the game: One of the simplest ways to increase your chances is to learn as much as possible about the game. The more you know, the more intelligent lottery decisions you can make.
Use lottery strategies: Another way to improve your chances is to employ lottery strategies when making your lottery combinations. Common strategies that you can use for the Oz Lotto game include Pick 7, lottery wheeling, and lottery prediction software. You can also use a lottery number generator to produce numbers for you randomly.
Consult lottery results: Find the hot and cold numbers. The past lottery results can provide insights into the common winning numbers – the numbers come out more often in the draw.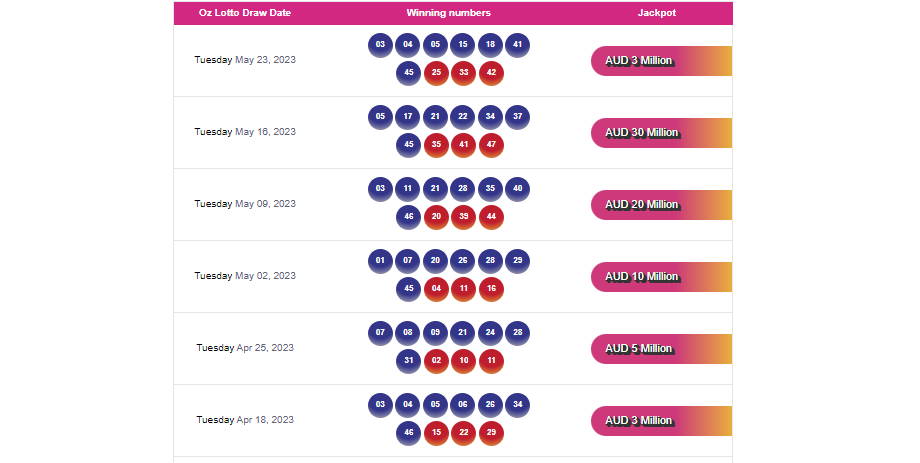 Use a system bet or a super combo: A system ticket gives you more chances to win with the opportunity to play more numbers. On the other hand, a super combo allows you to play more numbers across many games. This further increases your chances.
Buy more tickets: Purchasing more tickets gives more entries in the draw, which improves your odds of hitting the jackpot. However, it's essential to set a budget and play responsibly. Determine an amount you can comfortably afford and stick to it.
Join a syndicate: You can further increase your chances by joining a lottery syndicate. A syndicate allows you to pool resources with a group of players to cover more tickets and share the expenses. If your syndicate wins, you will also share the winnings.
Oz Lotto Payout
The jackpot for the Oz Lotto starts at $3 million. If no one wins the jackpot, its rolls over to the next draw. This means that players have a chance to win as high as possible. Players get a specified percentage of the prize pool for other prize tiers.
The table below shows the different prize divisions in the Oz Lotto.
| Match | Average Prize (% of prize pool) |
| --- | --- |
| 7 winning numbers | Starts at $3 million (Jackpot) |
| 6 winning numbers + 1 supplementary numbers | $47,537 (2.2%) |
| 6 winning numbers | $4,555 (2.6%) |
| 5 winning numbers + 1 supplementary numbers | $379 (2%) |
| 5 winning numbers | $52 (1.6%) |
| 4 winning numbers | $26 (19.8%) |
| 3 winning numbers + 1 supplementary numbers | $16 (31.8%) |
It is important to note that the prize varies per draw depending on the size of the prize pool.
Odds of Winning Oz Lotto
The overall odds of winning any prize in the Oz Lotto is 1 in 51. The table below shows the odds of winning the different prize tiers in the Oz Lotto.
| Match | Odds |
| --- | --- |
| 7 winning numbers | 1 in 62,891,499 |
| 6 winning numbers + 1 supplementary numbers | 1 in 2,994,833 |
| 6 winning numbers | 1 in 242,824 |
| 5 winning numbers + 1 supplementary numbers | 1 in 26,270 |
| 5 winning numbers | 1 in 4,497 |
| 4 winning numbers | 1 in 1,182 |
| 3 winning numbers + 1 supplementary numbers | 1 in 71 |
What Happens if You Win the Oz Lotto
After confirming that you have won the lottery, the first thing to do is to contact the lottery websites to begin the claiming process. If it is a small prize, you will get it immediately into your online lottery account – from there, you can withdraw it to your bank. But if it is the jackpot prize, you will have to go through the claiming process.
Here is a breakdown of how the claiming process works.
Contact the lottery organizers
Fill out the claim form
Provide identification documents like your ID card, international passport, and driver's license.
Choose your prize options: whether you want a lump sum or annuity payment
Consider seeking legal and financial advice from experts
Decide whether to claim your prize anonymously
Wait for your prize
Summary: Playing the Oz Lotto
Oz Lotto has paid out some of the biggest prizes in Australia and the world, generally with a jackpot record of $111 million. You can find the game on most online lottery sites. This makes it pretty accessible to lottery players regardless of location. All you need is an internet-enabled device and a payment method. Then you can play the game.
FAQs
How long do I have to claim my Oz Lotto winnings?
It depends on where you got your ticket from. Some regions have a deadline period of six months, while others allow players to claim up to seven years. If you miss the deadline, your lottery ticket will expire, and you will forfeit your prize. Ensure you make your inquiries before playing to have all the information.
Can I receive Oz Lotto results via email?
Yes, you can receive Oz Lotto results by email. Some lottery websites offer email notifications to alert winners if they win. If you play through a mobile app, you may also get pop-up notifications from the website.
How many numbers do I need to win a prize?
You need at least three primary and supplementary numbers to qualify for a prize. But if you are targeting the jackpot, you must match all seven balls.
Is there an age limit to playing Oz Lotto?
Yes, you must be at least 18 years old to play Oz Lotto. All lottery websites will demand age verification before you can create an account on their website.