The Lotto 6/49 is one of the three national lottery games in Canada. Like other lotteries, it offers huge prizes and excellent fun in the lottery. However, unlike other lotteries with one huge jackpot, the Lotto 6/49 allows players to win two big jackpots on the same ticket. A single entry into the draw is an opportunity for a $5 million classic jackpot and a gold ball jackpot that starts at $10 million and grows by $2 million every draw until someone wins.
If you are interested in having a chance at the two jackpots in Lotto 6/49, we recommend you learn how to play the game. This guide contains all the information you need to know to play Lotto 6/49 from anywhere. It also includes game tips and information on odds and lottery payout.
How Do You Play Lotto 6/49 Online [Step by Steps]
The Lotto 6/49 is available online through three major platforms: lottery agents, betting sites, and the Interprovincial lottery corporation website.
Lottery Agents: Lottery agents are representatives that can buy tickets on -behalf from the lottery organizers in Canada. So even if you reside anywhere across the world, they can buy the ticket and send a scanned copy to you regardless of the location across the globe. Famous examples are TheLotter and LottoAgent.
Lottery betting sites:  As the name implies, the lottery betting site is an online platform that allows you to bet on the results of the Lotto 6/49. In this case, you would not actually buy the ticket; instead, you would be betting on the outcome of the draw. However, the jackpot and the lottery odds remain the same. Famous examples are WinTrillions, Lotto247, Jackpot.com, PlayHugeLottos, and Lottofy.
Interprovincial lottery corporation website: If you stay in Canada, you can also play the game through the lottery corporation website of your province of residence.
For international players worldwide, the ideal option to access the game is the lottery agent and betting sites due to their extensive lottery experience and localized interface, regardless of where you are playing from. One thing to note, however, is that the playing methods, odds of winning, and prize tiers remain the same on all platforms.
Here is a step-by-step guide to playing the Lotto 6/49.
Decide Where to Play Lotto 6/49
It starts with choosing where to play the game. Your choice ultimately defines your gaming experience and whether you have a great time at the game. You'll find a wide array of lottery agents and betting sites. However, some do not deliver the best service. Your best bet is to choose a website with a proven track record of first-class quality service.
We recommend you read our guide on the most reliable online lottery sites for more information. It contains the best platforms to play the Lotto 6/49 game.
Important Note We already listed the most recommended lottery sites, and you can also get some discounts.
| | | |
| --- | --- | --- |
| | | |
| GET 25% OFF for any ticket! | GET 20% OFF your first order, promo code: LOTTERYNGO | Buy 2 Powerball entries and get 1 free! |
| | | |
Join the Website
The next step is to create an account to start playing. An online account gives you access to the available lottery games. It also contains your payment methods, account balance, and playing history. When you play the Lotto 6/49, your tickets will be securely stored in your online lottery account. You can create an account by clicking "SIGN UP", "JOIN", or "REGISTER" on the website homepage.
Make a First Deposit
You can only start playing when you make your first deposit. Proceed to the payment page to input the amount to fund your account and your preferred payment options. You can choose between debit cards, credit cards, e-wallets, cryptocurrency, and bank transfers. In most cases, your first deposit will come with welcome bonuses.
Find Canada Lotto 6/49 on the Lottery Page
Proceed to the lottery page to find Canada Lotto 6/49.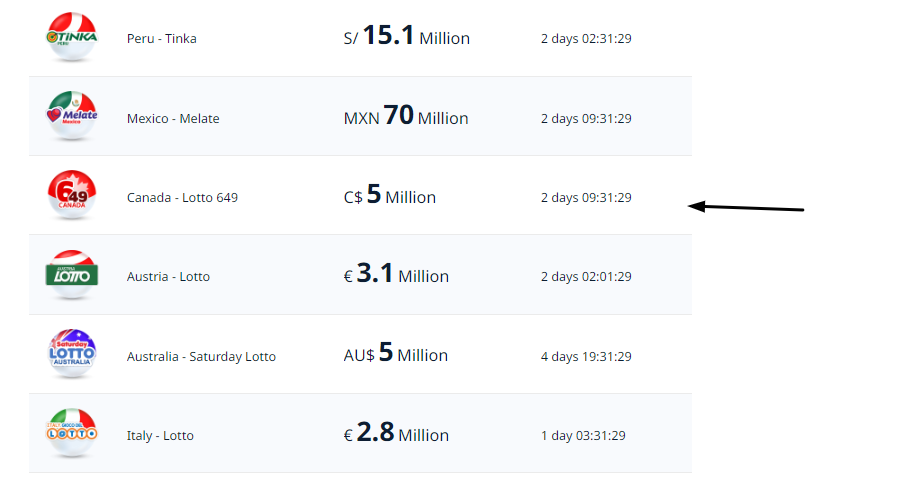 Choose your Lottery Combination
The Canada Lotto 6/49 uses a 6/49 format in creating lottery combinations. This means players have to pick six balls between 1 to 49. You can choose your numbers by yourself or use the quick-pick option to let the computer do it for you. You can also employ lottery strategies such as a lottery wheeling system, Pick 6 system, or lottery prediction software.
Wait for the Draw
After playing, the next step is to wait for the draw, where the winning numbers will be revealed. The draws take place every Wednesday and Saturday at 10:30 EST. You can watch it online via the official website. You can also follow the live draw on their dedicated YouTube channel.
Alternatively, if you miss the draw or cannot watch it, you can check the Lotto 6/49 results here on Lottery 'n Go. We regularly follow and update the draw so our readers can stay updated with the most recent lottery outcomes.
How To Play Lotto 6/49 Super Draw?
The Lotto 6/49 Super Draw is a unique event with an extra prize draw in addition to the gold ball draw and classic draw. Anybody who plays the game during the super draw will have a chance to win three jackpots. It comes at no extra cost. The organizers will announce when the super draw will happen so players can be notified beforehand.
How Much Does It Cost to Play Lotto 6/49?
It costs $3 to play Lotto 6/49, according to the official Lotto 6/49 website. However, it comes at a slightly higher price than other lottery websites. They usually charge more to cover the cost of doing business.
 The table below compares Lotto 6/49 across the top lottery website.
The table below compares the official ticket price of Lotto 6/49 to other lottery sites.
How Do You Win Lotto 6/49
Matching six numbers in the Lotto 6/49 lottery wins you the grand prize. However, there are other lower prizes for matching fewer numbers in the draw. It is worth mentioning that the chances of winning the game could be better if you employ specific tips. Here are some ways to improve your luck.
Get knowledge: Try to find as much information on the lotto 6/49 as possible. The more you know about the game, the higher your understanding of the game. Knowledge about the game can give you actionable insights into the best way to play the game.
Check former lottery results: The previous lottery results can help you to know which numbers come out the most in the draw.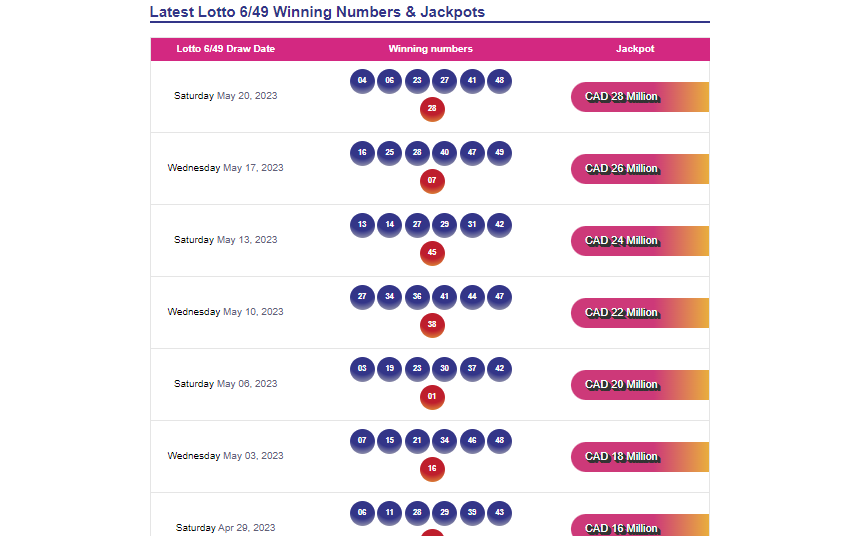 Learn lottery strategies: Consider using lottery strategies to boost your chances of creating a winning lottery combination. Common lottery strategies include Pick 6 and lottery wheeling. You can also use lottery prediction software or a lucky number generator to produce random lottery combinations.
Join a Lotto 6/49 syndicate: A lottery syndicate is a group of players who come together to buy tickets and play the game together. It can significantly help you to win a prize in the lottery, although it also means you have to share your winnings.
Buy more tickets: The more tickets you buy, the higher your chances of winning a prize. Having more entries in the draw can help you to have better chances in the draw.
Lotto 6/49 Payout
The table below shows the available prize tiers for the classic draw in the Lotto 6/49 lottery.
| Matches | Prize |
| --- | --- |
| 6 | $5,000,000 |
| 5 + Bonus | $110,208 |
| 5 | $1128 |
| 4 | $79 |
| 3 | $10 |
| 2 + Bonus | $5 |
| 2 | Free Play |
Odds of Winning Lotto 6/49
The table below shows the odds of winning the classic draw in the lotto 6/49.
| Match | Odds of Winning |
| --- | --- |
| 6 | 1 in 13,983,816 |
| 5 + Bonus | 1 in 2,330,636 |
| 5 | 1 in 55,492 |
| 4 | 1 in 1,033 |
| 3 | 1 in 57 |
| 2 + Bonus | 1 in 81 |
| 2 | 2 |
What Happens if You Win the Lotto 6/49
Winners of the Lotto 6/49 will receive their prize in their online lottery account. The lottery platform pays small prizes shortly after the draw. However, huge rewards usually take some time to process. You will need to contact them to begin the claiming process.
Here is a step-by-step breakdown to claim your Lotto 6/49 winnings.
Contact the lottery website to inform them of your winnings.
Fill out the claim form.
Submit identification documents like your ID card, driver's license, and international passport.
Inquire if you can claim your prize anonymously.
Decide on how to collect your prize: lump-sum or annuity payment.
Wait for your winnings.
Summary: Playing the Lotto 6/49
If you want a game with great odds, lower ticket prizes, and a huge jackpot, try out the Lotto 6/49. The odds are way better than most international lotteries, with the overall odds of winning a prize at 1 in 1.66, so you have a decent chance of winning a prize compared to its counterparts. It is also readily available on top lottery sites. This makes it easily accessible to players worldwide. Everyone can play!
FAQ
What is the Lotto 6/49 Encore?
The Lotto 6/49 Encore is an additional feature that adds 22 ways for players to win in the game. It comes for an extra $1.
How long do Lotto 6/49 winners have to claim their prize?
Lotto 6/49 winners have one year from the draw date to inform the lottery organizers of their winnings and claim their prizes. Failure to do so means an automatic forfeiture of your lottery winnings.
Are Lotto 6/49 winnings taxable?
Generally, lotto 6/49 winnings are tax-free. But this applies to only Canadian players. International players may be subject to taxes at their local tax authority.  We recommend using our lottery tax calculator to find how much you will pay on your lottery winnings.
Can I play combination play on Lotto 6/49?
Yes, you can sign up for the combination play option to play multiple sets of numbers to increase your chances of winning a prize in the Lotto 6/49.
How late can you buy a Lotto 6/49 ticket?
You can buy a Lotto 6/49 until 10:30 EST on the draw days. This means you have until the draw time to choose your numbers and enter them into the draw. Generally, we advise you to make your entry as fast as possible to avoid any late-time rush before the draw.
When does the Lotto 6/49 play?
The Lotto 6/49 draw is held at 10:30 EST on Wednesday and Saturday. You can tune into the draw at your province's official lottery corporation website. At the moment, you cannot watch the live draw on TV. But you can follow it on their official YouTube channel.
What countries can you play Lotto 6/49?
You can play Lotto 6/49 in every country where the online lottery is legal worldwide. The game has no restrictions so everyone can play on online lottery platforms.