Euromillions is one of the top transnational lotteries in the world. It was established in 2004 in the United Kingdom, France, and Spain but eventually expanded to eight participating countries, including Austria, Belgium, Luxembourg, Portugal, and Switzerland. Thanks to the internet and international lottery organizers, everybody can now participate in the lottery regardless of their location.
The jackpot starts at  €17 million and rolls over every draw, making it one of the biggest lotteries in the world. We recommend you keep reading if you want to play the Euromillions lottery. This guide offers all the information you need on how to play Euromillions and other related details about this lottery game.
How Do You Play Euromillions Online [Step by Steps]
There are three primary ways to play the EuroMillions lottery online. You can play through a lottery agent, a lottery betting site, and the official Euromillions website.
Lottery Agents: Lottery agents are intermediaries between players and the organizers. You can set up an account with them to connect with the Euromillions. They buy tickets on your behalf from the organizers. Popular examples are TheLotter and LottoAgent.
Lottery Betting Sites: Unlike Lottery agents, lottery betting sites do not buy tickets. Instead, they allow you to bet on the outcome of the Euromillions draw. The lottery experience, however, remains the same as lottery agents. WinTrillions, Lottofy, and Jackpot.com are good examples.
Official Euromillions sites: You can also play directly on the official Euromillions site. However, players who do not reside in the participating countries may find it challenging to understand the languages on the official websites or set up an account.
Lottery agents or lottery betting sites are the best choices for international players. However, the playing process and experience remain the same on the three options. You will need an internet-enabled device, access to the internet, and a payment method to buy tickets.
Here is a step–by–step guide that explains how to play Euromillions online. 
Find a Reliable Lottery Website
As expected, deciding where to play the game is the first step. This can be incredibly challenging for newbies because searching for lottery sites on Google will overwhelm them with numerous information. Even worse, they may fall prey to scams or shady websites that do not pay out winnings. This is why we advise you to read our guide on the best online lottery sites to learn and compare the best options on the market. TheLotter got the first position on our selection model. It is an excellent choice for the best lottery experience in the EuroMillions game.
Sign Up - Join the Platform
After you decide where to play the lottery, you must create an account before you can start playing. Your online account houses your profile, tickets, and playing history. It will keep your ticket safe, so you can claim your prize easily when you win.
Go to the official website of the lottery site, then click "SIGN UP", " CREATE AN ACCOUNT", or "REGISTER" to get started. This will direct you to a page to input your personal details, email, address, and zip code. You must also accept their terms and conditions to complete the registration.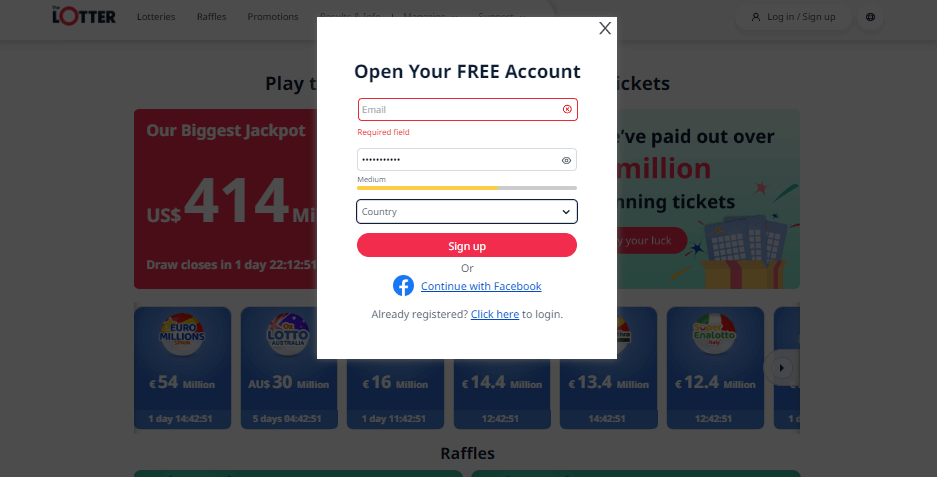 Fund Your Account
Once your account has been created, you will be redirected to the payment page to make your first deposit so you can buy tickets. Choose from the available options to find the best payment method for you. The best lottery sites offer different payment methods like Visa, Mastercard, e-wallet, cryptocurrency, and bank transfer.

Select EuroMillions on their Lottery Page
Go to the lottery page to select Euromillions.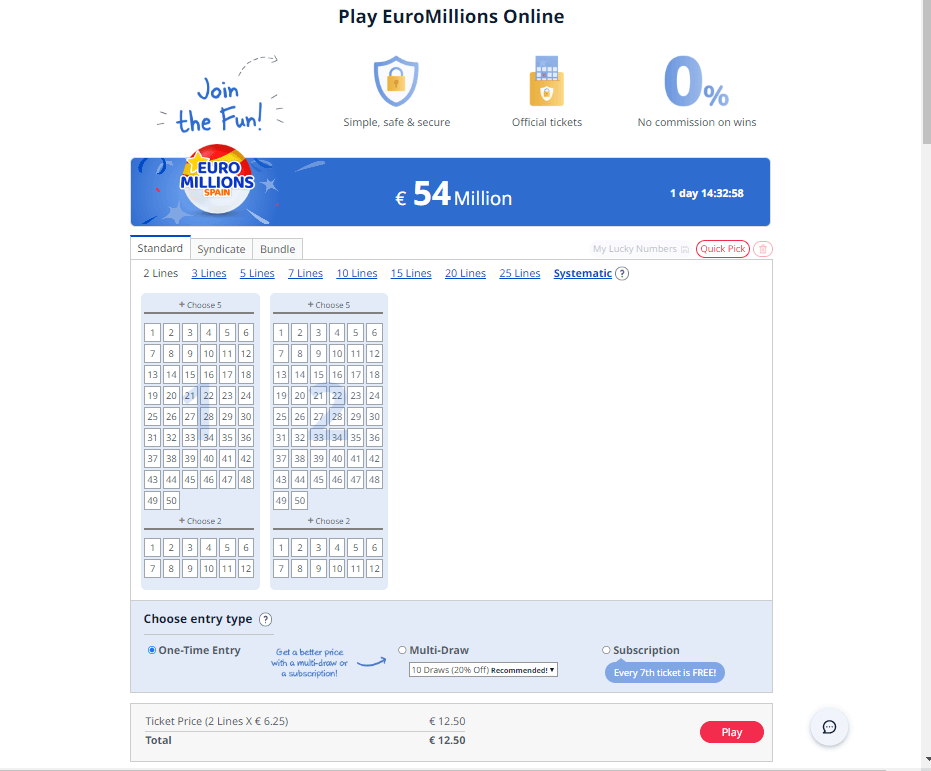 Choose your Numbers
To play Euromillions, you must pick five numbers between 1 to 50 and two lucky star numbers between 1 to 12. You can do this manually or employ the quick pick option to generate a random selection instantly. You can also employ lottery strategies, software, and a lucky number generator to find the best possible combination.
Wait for the Draw
It is essential to make your entry into the draw before the deadline. Wait for the draw after playing. Euromillions draws are held twice a week on Tuesdays and Fridays at 8:00 pm CET.
You may be able to watch the Euromillions draw on TV if you reside in any of the participating countries. Otherwise, you must follow it online through their official YouTube channel. You can also check Euromillions results on our result page at Lottery 'n Go; we regularly follow the draw to keep readers updated with the results.
Claim Your Prize
Check if you matched any of the winning numbers. Online lottery websites will credit your online account immediately if you qualify for any price tiers. However, the jackpot prizes may take some time due to extra verification and documentation.
How To Play Euromillions Super Draw?
The Euromillions is a special draw held a few times a year, with a jackpot set as high as  €130 million. It works just like the regular show but with a higher jackpot. There is no set date; the organizers usually announce when it will happen on the official website. Your lottery website will also feature the Euromillions super draw when it becomes available to play.
How Much Does It Cost To Play Euromillions?
It costs €2.50 to play Euromillions, according to the official website. But then, there are extra costs if you decide to play on lottery agents or betting sites. They have to make money somehow, after all. The table below compares Euromillions ticket prices across the top lottery sites.
The table below compares the official Euromillions price to other top international lotteries.
How Late Can You Buy a Euromillions Ticket?
You can buy a Euromillions ticket until 30 minutes before the draw starts. This implies ticket sales stop by 7:30 pm CET on Tuesday and Friday. Ticket sales for the next draw will also begin as soon as the draw is concluded.
When Do the Euromillions Play?
The Euromillions draw starts at 8:00 pm CET on Tuesday and Wednesday. The draw is broadcast live on television stations in the participating countries, except for the United Kingdom. You can also follow the live draw on their YouTube channel.
The table below lists television stations where you can watch the live Euromillions draw.
What States Can You Play Euromillions
Everybody, irrespective of nationality, can play the Euromillions lottery, provided they meet the age requirement. This implies all players from all countries are welcome to play the Euromillions lottery.
How Do You Win Euromillions
You win the Euromillions jackpot by accurately predicting the five main numbers and the two lucky star numbers. However, the odds of attaining this is 1 in 139,838,160, which means you have a low chance of winning.
Despite that, you have a 1 in 13 chance of winning a prize. You need to match at least two numbers to win something from the Euromillions lottery. Your winnings increase as you match more numbers in the draw.
Here are some tips for success in the Euromillions lottery.
Do the homework: You should know as much as possible about the Euromillions lottery. The information you learn will shape your perspectives and familiarize you with the game. You will better understand how the game works and how to improve your chances of success.
Get help: You can get help with choosing your lottery numbers by using lottery strategies such as the Pick 5 strategy, the wheeling method, and lottery software. They can assist you in creating lottery combinations with the best chances of appearing in the draw.
Go back in time: You can get a rough idea of your lottery selection by consulting the past lottery results. Even though the lottery draw is random, some numbers appear more often than others. You could employ the most common winning numbers in your entry to increase your chances.
Teamwork: You can also improve your chances by joining a Euromillions syndicate. Teaming up with other players allows you to cover more lottery combinations and reduce ticket expenses. The only downside is that you will share the winnings.
Play your lucky numbers: Consider using a lucky number calculator to generate combinations. It uses your full name and date of birth to find the best numbers according to your numerology.
Euromillions Payout
The Euromillions jackpot starts at €17 million and rolls over until someone matches the winning combination or it reaches the jackpot cap of €240 million. There are also prizes for matching at least two numbers from the draw. The table below shows the different categories of the Euromillions lottery.
| Number of Matches | Prize |
| --- | --- |
| 5 + 2 | Starts from €17 million |
| 5 + 1 | €200,738 |
| 5 | €20,851 |
| 4 + 2 | €1,299 |
| 4 + 1 | €120 |
| 3 +2 | €57 |
| 4 | €39 |
| 2 + 2 | €14 |
| 3 + 1 | €11 |
| 3 + 1 | €9 |
| 1 + 2 | €7 |
| 2 + 1 | €6 |
| 2 | €4 |
Odds of Winning Euromillions
The odds of winning the jackpot in the Euromillions is 1 in 139,838,160, and the odds of winning a prize is 1 in 13. The table below shows the odds of qualifying for awards in any of the prize tiers in this game.
| Number of Matches | Odds of Winning |
| --- | --- |
| 5 + 2 | 1:139,838,160 |
| 5 + 1 | 1:6,991,908 |
| 5 | 1:3,107,515 |
| 4 + 2 | 1:621,503 |
| 4 + 1 | 1:31,075 |
| 3 +2 | 1:14,125 |
| 4 | 1:13,811 |
| 2 + 2 | 1:985 |
| 3 + 1 | 1:706 |
| 3 + 1 | 1:314 |
| 1 + 2 | 1:188 |
| 2 + 1 | 1:49 |
| 2 | 1:22 |
What Happens if You Win the Euromillions?
Online lottery sites pay small prizes immediately after the draw to your online lottery account. From there, you can withdraw them to your bank account through your preferred payment methods. On the other hand, if you win the jackpot or any substantial amount, you will need to contact them.
Here is a breakdown of how to claim your Euromillions winnings.
 Contact them to inform them of your win. Sometimes, they might contact you first to begin the claiming process.
Submit the documentation of lottery claims, such as your identity card, passport, or driver's license.
Consider hiring a team of an expert such as lawyers, tax specialists, and financial consultants for advice on managing your winnings.
Decide if you want to claim your win anonymously.
Collect your winnings.
The whole process for huge prizes could take a few days due to verifying your documentation and clearing of winning from the insurance company.  We recommend you use that time to decide how to spend and invest your winnings.
Summary: Playing the Euromillions
One of the best parts about Euromillion is that it is available to everyone regardless of where you reside. You only need to get an internet-enabled device, access to the internet, and a payment method to buy tickets. Then you can participate in the draw. However, like all other lottery games, it is a game of chance; you must beat huge odds to win the game.
FAQs
Who can play Euromillions online?
Everyone who satisfies the age requirement can play Euromillions online. You will have to state your age before you can have access to the lottery game. The lottery site will also verify your age when it is time to pay winnings.
Where can I buy a Euromillions ticket near me?
Players in the participating countries may be able to purchase a physical ticket at their local retailers. However, international players have to rely on lottery websites such as TheLotter, Lottofy, LottoAgent, and LottoGo.
How to play the Euromillions lottery from abroad?
You can play Euromillions abroad by signing up on a lottery website. Create an account and fund it to buy tickets and start playing.
Can a foreigner win Euromillions?
A foreigner can win Euromillions if they match the winning combination from the draw. There are no eligibility issues for foreigners, so the Euromillions lottery is open to everyone.
Has anyone won Euromillions with an online ticket?
Yes, there have been many online winners in the Euromillions lottery. A notable mention is Bill and Cath Mullarkey, who won £1,000,000 through their online account at the UK National lottery. Both online and offline players have the same odds, so you can win regardless of how you play the game.
Can you claim Euromillions anonymously?
You can claim your Euromillions winnings anonymously. The participating countries allow players to decide whether they want to stay private if they wish.
Do you pay tax on Euromillions winnings?
This depends on the country where you acquired your Euromillions. Portugal, Spain, and Switzerland demand taxes on your prize. But the remaining countries are tax-free.