Paddy Power Lotto Review 2023
Paddy Power is an Irish bookmaker that started its journey in 1988. They have over 600 wagering shops and also offer a phone betting service to UK residents. Once the internet appeared, they managed to adapt and launched an internet platform, too.
Among other things, you can now enjoy betting on lottery games. Check out our detailed Paddy Power Lotto review and discover all details and features of this service!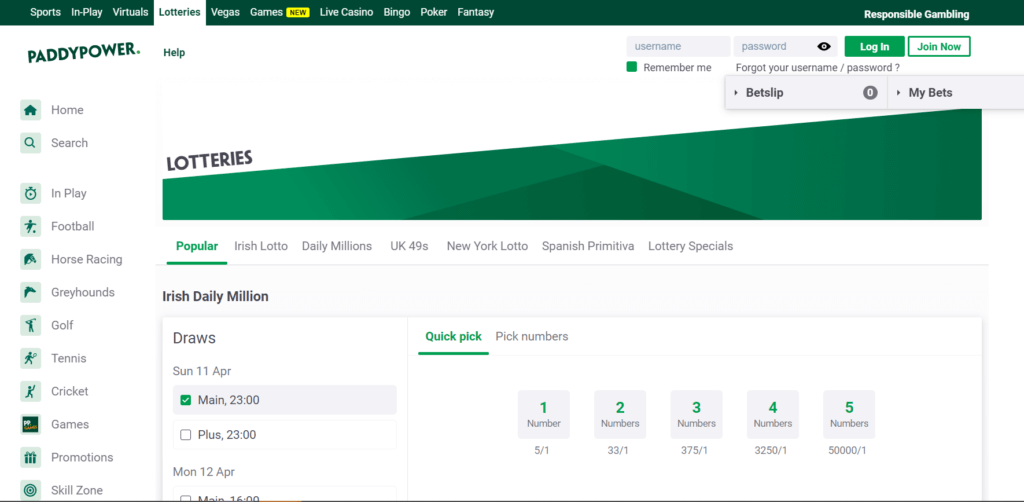 Paddy Power Lotto Pros & Cons
What Online Lotteries Are Available at Paddy Power Lotto?
Paddy Power carefully selected each lottery to include in their portfolio. As an Irish bookmaker, it's only expected to have games from this country. You can also try your luck at the UK 49's Lottery, which is available at multiple lotto betting platforms. The company also included a popular European lottery called EuroMillions, as well as Spanish La Primitiva. Due to an intriguing concept, they also added the New York Lotto to the selection.
Here is a detailed overview of all games available.
How to Use Paddy Power Lotto
Online lottery betting is completely different than buying lotto tickets. Not only do you play from home or any desired location, but you don't purchase actual slips. Instead, your goal is to guess the numbers that will be drawn correctly.
Here is a detailed guide to playing Paddy Power Lotto.
Register an account, and don't forget to add funds to it. 
Once you have money available, choose the preferred game.
In the game's menu, you can pick the numbers you believe will be chosen. The most tempting prizes are for guessing five numbers correctly, while your best chances lie in guessing only one number. It's up to you to find the balance.
You can decide on the desired stake before finalizing the wager.
Now, make sure to follow the lottery results to see if you won.
Quick Guide to Registering at Paddy Power Lotto
If you ever registered for an online service, the process will look familiar. It's necessary to provide the required details and verify your e-mail to open an ac"count.
Although confirming your identity might not be necessary right away, Paddy Power Lotto cares about protecting its customers. An identity check is a way to deal with potential money laundering, so make sure to provide accurate information when prompted. As soon as you register, you can log into your profile from any device.
The Other Games You Can Play at Paddy Power Lotto
We assume your online gaming preference is a lottery, but that might not be the only one. If that's the case, you'll love Paddy Power. The platform offers dedicated bingo and poker sections, but also casino games. You can try your luck at roulette, blackjack, and other virtual tables.
Also, don't forget that PP is primarily a sports bookmaker. You can expect a variety of wagering types and sports to bet on when visiting this platform.
Are There Bonuses and Promotions at the Paddy Power Lotto?
Paddy Power Lotto has specialized promotions for the lottery. There is a potential daily bonus if you play two lotto games organized by the Irish lottery. You need to bet £1 and get a free wager of the same amount for this lotto. The only condition is that you can activate this deal once per day.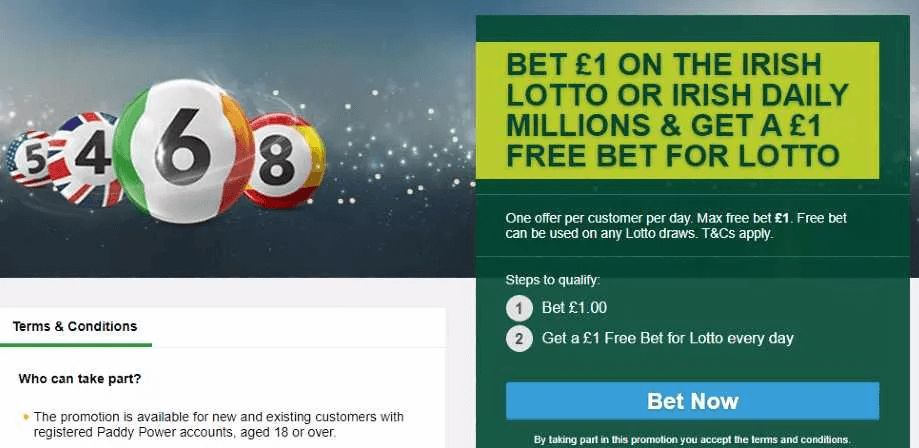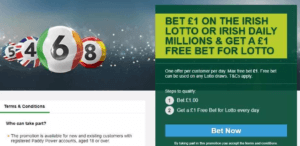 There is another intriguing bonus tailored to new customers. Users who register an account can look forward to a £20 risk-free bet.
If you deposit and invest £20 on all games in the sportsbook, including the lottery, you can expect this refund. You can only use it once and solely if you are a new player.
Payment Methods at Paddy Power Lotto
If you are wondering about the minimum deposit, it's always £5. That means you can pick any of the available payment methods based on your preference. The deposits are instant unless you use Neteller or bank transfer. The former takes from one to four hours, and the latter can last up to four banking days.
As for withdrawals, debit and credit cards only have a £0.01 limit. The e-wallets have a £1 minimum requirement, while bank transfers will require at least £10 to submit a withdrawal request. The processing time depends on the method but can last up to five working days. The fastest seem to be Neteller and Skrill, where your funds should appear in up to 24 hours. 
Deposit Methods
| | | |
| --- | --- | --- |
| Visa | Mastercard | Neteller |
| PayPal | Paysafecard | Skrill |
| Cash Card | Cash Card PPlus | Bank transfer |
Paddy Power Lotto Terms and Conditions
Paddy Power Lotto only accepts 18+ customers, which ensures they comply with the UK and European laws. Here are some specific lottery-related website terms:
You can only play EuroMillions if you registered an account from the Republic of Ireland, and that's your current physical location.
Odds offered on all lotteries might fluctuate, so make sure to check them before finalizing the bet.
If the draw gets rescheduled for 12 hours or longer, the results won't count, and you'll get the stakes back.
Paddy Power Lotto Customer Service
Everything starts from the Paddy Power support center. The operator covered all bases thoroughly, and you'll discover answers to basic questions in that section. If you still need to contact customer support, live chat and phone calls will be available. However, the platform encourages chatting with a staff agent via the website. It's quick, and you can rest assured the support is knowledgeable. They'll know how to resolve your website-related issue and ensure you can continue playing.
Is Paddy Power Lotto Legit or Scam?
If gaming licenses are the primary confirmation of legitimacy, Paddy Power Lotto meets all criteria. Apart from being certified by the United Kingdom Gambling Commission, it also has the Malta Gaming Authority and Alderney GC's licenses.
The operator also applies all the required security layers to ensure maximum protection for users on the site. Add to that more than three decades of existence, and you can rest assured Paddy Power is a legit platform.
Paddy Power Lotto Verified Winners
Paddy Power has an entire subdomain focused on news. It's there where you can find reports on the biggest winners, such as the mom of two, winning a £1.2 million jackpot. The operator pays out all winnings on time. If you win a prize, you'll quickly see that amount in your balance. The only thing left then is to submit a withdrawal request.
If I Win at Paddy Power Lotto, Where Does the Prize Money Come From?
There's no mention of deals with third-party insurance providers. That indicates Paddy Power will be the company paying out all the prizes. It's worth noting they don't buy lotto tickets for you but offer you to wager on lottery games. So, it's only natural they are the ones responsible for the payments.
Please note that Paddy Power has maximum rewards for each lottery. The limit is £500K for EuroMillions, UK 49's Lottery, and both Irish lotteries. All other games have a maximum payment restriction of £300K per bet.
Paddy Power Lotto FAQ
Is Paddy Power Lotto Legal?
The operator has been around for over 30 years and has always complied with relevant laws. It has multiple gaming licenses, including the one from UKGC. That implies it's perfectly legit, and you can feel safe while playing there.
Does Paddy Power Lotto Support Syndicates and Bundles?
It's not usual for lottery betting sites to offer bundles and syndicates. That's why Paddy Power Lotto doesn't have that feature. You can learn more about syndicates and find a suitable website in our lotto syndicate guide.
What Currencies You Can Use at Paddy Power Lotto?
The default currency on the site is GBP, but you can also use EUR. It doesn't seem you change the currency once you initially select it.
Paddy Power Lotto – Is It a Recommended Site?
In the world of lottery betting, Paddy Power Lotto is a fine choice. The website offers sufficient games in its portfolio and a simple playing concept. The prizes can be tempting, although the odds fluctuate. Thanks to mobile support, you can play from any location. Apart from the lottery, there is a sportsbook and a casino. Although we would appreciate more lotto games, PP is still a reputable bookmaker. If you need an all-around gaming platform, you won't go wrong with it!
Paddy Power Lotto Alternatives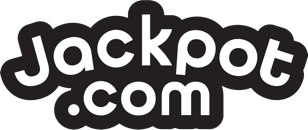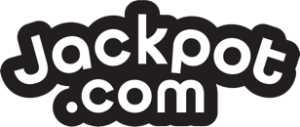 Do you prefer having lottery tickets, even if it's only in your online inbox? That's where Jackpot.com can help since they have a well-researched selection of top national and international lotto games. Make the best use of their reward programs and try to win the jackpot!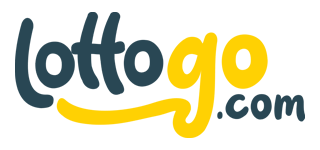 There's something about different rules of various lotto games. If you like that experience instead of lottery betting, LottoGo can be a smart choice. It offers a beginner-friendly interface and a modern design, along with over a dozen of games.

William Hill is another British online lottery betting provider. It has an even longer tradition than Paddy Power Lotto, but it offers a similar experience. WH also offers casino, bingo, and sports games, so it's an all-around gaming package.